The banking industry is evolving at a rapid rate. Not only are there marketing tools and technologies that didn't exist five years ago, but consumers are also becoming increasingly intolerant of poor branding and weak experiences. It's crucial to keep up with all the latest trends in order to meet client expectations and needs. So, here are 10 Marketing Trends the Banking Industry Can't Ignore.
#1 Personalisation of Customer Experiences
80% of consumers will engage with businesses that offer personalised experiences. But a whopping 94% of banks still don't deliver when it comes to personalisation. Customers need experiences and marketing campaigns that are tailored to them. In fact, the majority thinking about switching banks would consider banking with companies like Amazon, Google, and Facebook.
Why?
These companies have mastered their personalisation game. For example, Amazon has continued to grow because of its focus on customer demands and requirements. Everything comes with personalisation. From using the customer's name to offering recommended products to each individual, their marketing strategy is well-honed. Indeed, the latter contributes to 35% of sales. The 'frequently bought together' feature also targets the likes of customers and makes for a helpful consumer experience.
Even the product reviews are a form of personalised marketing as 82% of shoppers read them before making a purchase.
Customers expect their banks to deliver personalised solutions and financial marketers have to deliver. Personalisation is a competitive differentiator in the banking industry.
#2 Refined Influencer Marketing
Influencer marketing has grown from a supplementary marketing tactic to a $5 billion industry. However, there's been much talk that influencer marketing has reached its peak and is dying.
A quick look at the history of marketing shows that most of the mainstream marketing tactics like email marketing, Facebook marketing and even SEO have suffered the same supposed ineffectiveness in the past. Nonetheless, all these marketing methods still work and so does influencer marketing. It just has to be done correctly.
Banks can still use influencer marketing to build engagement and brand loyalty. It can also be used to address the issue of an increased use of ad blockers. What's needed is a refined influencer marketing strategy which should include:
The right influencer selection:
This involves choosing an influencer with shared values and the ability to maximise engagement. Banks should aim for micro- or nano-influencers who provide more engagement and reach but are still way cheaper than celebrity influencers.
As already highlighted, personalisation is important and collaborating with influencers who connect with their audiences personally will make for effective marketing.
People are craving authentic content that adds value. The banking industry needs to create campaigns that align with the target audience's needs and fit seamlessly into the influencer's existing content. Check out how Chase managed to get its marketing message across through influencer Shershegoes. The target audience consisted of people interested in travel and the context of the ad fit in with the influencer's existing content.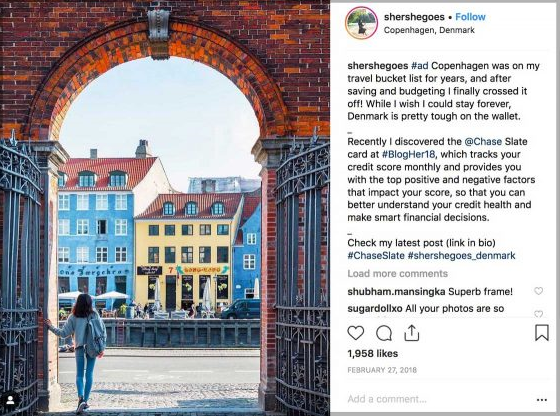 #3 Improved Content Marketing
With the need for improved influencer marketing also comes the need for overall improved content marketing. Customers want fresh, engaging content that holds their attention and banks should not underestimate the power of effective content marketing in achieving this.
Monzo, which has previously relied on organic growth and word-of-mouth advertising, is now venturing into paid advertising to grow its brand. Paid advertising can increase brand awareness by up to 80% but ad effectiveness relies on content quality. Being creative, using eye-catching colour palettes and incorporating strong calls to action are all necessary.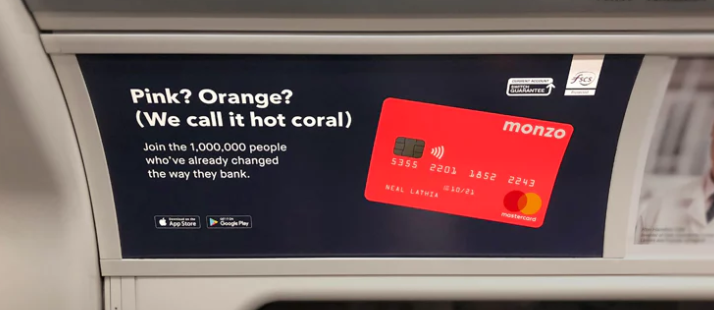 When crafting an improved content marketing strategy, it's important to be aware of the following trends affecting content marketing:
It's no longer enough to provide any old type of content. Businesses need to listen to and understand what people are saying and thinking about the brand so they can refine their content to match customer needs. Several social listening tools are available to provide useful insights into customer sentiments and competitor activity.
70% of marketers report that video content is the best performing content for engagement across all industries and 65% of viewers are likely to make a purchasing decision after watching a video. The banking industry needs to use video in its marketing campaigns. Having a video on a landing page can increase conversion by 80% and including a video in emails can increase click-through rate by 200-300%.
Video is huge. And can also be shared easily across social sites like Twitter. Santander nailed video for social keeping their posts short and sweet. Concise content is ideal for microblogging sites like Twitter where people are used to sharp, on-point updates. The platform's innate brevity also applies to videos with Twitter's #VideoOfTheDay average 43-seconds.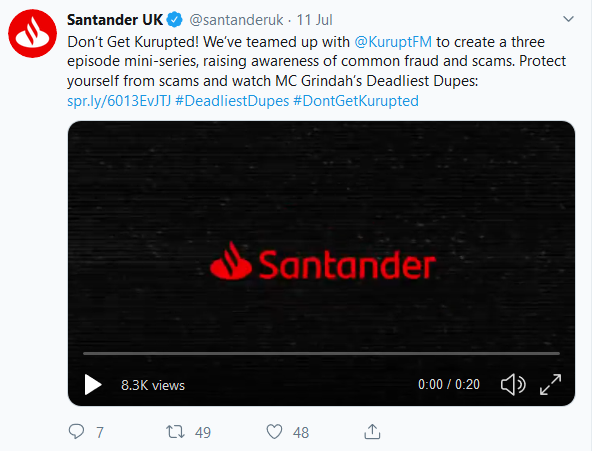 Get in touch with Contentworks Agency for professional video marketing that will boost your ROI and increase customer engagement.
#4 The Shift towards Mobile Marketing
As 48% of consumers begin their product search on their mobile devices and 51% of them also use mobile devices to discover brands and products, mobile marketing is devouring more and more ad dollars. More consumers are assessing their accounts through mobile devices and the banking industry just can't ignore mobile marketing. 80% of internet users own a smartphone and they are not afraid to use it.
Banks need to include mobile channels as part of their marketing strategy. Success in today's fierce marketing landscape means the ability to match your audience's needs and communication mediums. Banking brands such as Morgan Stanley are leading the way by offering a wide range of mobile features such as access to account balances and market data.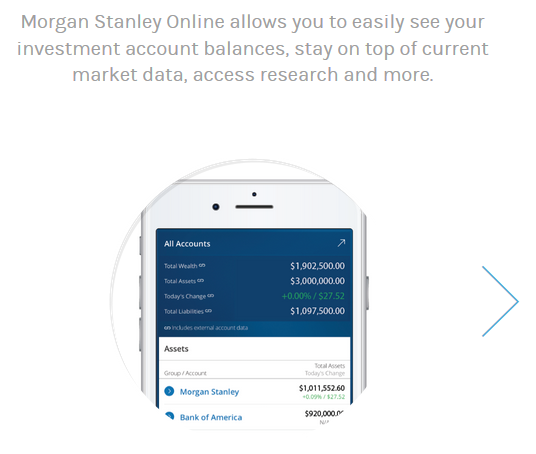 #5 Social Media Marketing
54% of internet users use social media to research brands and products. Banks need a robust social media marketing strategy which allows them to interact with their audience and cost-effectively increase brand loyalty. Social media marketing is also a great way to provide the best customer service. Brands that provide a positive experience on social media are likely to be recommended by 71% of their customers.
Facebook is the most popular platform for marketers, perhaps because it is the largest network and it has an excellent ad system. However, other platforms like Instagram and Twitter are also great for the banking industry. Instagram is particularly interesting because it's the most engaged platform after Facebook and it can generate 4x more engagement than Facebook.
Revolut is a good example of the Instagram-Facebook engagement difference. The brand emphasises its ability to transcend borders via Instagram. By showcasing brand benefits, Revolut gets an average of 4.3x more engagement on Instagram compared to Facebook.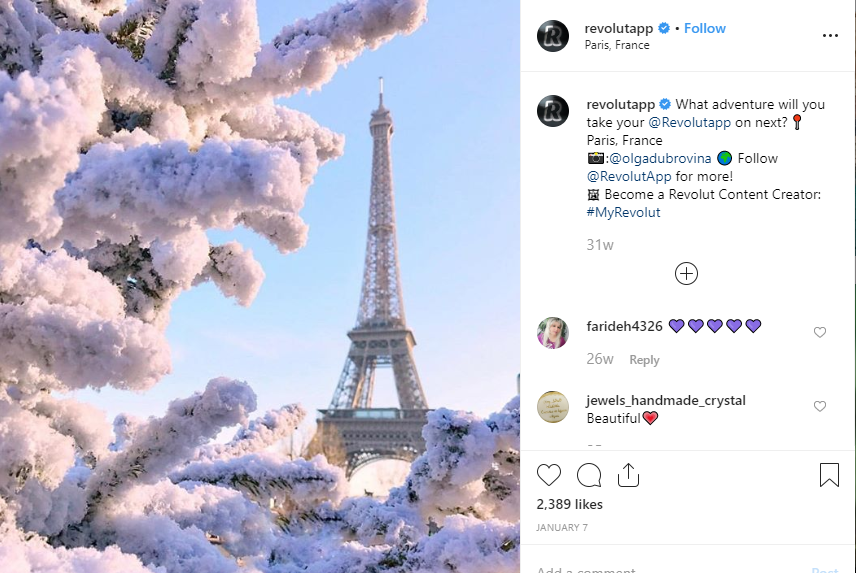 Social media marketing is a must for the banking industry. It can add life to an industry that's viewed by many as dull. Think videos, questions, polls, and fun stickers to make banking fun. The best part is that making the most of the many available social media platforms doesn't have to be complicated. Get a team of experts to handle your social media management and increase your online presence and engagement hassle-free.
#6 Artificial Intelligence (AI)
The banking industry has lagged behind when it comes to AI partly due to stringent industrial regulations that have to be considered. But it's becoming clearer that every banking organisation should have an AI strategy. As AI becomes a mainstream technology its opportunities for banks is estimated to be worth close to $450 billion.
28% of top-performing organisations have integrated AI into their marketing and the banking industry should learn from this. AI holds many benefits for the banking industry including enhanced banking services and data analytics, fraud detection, and improved customer support. All these benefits can be a basis for effective marketing campaigns.
Citibank recently rolled out an AI scoring engine to streamline the amount of time spent handling transactions and to ensure regulatory compliance. The bank also enhanced its KYC process by integrating fraud detection into its software using AI. Such advanced AI data analytics and improvements in customer protection add value and are likely to increase customer satisfaction – two elements needed to boost marketing efforts.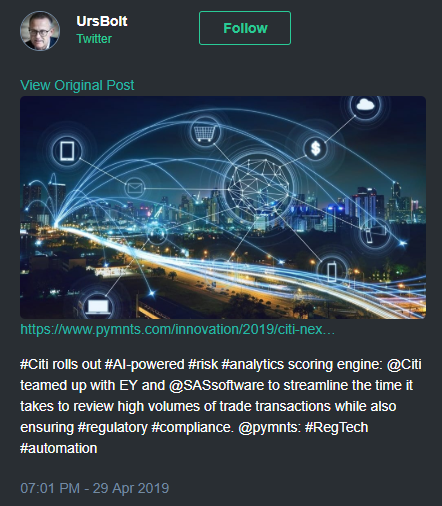 #7 Chatbots
Interestingly, chatbots only make up 13.5% of AI use in banking although 35% of consumers already expect more companies to use chatbots and there's room for banks to automate 90% of customer interactions.
Some banks are slow to take up chatbots because 57% of consumers say that chatbots keep them away from a live person. It's clear that banks need to provide human interaction but this doesn't mean chatbots should be eliminated from a company's marketing strategy. Chatbots provide many marketing benefits including improved customer engagement, increased generation of leads (companies have captured 600% more leads using chatbots), and real-time customer support. Chatbots are especially useful for reducing customer waiting times when it comes to handling complaints.
#8 The Rise of Voice and Speech Recognition
Half of all searches will be voice searches by 2020. Currently, 20% of all Google searches are voice and 31% of smartphone users are using voice technology at least once every week.
Although the uptake of voice technology has been slow in the banking industry, some banks already have voice-activated banking through voice services like Amazon Alexa, Siri, and Google Assistant. For instance, Capital One bank uses Alexa and companies such as PayPal and the Royal Bank of Canada allow completion of transaction through conversations with Siri.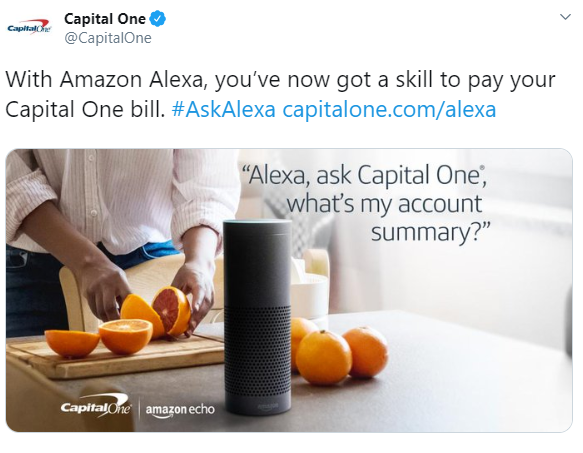 More AI vendors are working with various banks to establish voice and speech-based services. For example, Ally Bank launched its voice interaction app with the help of AI company, Personetics and TD bank worked with Kasisto to develop the bank's app voice services. Voice and speech recognition is becoming an integral part of delivering the best experiences for customers and the banking industry should embrace this technology.
#9 Real-time Notifications
Real-time notifications are emerging as another marketing trend leveraging the increase in mobile device usage. Notifications that are delivered in real-time give customers information when they need it and this kind of reliability not only provides customer satisfaction but also leads to retention.
Good examples of real-time notifications include potential fraud alerts, successful payment alerts and low balance alerts. Such notifications help foster deeper relationships with customers, and this is especially important for instilling trust – an attribute the banking industry needs.
Disruptor bank, Robinhood App offers its clients real-time push notifications. Couple this with the brand's low-cost nature and membership with SIPC and FINRA, and you have yourself an engaged audience and a recipe for some good marketing.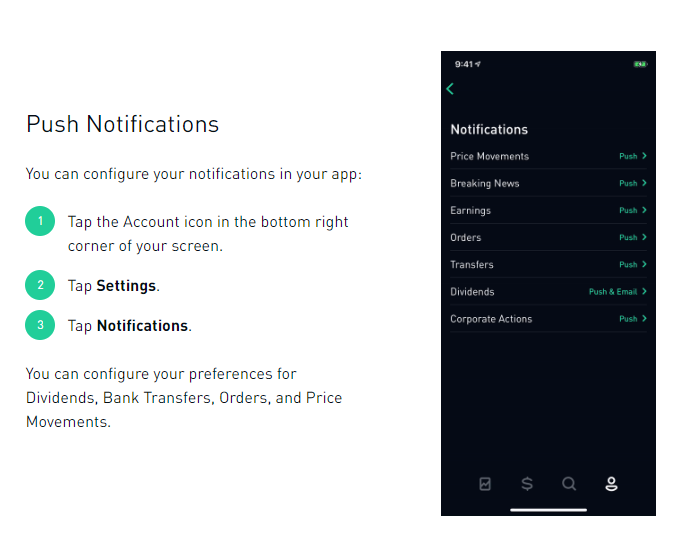 #10 Geolocation Targeting
The rise of mobile marketing has fostered the rise to geolocation targeting. Close to 90% of mobile marketers report success with location targeting and some of the marketing benefits stemming from this technology include higher customer engagement and better response.
Geolocation targeting allows banks to push messages to a specific audience in real-time depending on their location. Over time, banks can predict their users' locations and this can be used to create personalised marketing campaigns. It's becoming increasingly important for the banking industry to adopt location targeting because it allows for personalisation and differentiation which can both help increase customer trust and brand loyalty.
For financial services marketing content that fits today's audience demographics, contact Contentworks Agency. Did you enjoy reading 10 Marketing Trends the Banking Industry Can't Ignore? Go ahead and hit share.