Brexit continues to inspire debate across the political and economic spheres. But given that 30% of all forex trades happen during the London session, Brexit has far-reaching implications for brokers and traders. There's lots of uncertainty in the markets but in a classic tale of finding the silver lining, Twitter has emerged as a good platform for banks and brokers. Here's how to drive Brexit business on Twitter.
#1 Use Twitter for regular Brexit updates
Many people thought Brexit was going to sweep over quickly and search interest even decreased between 2017 and 2018. However, as the process drags on towards a potentially rocky conclusion, search interest is rising again. A quick Google Trends overview shows that search interest has re surged since 2018 as Brexit dominates the news more and insecurity continues to increase among people.

Brexit also continues to be a hot topic internationally with the rest of the world showing much interest in the process especially in the Americas, Europe, parts of Asia, and Australia.

The search trend means people have questions and they want to keep up with all the current events. The broker scene hinges on analysis and so you can create a competitive edge by using the interest in Brexit to provide regular insights and analysis into what the situation means for traders.
Twitter is the go-to platform for trading news and FXTM is using this to provide bite-sized news analysis in 60 seconds every week. The broker has been including an analysis of news related to Brexit as part of its weekly offering.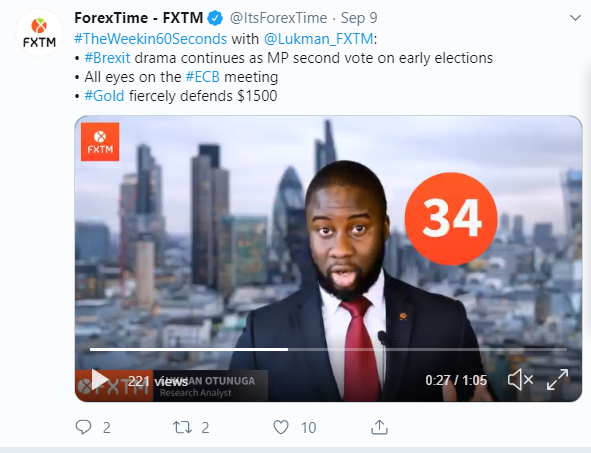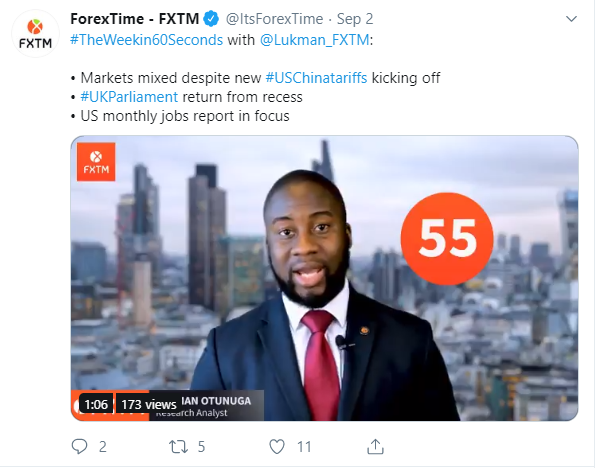 The 60-second analysis is appealing because it's regular,  provides quick information to some of the current and burning Brexit questions people have, and it merges the information with other trending issues affecting the market. On average, #TheWeekIn60Seconds gets 2.4x more engagement than the rest of the broker's posts and shows how you use Brexit news to drive business.
Key Takeaway
Be consistent. Consistent brand messages give 3.5 x more brand visibility compared to inconsistent presentation and consistency increases the value of a brand by 20%. Regular Twitter information is a great way to give your audience a consistent experience which builds trust and funnels into loyalty and engagement – all crucial elements for driving business during the Brexit storm.
#2 Piggyback the right hashtags and keywords
Jumping on hashtags because they are trending regardless of their relevance to your content is one of the most common hashtag mistakes. This is especially bad when it comes to hashtags that are riding on public sentiment like #Brexit. That said; it's possible to cleverly incorporate Brexit hashtags into content that's super relevant to your audience. It's important for traders to keep an eye on developments and news. So go ahead and create Twitter posts that feed their need for information. On average, TIOMarket's Brexit news tweets with relevant hashtags get 25% more engagement than non-Brexit tweets.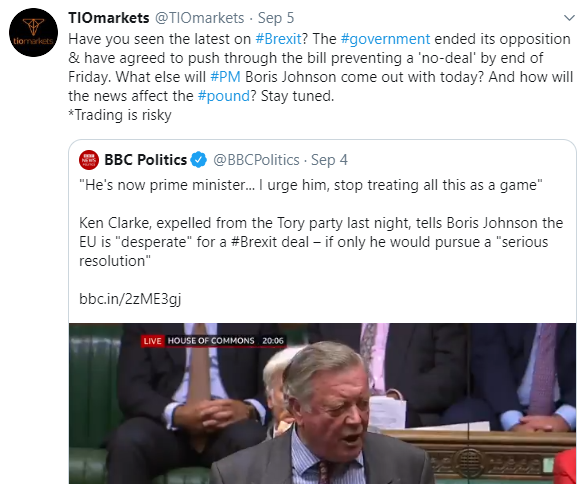 Besides mixing hashtags with news, it's also important to use the right hashtags. The idea of creating your own Brexit hashtags may seem appealing but it's useless if no one will ever use them. It's better to use tried and tested Brexit hashtags that people are already engaging with.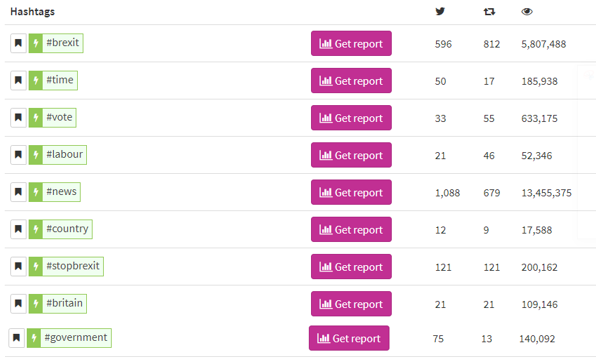 Some common Brexit hashtags besides #Brexit include #government, #StopBrexit, and #GetBrexitReady which is currently trending with the looming Brexit Day on October 31.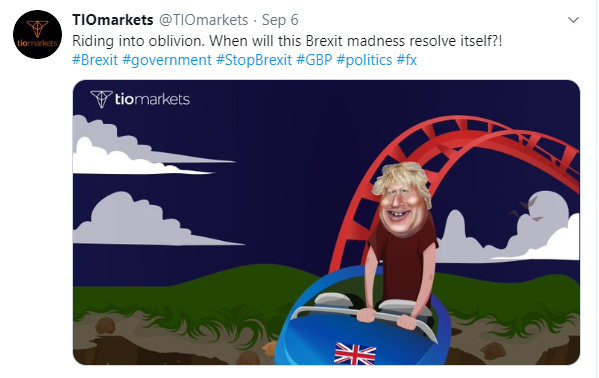 Like hashtags, using keywords that people are already searching for, is key. The beauty about most of the commonly searched Brexit queries is that they are questions and so it's easy to create educational Twitter content from the common keywords like 'What does hard Brexit mean' and 'What is happening with Brexit' to drive business.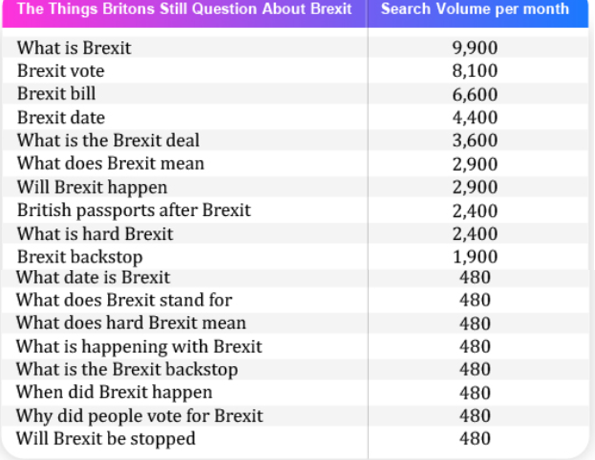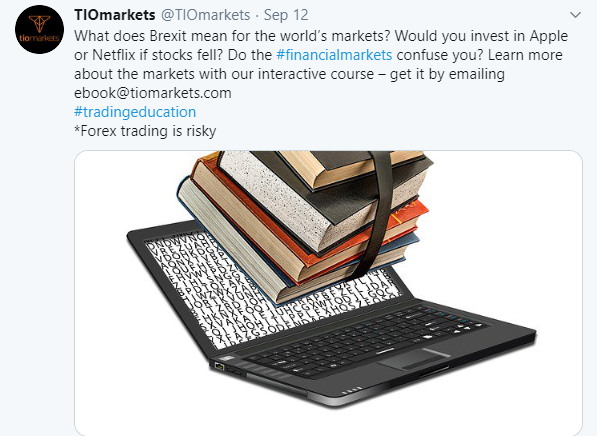 Key Takeaway
Be creative. Use tools to help you find relative and trending hashtags. Examples include Twitter Native, Trendsmap (which helps you spot tending hashtags by location), AgoraPulse and RiteTag.
Not sure how to join Twitter conversations? Then get Socially Sorted, our complete social media management solution.
#3 Give traders something they crave – Brexit education
The sheer fact that every month close to 10,000 Britons search the term "What is Brexit?" shows that many people are still lost on the Brexit issue. According to a poll by BMG Research, around 75% of the public are unclear on Brexit plans and what the government is trying to achieve and a quick Google search supports the lack of clarity.
People have Brexit fears and alleviating these fears through an authoritative voice and valuable content that answers common Brexit questions and educates traders can fuel business. Saxo Bank provides its audience with regular tweets pointing to educational content which provides insights and clarification on Brexit events.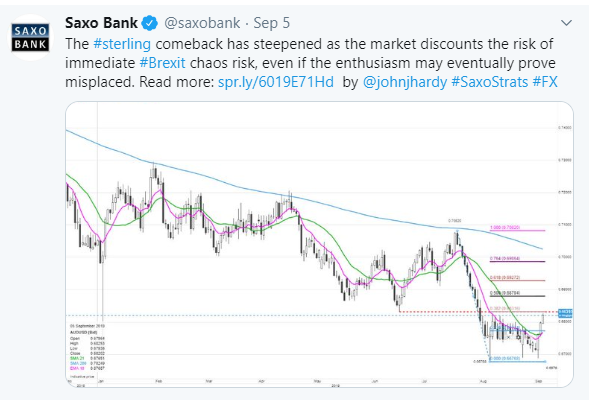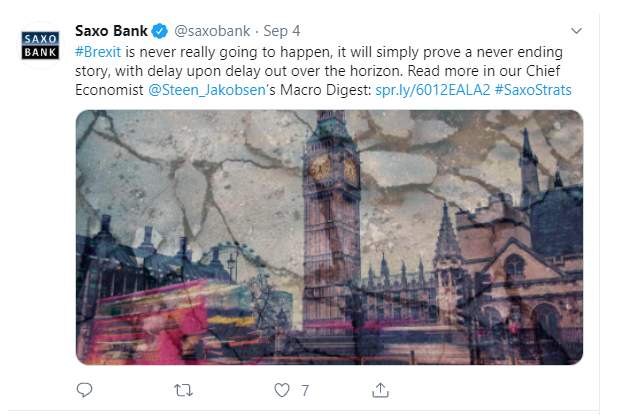 Because people want answers, the regular doses of educational content get on average, 86% more engagement compared to the posts with less focus on educating the customer.
Key takeaway
Be clear. Uncertainty over Brexit-related policies in on the rise again as people lose confidence in the leaders behind the process. People are grappling with the implications of Brexit and are craving content that increases clarity and so this is an opportunity for brokers to establish credibility and thought leadership.
Educational content increases a customer's likelihood to take up a brand's offerings by 131%. You can drive business by being a consistent, reassuring, and clear educational voice that alleviates fear and shows traders how they can protect their investments amidst gloomy Brexit news headlines that are instilling panic.
#4 Become a Brexit analysis authority
From the Bank of England forecasting a 33% probability of Britain falling into a recession by the end of March 2020, to traders fearing some highly likely market volatility from a "no-deal" outcome, people are trying to predict Brexit's impact on the financial markets. You can drive business by becoming an authority in the Brexit sphere and aiding traders with timely analysis.
Goldman Sachs is an authority in the financial space because it has established itself over the years through valuable analysis and predictions that are used by many brands. When it comes to Brexit, the company drives business through wide reach and interaction because many people are always on the look-out to share its in-depth content.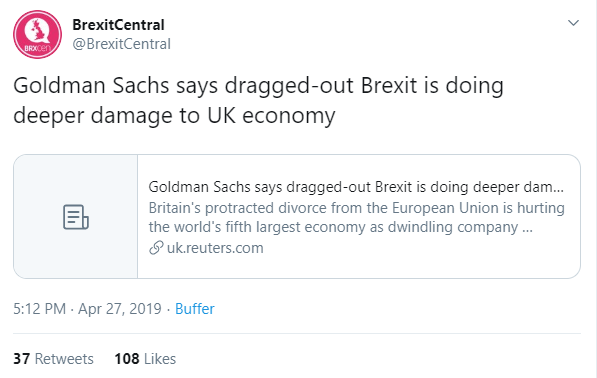 BlackBull Markets is merging Brexit news with engaging hashtags like #breaking, #news, and #Brexit to establish itself as an authority in the trading space. For instance, whenever there is a major Brexit event such as the Queen approving the suspension of Parliament on August 28th, BlackBull Markets provides timely market analysis and forecasts. These breaking news analysis tweets get 45% more interaction than other non-news-related posts.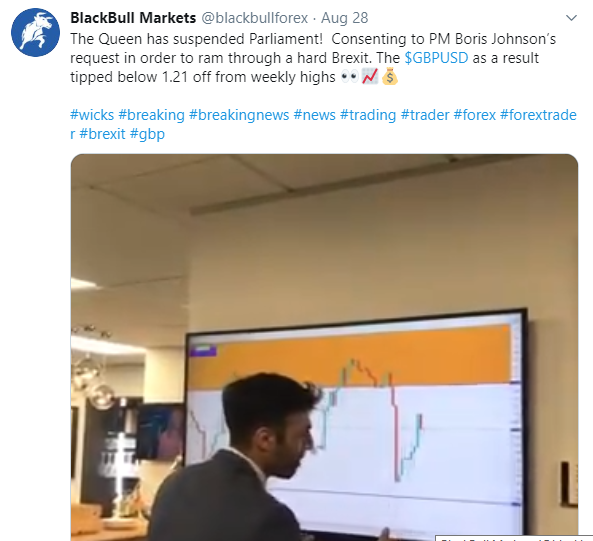 Key takeaway:
Stay Brexit-focused. On average, Brexit-related tweets outperform other posts by 60%. So using #breakingnews and establishing yourself as a reliable analysis authority will help increase your reach. Brexit news surrounding October 31 and beyond is a big business driver. What's more, by giving free, valuable information, you will build loyalty that drives business.
Brexit has cast a shadow on the financial markets but Twitter remains a goldmine to fuel your business growth. Get in touch with the Contentworks team today for a Brexit Twitter strategy that creates meaningful conversations with your traders and investors and drives trading. Enjoyed reading How to Drive Brexit Business on Twitter? Hit the share button.