Marketing disasters can and do happen, with even the most successful brands forced to wiggle out of PR fails. Whether it's a Twitter blunder, a horrible statement from a CEO or a campaign that failed to align with the underlying ethos of a brand. Mistakes happen each and every year. So join us as we check out the worst PR fails of 2022.
Center Parcs Attempts to Turf Out Guests for the Queen's Funeral
Following the Queen's death, Center Parcs UK made the misguided decision to turf all guests out of their UK villages by 10am on Monday 19 September so that as many staff as possible could watch the Queen's funeral. In the original announcement, guests were banned from their accommodation for 24-hours and forced to make alternative arrangements, regardless of their budget or the length of their stay.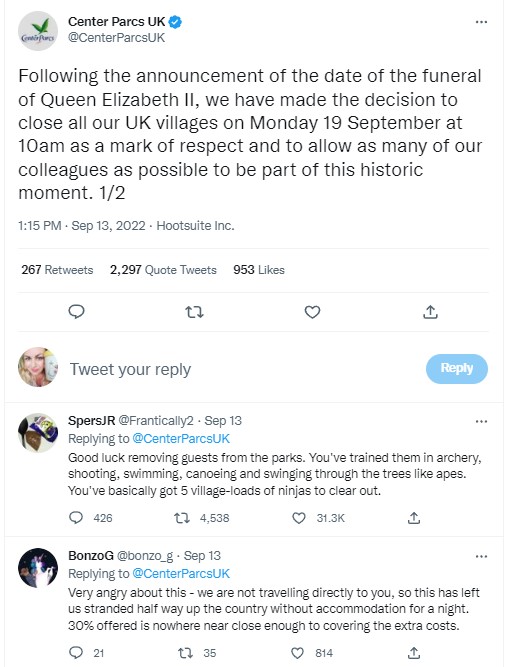 This, of course, did not go down at all well with paying customers and the social media backlash resulted in a u-turn, with the Parc stating:
"The vast majority of our guests are either due to arrive or depart on Monday September 19. We have, however, reviewed our position regarding the very small number of guests who are not due to depart on Monday and we will be allowing them to stay in our villages rather than having to leave and return on Tuesday. The villages will still remain closed on Monday and we will be offering a discount for the lack of facilities available on that day."
Center Parcs clearly wanted to join other brands paying their respects to the Queen, but they did not think carefully about how their closure would impact guests. On the upside, the brand swiftly gave an alternative arrangement, offered a discount for the missed day and were very quick to answer queries on social media. Note how the guests are being directed to a more private space to have their problems solved. This helps take things out of the public eye.
Centre Parcs were not the only ones we cringed at during this time. It's not as though people were waiting to hear what Domino's Pizza or Pizza Express had to say about The Queen. The same goes for sausage roll seller Greggs, Poundland, a convenience chain store that promises prices as low as £1, and countless other companies that scrambled some questionable promotional posts.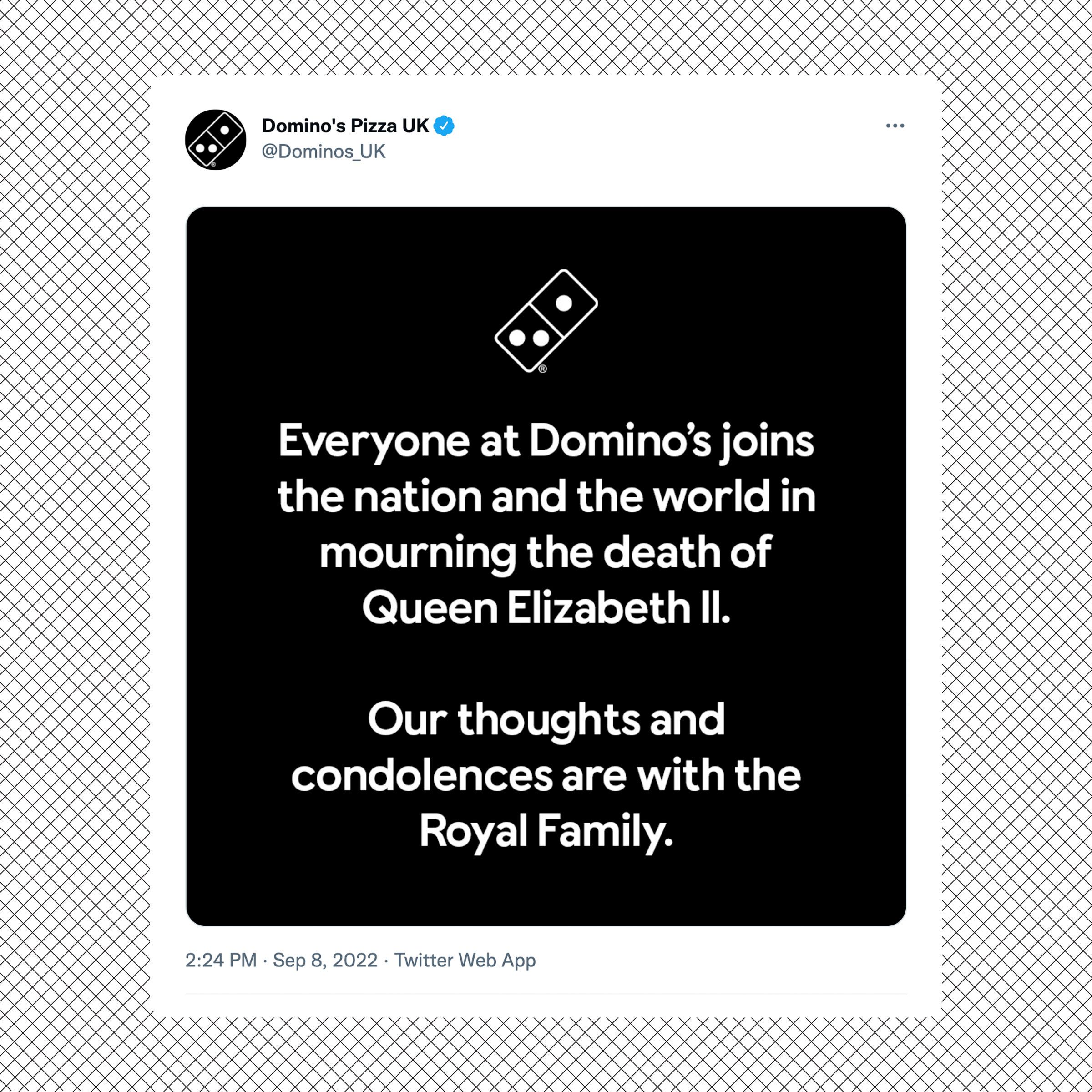 Top Tip: When it comes to national events such as the passing away of a royal, think carefully before updating your social media pages. Do you need to take action? Do you need to say anything? What are other brands in your sector doing?
E.ON Sends Socks with Advice on How to Reduce Carbon Emissions
It's no secret that energy prices have gone through the roof lately. But E.ON seemed to rub salt in the wounds when they sent thousands of British households polyester socks branded with advice on how to reduce carbon emissions. Talk about tone deaf! Sure, the issues around carbon emissions are serious, but with so many people worried about making ends meet, messages on socks simply didn't hit the spot.
Many of the new E.ON sock owners took to social media to criticise the 'pitiful package,' which was delivered to homes in the same week that Ovo Energy was forced to apologise for a letter which encouraged households to 'cuddle a pet' or 'perform star jumps to keep warm.' We have no words…
The hearts of both brands might have been in the right place. But when talking to consumers, sending out freebies or offering advice, it's really important to not be patronising. When it comes to something serious like the national energy crisis, brands should remain factual. Perhaps writing a blog detailing ten energy saving techniques or a free downloadable energy-saving e-book would have been preferable.
Top Tip: When it comes to producing high-quality content it's important to research your topic carefully and think about what people want to know. If you can solve consumer problems or answer frequently asked questions, you're more likely to build a loyal following.
McDonalds – Halloween #TrickorEat Campaign
While McDonalds was aiming for a bit of good-natured Halloween punnery, social media users didn't really see the funny side of the fast food chain's #TrickorEat campaign. The hashtag, in fact, was picked up for all the wrong reasons, with Twitter users stating that eating-related puns were ill-advised considering the cost-of-living crisis.
Vice-chair of the Medical Journalists' Association, Jane Symons, spoke for many when she questioned McDonalds' campaign.

The End Fuel Poverty coalition also shared the shocking statistic that there are currently more food banks in the UK than McDonald's restaurants. And we all know there's a McDonald's or two in virtually every town.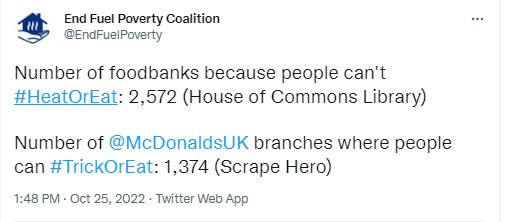 Sadly, but perhaps unsurprisingly, others saw the campaign and thought it was some sort of dystopian Halloween food policy set out by the UK's Tory government.
So how can you avoid such negative social media activity? Try to think about your campaign through the eyes of your consumers to iron out any potential faux pas. What's more, always know what's going on in the world around you to avoid walking into a fire by mistake. In other words, read the room!
FIFA – World Cup 2022 Faux Pas in Qatar
Unless you've been living under a rock, you'll know that this year's World Cup is being held in Qatar. And FIFA has been under fire since it all began. There are many reasons why people are unhappy. Firstly, people believe that the tournament should not go ahead in a country that doesn't support LGBTQ+ rights. This view was further intensified when FIFA banned the OneLove armband, despite posting all-inclusive posts on social media. The hypocrisy went down like a lead balloon. Following,  this other incidents such as fans removed from the stadium before the Iran game for wearing a Mahsa Amini shirt protesting the killing of the teen (and many others) in Iran, hit the headlines.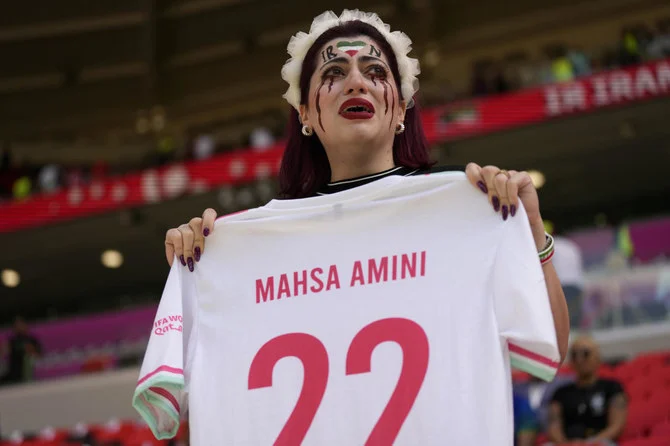 Then came the alcohol ban, with Qatar and FIFA changing its policy two days before the start of the tournament and after many fans had already flown out to show their support. This was made even more troubling because you could still buy alcohol if you were willing to pay more than €20,000 for a corporate box, fuelling the narrative that money talks when it comes to FIFA. Budweiser a main sponsor, were understandably displeased! The beer brand announced that it will send the winning country unsold beer from tournament following Qatar's alcohol ban.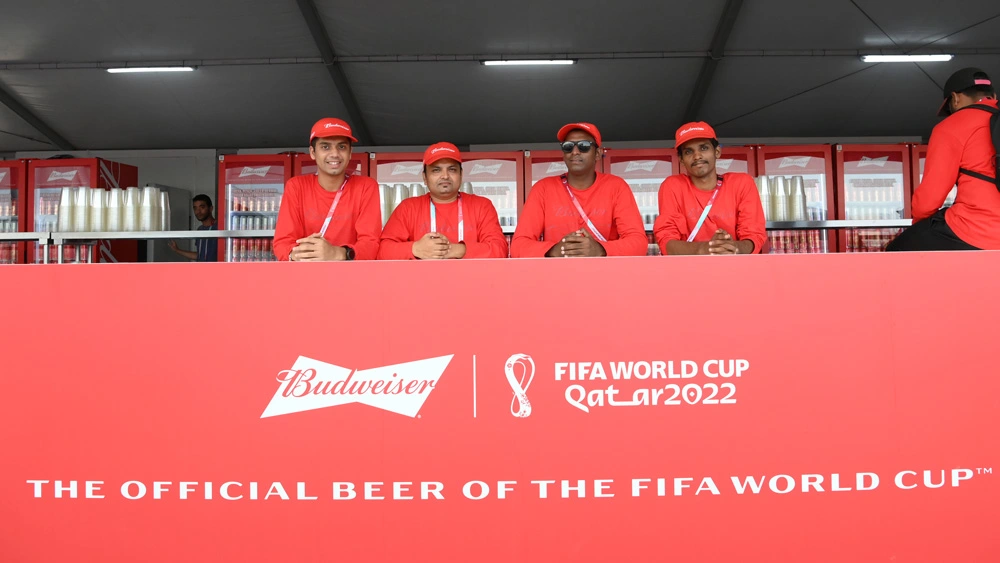 This was all topped off by FIFA President Gianni Infantino's somewhat offensive press conference which accused Western critics of Qatar's human rights of hypocrisy. In an explosive monologue, Infantino stated:
"What we Europeans have been doing for the last 3,000 years, we should be apologising for the next 3,000 years before starting to give moral lessons. Reform and change takes time. It took hundreds of years in our countries in Europe. It takes time everywhere, the only way to get results is by engaging … not by shouting."
Many felt that this statement simply nullified the issues around Qatar's human rights. Infantino also tried to say that he could appreciate the mistreatment of LGBTQ+ communities and migrant workers because he was bullied for having freckles at school. This, of course, caused a lot of backlash on social media with many people mocking his pre-tournament speech.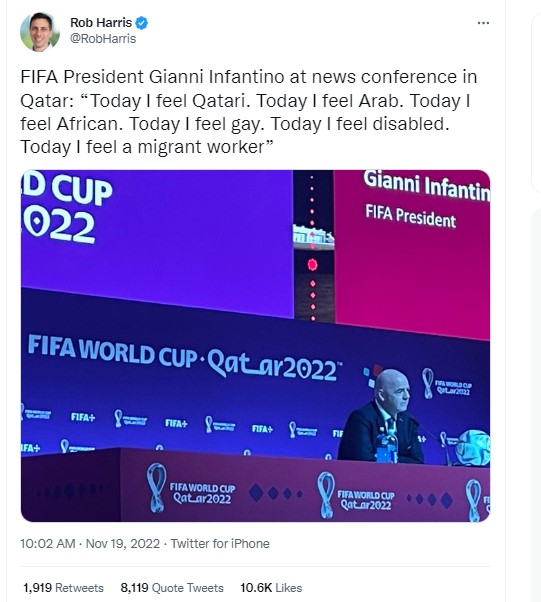 The PR mess surrounding Qatar has been vast, complex and made worse by a Netflix documentary highlighting corruption at FIFA. Should sponsors have stepped aside? Who was at fault for this PR dumpster fire? Tweet us @_Contentworks and let us know your thoughts.
How should brands be handling a PR crisis? Here are some of our quick fire tips.
Do – Formulate Personal Replies
You can't expect every decision you make to go down well. In fact, a change to your services may cause a PR frenzy. So it's all about how you handle the situation. Formulating personal replies explaining your business moves can put minds at ease. Addressing people directly on social media also gives you the opportunity to explain your position properly.  Social media users have the tendency to bounce off one another and even spread untruths, so it can be beneficial to speak up.
Top tips for personal replies:
Address the person you're talking to by name as this shows you care and are not just copying and pasting replies.
Try to offer a solution to the problem which in this case was a review of credit limits. Include links where necessary to relevant business pages.
Take the rage off social media by suggesting the aggrieved person sends you a DM or emails you instead. This will help to minimise the impact of negative PR while still addressing the needs of the consumer.
Don't – Be Confrontational or Argumentative
There's a time and place for humour. When someone is unhappy, it's unwise to crack jokes. Similarly, if you're being bombarded with complaints, avoid being confrontational or argumentative as this will simply feed the beast and encourage negative comments. The more you reply to people online, the more attention your crisis is likely to get on social media too, so try and handle things in a calm and professional manner.
Did you know: One in three (37%) of consumers are likely to unfollow a brand that handles an incident poorly and one in four (25%) are likely to actively post something critical in response. Therefore a mishandled incident can lead to a tidal wave of negativity or a reduction in followers, neither of which is desirable.
When handling negative PR, always remember to:
Stay on-brand. Use the correct tone of voice and avoid language you know to be incorrect for your business such as colloquialisms or offensive terms.
Avoid using emojis or GIFs to try and sweeten the mood, particularly if you don't do this as standard practice.
Don't make things worse by insulting your followers or using the wrong terminology. Social media is a place where the slightest slip of the tongue in a moment of frustration could cost you dearly. It's all about staying fully in control.
If you're in the finance space, run serious complaint replies past your compliance and legal team. Replies on social media can (and have been) used in court cases with regulators.
Do – Embrace Social Media Monitoring and Listening
Social media monitoring is the act of monitoring social media for information relevant to your business. For example, you might want to know about brand mentions with or without direct tagging (aka @mention), relevant hashtags, mentions of your competitors and general trends that apply to your industry. While social media monitoring is about gathering data and looking at what's already happened, social listening is a more active and strategic allowing you to track, analyse and respond to conversations about your brand on social sites.
Knowing what's being said about you on various channels will allow you to step in where needed and share valuable information and insights with consumers if you sniff negative PR. Remember, the more hands-on and responsive you are, the better. People may simply have the wrong end of the stick or be basing their opinions on distorted facts. Don't have time to monitor your mentions? Talk to our team!
Don't – Delete User Comments
Negative comments on social media can seem like a real blow to your business, particularly if you're a small company trying to make ends meet. But authenticity is everything, so it's really important not to delete comments as people might have already taken a screenshot of their engagement with you and use this to criticise you at a later date. It's a tough world out there.
Do – Have an Action Plan
If a social media disaster strikes, you can try to rectify it using the points above. Be calm, collected and know which members of the team should take charge. Essentially, you need an action plan that everyone's aware of and perhaps some evergreen content that you can pop on social channels while you look into the issue more deeply.
When it comes to a PR disaster action plan, think about the following:
Who will take the lead in handling the issue? Do you have backup where needed?
Has your compliance team been briefed on PR disaster strategy? Will they know what's required of them if things go wrong?
Does your team know what they can and can't say regarding financial regulation? Sometimes, replying on the spot can lead to the wrong thing being said.
Will you address the issue on all channels or just the channel in the spotlight.
Do make a commitment to fix what went wrong and be transparent about it. You can also report back to your fans with updates in the coming months. This shows you really did take the incident seriously.
What do you think was the biggest PR fail of 2022? Tweet us @_contentworks and tell us your pick. For great PR and to improve your brand reputation, contact Contentworks Agency.