We are thrilled to be media partner for the upcoming FX Hedge Fund EXPO 2020. In light of social distancing restrictions that remain, the event will take place online on October 28 and 29 2020, offering a virtual connection to financial industry leaders. Here's what to expect At FX Hedge Fund EXPO 2020:
Why Attend the FX Hedge Fund EXPO?
As investors, asset managers, hedge funds, family offices and high net worth individuals turn to the currency markets, now is the perfect time to expand your knowledge and delve deeper into investment opportunities. FX is the world's largest asset class by turnover ($6.6 trillion a day according to a recent BIS study), with the FX Hedge Fund EXPO 2020 bringing investor and asset management communities together to:
Discuss the logistics of fund set up
Explore technology solutions for hedge funds
Talk about the optimisation of currency strategies
What to Expect at FX Hedge Fund EXPO 2020?
It's going to be a good one, offering 16 hours of live virtual content streamed directly to your home device. The event will also be viewable 7 days after the event. Thing to expect from the FX Hedge Fund EXPO 2020, include:
Industry Wisdom
There's nothing quite like the wisdom of industry experts to drive your enthusiasm. This event will feature insights from world renowned currency investors and fund managers. Learn how to set up your own FX fund, what technology to deploy and how to optimise your FX strategies. You'll also be able to connect with industry experts who will be live for 2 days during the virtual event and ready to answer any questions you may have. You can also connect with thought leaders for 7 days after the event and revisit the virtual exhibition to re-watch all of the speaker presentations on-demand.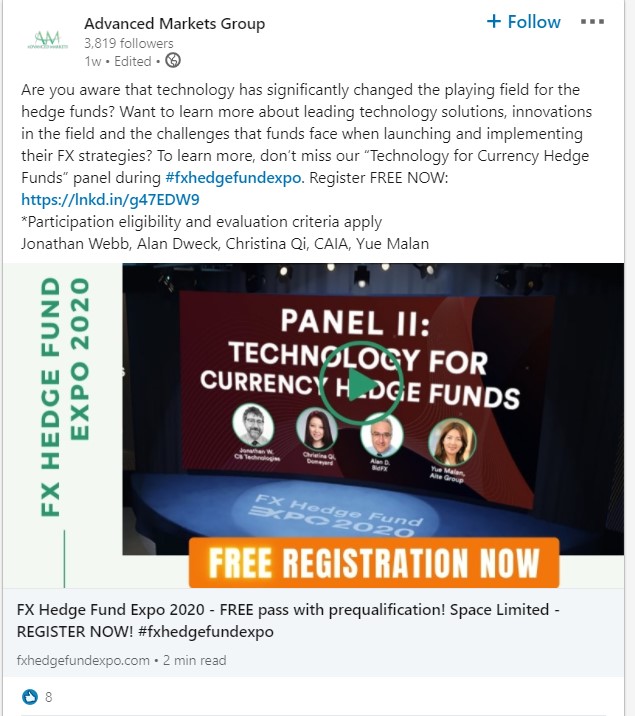 An Incredible Line-Up of Speakers at FX Hedge Fund EXPO 2020
Every good EXPO needs an incredible line-up of speakers and this event doesn't disappoint. The speakers and moderators include:
Alan Dweck – Chief Operating Officer at BidFX
James Reilly – CEO, Currenex
Tyra S. Jeffries – Founder & CEO of CreativeCap Advisors
Dave Floyd – Aspen Trading Group
Galen Stops – Business Enablement Manager, 360T
View the full line-up of speakers here.
An Exciting Schedule
The EXPO will consist of exciting panels and discussions. Topics include Technology for Currency Hedge Funds. With more hedge funds entering the financial markets space, this panel will feature experts from the field of technology and discuss technology solutions such as sophisticated front-office solutions that help achieve market-beating, risk-adjusted returns. Another panel, Optimising Execution and Scaling Hedge Funds, will discuss effective ways to scale and optimise your FX trading strategies without compromising results.
Virtual Networking
Networking face to face is always our preference. But the FX Hedge Fund EXPO 2020 is the next best thing right now, helping to promote fresh conversations and business growth during difficult economic times. By attending the EXPO, you'll have direct access to network with industry experts, business leaders and successful investors via group or private meetings, video and audio calls and live chats. Access public group chats, dedicated chat rooms or attend live Q&A discussions in the speaker sessions. At the end of the seminar, all your burning FX and hedge fund queries should be answered.
FX Fund Investor Pitch Challenge
The EXPO will also feature an extra-special FX Fund Investor Pitch Challenge. This will see 7 fund strategies pitched to a panel of professionals from the industry. The judges will include portfolio managers from world-renowned hedge funds and the managers of family offices. Aspiring FX hedge fund managers can join this challenge for free. They can practice and deliver their fund's strategy pitch, receive valuable feedback from the experts and put their business on the path to success.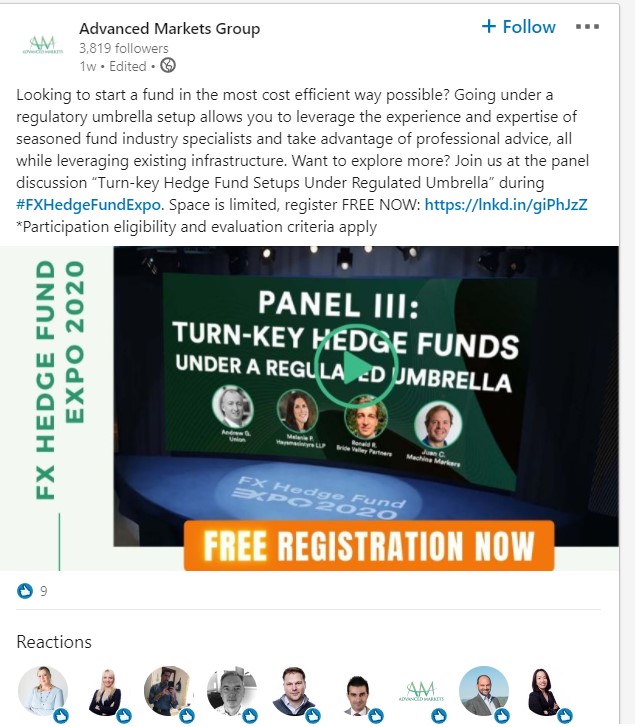 Contentworks as Media Partners
As a leading content marketing agency for the FX sector, we're a perfect fit for this expo. Being heavily involved with such events helps us learn and stay on top of trends. Having previously partnered with high-profile events such as IFXEXPO, Financial Innovation, Decentralized and more recently, The Big Forex Breakfast, we know how valuable these events are, and look forward to all the exciting insights this event will bring.
How to Make the Most of FX Hedge Fund EXPO 2020
To make the most of this EXPO, be sure to:
Check out the schedule in advance so you can ensure the right team members of your business are available to listen to expert insights.
Write down questions you want to be answered during specific Q&A sessions. Keep a notepad or personal device nearby to take notes or write down questions that might crop up during the event. You can never be too prepared.
Make use of the on-demand content available for 7 days after the EXPO. This is available for you to dip in and out of as you please.
Follow insights on Advanced Market's social media and join in the discussion, networking and idea sharing are important.
We'll be covering the event over on Twitter. So be sure to follow us, tweet us to say hi, share our content and stay connected. Register for the FX Hedge Fund EXPO 2020 today and get in on the action. It's set to be an event to remember.