It's fair to say 2020 has been something of a horror show. And while wearing (yet another) mask might not be on the top of your list this Halloween *shudder*, there are still many ways to enjoy the spookiest time of the year. In fact, as owls hoot and floorboards creak, brands have been working overtime to ensure they hit the nail on the coffin with their campaigns.
So, let's delve into the creepiest and best Halloween campaigns of 2020. It's a thriller!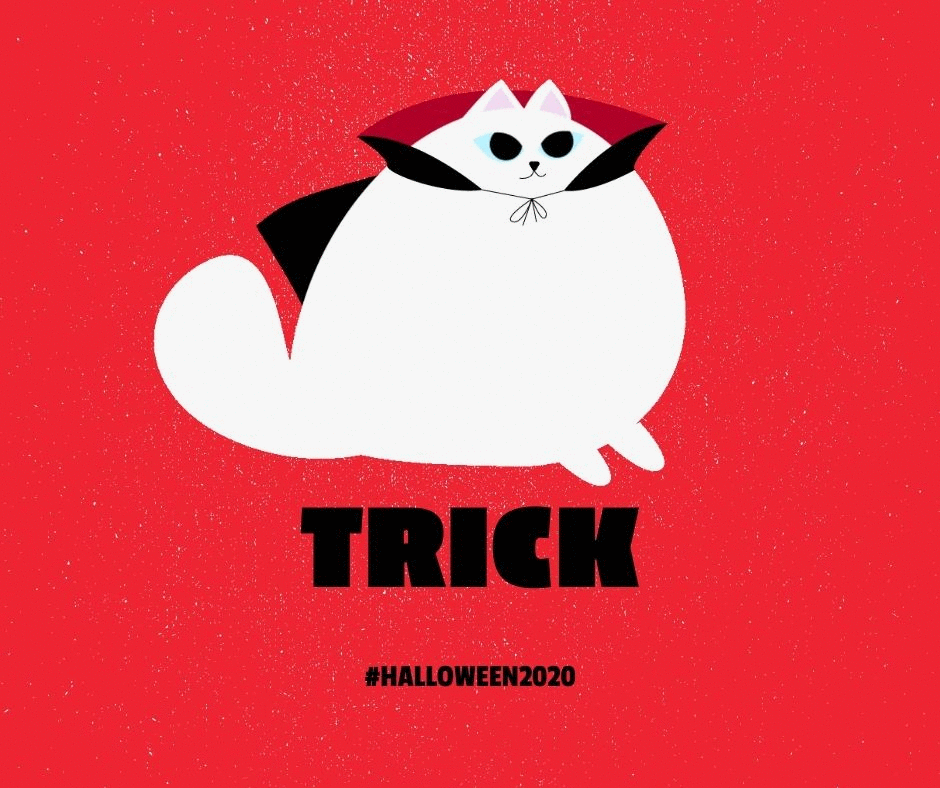 Lush Cosmetics – Lord of Misrule 2020
Trick or treating is probably a no-go this year due to social distancing restrictions. D'oh! But that doesn't mean you can't unleash your dark side with a spot of fang-tastic fancy dress. To navigate the strange circumstances we find ourselves in, Lush Cosmetics has launched a digital fancy dress competition named Lord of Misrule 2020. This is, quite simply, a grotesque and genius idea that meets all government guidelines.
Step 1, film yourself dressed up.
Step 2, upload your video to YouTube with the title, "Be the Lord of Misrule – Lush Casting Call."
Step 3, email Lush your video and best photos.
Step 4 – wait to see if you're one of four lucky winners to bag $500 CAD and a prime spot on the Lush website. Creepin' it real Lush, nice!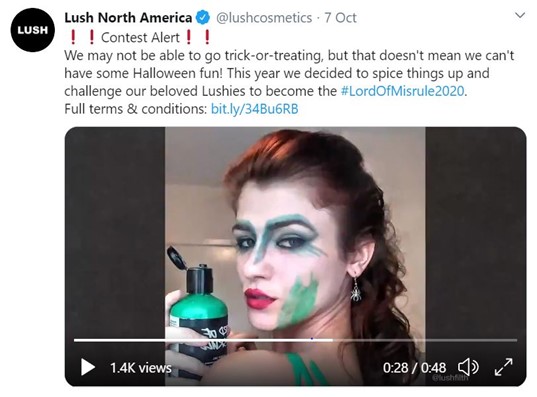 Why we like this:
It promotes the Lord or Misrule products in a creative way. This range includes the best-selling Lord of Misrule bath bomb featuring a spicy herbal blend of patchouli and black pepper oil. 100% perfect for a Halloween promotion.
The campaign features across multiple platforms for maximum exposure with an attractive incentive encouraging engagement.
An instructional video has clear CTAs to avoid confusion.
There's a branded hashtag to make all social media content easy to find.
Lush is also raising spirits with other marketing marvels including Halloween FOMO. Unleashing a limited-edition Halloween range is a great way to awaken ghosts and ghouls from their lockdown haze and get them scrambling for your products. And, by writing articles around your new releases, you can create even more of a buzz.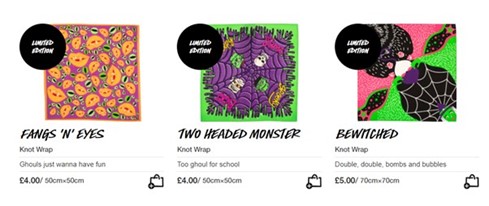 Top tip for marketers: Spread those batwings. Don't just hang on the branch, come up with a campaign and see how hard you can make it work. Content is your friend as it can fly all around social media.
Krispy Kreme – Sweet or Treat Saturdays
"2020 is Scary Enough." You're not wrong there Krispy Kreme. But what better way to make things a little nicer than with Sweet or Treat Saturdays? There's nothing quite like a sugar rush to make Halloween complete and you can get a $1 Sweet or Treat dozen to share, when you buy a full priced dozen at participating US and Canada stores. The Sweet or Treat dozen contains 11 Original Glazed doughnuts and one festive Jack-o-lantern doughnut. Spooktacular!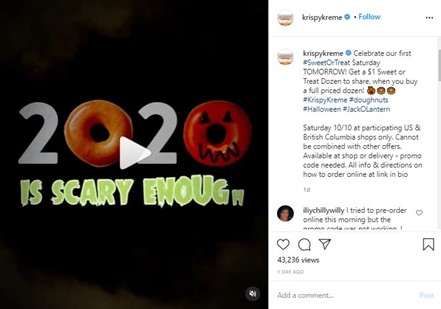 Why we like this:
Donuts are awesome and taste even better with Halloween décor – right?
83% of consumers discover new products and services on Instagram. So, video promotions on the platform are ideal. Instagram video length in your feed can be up to a minute long. But the average person will only watch about 3-10 seconds, so be sure to include important information from the very start and strong CTAs.
Word play. Trick or Treat is replaced with Sweet or Treat. And the fact it's a Saturday-only campaign makes it easy to create interest and FOMO.
It's a real Monster Mash up in Krispy Kreme too, with their #MonsterDoughnuts being an extra Halloween hoot. What's really clever is the storytelling element that brings the marketing of these sweet treats back to life while helping audiences connect with the product. There's Wolfie, an Original Glazed doughnut dipped in chocolate icing and decorated like a werewolf. So good it'll make you howl. There's also Frank, dipped in green icing and decorated with pretzel piece bolts (no prizes for guessing who that is), as well as Drake, a classic monster with purple icing and fangs.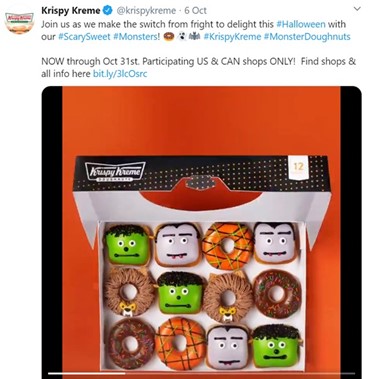 If you're looking for a bit of DIY this Halloween, there's also the Creepy Creations Kit from Krispy Kreme promoted on Instagram. Again, this is a limited-edition product, and you should act now to avoid missing out on all the Halloween awesomeness. Hello FOMO! Available to order online, Krispy Kreme has cleverly combined in-store promotions with a buy online incentive to ensure all angles are covered. After all, many people are still staying at home, so maintaining a strong digital presence is a must.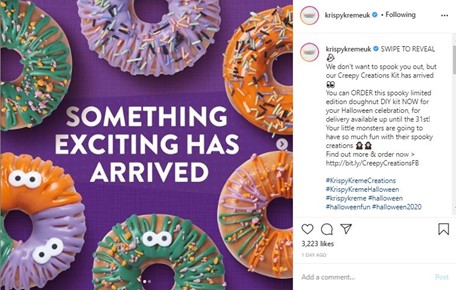 Top tip for marketers: Make your products digital and guide people to your buy-now pages. That way, you'll always be able to sell through the pandemic. You can monitor specific landing pages and their performance using tools such as Google Analytics.
TREAT TOWN – Virtual Trick or Treat Experience
Are you brave enough to enter TREAT TOWN? Mars Wrigley has come up with an epic trick-or-treat experience that can be enjoyed from the comfort of home. So don't worry kids, Halloween hasn't been cancelled, it's just been adapted. And you can still get your hands on your favourite sugary snacks! Win-win.
Simply download the TREAT TOWN Halloween app and enjoy a host of virtual tricks and real treats as you take on the ultimate Halloween adventure. As an interactive and inclusive experience for the whole family, you're invited to create your family profile. This includes decorating your virtual door, choosing monster avatars and inviting friends and family to join in the fun. You can then buy virtual candy credits that your trick or treaters can exchange for real candy from top brands such as Skittles, Snickers and Twix.
From there, you can enjoy safe trick or treating with those nearby, without worrying about what lurks in the shadows – See the full details here.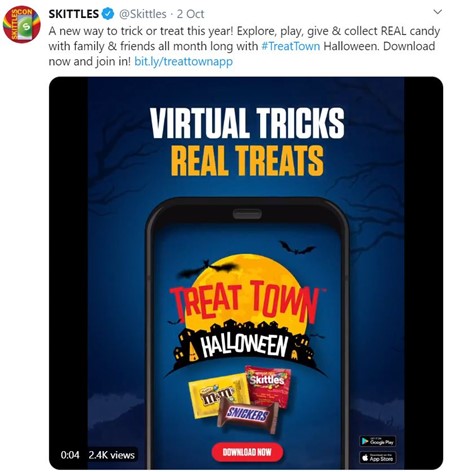 Why we like this:
It's innovative. The key to brand survival during difficult times is adapting to the situation and looking for relevant opportunities.
It's fun. Kids can still enjoy one of their favourite traditions – with a twist.
The app offers an entire month of fun, allowing for maximum money to be spent on Halloween sweet treats.
All social media material has strong calls to action.
There are easy-to-watch tutorials. Considering 72% of consumers prefer watching a video than reading text, this is a good move.

M&M's – Monster Mash Whoopie Pies
You can buy M&Ms in TREAT TOWN, but @mmschocolate has gone a step further by showing why buying M&Ms is an awesome idea. By posting recipes for treats such as Monster Mash Whoopie Pies, M&M makes their products relevant and tantalising.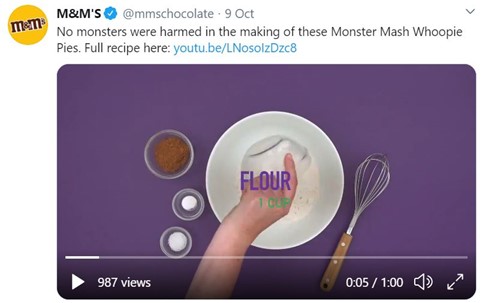 This brand is also good at storytelling, personifying each of the M&M colours to tell humorous Halloween tales via their Twitter platform. This is a great way to weave comedy into social media in a bid to keep people coming back for more. Considering 48% of consumers follow brands on social media to be entertained, being quirky is definitely a good marketing technique.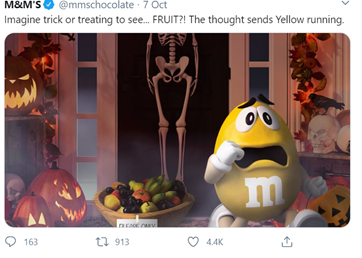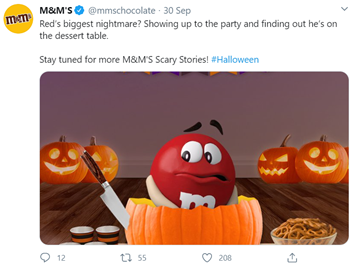 Top tip for marketers: When coming up with seasonal promotions, it's a good idea to prepare 'stay tuned' content you can post to social media during the lead-up to certain calendar events. M&M's Scary Stories, for example, are perfect for Halloween as they ensure social media accounts stay active during this important retail period for confectionary brands. Of course, being different is the key, so why not come up with a branded story of your own, complete with a branded hashtag to ensure people can follow and easily find the content you post?
Marmite – Halloween Trick or Treat Jars
Marmite has released two on-brand limited-edition Marmite trick or treat jars in time for Halloween. These include a Halloween Trick jar which serves as poison for the haters (not literally we hope) and a Halloween Treat jar which is a potion for the lovers. All can be personalised and make for a boo-tiful breakfast. Sorry, not sorry. This campaign is very much true to brand, playing on the whole 'love it or hate it' concept that Marmite is well-known for.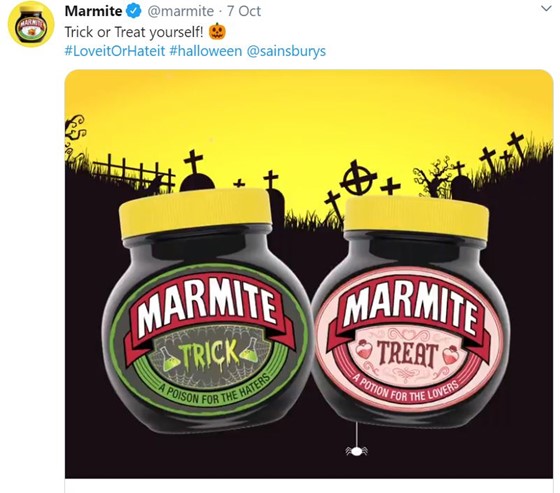 Top tip for marketers: No matter what campaign you run, always be true to your brand. Marmite isn't for everyone and they know it. Which is why this Halloween marketing effort is so hauntingly fabulous. Don't worry about pleasing everyone, just know your demographic and create a campaign that will get plenty of bites.
When creating a specific campaign, also remember that each landing page should have a very specific call to action. Direct people along the sales funnel quickly and without hassle by using bold lettering and clear language.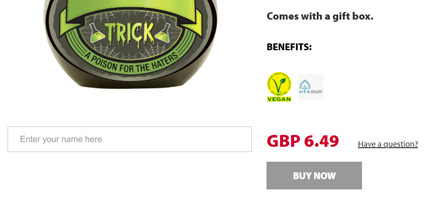 LEGOLAND Windsor – Brick or Treat
If you've the thumbs up to go ahead with a physical Halloween promotion this year, you need to amplify it on social media. That logic applies for the rest of 2020 and beyond with covid-19 fears lingering. Your marketing really needs to be bigger and better than ever in a bid to coax people out.
LEGOLAND Windsor is working hard to generate excitement by:
Focussing on what's new. Consumers need a reason to leave their homes. So, where possible, show them what they could be missing out on. And link to where they can get tickets.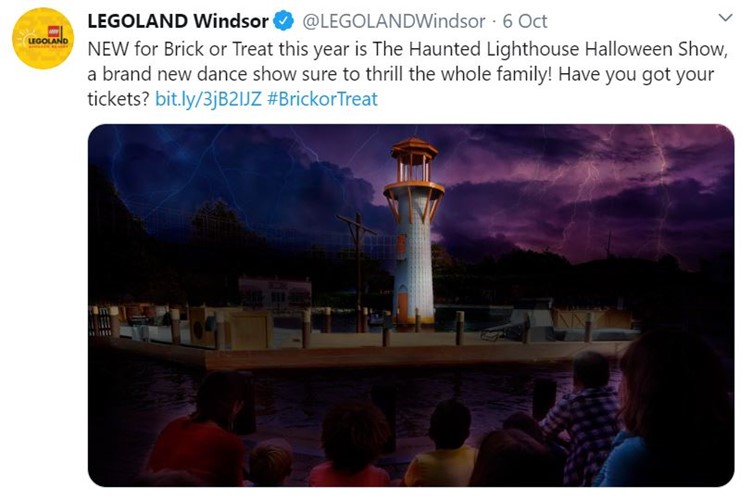 Running Halloween competitions to boost engagement. Getting consumers to engage with you on social media is harder than it looks and requires a spooktacular strategy. One of the best things you can do it run a competition in return for some awesome prizes. Everyone loves freebies, giveaways – and being the star of your social media page. Don't also forget to tag the winner, as a shoutout can be great for brand-consumer relations.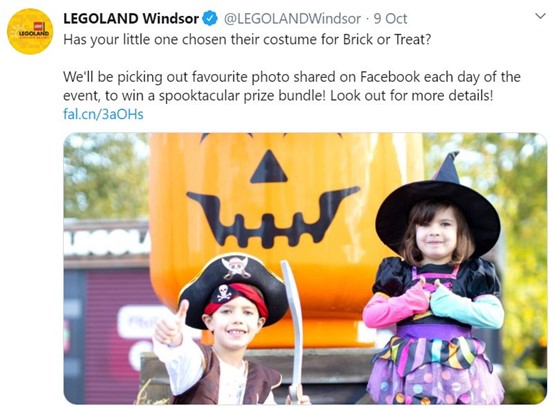 Top tip for marketers: To promote Halloween services or events, it's a good idea to get your pinned tweets in place. These get higher engagement and will help your social accounts look as relevant and on-the-ball as possible. Disney+ is a good example of a brand who are on it with their pinned tweets, advertising #DisneyPlusHallowstream in style.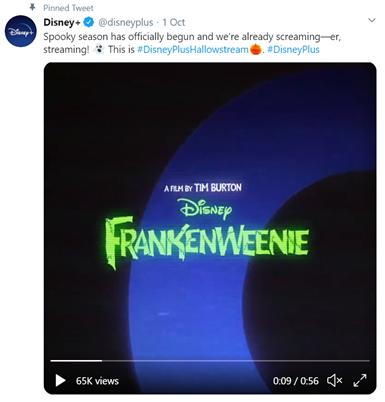 Quick and Easy Top Tips for your Halloween Marketing:
#1 Decorate your Social Media Profiles
Social media isn't a corporate billboard. It should also be fun. After all, many people turn to social media to relax. During the height of the 2020 awfulness, 70% of consumers were looking for brands to boost positivity. So, a good way to boost engagement and keep people interested is to decorate your social media profiles. You can add some Halloween colour easily by changing you're the colour scheme of your cover photos or by adding temporary Halloween imagery.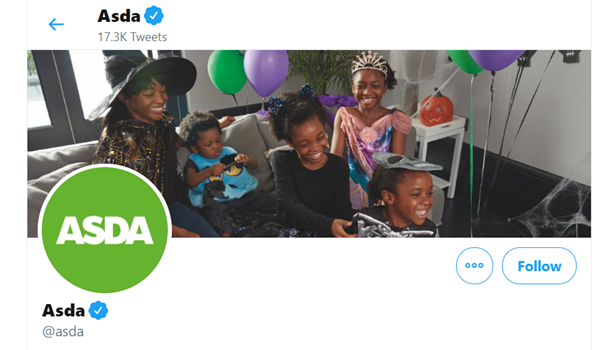 #2 Creepify Products – and Shout About It
Got something you can spookify? Perfect! Just make sure you shout about it across your social media pages. You can blog, go wild with puns, create spooky images and post one every day. Here's a great example from M&S.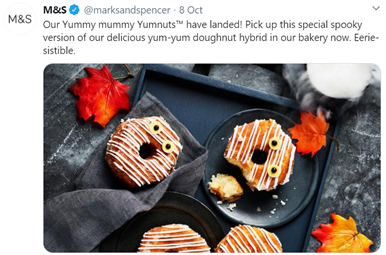 #3 Offer a Devilish Discount
Times are hard. Many people have lost their jobs or been furloughed. So, if you want them to spend with you during this time of year, it's important to be devilishly daring and go for the bold promotions. Krispy Kreme's Saturday promotion is a great way to find a happy compromise between giving your stock away and encouraging people to buy.
If you're looking to improve your online reputation and get digitally savvy during this difficult climate, contact Contentworks today. As a leading content marketing agency, we can provide everything from blogs and articles to PR material, website updates, video scripts, website content and social media management. Speak to our creative team today for expert advice on how to take your brand to new heights.
Loved reading about the best Halloween campaigns of 2020? Give us a scary share. In the meantime… #HappyHalloween!