It's estimated that people will spend a whopping 100 minutes a day watching online videos in 2021. 100 minutes guys. That's almost 12 hours a week. Social media video content, in particular, is huge with one billion hours of video content watched daily on YouTube and over 4 billion video watches on Facebook every single day. And that's just for starters. Video should form a significant part of your 2021 social media strategy, let's look at video marketing for social media.
Video Marketing for Social Media – the Stats
According to Sprout Social, 67% of consumers consider video to be the most transparent type of social media post.
74% of consumers share video content from brands on social media
Tweets with video see 10x more engagement than those without, while promoted tweets with videos save more than 50% on cost-per-engagement.
Video seems to perform much better on Instagram, seeing 49% higher interactions than image posts.
Mark Zuckerberg claimed that Facebook could be mostly video by 2021. Indeed 100 million hours of video are watched on Facebook every day.
Video sharing app TikTok has exploded into popularity and now has 800 million active users worldwide. It's been downloaded over 2 billion times on the Google App Store and Google Play. In fact, during the pandemic TikTok recorded an all-time high number of downloads reaching 200 million for the first quarter of 2020.
And channels like TikTok are not solely to pass the time. Brands such as E.L.F Cosmetics have shown the importance of producing relevant video content. The beauty company teamed up with Republic Records back in December to create a TikTok challenge that quickly went viral called, "Eyes. Lips. Face." This attracted over 3 million user-generated videos and over 4 billion views, catapulting the brand into the spotlight. It's the most successful video to date.
On the back of such success, E.L.F. Cosmetics teamed up once again with Republic Records to create a remix in light of the Covid-19 pandemic called "Eyes. Lips. Face. Safe." This was designed to encourage people to wash their hands and stem the spread of the virus. Once again, the video saw significant engagement generating thousands of user videos.
What can we learn from this?
Challenges work. And can boost engagement with your brand like crazy. When creating a challenge, be inclusive. Make sure it's something everyone can get involved with. Set up a hashtag that's easy to follow and that will make your content simple to find. Songs are catchy and memorable and appeal to a Gen Z audience too. Original music also keeps your campaign fresh, young and in the moment.
Embrace user generated content throughout your video marketing strategy. This will take the strain off your marketing budget and help you to fill your platform with an array of fun content that's not generated directly from your brand. If people see others engaging with you, they're more likely to want to do the same. This is social proof and can lead to a sales boost.
Another thing the cool kids of the TikTok world are doing is collaborating with influencers to produce engaging video content. Chipotle, for instance, teamed up with TikTok sensation Jessica Val Oritz who has a whopping 1.1 million followers. In the video which has so far garnered thousands of likes, Jessica simply says, "If I say your mother's name, she has to buy you Chipotle.' She then runs through a list of women's names. Simple, but genius.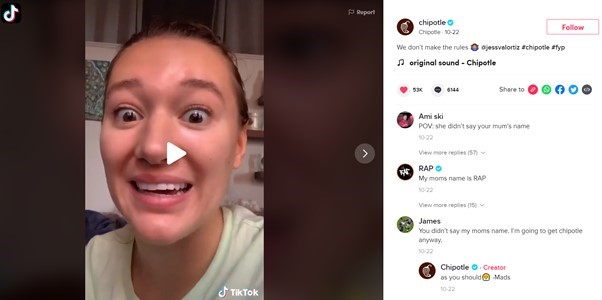 What can we learn from this?
TikTok videos don't have to be OTT in terms of production. In fact, Gen Z don't like anything over-staged and prefer the organic, back-to-basics vibe.
TikTok videos should however feature branded hashtags. And if you're working with an influencer, link to their page for maximum exposure.
Reply to comments. Getting a tailored response from a brand is exciting for TikTok fans and will encourage further engagement.
There's no doubt TikTok is the place to be if you're appealing to a younger audience, with Gen-Z's style being the platform's main vibe. But what other channels can you hit and what type of videos should you be exploring? Let's delve deeper.
#1 Product Videos
"If you want to build a ship, don't drum up people to collect wood and don't assign them tasks and work, teach them to long for the endless immensity of the sea." This is a quote from Antoine de Saint-Exupery, creator of The Little Prince and helps to summarise the goal of crafting a perfect product video for social media. Essentially, if you want your video to resonate with your chosen audience, it's important to showcase the full benefits of the product. Present the problem, the solution, the experience and the larger vision of what you're trying to build.
Before we check out some examples, here's what a good product video should encompass:
Engaging dialogue and narration – no unnecessary waffle
All the details without being dull or boring
Professionalism but not overly corporate or stuffy
Empathy and relatability
An appreciation of the target audience
A great example of a product video in work come from Greggs. The British bakery chain launched their vegan sausage roll in style with a product video that received almost 90K views on YouTube alone.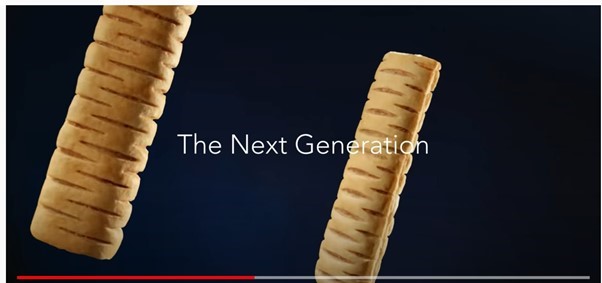 What's great about this video is that it:
Drives the brand forward creatively and meets the needs of a specific audience.
Focusses on USPs while keeping the viewer entertained with fresh imagery and punchy captions.
Has strong branding and comes with its own hashtag making it easy to promote the sausage roll across all social media channels seamlessly.
Shoutout to Greggs too for being mighty responsive and humorous to those who didn't pair sausage rolls with veganism. Got to love social media, right?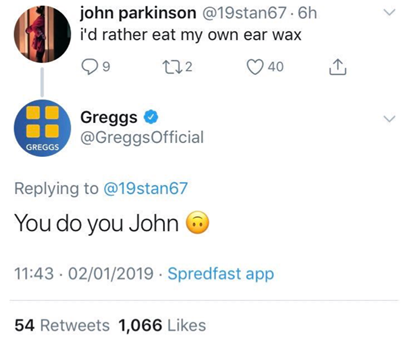 #2 Information Videos
72% of consumers would rather watch a video to learn about a product or service than read text. 87% would also like to see more videos from brands they follow. So, why not put two and two together and create an information video? These are great if you've a whole load to say but don't want to put your audience to sleep with a super long blog. Or if you feel visuals would simply be more impressive. Of course, people learn in different ways and blogs have huge SEO content. But by repurposing your content, you can reach a wider audience and add a touch more spice to your marketing.
Brands such as National Geographic use YouTube to launch informative video series about a wide range of topics including Ancient Egypt. These are only about 3-4 minutes long, but include beautiful imagery and vivid descriptions which helps to explain why they each get around 350K hits.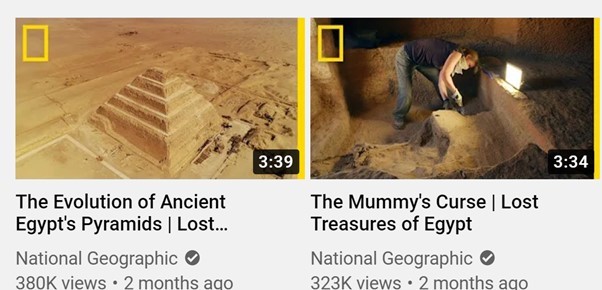 Top tip for marketers: 85% of Facebook videos are watched without sound. So, no matter what platform you're posting on it's a good idea to include captions to help get your message across loud and clear, even in silent mode.
#3 Sneak Peaks and Insight Videos
Another way to use video content to your advantage on social media is to offer sneak peaks and behind-the-scenes insights. Such videos can be used to build up excitement before a new product release or event. Exclusive content is also a great way to get people coming back to your site for updates they won't find anywhere else.
Take a look at the December pinned tweet from the LEGO Group. This offers an exclusive clip from the LEGO Star Wars Holiday Special and is not only seasonally relevant but also pinned for maximum exposure. A pinned tweet is similar to an ad, except you don't have to pay for it. Therefore it's a good idea to take advantage of this free advertisement.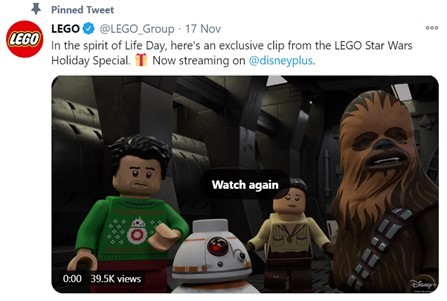 Top tip for marketers: Pop a strong call to action into any pinned tweet as this will drive consumers further along your marketing funnel. Including a URL in your pinned tweet has shown to boost engagement by up to 86%.
#4 Interview and Q&A Videos
Authenticity is key. People want to see more than flashy advertising and are willing to go behind-the-scenes to learn more about your brand. That's where interview and Q&A videos come in useful. These help to promote your brand across social media without looking overly promotional and are an effective way to draw your audience closer.
British fintech company Revolut regularly introduces team members on social media. The #RevInsider playlist on YouTube, for example, helps consumers to see what goes into creating such a revolutionary company. And provides insights from actual staff members.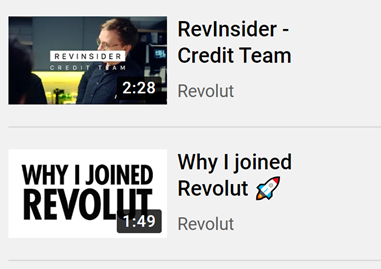 Top tip for marketers: Coming up with new social media video content ideas all the time can be tricky. So, why not think about creating series that will span for a few months at a time? Interviews or Q&A sessions provide excellent fuel for your social networking fire as you can create a calendar of influential team members willing to stand in front of the camera. Release your videos at the same time each week or month to help get people excited, just like you would a #MotivationMonday tweet or a #ThinktankTuesday post.
Need help with creative content ideas? Talk to our team.
#5 User-Generated Content Videos
We touched on this earlier, user-generated videos are a great way to engage your followers and build trust. To create user-generated content, you must:
Come up with a campaign that'll excite your followers. After all, for people to get involved they need to be motivated and inspired.
Provide an example video of what you expect. Think back to the original E.L.F. Cosmetic video which showcased the dance actions in detail and gave people an idea of how they could approach the challenge.
If you ask for the help of your community to generate content, the last thing you want to do is ignore any replies. When content starts flooding in (which hopefully it well) acknowledge the responses, share content, reply to comments and tag users in your replies. Again, a direct response from you as a brand is thrilling and will encourage people to join in future campaigns.
If your campaign is slow to get off the ground, ask your colleagues to be the first involved. If they post a video and share it to their social media community, the chance of more people seeing it and responding increases. This is particularly important for smaller brands with a lower budget and less followers. Of course, building up your fanbase should be done first in order to maximise user-generated content down the line.
Ideas for user-generated content include:
Make-up tutorials. @hudabeauty is particularly good at sharing makeup done well on Instagram. Tech brands can give set up tutorials while retail brands can showcase clothes or homeware tips.
Photo and video competitions. These are hugely popular and are appropriate for a wide range of companies from those who sell animal products to outdoor activity brands and digital start-ups.
Video caption competitions – These work really well on Instagram and stir up audience engagement.
Anything to do with pets or food – These two categories are the most popular and most talked about on social media.
Unboxings – We're all obsessed with unboxing videos so incentivise your customers to tag you when they receive their parcel!
Enjoyed reading Video Marketing for Social Media? Hit share. Contact Contentworks today for stellar video marketing solutions. We've worked with leading finance, forex, tech, shipping and lifestyle brands to create winning video and social media marketing solutions. We do everything from strategy to scripting, to filming through to editing. Learn more.