"While the pandemic poses a financial and organisational challenge to many financial institutions and their marketing efforts, it has also created a unique backdrop for opportunity unlike any in our memory." These are the words of Jim Marous, author of The Digital Banking Report and one of the most influential people in banking. And we agree. With the digital consumption of financial services at a high due to enforced lockdowns, it's the age of digital banking.  So when it comes to content marketing for banking what works? As a leading content marketing agency for the finance sector, we're looking at how you can improve your content and social media marketing to fit the climate.
Banking In 2021 – What's Going On Out There?
Before we check out the latest content marketing strategies, let's look at the current climate. What's going on out there in the big world of banking?
A survey of budget changes for banks and credit union managers in the third quarter of 2020 revealed spending had decreased for outdoor advertising, print advertising, broadcast and in-branch marketing. The biggest budget increases came in email marketing with 35% of businesses increasing their spend in this area, paid social media marketing with spend up 27% and content marketing with budgets up 25%. This is not surprising considering banking consumers are spending more time online.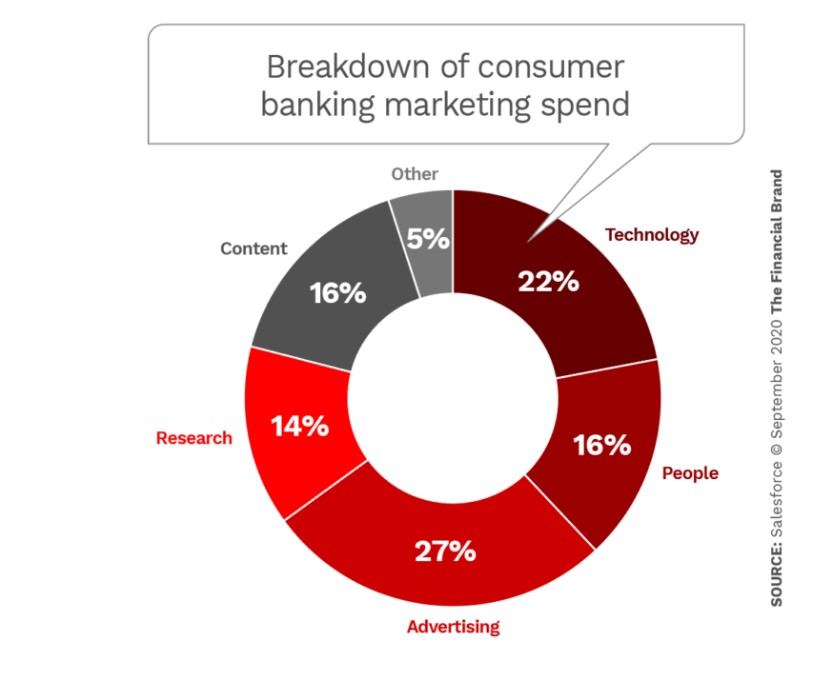 According to Mastercard, people are turning to digital banking and mobile banking to stay on top of their money and bills amidst the Covid-19 pandemic. People are now more likely to have a banking app than a social media app on their mobile phone. Almost 59% of Brits say they have a mobile banking app, compared to half who have a social media app. This trend is most pronounced in the over 65s with 44% saying they have a mobile banking app compared to the 27% who have a social media app. Ease of use is quoted as the main reason for having such technology.
The pandemic has led to huge growth for challenger banks who do everything digitally. Starling Bank, for instance, had 926,000 retail bank accounts in November 2019 as well as 82,000 business bank accounts. As of August 2020 this had soared to 1.25 million current accounts and 200,000 SME business accounts. That said, lockdowns also forced more traditional banks to accelerate the digital side of their business with institutions such as Barclays regularly sharing app usage advice.
There was much innovation too with IndusInd launching a first-of-its kind assisted mobile application that enabled the bank to open current accounts for self-employed and businesses digitally in just a few hours.
To sum up, it's clear that banking has been catapulted into the digital world, with marketing efforts being tightened to reflect changes. Success means having a strong online presence and a loyal community. So, what can you do to nail content marketing for banking? Here are some useful hints and tips to set you off on the right track.
#1 Embrace Innovation in Light of the Current Climate
With more financial companies being pushed online, there's no time to relax. The only way to get noticed and keep your consumers happy is to embrace innovation in light of the current climate. 2020 triggered a huge rise in demand for saving plans as household lockdown spending drops by a third. So, what better way to stay relevant than to create and market helpful savings products?
This is exactly what mobile challenger bank N26 has done with their Smart and Business Smart premium subscriptions. These products allow you to spend and save in confidence while taking full digital control of your money matters. Saving for a car or a bill? Set up Spaces sub-accounts and drag money from your main account in a matter of seconds. Not only is this initiative cool, but the accompanying social media marketing is timely and well thought out.
What we like about the campaign:
The explainer post introducing the premium subscriptions appears as a Pinned Tweet on Twitter helping to maximise engagement.
The Spaces sub-account feature is explained in detail via short, snappy Instagram feed videos. Question content promotes engagement, while related calls-to-action such as 'tell us your 2021 goals through emojis' encourages people to think about their financial aims and gives them a reason to invest in the premium subscription.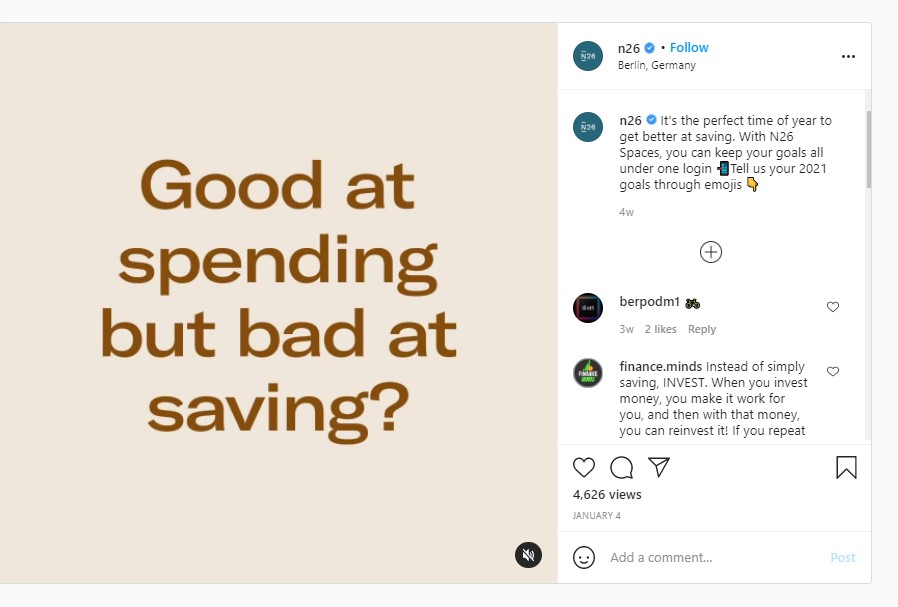 #2 Create an Exclusive Social Media Community Unique to You
Having a strong social media presence is one thing. But creating a unique community where like-minded people can discuss your products in confidence and help you grow as a business is 2021 goals. Mobile retail bank Atom Bank has done just this by creating a business community known as The Kitchen. This encourages people to be part of a close-knit hub and gives people the chance to have their say on Atom Bank's products and services.
What we like about The Kitchen campaign:
Again, there's a Pinned Tweet with a strong call to action. The target audience is clearly identified as they call out 'Are you a small business owner?'
The tweet links through to a more detailed company landing page explaining The Kitchen in detail. There are call-to-action buttons in noticeable colours such as green and you can enjoy a virtual tour of what The Kitchen has to offer.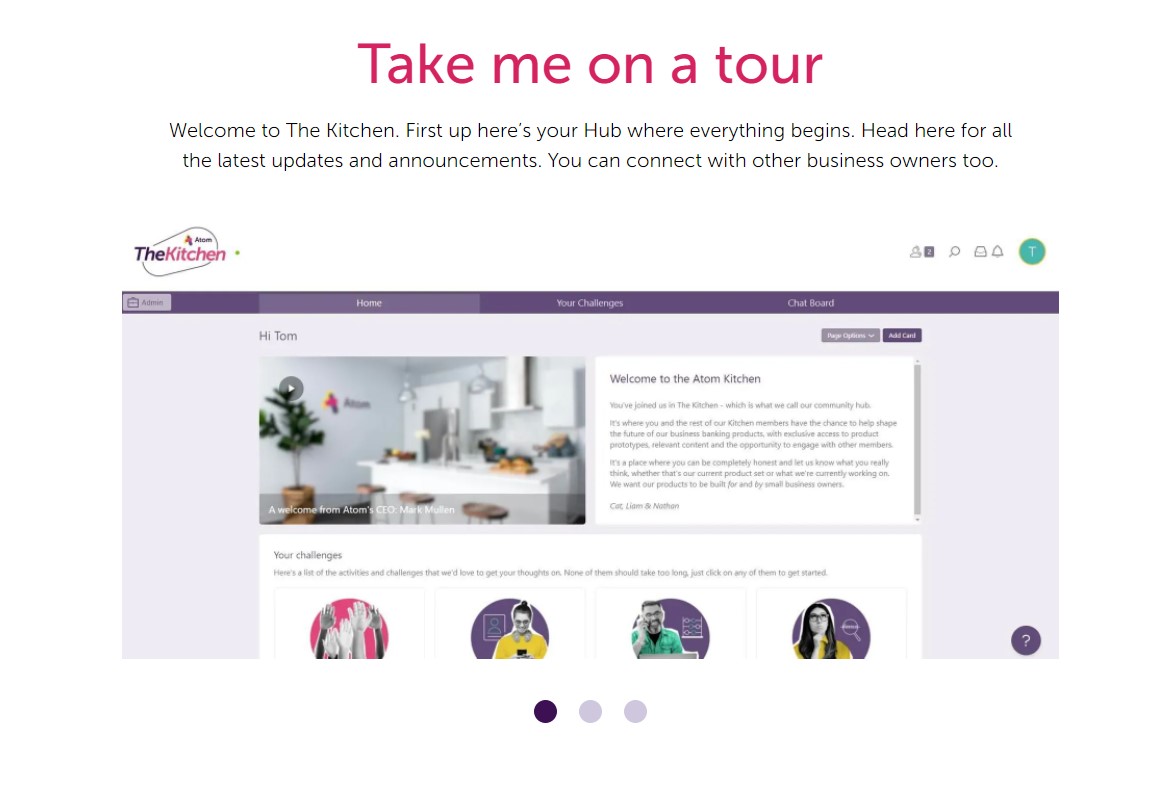 Atom Bank also makes the most of exclusive content for banking to give their community extra appeal. Members can see and try new products and app updates before they launch.
Top tip for marketers: Give people a reason to join your community such as regular giveaways or exclusive previews. Or perhaps a month's free access to a premium subscription. Exclusive competitions available to community members also work well. Such incentives will inspire people to join you on your journey. Don't forget to publicise these incentives across your social channels in order to generate excitement.
#3 Reward your Business Community
When it comes to content marketing for banking, it's not all about you! It's a good idea to give back where possible. You can do this by creating posts like Monzo which celebrate your business community. Create content around businesses that bank with you providing a link to their shop or online store. This is a great way to promote small businesses while embracing social proof. Such content shows that others bank with you and will encourage others to do the same. Yet it's not repetitive or in-your-face marketing.
What we like about this campaign:
The original business community post is retweeted between Monzo business accounts for maximum exposure.
It puts small businesses in the spotlight in a quick and easy way while also showcasing Monzo's portfolio of customers. Monzo has 125K followers on their main account alone so this is a great way for small businesses to get noticed and will help develop consumer loyalty.
#4 Make the Most of Clever Hashtags to Drive Your Campaign
Banking is rapidly becoming digital. And if you plan to market online it's important to embrace all the trends including clever hashtag use. Hashtags make your content easier to search and bring the community together on a topic. They also encourage other people to join in using the same hashtag.
Starling Bank uses hashtags to their advantage with their #BreakUpWithYourBank campaign. Considering most Millennials would change banks for additional perks, this is a clever initiative, with Starling tapping into the flexibility of their younger audience. Indeed, Millennials are 2.5 times more likely than Baby Boomers and 1.5 times more likely than Gen Xers to switch banks. But they need an incentive. And Starling Bank offers several, from promoting eco-friendlier banking to providing a more streamlined service.
Why we like this campaign:
The language used is consistent and in line with the 'break up from' theme. For example, the post below says, 'bad relationships are hard work' enforcing that you don't have to stay with or in something that doesn't bring you joy.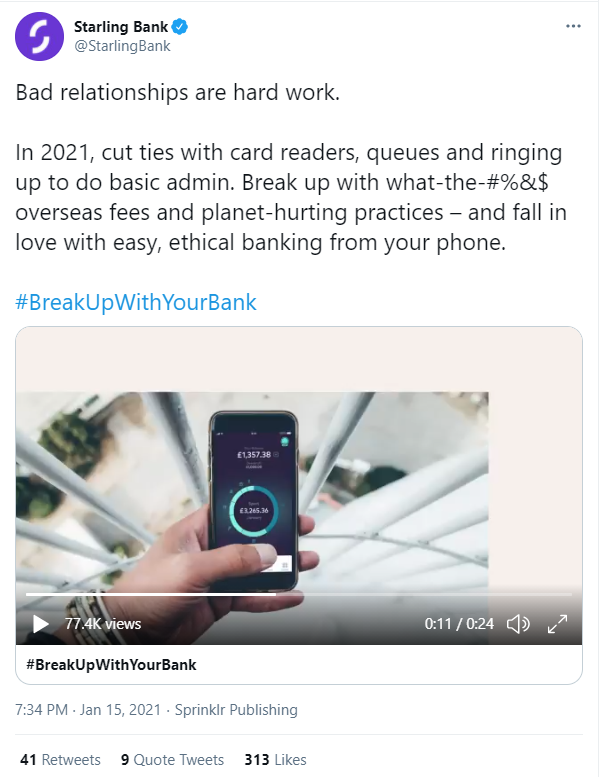 There's a very clear environment message. This is designed to strongly appeal to a Millennial generation which actively seeks out more ethical organisations. Starling is quick to point out its USPs stating how they are 'branchless, paperless and run on renewable energy.'
Top tip for marketers: Know your target market. From there you can come up with campaigns that'll directly resonate with your audience. There's space in the market for a combination of fintech and corporate responsibility. So if you can combine the awesome products you offer with an environmental or social initiative you'll be onto a winner. Supporting local communities is a good place to start. This can lead to local PR material and a whole lot of imagery and photography to popular social channels.
Be Original
Content marketing for banking doesn't have to be dull. In fact, it really shouldn't be dull. Challenger banks and fintechs need to tap into original and authentic creativity to stay relevant for millennials and Gen Z. That means restrategising, ditching the boring old social media routine and expanding onto new platforms with fresh creatives. Just like…
Instagram Stories -Add FOMO and easily digestible tips to your marketing mix
TikTok – Show creativity, employee advocacy and relatability
Linkedin Live– Demonstrate that your CEO and others are transparent thought leaders
Twitter – Show that you're following trends and understand the financial markets
YouTube – Provide bitesize learning lessons in video formats
Podcasts – The fastest growing marketing technique of the past year, launch a podcast or guest star in someone elses.
Contentworks Agency are experts in the finance sector and will provide a tailored strategy for your business. We offer articles, PR, e-books, white papers, website content, social media management and more. Book a free consultation now.