With spending predictions set to be around the $24 billion mark this Valentine's Day, it's clear there's a huge market for love. Each individual shopper is projected to spend an average of $175.41 on gifts, an increase from $164.76 in 2021, despite inflation hitting a near 40-year high. So how can you win some of those rose scented dollars? Here are the best Valentine's marketing campaigns to run on social.
#1 Run a Cute Collaboration
No-one likes to spend Valentine's Day alone. So why not run a cute collaboration on social media to boost brand awareness and generate engagement? With the right partnership, you can spice up your Valentine's marketing while improving the outreach of your campaign. You're going to be tagging collaborators, after all, and this will generate more interest. Be sure to link with like-minded companies or influencers, so that your marketing efforts make complete sense. This will allow for maximum creativity.
One of the best collaborations we've seen this year is from Krispy Kreme UK. They've teamed up with both Love Hearts UK and Swizzels Sweets to deliver a Valentine's donut range that's completely irresistible. Each flavour, including citrus lemon and sherbet, has then been individually promoted on social media to get those taste buds tingling.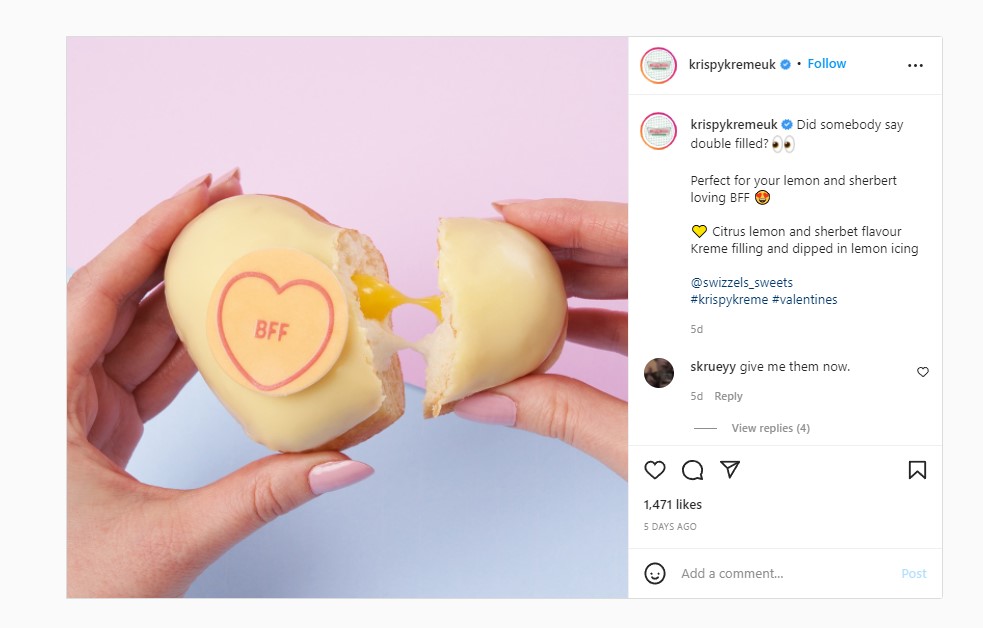 Why We'd Swipe Right for this Campaign:
Before the unique donut flavours were released, the brand worked hard to build excitement and anticipation around their collaborative new recipes. We particularly liked their teaser content which was rolled out a week before the new flavours were released. By asking followers to guess what they might be, Krispy Kreme UK encouraged natural social media engagement.
One of the best ways to learn from new marketing efforts and collaborations is to conduct polls and surveys to get consumer feedback. This is something Krispy Kreme UK did well. They can then take this information and use it to fuel future campaigns.
The campaign features a strong hashtag too, with #heartsfullofjoy emphasising the Love Hearts connection while making all campaign content easy to track and find online.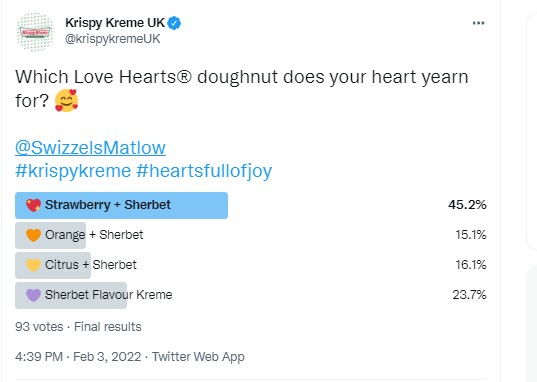 #2 Make a Month of It
Why celebrate love on just one day when you can make a month of it? A lot of work goes into creating a Valentine's Day social marketing campaign, so it's a good idea to maximise your efforts as much as possible in a bid to boost ROI and get more eyes on your brand. While other companies fizzle out their campaigns post-February 14, you could keep the fire burning for maximum attention.
The Hallmark Channel is doing just that with their 'Loveuary' campaign. Dubbed 'the new February,' Loveuary gives Hallmark the chance to be romantic for 28-days straight. Awwww! The American cable channel's timetable is packed with romantic  movies and shows, which this year includes a special encore presentation of The Wedding Veil. Considering 21% of couples binge watched TV box sets or enjoyed a movie night last year, the brand is certainly right to focus on a 'cosy night in' theme which love birds can enjoy all month long.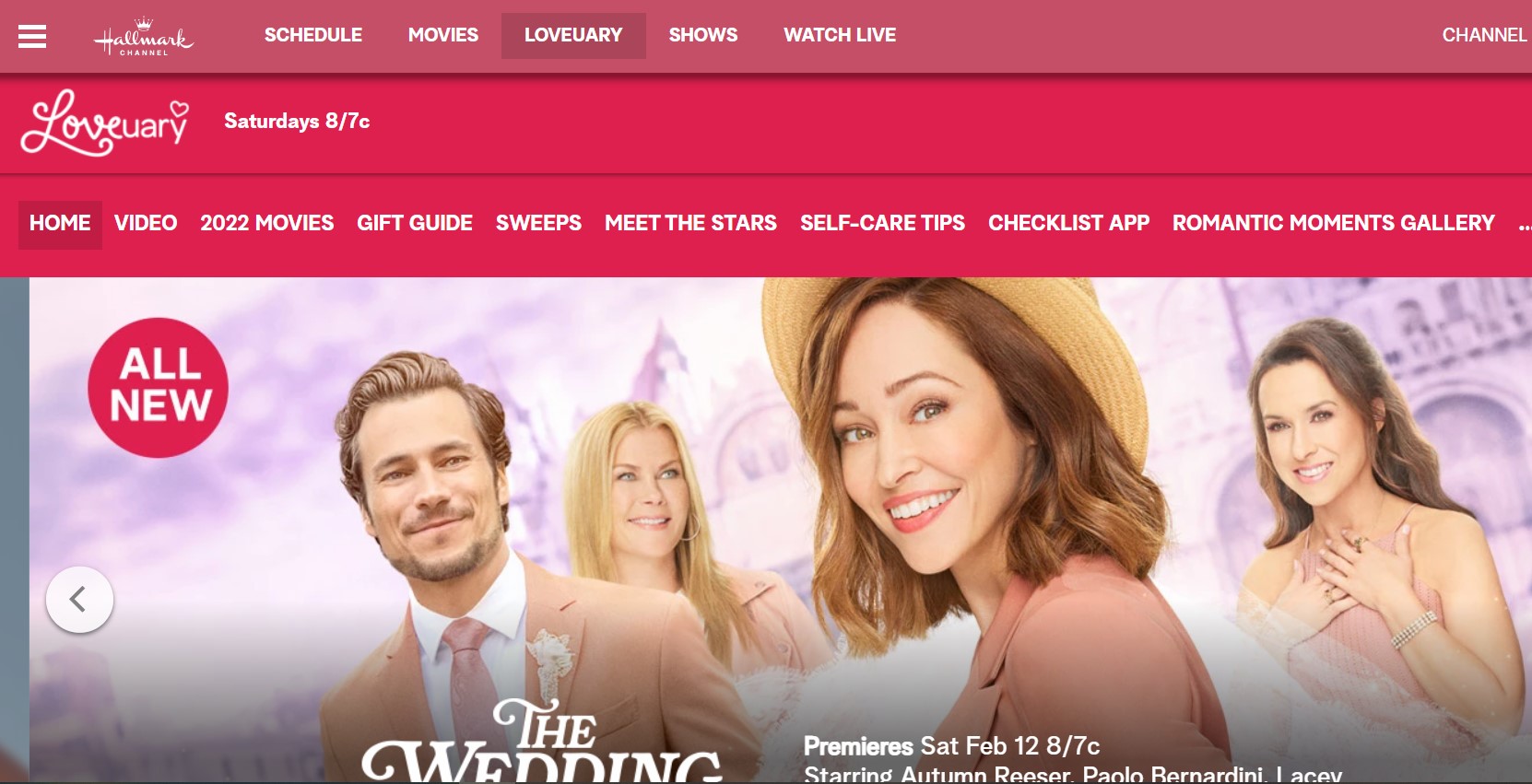 Why We'd Swipe Right for this Campaign:
With 46.1K followers on TikTok and counting, the Hallmark Channel uses this platform to promote #Loveuary via a series of short but effective videos. The most popular videos to date feature the cast of The Wedding Veil (the channel's brand-new release) and all starring celebrities have been appropriately tagged to maximise viewership. Remember to include essential information in each TikTok video synopsis too. The Hallmark Channel repeatedly tells consumers where, when and how they can watch their new show as increasing channel views is the end goal.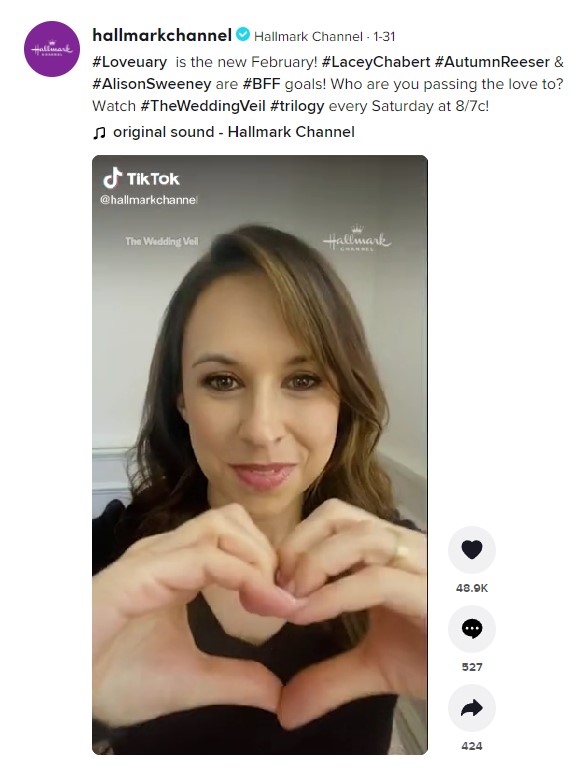 The Hallmark Channel also uses short-form video and Gifs on channels like Twitter to tease The Wedding Veil content and ask followers questions. This is a great way to create a community buzz and get conversations flowing.
Hallmark's website was lovved up for the campaign with a Valentine's menu option, great content and strong visuals. A solid campaign will start from your blog or home page and circulate from there.
Top Tip for Marketers: When crafting a social marketing campaign, make sure you outline what you want to achieve and set some distinctive Key Performance Indicators (KPIs). This might be to drive website traffic by xxx% or to get a set number of followers on a specific social channel. With these goals in mind, you'll be able to create calls-to-action that are bang on point and be able to monitor the success of each campaign.
#3 Keep It Real
If you like someone, tell them. The same can be said for your social media marketing efforts. Cut through the noise with a Valentine's marketing campaign that's concise and waffle free. Well waffles covered in ice cream and sprinkles might be a nice gesture – but you know what we mean.
Male grooming company Manscaped knows how to keep it real, with the brand enjoying consistent engagement as a result of their straight talking ways. Their Instagram is loaded with quirky and cheeky captions which get people talking. No-one wants to smell 'stale and musty' after all, right?  They also load their posts with short CTAs designed to boost brand recognition and awareness.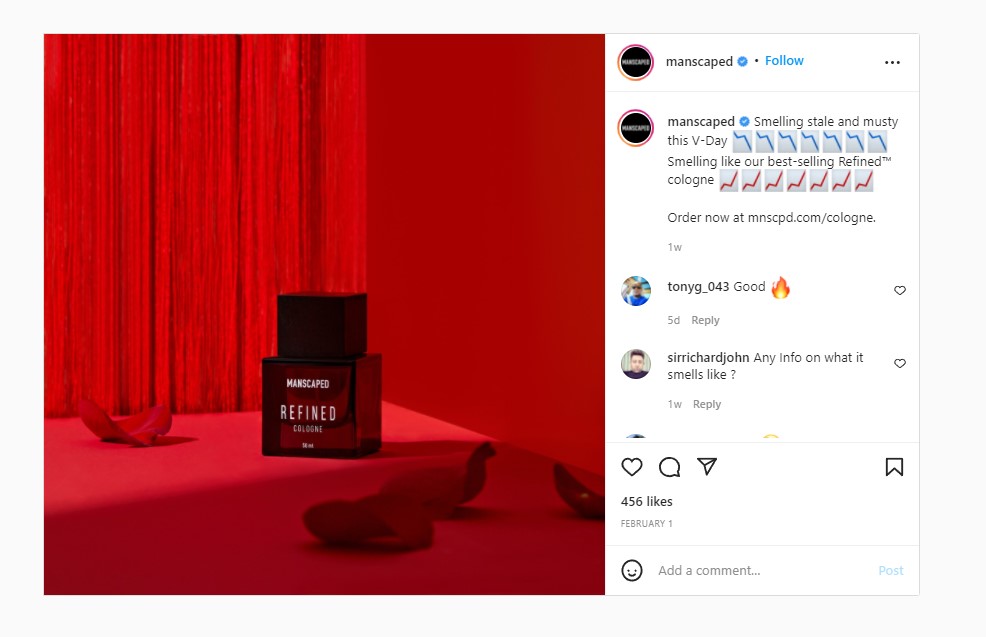 Why We'd Swipe Right for Manscaped
They've a strong tone of voice and don't shy away from the subject matter, even if it's a little controversial, with both posts and video content having the same vibe. Brand consistency is hugely important when it comes to forming a recognisable company. So make sure you set out a tone of voice document from the very beginning. this can then be used for your internal and external teams to ensure brand consistency.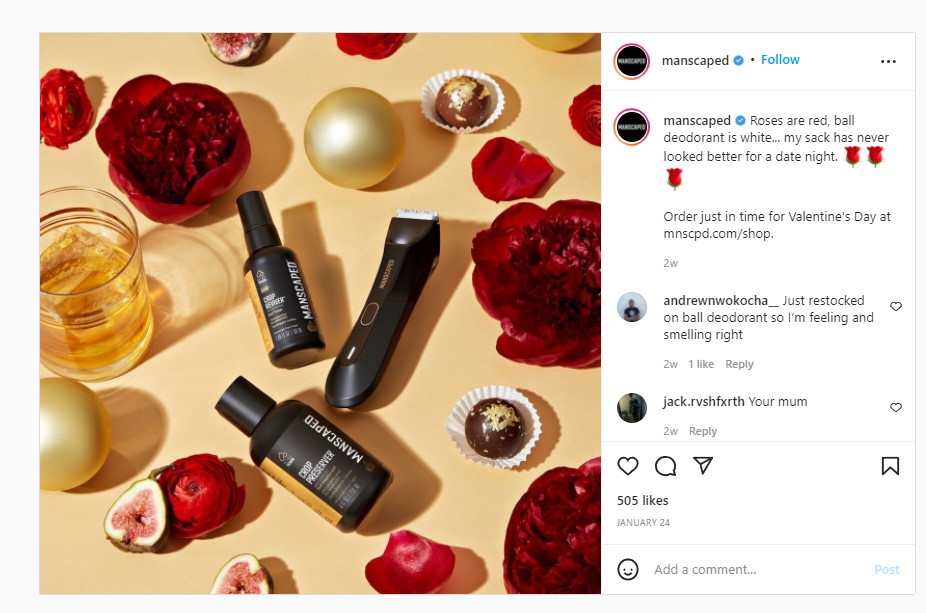 They use strong imagery and colour schemes. When you visit their Instagram page, it's easy to spot the Valentine's posts as they have consistent red and black imagery and all shots have been beautifully staged. Considering Instagram is largely a photo sharing website, it's important to use imagery to your advantage. Think of it like a digital shop window where everything needs to be beautifully presented. Read more Instagram marketing tips from our team.
#4 Run Time-Limited Campaigns
Promote an exceptional Valentine's offer across social media for a limited period of time and watch people take the bait. Consumers love a deal and as marketing experts, it's your job to woo them with some spectacular content. The first thing that needs to be right is the offer itself. If this has flaws they you might get dumped, by new and loyal followers alike.
Think about offering exclusive discounts to social media users in the form of a code or voucher. Recently, many celebrities have posted QR codes to their Instagram Stories for people to get free Costa Coffees and such like. You should then think about your marketing messages. Can you play on words or use some kind of Valentine's pun? Most people will tolerate some level of Valentine's cheese. Also think about a unique hook. What will set you apart from the crowd? And don't forget to mention words such as 'exclusive' or 'limited time only' as this will encourage people to act.
The Dough You Love Me? campaign from Pizza Express ticks all the right boxes for 2022.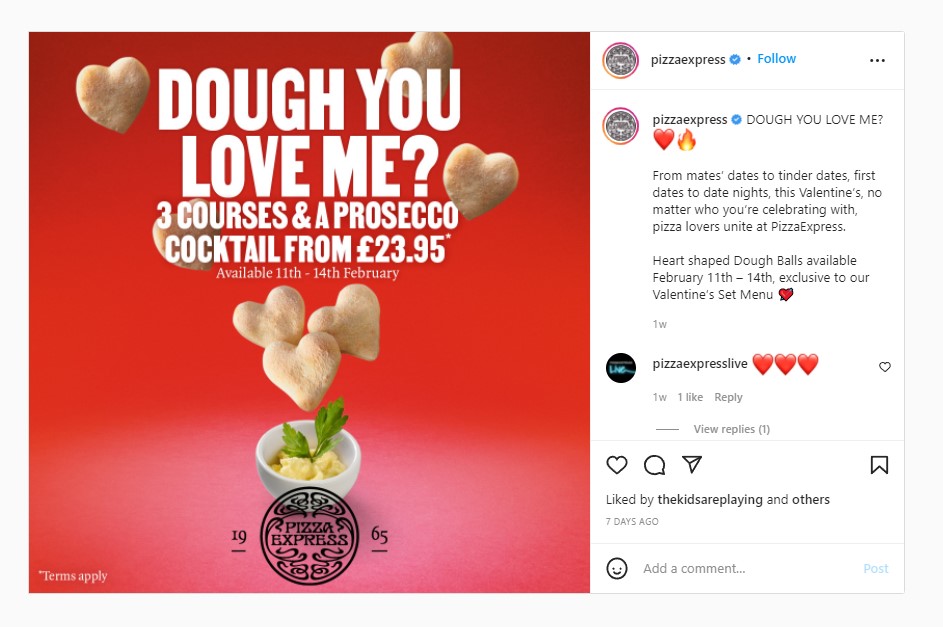 Why We'd Swipe Right for This Campaign:
The slogan is not only related to Valentine's, but it also refers to the exclusive heart-shaped dough balls that will be offered on the Valentine's Set Menu between 11-14 February 2022. This helps people to know exactly what's being promoted.
All information is included via the social media post. If you're doing something similar, think about creating visuals which include a summary of the offer, including prices and dates.
The caption is relevant, referring to everything from dates with mates to Tinder rendezvous. This makes the offer super inclusive and emphasises a collective love of pizza rather than the need to be loved up. That's a winner in our eyes.
#5 Be Inclusive
As a follow on from Pizza Express's more inclusive campaign, it's important to remember that Valentine's Day is not just for loved up couples. So, why not use analytics and company data to work out exactly who you're targeting and make sure your campaigns are inclusive where necessary to avoid excluding your audience?
This is something that's done really well every year by 1-800-Flowers. As well as targeting couples, the brand also focusses on singles alternatives such as Galentine's Day. This is a deliberate side-step from typical Valentine's romance and provides an opportunity for gals to show thanks for one another. And talking of inclusivity, remember love comes in all colours, sizes and genders so remember to represent more than one audience demographic in your content and imagery.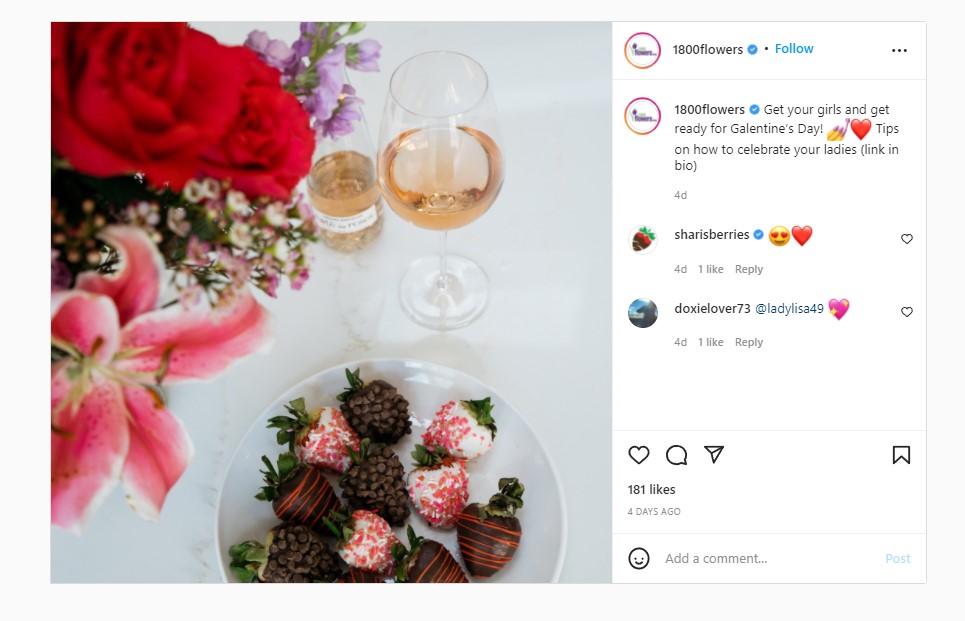 Why We Would Swipe Right for 1800 Flowers:
Their posts regularly include a link in the bio which directs users to more in-depth and relevant content. This is a simple yet effective way to draw people in and make them engage with your brand for longer.
1-800-Flowers embraces the art of storytelling to help give their products relevance. People share the small details about a courtship or dating scene, many of which include the gifting of flowers. As a tip, it's a great idea to post user-generated content as this is an awesome way to promote your brand in a more authentic way.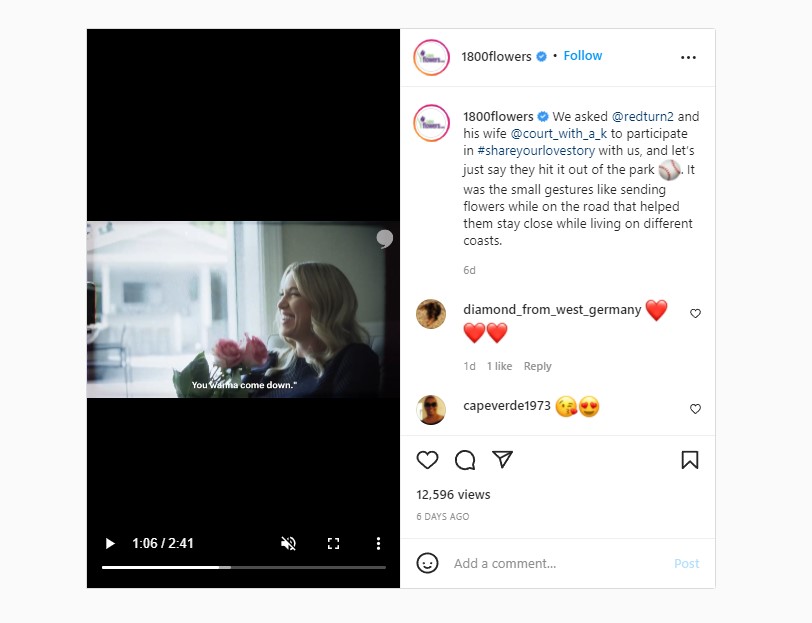 Another brand embracing inclusivity this year on social media is Hotel Chocolat. They've created a new Valentine's chocolate range inspired by the 'different types of love.' This is beautifully communicated on Instagram with quotes from the Senior Brand Package Designer who states, "Each piece creates the perfect gift-giving opportunity, even if it's a gift for yourself." So whether you're single, in a relationship with someone who is not a gift-buyer or simply love chocolate, this product is for you. It's a win-win.
Top Tip for Marketers: Try to include team members in your content as this helps your brand look more credible and authentic. It can also help with the storytelling element of your branding, giving audiences a glimpse into the ideas behind your products. In this case, simple yet delicious chocolates become a symbol of love in all its forms.
Valentine's is just one of the many annual events to prepare for on social media. Talk to us today to ensure your social media strategy is on point across all channels including TikTok, Twitter, Facebook and Instagram. Enjoyed reading The Best Valentine's Marketing Campaigns to Run on Social? Share the love.