There's no better way to cool yourself down in the sweltering summer heat but to enjoy a big bowl of vanilla ice cream. July is National Ice Cream month and there are entire teams working behind the scenes, coming up with eye-popping marketing campaigns that stimulate our senses. From provocative to sassy and playful, check out some refreshing and memorable marketing campaigns run by the world's popular  ice cream brands. Here's our scoop of the coolest ice cream marketing.
Ice Cream Marketing Stats
Fortune Business Insights estimates the global ice cream market will reach $97.85 billion in 2027, up from $71.52 billion in 2021—a 37% jump in less than a decade due to the world's craving for ice cream.
The average American eats roughly 20 pounds of ice cream each year, or about 4 gallons.
Waffle cones beat out sugar cones 32% to 12% among consumers, but 37% of consumers prefer to eat their ice cream out of a bowl.
84% prefer to purchase ice cream at the grocery store and eat it at home.
The ice cream industry has a $13.1 billion impact on the U.S. economy, supports 28,800 direct jobs, and generates $1.8 billion in direct wages
#1 Ben n Jerry's – I Know My Rights
Ben n Jerry's is already well known for being not just an ice cream brand but a company that sets the world's sights on larger issues, whether it be saving the planet, fighting for fairer wages, or human rights. Every detail of their marketing operations is permeated with a larger purpose and it's safe to say these guys are brand marketing kings. Being aware of all the matters that deserve to be in society's spotlight, Ben n Jerry's partnered with Collin Kaepernick and Brandan Odums and unveiled a provocative mural right before the Super Bowl kicked off.
Ben n Jerry's wanted to point out the brutality aimed at Black people and address the root of racism. More importantly, Kapernick's share from each pint is being invested in empowering and educating Brown and Black people and his Know Your Rights Camp Foundation.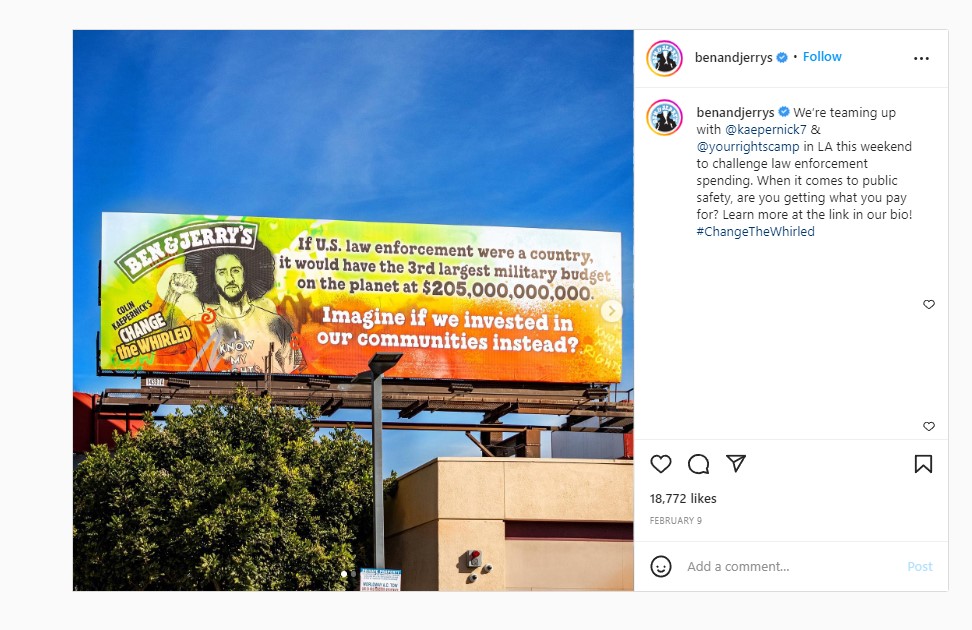 The public responded positively to Benn n Jerry's partnership announcement on Instagram. The post got over 18,700 likes and 471 comments, most of which were quite supportive, saying things like – "Great message and one of the best flavors", "Excellent campaign. Keep it up", "Getting some ice cream tomorrow to support more of this" to cite a few.
To raise awareness of the Know Your Rights campaign, the ice cream brand's representatives and people from the Your Rights Camp distributed over 2,000 meals, Change the Whirled pints, and gift certificates worth $10,000 in Tampa, where 23.6% of Black or African American people live. They also rented a billboard in Tampa (that cost around $3,500) right before Super Bowl 55.
Why We Love It
Racial justice. Ben n Jerry's has always been vocal when it comes to human rights and, luckily, silence has never been an option for them. They are among a few brands that speak out on politicized matters and tough issues Black people deal with on a daily basis. Not only does Ben n Jerry's advocate for Black people's rights on social media but in the real world as well by participating in social activities (f.e. the-above mentioned grab-and-go event), although the power of social media in mobilizing people is beyond dispute.
More vegan ice cream. The brand unveiled a new flavor "Change the Whirled" – a vegan ice cream based on non-dairy caramel butter, spiced up with chocolate cookies, graham crackers, and fudge chips. Simply put, they ultimately brought together two important aspects into a single campaign – Black people's rights and reducing the environmental impact on our planet by promoting vegan products. Also, it's safe to say that the global vegan ice cream market hit 592.8 million dollars in 2021, and it is expected to reach an additional 5.45% increase by 2027.
#2 Little Moons – Ice Cream From Another World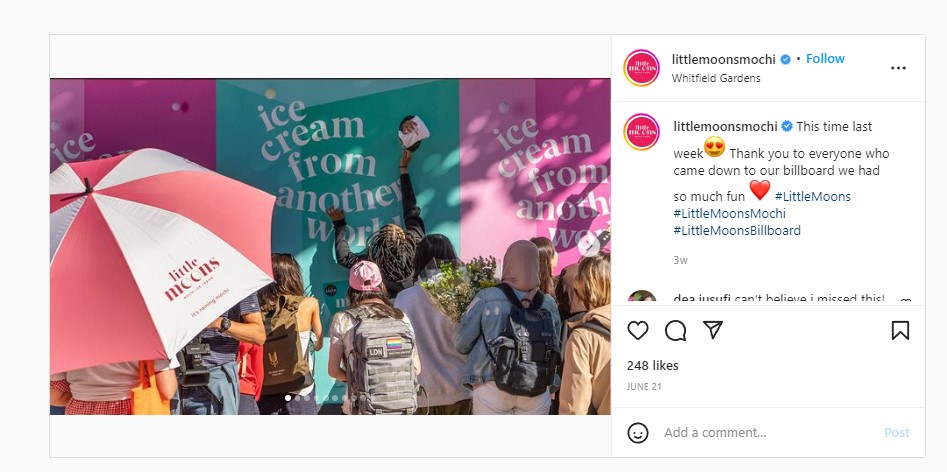 Little Moons were giving away free frozen treats, tote bags, cinema tickets, and umbrellas to passers-by at the Whitfield Garden on a hot June 14. Generous Little Moons' staff was actually handing these out through the holes of a super-cute, eye-catching pastel billboard featuring the brand itself. Little Moons' fans started queuing in front of it early in the morning, which drew even more attention to the site and lured in other people that didn't know about the brand earlier (but now they certainly do).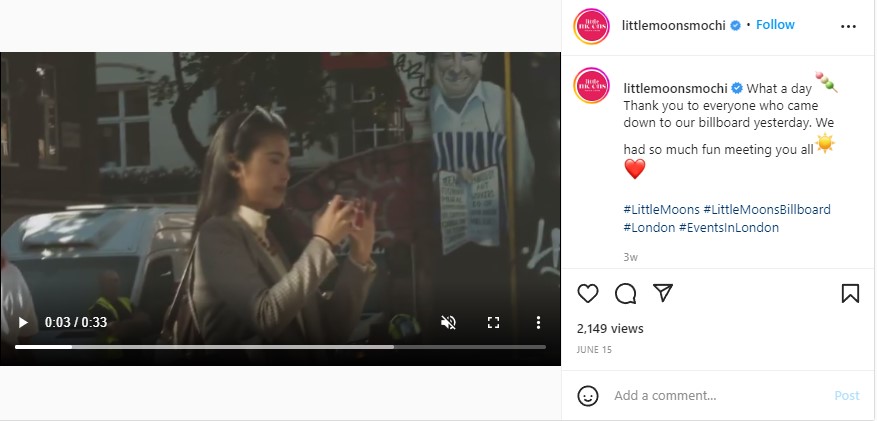 Being aware of the fact that Instagram pushes video content on their platform, Little Moons published this super-sweet vid that got 2,149 views. One of the comments under the Reel says "Tried the pistachio ones today — my new favorite treat". The campaign was well-received among the Brits but also among content marketing moguls, which can be told by social media posts that can be found by searching for the Little Moons' branded hashtag, #littlemoons.
Why We Love It
People are attracted to giveaways. The Little Moons team is confident about the quality and flavor of the ice cream they make so they didn't have to think twice about whether they should be giving it away for free or not. Their main intention here was to cheer up the Brits a bit and bring back an optimistic atmosphere in the city after the past year's lockdown. This goal was definitely met since rounds of applause could be heard on-site throughout the day. On the other hand, Little Moons know that people love free stuff, and they used this method to actually entice and turn potential customers into becoming recurring customers.
Outdoor advertising still works. Although Little Moons are killing it with their digital marketing presence and online campaigns, this time, they proved that traditional marketing methods can still fuel brands worldwide. Seeing an outdoor ad message makes 24% of ad viewers highly likely to buy from that brand.
Cost-effectiveness of billboard marketing. Did you know that renting a billboard in Central London can cost £1,000-£1,400 for 2 weeks? According to Forbes, 72% of billboard viewers actually buy products advertised on billboards. Considering the success of the campaign and the number of visitors, it looks like Little Moons nailed it by opting for this kind of advertising.
#3 Magnum – Classics Remixed
Magnum is constantly pushing the boundaries and experimenting with both proven and new marketing channels and methods. In order to promote the new MAGNUM REMIX, they partnered with Kylie Minogue and Peggy Pou. This pop star and DJ/producer iconic duo debuted a captivating new track that was put before the public in Cannes.
The MAGNUM REMIX featured in the video introduced the rich twice-dipped ice cream in 3 yummy flavours. The brand also presented two exclusive flavours – the Kylie and Peggy Remix, sprinkled in cocoa velvet spray and mesmerizing colours. The Drum, a popular marketing platform, spoke about Magnum x Kylie Minogue x Peggy Gou collab in the section "Ad Of The day" giving both Magnum and "Can't Get You Out of My Head" even more publicity, alongside CreamMagazine, Shots.net, and Socialpost to list a few.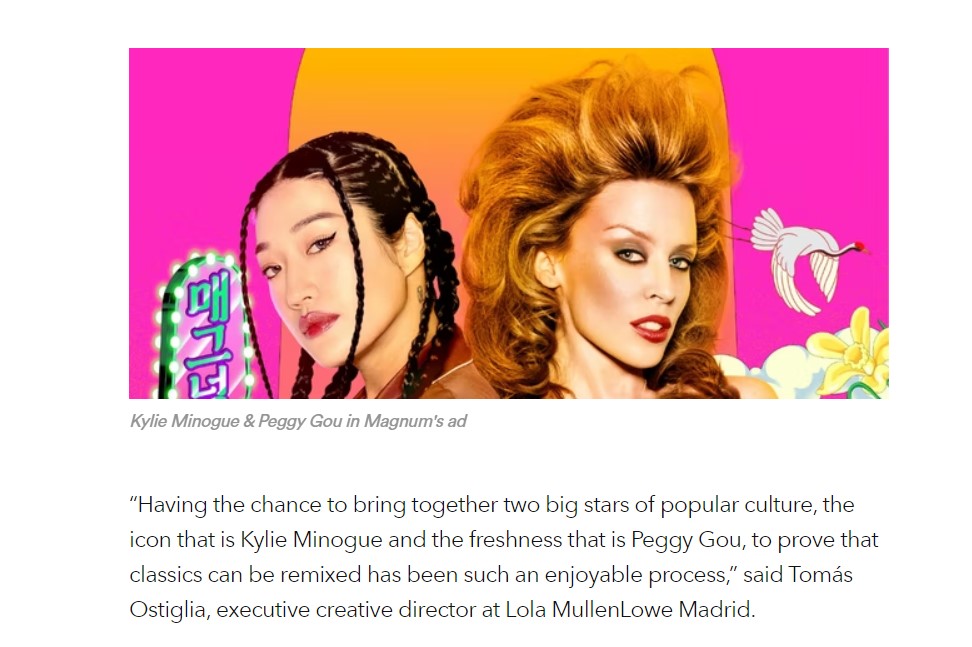 Magnum posted a Short on their official YouTube account, announcing the release. The video got 6,400 views and 223 likes.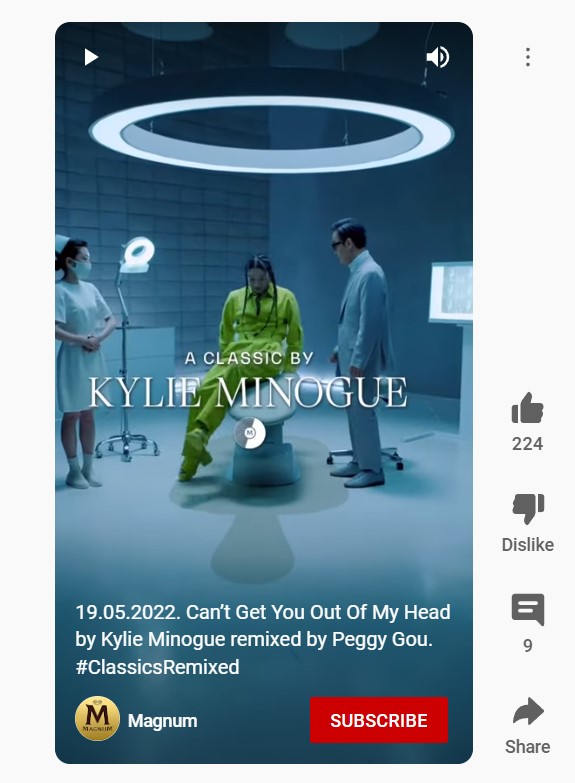 Why We Love it
Celeb collabs never fail. Magnum is reigning supreme when it comes to celebrity collabs. Not only did they work with Kylie and Peggy but Miley Cyrus, Halsey, and many other big names as well, which certainly helped them a lot with building a unique and memorable brand identity.
Short-form video experience. Not so long ago, YouTube started pushing raw and short-form content on its platform. This form allows creators to create catchy, bite-sized videos, so-called Shorts, and helps them get easily discovered by 5 billion users that watch Shorts regularly. Magnum was open to trying out this new marketing channel, and, from what we've seen on their official account, Shorts make the greatest deal of their recently published content.
#4 Häagen-Dazs – The Ice Cream of Ice Creams
Launched just over a month ago, the Häagen-Dazs' Ice Cream of Ice Creams campaign has already started driving a new wave of excitement around this luxury ice cream brand. Häagen-Dazs has it all – superior taste, sophisticated craftsmanship, iconic identity. Yet, this time, they wanted to take a different approach and show their playful side as well.
An entire series of digital shorts is promoted on social media and via TV and video-on-demand advertising platforms (Channel 4, ITV, and Sky) while the brand also partnered with numerous macro and micro influencers to boost the campaign around the UK.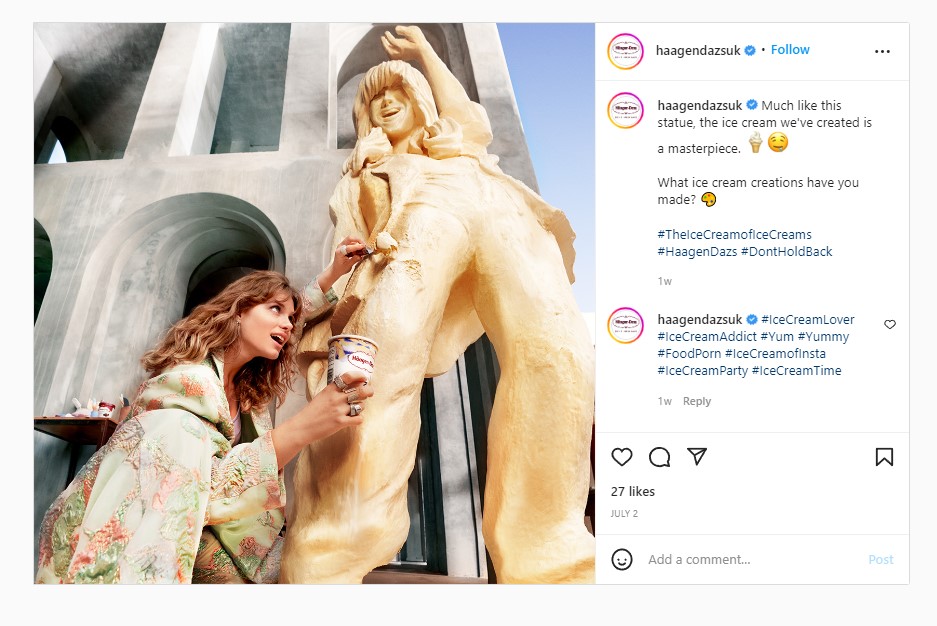 Häagen-Dazs also posted two videos on Facebook – one that showcases ice cream packaging and flavours consumers can choose from, and the other one that displays a female artist making an ice cream sculpture of herself (this one got almost 3 times more views because interactive, inspirational, and funny content is far more likely to drive engagement than generic, product-showcasing types of posts).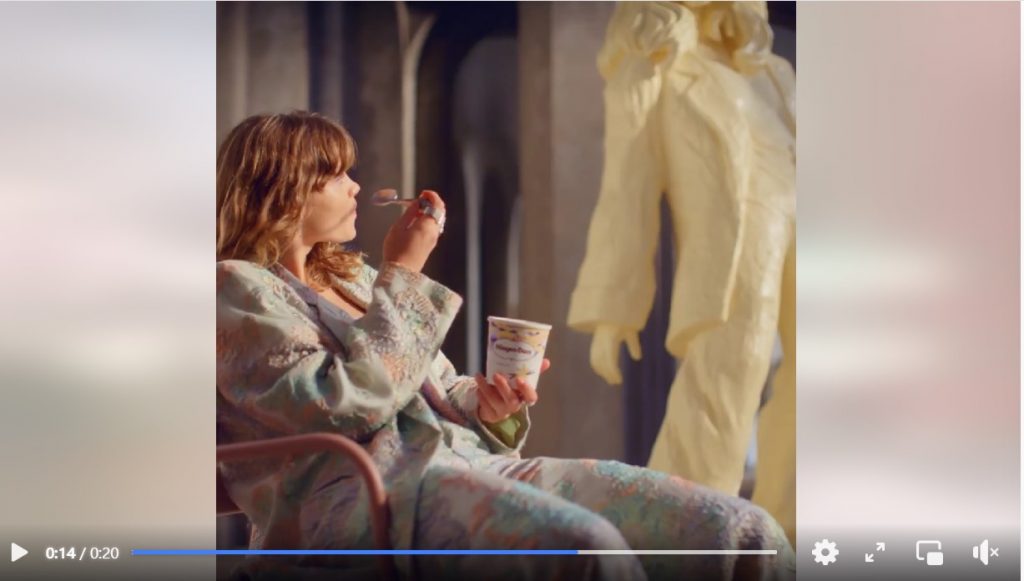 Why We Love It
Light-hearted creatives. Häagen-Dazs decided to follow a slightly different practice with this campaign and showcase emotions of joy and indulgence without guilt. They included fun-loving moments and a bit of hilarity into this campaign, sending a message to the world that we shouldn't be holding ourselves back but enjoy every moment to the fullest.
Video advertising platforms are on the rise. According to Statista, the SVOD, or subscription video on demand, market is likely to grow by 52% by 2025. Magnum seems to be well aware of this fact. Plus, in this article, TV Advertising Media explains that this kind of advertising is proved to be more flexible than traditional advertising when it comes to targeting (this time, the UK was Magnum's target audience), provides better reach, and yields more conversions.
#5 Connoisseur – Connoisseur x Koko Black
Last year, Connoisseur announced a massive partnership with Spark Foundry, Leo Burnett, and artisan chocolatier Koko Black and launched a multi-channel campaign to call attention to their premium stick ice cream. This gourmet brand gave away 150,000 of Classic Vanilla and Honeycomb (two new flavours) to 1) boost brand awareness, 2) elevate the ice cream tasting experience, and 3) surprise consumers in a unique way. They were actually delivering ice cream door-to-door around the most populated areas on the Australian eastern seaboard from the beginning of the summer (great timing, right?) to the end of the last year.

Connoisseur re-shared a bunch of Instagram stories they've been tagged on to drive their follower's attention to their gourmet ice creams. People all around the world, although most of them from Australia, posted about how much they loved the taste of the new ice cream, while some used the Connoisseur's branded hashtag for this campaign, #ThrillYourSenses as well.
Why We Love it
An All-Around Perspective. Connoisseur's marketing activity included geo-targeted social media campaigns, online video content campaigns, and street furniture advertising, and leveraged the power of partnerships with pre-eminent companies and brands. No wonder their sales started skyrocketing shortly after!
Instagram Stories and Highlights. Not only did Connoisseur use Instagram Stories to feature content posted by their ice cream aficionados but they also added archived content into the KOKO Highlight. Instagram Highlights enabled users to publish stories without worrying about losing them forever, categorise stories for better user experience, and humanize themselves (when it comes to brands). Average brands post 10 Stories per month while posting Stories frequently can result in a 44% increase in conversions.
Here, at Contentworks, we love to dig into different campaigns and talk about all things marketing. Let's have a chat if you think there's another one we should immerse ourselves in! In the meantime, Happy Ice Cream Month! Tweet us your favourite @_contentworks. Enjoyed reading Our Scoop of The Coolest Ice Cream Marketing go ahead and hit share!