Summer is the perfect time to promote online. Everyone's lounging by the pool, shopping for seasonal items and feeling happy.  So, turn up the heat and ensure all eyes are on you as the mercury rises. Let's take a look at some On Trend Summer Marketing campaigns.
#1 Go Organic
We're not talking about munching on nuts and seeds, although if you want to, that's fine! Going organic in our eyes means embracing organic and user generated content. There's a whole lot of potential in this. So, let's break it down.
A whopping 40% of millennials choose a holiday based on how it will look on Instagram – it's Instagrammability if you wish. With a third stating how posting pictures on social media is as important as the holiday itself. Worrying? Maybe. But, instead of tutting, use this tech obsession to your advantage.
People are going to post. That's a given, so get them to post with your brand in mind. Hosting a photo contest using a branded hashtag is an easy way to boost brand awareness and benefit from a campaign that fuels itself. Genius!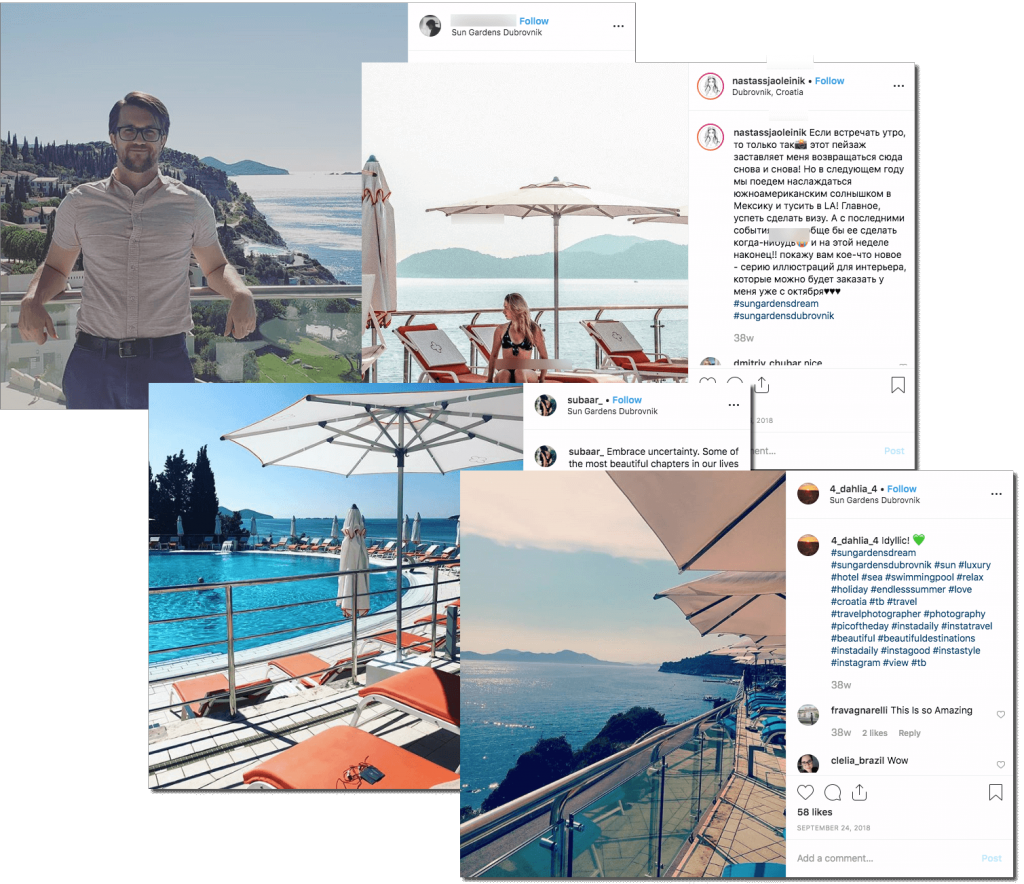 Tasting Table's brilliant 2018 travel contest perfectly shows how brands can react with followers in an organic way. Firstly, they gave specific instructions. Contestants had to like two Insta accounts including @tastingtable and @vacationdays. They also had to use the hashtag #TTVacationDays to be in with a chance of winning a bunch of travel goodies. This resulted in a host of super replies.

Top tip 1: Every campaign must have an objective. If yours is to increase followers then be sure to get people to like or follow your brand before they can enter your competition.  
Top tip 2: Maximise organic content by sharing it across your channels. By tagging the relevant people you'll personalise your approach and possibly see a domino effect as they reshare!
Did you know – Customers are 33% more alert when out of home and 83% of adults recall seeing OOH advertising within the 30 minutes before shopping.
#2 Be a Seasonal Sensation
E-commerce is becoming increasingly popular with 57% of consumers shopping online. 15% will also shop weekly if they like a specific brand. And 28% of consumers will make a digital purchase a couple of times a month. So, if you can attract these digital shopaholics through enticing, engaging and useful content – you're onto a winner, right?
One of the best ways to pique people's interest is to adapt your content for the season. Think about it, Christmas slogans would look out of place at this time of year. But opting for generic content is way too bland when you could be getting your summer groove on. An incredible 80% of consumers say that the experience a company provides is as important as its products or services, so why not be a summer sensation?
The warmer months provide an opportunity to be bright, cheery and uplifting. Stylist Magazine was bang on the money with their #yellow theme which helped to promote the most fashionable colour of the season. Their #StylistTurnsYellow Instagram campaign was visually attractive with the branded hashtag helping to showcase Stylist during rising temperatures.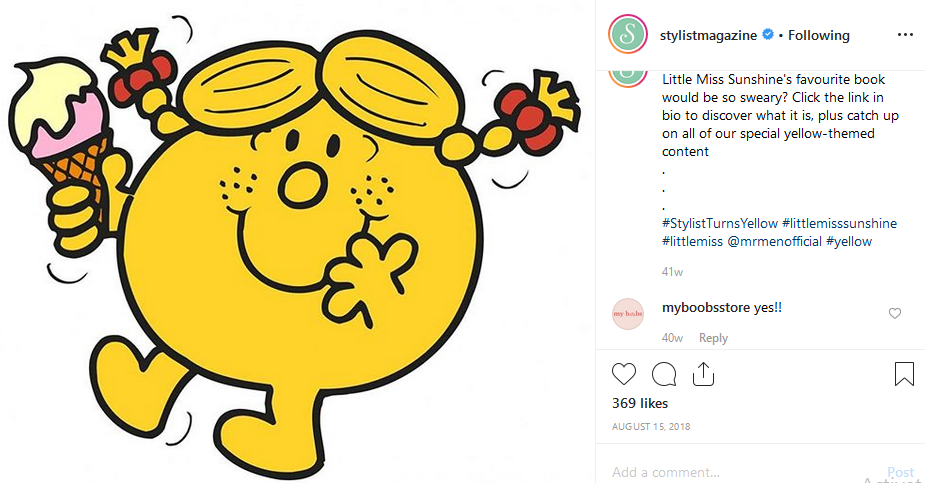 The brand also supported their initiative with valuable blog content sourcing the best 'how to wear yellow' examples from Instagram linking through to specific pages.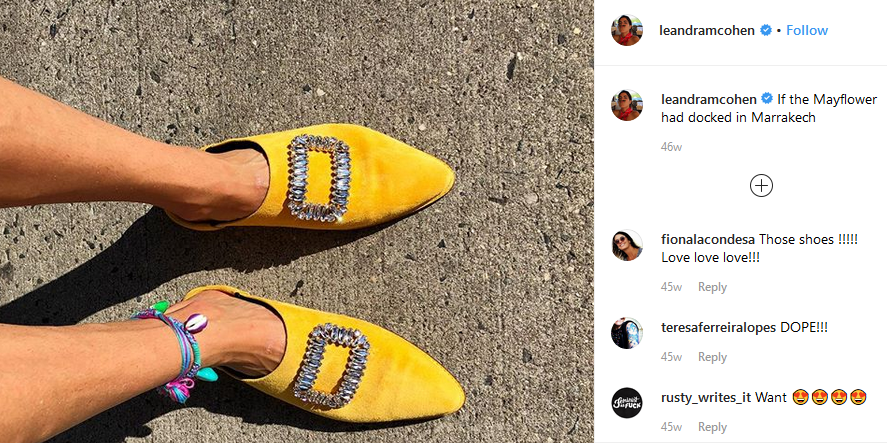 Top tip: Think about what's trending in the marketing world. It does not have to be directly related to your product but it could inspire blog posts or infographics. Remember, people are becoming more and more distrusting of highly promotional content and therefore scoping out idea that are on brand but different from your old-fashioned banner adds and pushy marketing messages will be refreshing. Pinterest has some great advice for marketers looking for seasonal trends. In fact, don't underestimate Pinterest right now!
Did you know- The optimum temperature for sales success is considered to be around 25 degrees Celsius. Combined with the extra light boosting customers' moods, this makes summer a perfect time to communicate to audiences.
#3 Shine on Social Media
From staycations to vacations, people try to get away during the summer months. But that's not an excuse put your feet up and get all lazy with your marketing approach. An impressive 74% of people look at social media while travelling. So put that ice cream down and make sure you shine brighter than your social competitors this year. Here are some things you can do!
Your consumers may be chilling in the sun or flip-flopping around the pool. When they check their devices, they're likely to have sun cream smeared hands and be a bit preoccupied. So, you need content that will literally make them sit on their sunbed and engage – there and then. What better way to do this than by giving away free stuff? People love something for nothing and if your marketing is clear and concise with a strong call to action, you should gain traction.
Top tip: Use large fonts and attractive imagery to hook people in. If you're not giving away free stuff then make it super easy for lazy summer shoppers to choose an item. Just like Asos who writes catalogue search numbers on social media. Now that's smart!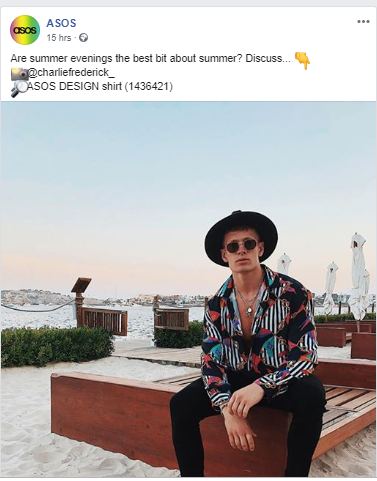 Competitions are also a great way to keep people interested in what you have to say. But your contest must be relatable. Make it easy for people to engage in competitions while lying on a sunbed. If you go for a photo comp based on 'best flip-flops' or 'the hugest ice-cream' you'll also make use of the user generated, organic content we talked about earlier. It's a win all-round and an easy one to manage if your company itself is rocking a skeleton team over the summer holiday season.
Top tip: Before you run a contest, be sure to get some official rules in order. Rules are there to protect you AND your participants. They should cover key information including:
Who is sponsoring the contest or sweepstake
Who is able to enter (age/geography/etc.)
Means of entry
Winner selection process
Other protective language
Sipping cocktails and letting your competitors take first spot this summer is a big no-no. You've worked hard all year (we presume), so don't let your ice cream fall off its cone during the hotter period.
Sure, industries such as finance can fall quiet as traders await the busy September buy-back rush, but this is your time to make noise. To stay at the top of your game, post updates and engaging content. Be a go-to source of information for those looking to stay in-the-know and keep people informed about what's coming up in the near future.
Top tip: If you work in finance, your traders are still having a summer. They still have a sense of humour. Engage them with fun gifs in your tweets like the example below from QoreFX.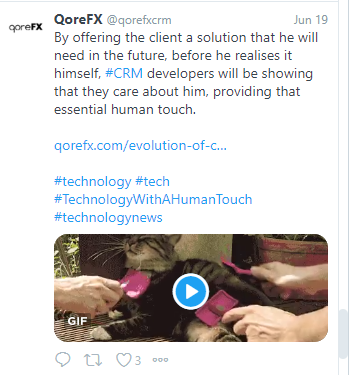 Embrace fun days and events
There are many fun national events to celebrate throughout the summer month. From National Strawberry Sundae Day on 7th July to National Pina Colada Day on the 10th July, there's plenty to celebrate alongside other big events that might be relevant to your industry such as Glastonbury festival.
Boots UK made the most of National Picnic Day to promote their awesome meal deals and healthy food selections – appropriate considering many people watch their weight during summer.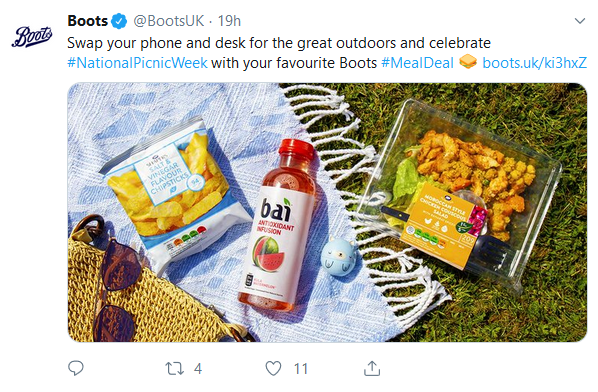 And of course… don't forget your summer marketing FOMO! Limited offers, flash sales and countdowns all work to bring in the bucks. Just like New look did here. Bonus points for the summer themed promo.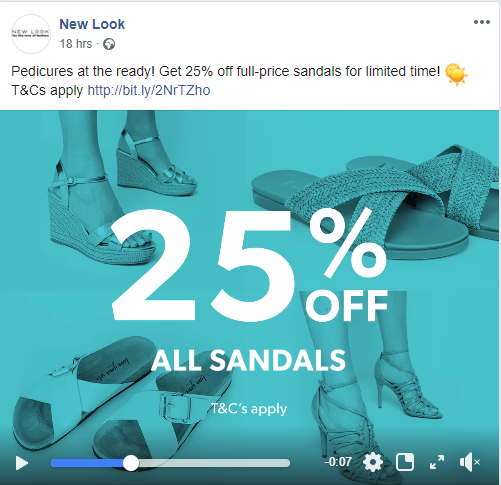 Top Takeaway 1: Stay relevant and true to brand. Choose events or national days that fit with your business model and maintain a consistent brand tone of voice.
Top Takeaway 2: Do not jump on trending themes or hashtags unless they are relevant to you as this can damage the credibility of your brand. Trust us. It's not ok to use #MeToo to promote your range of frozen yoghurts.
More work you say! Yes of course. We told you summer wasn't a good time to relax. In fact, it's the perfect time to come up with great campaigns and pimp them via awesome landing pages.  Rank for summer SEO terms and keep people interested with sizzling social media promos.  Summer's here! So contact the Contentworks crew today for help with your content marketing.