The shipping industry has come a long way. 20 million containers cross our seas each and every day thanks to a complex shipping eco-system keeping everything afloat (excuse the pun). The first major trade routes were formed around 5,000 years ago and today, 90% of the world's trade is carried by sea. It's a huge sector with huge demands. But as the $700 billion industry is projected to grow to $1.3 trillion by 2023, what changes can be expected? And how can shipping companies propel themselves into the spotlight? As content marketing experts, we're delving into marketing for shipping corporations. What works and what doesn't?
Marketing for Shipping  – What Works?
While the shipping sector is known for being traditional and even slightly conservative, when it comes to marketing things are changing. Digital marketing is an important tool for shipping corporations looking to spread brand awareness, attract business and increase revenue. In order to make a good online impression, it's important to:
Be Extremely Knowledgeable
The main purposes of marketing campaigns in the shipping sector is to instil trust in consumers. To be known as a professional, trustworthy partner makes sense in a world where mistakes, delays and damages caused by shipping operators cost companies billions. And that's why tailoring content to be authoritative and knowledgeable is crucial. Whether you're putting out promotions, offers, how-to guides or updating your website, you have to be smart about how you approach marketing to avoid sounding amateurish.
Marlow Navigation does this in many ways. Their website promotes the fact they have a worldwide presence which instantly asserts industry dominance.

Marlow Navigation also takes a storytelling approach to improve authenticity and promote trust.  By including statistics and dates it's easier to follow a brand journey and build a stronger connection. A link to a company brochure is a nice touch, providing visitors with all the information they need, without leaving the website.
And by sharing content such as the Marlow Newsletter on social media it's clear this is a company keen to keep their followers updated. In other words, never underestimate the value of going the extra mile when it comes to content marketing.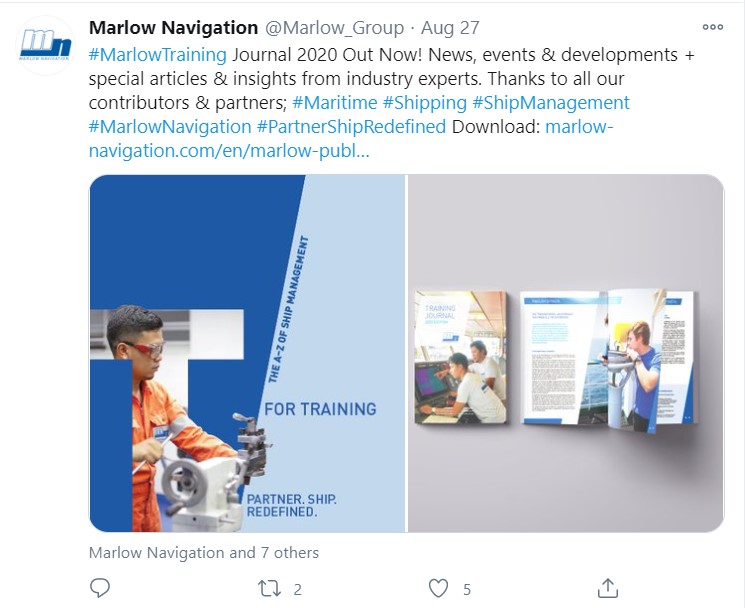 Embrace Corporate Responsibility
Marketing for shipping can also be based around corporate responsibility efforts. There's been a lot of talk around shipping and the environment in recent years. So, it's a good idea to talk about brand efforts to reduce emissions, protect the seas and take care of wildlife which is something COSCO SHIPPING Lines have been doing through their content and on social media.

Top tip for shipping marketers: Sharing awards and accolades for your performance on social channels is a great way to boost brand awareness without being overly promotional. Stick to the facts and if you're mentioned by other brands for your achievements, you can share this content too.
Share Industry Knowledge from Authoritative Sources
Becoming thought leaders in any sector means creating original content relevant to your specific industry. This could be about everything from regulation and policies to pandemic recovery as seen by leading shipping company Ocean Network Express. Written or video content could feature authoritative figures such as company CEOs as this will add more credibility. Alternatively, AMAs featuring crew members show the people behind the brand and that adds to the authenticity factor.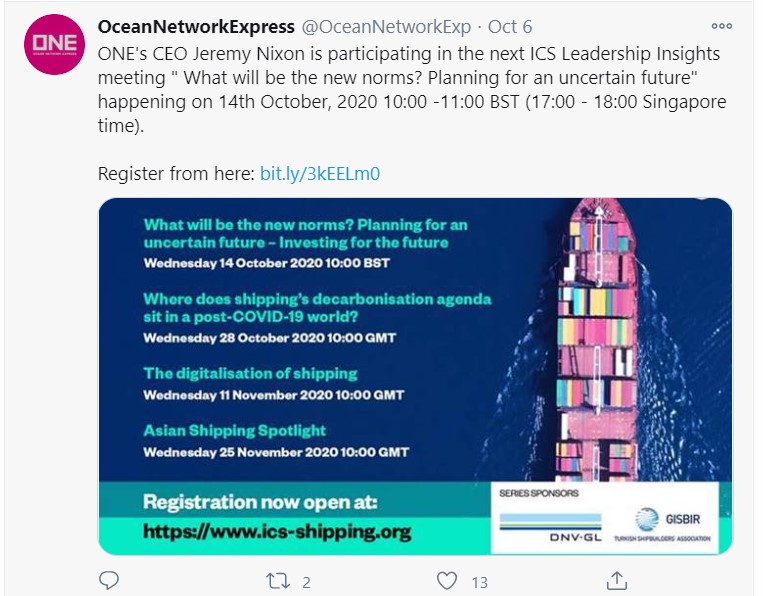 Promote unique services
Not all shipping demands are the same. Pharmaceutical cargo, for instance, requires careful regulation and temperature control. So, if you offer such services, be sure to promote them across your platforms. Always link to relevant content such as a more detailed brochure if you have a character limit and don't forget those all-important hashtags to make your content easily searchable.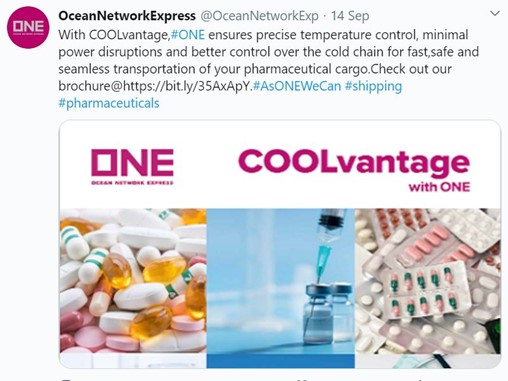 Share customer testimonials
Clients in need of international container shipping services aren't always going to be swayed by your own content. They're looking for unbiased and detailed information from people like them who have already used the services you're offering. That's why sharing customer testimonials is a great idea. They can boost consumer trust and overcome potential client hesitation and scepticism. Also, why not create a review section on your website? And know that while 5-star reviews are brilliant, it's not all about getting top marks. While you'll need to moderate the comments to avoid bad PR, don't be afraid of the 4-star posts or constructive criticism as this will show you're an authentic company willing to learn.
And again, where possible – share your achievements.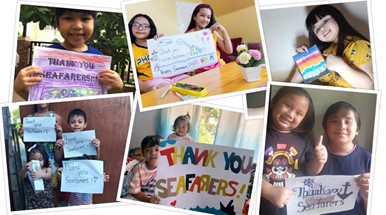 Develop a multi-channel presence
Marketing is all about going where your target audience is most likely to be. When it comes to shipping, the industry attracts many corporate clients assisting with everything from business relocations to shipping stock. Therefore, it's important to have a good website and be active on Twitter. We love these tweets from Marlow about their new team members!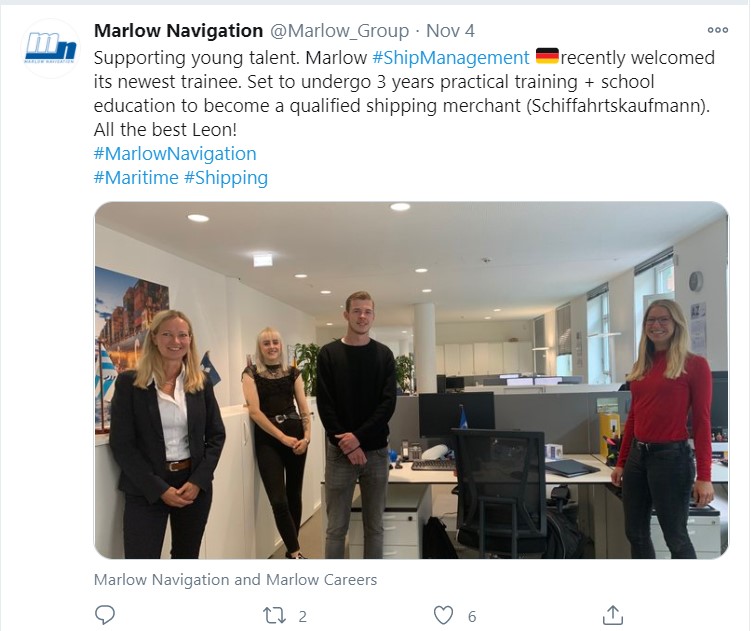 On LinkedIn you can post content specifically relevant to corporate clients and share in-depth industry insights.
To stand out on LinkedIn, you should:
Create posts that are related to your niche, these could feature your crew, clients or vessels.
Post videos. 85% of consumers want to see more video for brands, so keep it interesting, educational and showcase any USPs like the below from Marlow Ship Management.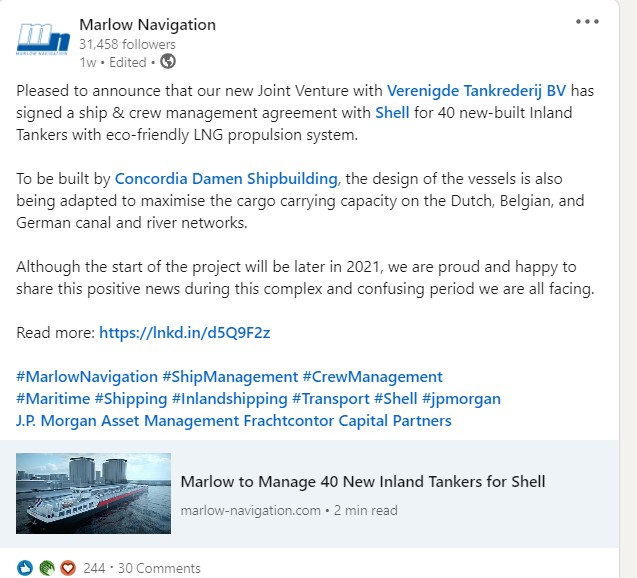 Write a captivating hook to entice people to 'see more' of your posts. LinkedIn boosts the posts and pages that have a good engagement rate, so nailing the content side will make your efforts go further. Asking questions or posting polls/quizzes is another good way to make people respond directly to your posts.
Share safety updates- this shows you're ahead of the necessary protocols and will inspire trust like Columbia Ship Management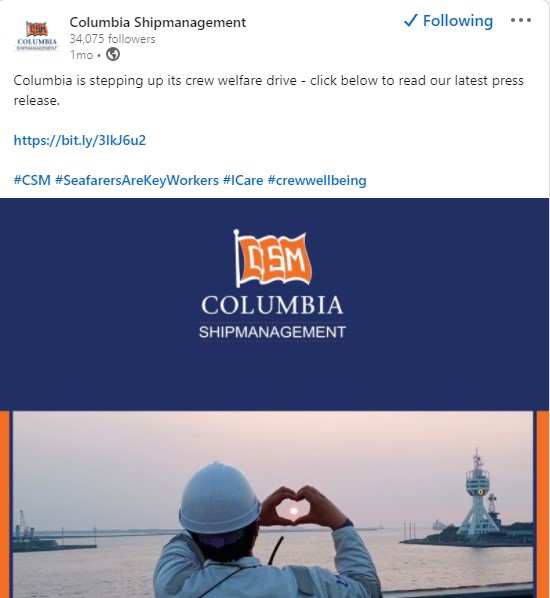 And be people centric. Remember, people do business with people, not corporations!

Embrace digital trends
Shipping organisations are facing intense pressure to operate more efficiently while catering to the increasingly sophisticated digital demands of their consumers. As well as an easy online booking system, you can also think about marketing next-generation solutions such as real-time cargo tracking or on-board sensors that monitor cargo conditions. Essentially, if you've got it flaunt it and cater to demands for greater visibility throughout the shipping journey.
Similarly, be sure to promote technological advancements such as a new app, especially if it'll streamline the shipping processes and give you an edge over competitors. Contentworks recently collaborated with Motion Milk to write the script for Marlow Navigation's all-new CrewCompanion app available on iOS & Android. You can watch the promotional video we created here which explains the app's incredible features such as its ability to access crew documentation, flight details, contract, payroll and allotments, as well as company news and activities.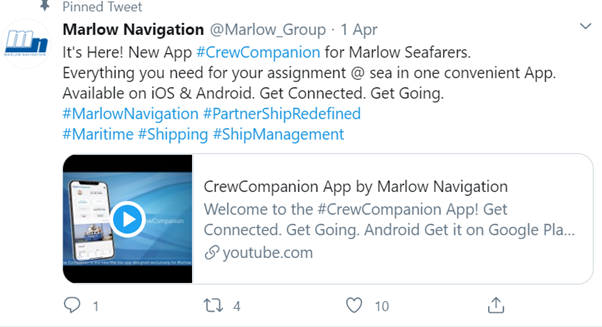 Top tip for marketers: Use platform tools such as the Pinned Tweet function to keep your latest updates in the spotlight for longer. A Pinned Tweet will remain at the top of the page regardless of time and will therefore typically get higher engagement and traffic than other tweets. All of that engagement works as social proof and makes it even more likely people will interact with the tweet.
Don't be afraid of change
Yes, the shipping industry has been somewhat traditional for many years but with technological advancements ever increasing, now's an exciting time to improve your digital marketing. Research shows that investments into new shipping and logistics technology has reached $3.3 billion in the last few years. From automatic cranes and tricks at ports, to reducing ship emissions and even predicting vessel maintenance, technology is driving commercial and operational efficiencies in all areas of maritime. One thing to remember when it comes to technological advancements in shipping is how this is communicated. As a century-old industry, it's important to use content marketing effectively to introduce change including new concepts. This is what brands such as COSCO SHIPPING Line have already started to do as they delve into the exciting and innovative world of shipping blockchain.
For example, recent social media posts include detailed descriptions, or links to content that explains fully how the blockchain shift will occur and the agreements that have been signed.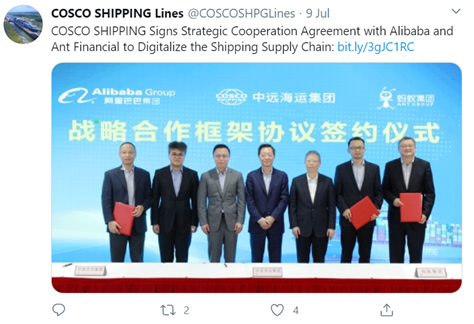 You can read the whole announcement posted to Facebook here.
Other ways to effectively communicate a message to clients include:
Short, concise explainer videos or a video series depending on the complexity of a topic. Videos should focus on technology benefits and give a real-life example of the new tech system in motion.
A question and answer session with key employees
Infographics and imagery that's on brand for your shipping company
Regular blogs on social media breaking each section down into useful takeaways. Include statistics and data where possible.
A safety or information centre built into the website to keep clients and followers informed
Contact Contentworks today for content marketing services. We've worked with leading shipping companies across the globe offering articles, website content, video scripts, e-books, whitepapers and more.