When it comes to content marketing for the finance sector, you've got to know the rules. There's no excuse for being out of the loop or unfamiliar with the regulations as the smallest mistake could put your business in jeopardy.  As a content marketing agency for the finance sector, we never take our eyes off MiFID II, GDPR and those who patrol specific financial realms such as ESMA, CySEC and ASIC. This time, we're looking at content marketing for UK financial services regulator FCA.
The Financial Landscape in the UK
While London may have surrendered its position as the world's top financial centre to New York, largely due to Brexit uncertainties, the capital still remains an important financial hub. Particular for forex trading.
The peak time for trading is when the US and London markets overlap between 1 – 4pm GMT resulting in high volatility and increased trading opportunities. The Great British Pound (GBP) is the fourth most traded currency on global markets and the fourth most held reserve currency after the US dollar, the Euro and the yen.
While Brexit news has caused the pound to decline and struggle to recover, it remains one of the most actively traded pairs as of 2020, although future trading relationships continue to be somewhat uncertain.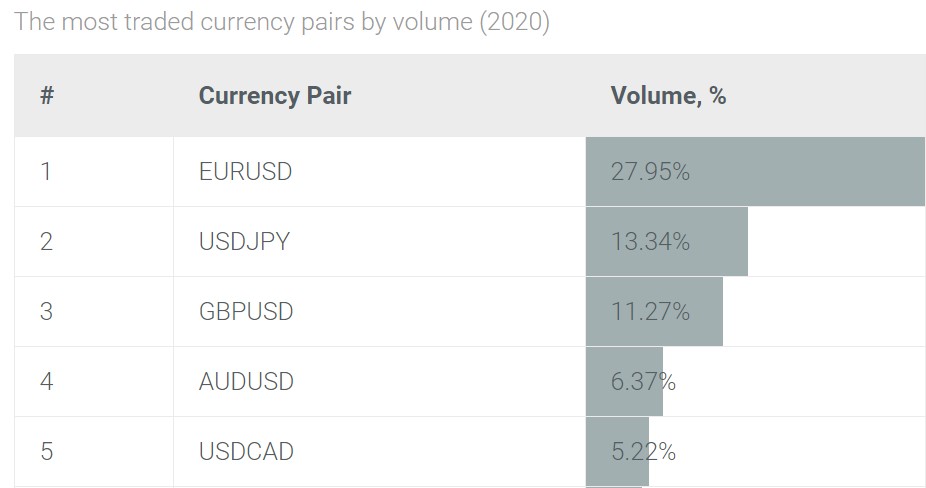 The Importance of FCA
It's clear the UK very much remains in the financial landscape. So how does the Financial Conduct Authority (FCA) come into play? Well, the FCA regulates over 59,000 financial services firms and financial markets in the UK. This is to ensure the industry remains honest, fair and effective. The finance sector plays a critical role in the lives of everyone in Britain and therefore it's important to have guidelines in place to protect consumers. The work of the FCA also helps to maintain confidence in the UK as a major global financial hub.
To ensure financial markets work well for individual businesses and the economy as a whole, the FCA strives to:
Secure an appropriate degree of protection for customers.
Protect and enhance the integrity of the UK financial system.
Promote effective competition in the interests of consumers.
The decision-making framework involves identification of harm, potential harm or markets not working as well as they could. Diagnostic tools are then used to understand the issues better and then remedy tools are actioned to help iron out harmful practices. You can read more about the intricacies of the FCA's work here. But the main takeaway is that the FCA closely safeguards an industry which is constantly evolving.
Who Does the FCA Apply to?
To maintain the integrity of the financial services market in the UK, the FCA regulates financial services companies providing services to consumers. This includes forex brokers, asset managers, financial advisers, life insurance and pension providers, mortgage lenders, consumer credit firms, electric money and payment institutions, banks, fintech/regtech businesses and more. So, whether you're a broker offering cryptocurrencies and forex pairs or a digital-only bank such as Revolut or Monzo, you'll be subject to scrutiny from the FCA and must follow the regulatory guidelines put in place.
FCA Regulations and Content Marketing
So, we've established that the FCA are a pretty big deal, keeping the UK financial industry in check. But how do FCA regulations impact content marketing and what do you need to know to ensure you don't break the law? Here's a rundown of the main points.
Financial Promotions Must be Clear, Fair and Not Misleading
As is common across the regulatory landscape, all financial promotions must be clear fair and not misleading regardless of the media type. This means that even content posted to social media is subject to 'financial promotion' rules and must be carefully thought through.
The FCA is very clear about what's considered a financial promotion. The below FCA example, for instance shows non-promotional communication. This would be considered financial promotion and be up for potential scrutiny if the second sentence read, 'We also invest in our trading technology, to help get you the best returns."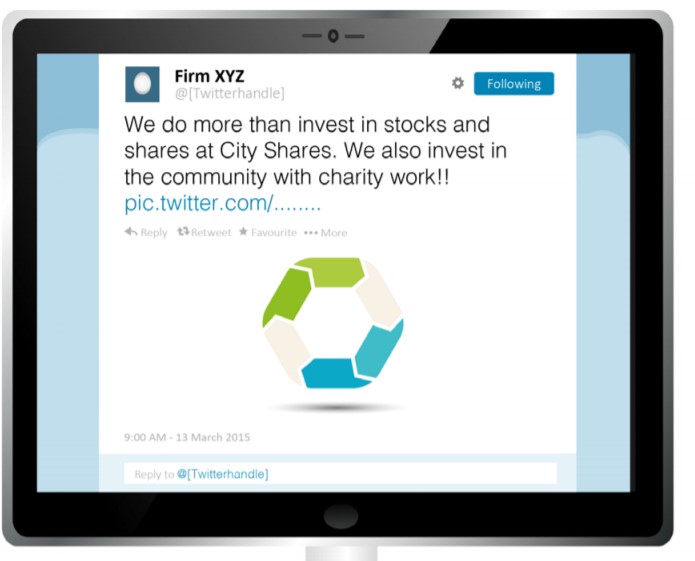 To ensure your financial marketing is FCA appropriate, you must always:
Ensure your promotions are clear, fair and not misleading, even if they end up in front of an unintended audience as might be the case on social media. Precise target marketing is a good way to avoid communication mishaps.
Promote financial products in a balanced way. So, firms should talk about not only the benefits but also potential risks. This applies to activity across all platforms. Avoid words and terms such as 'boost,' 'win,' 'gain,' 'expand your earnings,' 'get rich quick,' and 'guaranteed' to stay out of hot water.
Here's the FCA's example of a compliant, balanced tweet with an appropriate risk warning: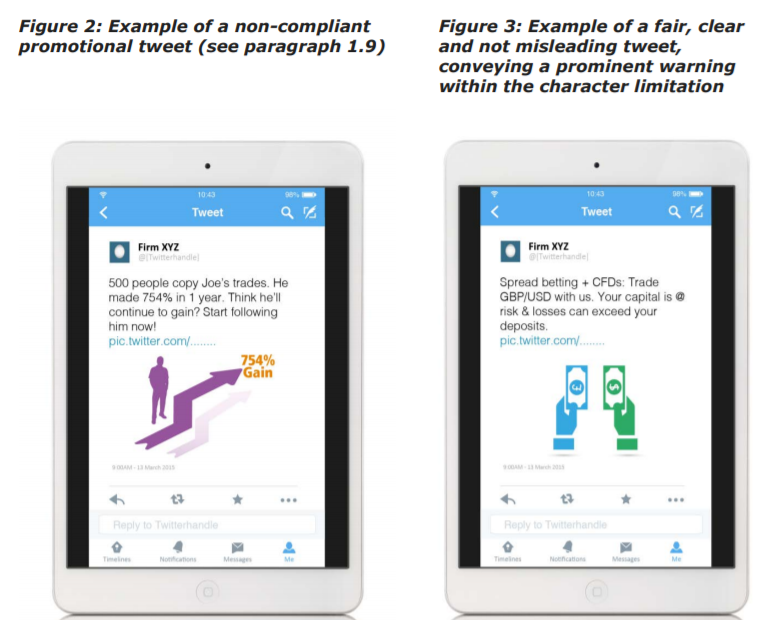 Consider any character limitations and how this could impact the 'balanced' messaging you're trying to convey. Where possible, link to articles with a more detailed explanation. Again, without making any misleading or overly optimistic promises to encourage people to click on the link you have shared. Phrases such as 'read on' or 'find out more' are ideal.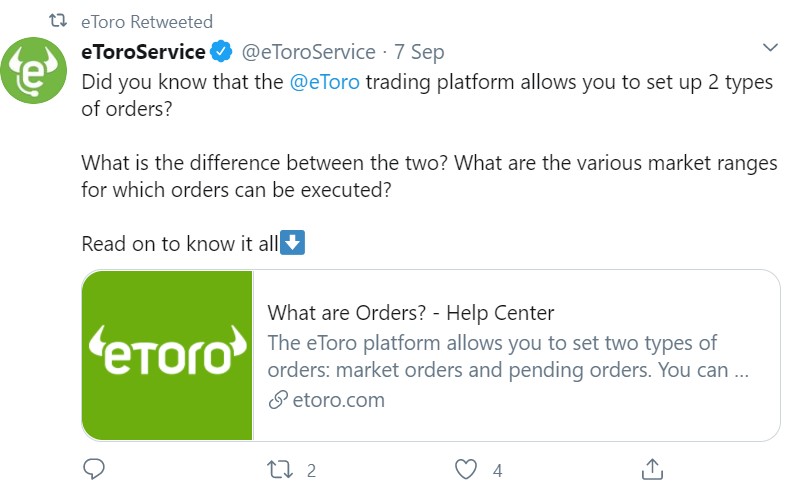 Top tip for FCA marketers: Firms are obligated by the FCA to have an adequate system in place to sign off digital media communications. This sign-off should be by a person of appropriate competence and seniority within the organisation.
Risk Warnings Must Be Prominent and Not Hidden
Including risk warnings is step one. Step two involves ensuring they're prominent enough to be seen easily and not surrounded by additional text. Risk warnings must be of the same font and size as the rest of the content, regardless of the content medium.
Here's a compliant banner series: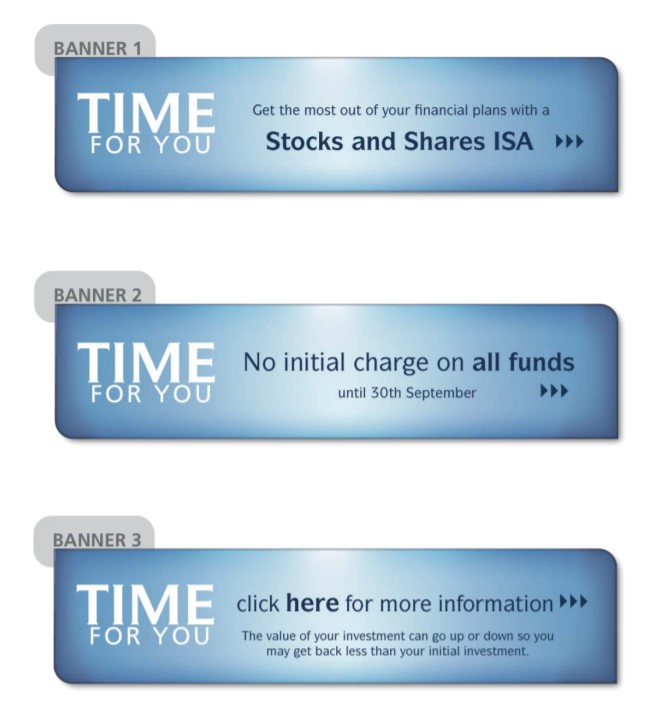 And a non-compliant example:

And here's an active example from the FXProGlobal Twitter account. Note how the warning is incorporated into the account portfolio and is the same size as the rest of the tweets.

Always Use Compliant Imagery
Using imagery in your marketing campaigns is a great way to garner attention and communicate without worrying about word limits, especially on micro-blogging platforms such as Twitter. If you're going to post an infographic, video or GIF, be sure that the image itself is compliant and contains all the necessary risk warnings. Don't include misleading statements or messages that aren't balanced. Often, keeping things simple is the best way to avoid compliance issues while keeping eyes on your brand.
What Else Works?
There's a whole bunch of rules to take in. But with enough creativity, you can ensure your campaigns stand out from the crowd. So what can you do to stay compliant but keep your consumers interested?
#1 Share news and industry updates
Become a go-to source for information by sharing news and industry updates on a regular basis. Writing thought-leading blogs and sharing them to your social platforms will add interest and keep people coming back for more. Try to focus on trending topics and always use the relevant hashtags, just like eToro who have recently zoomed in on the stock plans of company giants Tesla and Apple.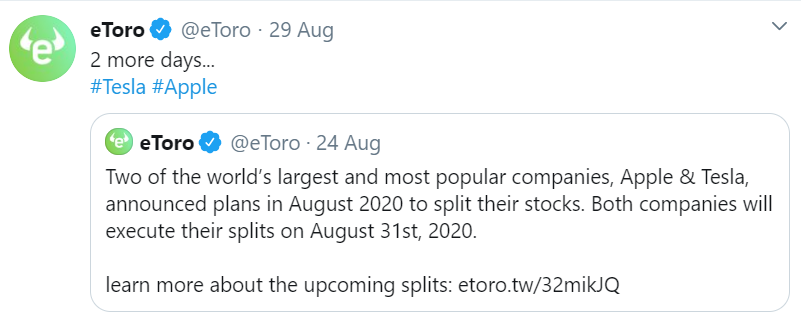 #2 Include useful graphs and charts for traders
Including charts and graphs creates visual interest and helps your content to become relatable. Top tips include:
Dating your content to make it as relatable and useful as possible.
Posting just before a popular trading period to keep people informed.
Noting the currency pairs using relevant hashtags where necessary to make your content easy to search and find.

#3 Use content to direct people down your marketing funnel
Top brokers like FP Markets direct consumers along the marketing funnel with the help of interesting and engaging content. When they click on the link in this post, for instance, they get taken to an article with a very clear call to action to 'Start Trading with a Global Broker.'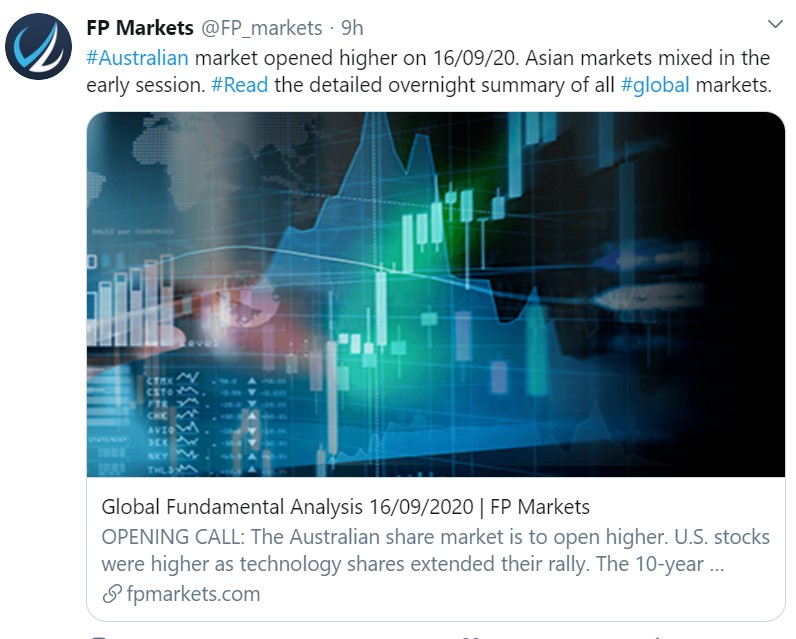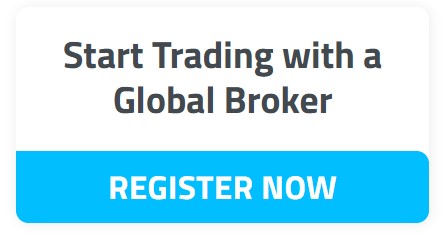 Top tip for FCA marketers: Use the analytics tools from platforms like Twitter to work out the conversion rates of each post. If you get more sign ups and account registrations from a particular content type, you can use this to fuel future campaigns.
Producing consistently compliant content is necessary if you're operating under the FCA. Contact Contentworks for a compliant strategy and help getting Socially Sorted. We know the rules inside out and provide analysis, articles, PR, social media and videos.