Having fresh and regular leads is a top priority for most brands. However, the challenge is convincing prospective clients to follow you or give you their contact details. 50% of marketers report that inbound marketing strategies, like onsite forms, are their primary source of leads but how do you get people to complete them? Under GDPR rules, buying "leads lists" is a big fat NO. People need to be properly opted in to receive communication from your brand. Let's look at how to use lead magnets to increase your subscriber list (and signups).
What is a lead magnet?
The term lead magnet refers to an incentive for prospective clients to subscribe or provide their contact information for follow up. They help you strike an organic conversation with the client or keep them in contact with your brand and what you have to offer. It is easier to convert someone to a loyal customer if the engagement is consistent and/or worthwhile for them.
At this stage, almost everyone has interacted with unprompted and annoying pop-up messages asking for contact info. Filling these out often has little to no value for the user and the majority of people will simply X out of them or even bounce from your site altogether. To counter this, marketers need to gather leads more creatively using lead magnets.
For most brands, leads refer to email addresses or phone numbers – this is personal data and most don't want to give them out with the worry of being inundated with spam mail or calls. Potential leads are, however, more likely to share their contacts if they're getting something out of the deal. A good lead magnet compels customers to provide their information without hesitation. Your brand could use one (or more) of the following:
eBooks, guides, and whitepapers
Offering a free eBook/guide/whitepaper on trading, investing, or whatever your brand specialises in is a surefire way to guarantee leads. Potential leads are unlikely to leave their email without receiving anything in return, but a well-written whitepaper is a winner. Learn how to write a winning whitepaper here, or simply get in touch to have a lead-securing paper written for you by the experienced Contentworks team. Be prepared to put in the time to deliver a valuable whitepaper. Deliver trash content and they might even unsubscribe immediately!
In-person events or webinars
B2B marketers  reported that in-person events are the most effective way to generate leads, followed by webinars. While in-person events have been tricky in recent months, webinars have taken their place. Both remain effective lead magnets and should be utilised by all brands wishing to up to their lead-generation rates. Getting leads and signups at events is made simpler by utilising a tablet and dedicated landing page with a signup form. Brand the page for the event you're at and be sure to track it so your CRM knows where you found your leads.
Free Training
Education is of high importance to many, especially in the finance space. If your lead magnet offers high quality education then you are likely to attract good signups. Your training can be online in classes, individually or even via an eBook. If you are sending out educational eBooks then be sure to follow up a week later to answer any questions they may have. Remember, an educational journey requires time and patience!
Talk to Contentworks Agency for educational content. From newbies to advanced, we can nurture your client funnel with content, social media and videos.
Bonus content
If you have a blog, you should consider rewarding avid readers with bonus content. For instance, if your blog is about tips on maximising investments, you can offer exclusive tips for readers via email. Bonus materials foster a good relationship with consumers that can prompt them to subscribe to more services. You can promote this via social media too by delivering intriguing posts and a signup to learn more.
Calendar planner
A good calendar planner helps people to organise future events, campaigns, financial schedules, and other activities. Add your brand's engagements to the calendar to ensure the customer has a full view of your brand throughout the year. Do consider allowing users to remove or exclude your dates if they choose so that you don't come across as overly salesy. Contentworks Agency provides a yearly downloadable financial calendar for clients.
Free software trial or demo account
Offering free trial software versions is the ideal hook used by plenty of software and digital marketing companies. The catch is to have an expiration date, limited features, or the offer of a demo-only account (with the user being made fully aware of this from the start.) Remember that a barrier to sales can also be uncertainty about your product or service. So by offering a free trial, you not only opt the client in to your database, but you also move them closer to a sale.
Tip – To build trust and increase the likelihood of a signup, incorporate testimonials, reviews and press mentions into your page. Adding videos of user testimonials and product images to a page is a great way to catch the attention of viewers. It also gives shoppers an extra push to look further into a product.
Account credit
Giving your customers a small balance to get the ball rolling can do wonders. This lets them try out all the features of your platform without spending their own money. Be careful here. Account credit goes against some locations compliance rules. Your lead magnet needs to be compliant as well as enticing. You should also be careful to layout any terms and conditions.
What should a great lead magnet have?
Call-to-action: This one should be obvious but still some brands forget to have a clear CTA that explicitly tells the customer what to do. Want them to sign up for your newsletter? Create a big button that says exactly that. Avoid multiple CTAs as this can be confusing.
Landing page: Design a specific page where your potential leads will type in their contacts to get the offer.
Thank you confirmation: After leaving their details there should be an email notification or page that gives thanks to the user.
Email series: You should keep the subscriber engaged with a series of emails.
No spam: The reason people are reluctant to hand over their email is the worry that their inbox will be overtaken by spam. So, don't bombard leads with unnecessary spammy mail. And never sell or give contacts to third parties – assure your potential leads you won't do this with a small message at the bottom of the signup page.
Characteristics of a good lead magnet
Demonstrative of your expertise: Your lead magnet should show your brand as an expert in its field.
Easily accessible with a quick reward: You will have a higher chance of conversions if the incentive you are offering is instant and doesn't require a lengthy/complicated signup process.
High value: Your lead magnet should be something that your potential leads consider as something of value. Don't confuse this with money or product. Value can be obtained through excellent content such as an insightful whitepaper or industry expertise. Value might also be a free tutorial.
Specific: A good lead magnet should be unique and particular to the target audience. If the incentive is generalised, they can easily get it from somewhere else, reducing your chances of conversions.
Solves a problem: Your potential leads will be less interested if your incentive does not speak to them or help solve a problem.
Tip – The word FREE is proven to get more signups. The quality of the lead however, may be reduced depending on the sector. the example below shows how the word sweetens the signup pot.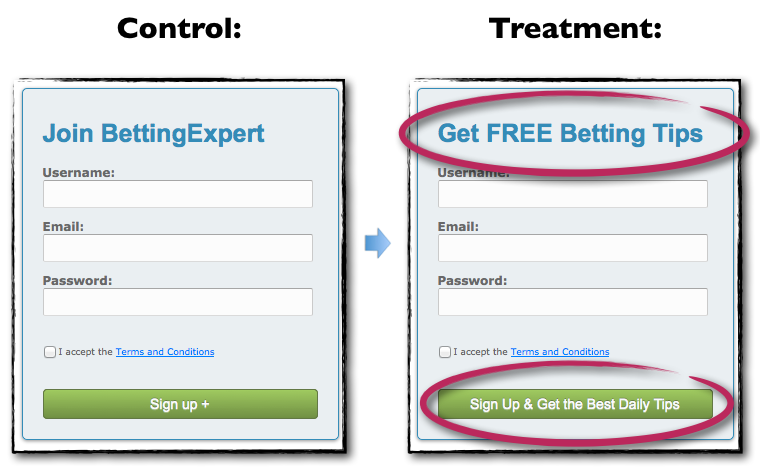 Promoting your lead magnet
After finding the ideal lead magnet, the next step is to deliver it. Here are some starting points:
Use a squeeze page: This is a form of landing page where your lead magnet offer appears. A squeeze page is concise and straightforward. Ensure that you provide a skip option for users that are not interested.
Always include a sign-up page: All your web pages should have a sidebar with a sign-up form. Keep it as simple as possible. You probably don't need their job title, salary and interests at this point.
Promote your lead magnet using social media: Definitely make a multi-channel announcement about your lead magnet on your socials. Create FOMO by sharing snippets of what's on offer.
Use pop-ups: Yes, pop-ups can be annoying for some people but done right they can secure leads. Just be sure not to have more than one pop-up per site visit and try to make them relevant to the user. For example, only use a pop-up that tells users about your email newsletter if they're already reading one of your blog posts.
Add a Subscribe button to your site. If a visitor enjoys your content then they will sign up without any additional sweeteners.
Marketing is sophisticated, and customers are becoming more complex. There's a strong need to use attractive and personalised incentives to secure new leads. Lead magnets play a vital role in ensuring a consistent stream of leads and making a valuable impact on your target market. Lead magnets help to organically grow your leads, subscribers, and conversions.
In search of the perfect lead magnet for your brand? Chat with the expert team at Contentworks today. Contentworks Agency has years of experience creating exciting content that inspires readers to take the next action. We provide leading brands with blogs, whitepapers, eBooks, videos, education centres and much more.
Enjoyed reading Lead Magnets to Increase your Subscriber List (and Signups)? Go ahead and hit share!