Writing a white paper can be daunting. You aren't writing a blog post or a site update; a white paper is your brand's opportunity to convey its expertise. You need to show readers that your brand knows what it's talking about and that this deep level of understanding of the sector gives your brand an edge over any competition.  Contentworks Agency has produced winning whitepapers for leading tech, crypto and finance brands looking to secure investment or consumer approval. Let's go through some of the best practices for writing a winning white paper. Plus, some commonly made mistakes when writing a white paper too!
#1 Choose the best type for the job
White papers come in different forms. It's essential you understand the differences to find the niche that suits your objective. Common styles of white papers include:
Problem-solution: These white papers identify a particular market challenge and offer solutions.
Summaries: These provide an extensive overview of a niche, sector, or industry.
Backgrounders: These are white papers that give technical subtleties on services or products and let the reader know how they can benefit them.
Your choice of white paper will depend on your objective for writing it. For instance, if you want to convey the benefits of a particular service or product to customers or investors, a backgrounder is what you need. If you want to share some thought leadership, and you have extensive knowledge of that sector, you may opt for a summary white paper.
#2 Know your audience
This is key to selecting the type, language, and technical depth of your white paper. Your whitepaper won't achieve its objectives if it doesn't connect with your target audience's existing knowledge. Same if it misses the mark on tone when pitching your credibility to potential investors. If you're targeting SMEs, you'll want to strike that balance of being informative and not talking down to readers, without alienating them by bombarding them with technical jargon. Take a look at this example of a white paper targeted to SMEs on climate change.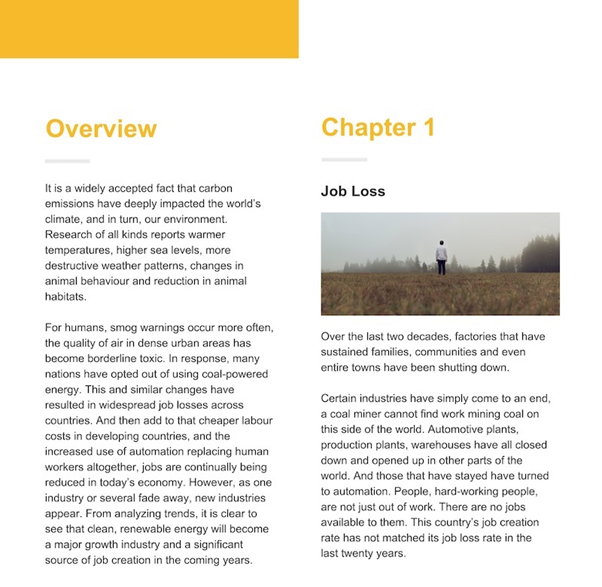 This white paper is a summary. It starts from the beginning by giving readers the whole picture of climate change's impact on business. Yet, it doesn't patronise. It brings up less commonly discussed trends and impacts, it assumes some existing knowledge that the majority of readers interested in such a subject would have, etc. When writing your own white paper, strive for a similar tone – one that positions your brand as an authority in the sector, but doesn't alienate with overly complex vernacular or lack of context.
#3 Have a clear structure
Your white paper's structure should be clear and logical. Extended writing is prone to what the film and literature industry refer to as 'second act problems' – an excellent idea, with great direction, that loses its way as it progresses. So, you need a strong outline that will help you stick to the scope of your topic.
A typical problem-solution white paper might look something like this:
Executive summary: Although this comes first, you should write it last. A strong executive summary highlights the critical issues, possible solutions, and new approaches.
Problem statement and background: Here is where you give a brief outline of your topic and a deep dive into the problem you will be dealing within the paper. Highlight the points that affect readers from their point of view. It will help your paper to use real-life examples to expound on the problem.
Current solutions: After describing the problem, you need to talk about possible solutions. You can start by giving the steps needed to solve a problem. Also, point out the advantages and limitations of using these steps, as well as the expected impacts to aspects such as expenses, brand image, profitability, etc.
Your approach: Here, you concisely and clearly state the solution you are offering. To get an edge on the competition, compare your solution to what exists already, and of course, show how yours is superior.
Summary and call to action: Summarise your paper by highlighting the key points. Tell readers what they can do to get more information and share contact information.
#4 Do extensive research
There's a reason whitepapers cost significantly more than blog articles on a pro rata basis. Research. the research may be conducted solely by your marketing agency or may require them to draft in experts on the subject to assist. this complex research then needs to be turned into something readable and engaging. The whole reason most readers will have sought out your white paper is that they're interested in what they can learn from it. Robust research is the most effective way to craft a credible white paper. If you've conducted primary research, you'll want this to take centre stage. But up-to-date secondary statistics, industry reports, and academic papers should still form part of your groundwork.
Not only will great research serve to promote the credibility of your white paper and your brand, but you can leverage statistics to show readers how they can benefit from your particular product or service. See IBM's stats below from their white paper that served to promote their 'Smarter Workforce Institute' service.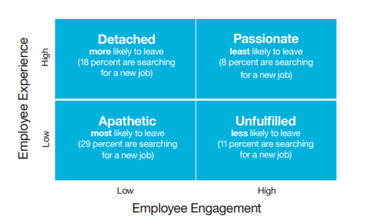 Not only are these stats incredibly useful for individuals managing a workforce, but they serve to encourage readers to find a solution to this problem of talent retention. On the next page, IBM follow up with the below CTA.

This classic problem-solution style of white paper wouldn't work without quality stats, and for that, you need quality research.
#5 Don't neglect design and UX
Design is a huge part of a white paper. Especially for SMEs, where good design can be what makes or breaks a white paper. The design should be intuitive, logical, and of course, visually appealing. Everything you include design-wise should serve a purpose, helping the reader to navigate through the document. Remember, a reader is unlikely to read your white paper from cover to cover. In fact, you should expect that they will skip ahead to sections that interest them most. For that reason, always include a table of contents and page numbers (see below).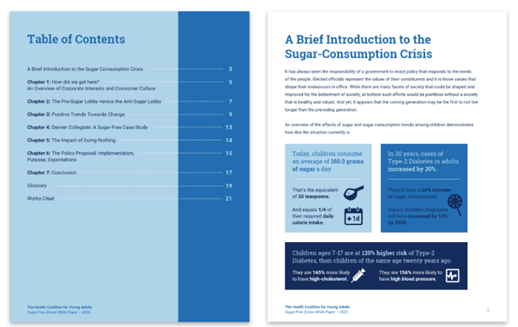 Also, take responsiveness into account. As of April 2021, close to 50% of total web visits are from mobile devices. A lot of white papers are presented in the PDF format that has been around since 1993. While this works fine for desktop visitors, it means that mobile visitors are forced to do a lot of panning and zooming to read it – not ideal. Instead, consider creating a mobile-friendly white paper using, for example, HTML5 and JavaScript.
Mistakes to avoid
Knowing what should go into a white paper is one thing. But perhaps even more importantly, you should know what shouldn't.
#1 Using your white paper as a sales brochure: Yes, white papers are an excellent marketing tool, but you should avoid this being its sole objective. White papers are not eBooks. They should strive to be factual and objective. If a reader starts to sense your white paper is a sales pitch in disguise, they'll quickly become uninterested.
#2 Putting a product name in the title: This ties into #1. Again, a white paper is more than just promotion for your brand. Never put your brand or product name in the title. Instead, opt for a broad and compelling title that drives potential readers to open that link.
#3 Making false claims: The credibility of your white paper depends on its factuality. Never twist statistics in order to benefit you. Also, ensure that all sources are properly cited and, of course, ensure zero plagiarism.
#4 Forgetting stats: As mentioned, research is paramount when writing a white paper. How can you convince readers that your brand or product is the best choice when you fail to provide evidence?
#5 Making it a blog post: Of all types of writing, white papers are closest to academic writing, yet with some promotional content. On the other hand, a blog or eBook doesn't necessarily need the same amount of in-depth research or objective stance. Readers of a white paper will expect a certain level of expertise and disappointing them by serving an adorned blog post won't fare well for your brand.
#6 Insufficiently proofreading: There's not much else more off-putting for potential investors than spelling or grammar errors in your white paper. It's so easy not to notice a little mistake before it's too late. Make a small investment by enlisting the help of a quality agency like Contentworks to proofread your white paper, rather than suffer the consequences later.
Conclusion
A well-written white paper is an excellent medium for promoting your service or product. However, this form of writing requires extensive attention to detail and thorough research. Choosing the right subject matter and style for your white paper is also critical, as is carefully considering your audience's demographic, preferences, and needs. All this must be contained in a white paper that is structured logically and concisely, and that captures the message in an objective tone. Done well, a white paper has the potential to immeasurably boost your brand's credibility and put it on track to position itself as a leader within the industry.
Ready to craft the perfect white paper? Our expert team of writers have years of experience in creating white papers that help brands extend their audience reach and secure investments. Order your expert white paper today.