From fabulous facemasks to red hot lippy, the beauty industry is packed with vibrant products designed to unleash your inner 'wow.' While consumers are overrun with choice, brands are literally jumping up and down to get noticed with influencer marketing now being an integral part of many successful social campaigns. Having the support of a world-famous celebrity or a social media user with a significant and engaged social following can be great for business – so let's take a closer look at how the beauty industry uses influencers.
A Whole New Look: How the Beauty Industry Has Changed
According to Business Wire, the global beauty and cosmetic market is set to reach a whopping $675 billion by 2020. The industry is growing at a rapid rate with consumers showing a preference towards endorsements and testimonials over aggressive and intrusive advertisements. Everything from video blogs to Instagram snaps and Facebook posts can send sales through the roof with the below graphic showing how beauty is a trending topping on social media.

A perfect match: how the beauty industry uses influencers
Essentially, the internet has opened up a host of innovative marketing opportunities paving a way for influencers to take products to new heights. While beauty brand Fashion Nova teamed up with the likes of Kylie Jenner and actor Josh Peck partnered with Axe to help promote their male styling products – it's not just the rich and famous that can have an impact on the marketing world.
Out of the dust has risen a host of self-made influencers who have quickly become the stars of web advertising – with 17-year-old Amanda Steele being one of the biggest names in the beauty industry. Back in May 2017 – the YouTube beauty vlogger who shares tips under the MakeupbyMandy24 handle – was flown out to the French Riviera and given tickets to the premiere of Okja courtesy of Christian Dior. All she had to do was share a caption with her 2.8 million followers that read:
"Thank you sooooo much @diormakeup for treating me like a princess!!"
Influencer marketing in all its forms is therefore crucial for brand development as it:
Increases brand awareness and targets audiences with a love of fashion and beauty
Allows brands to tap into the following of a particular celebrity or social media influencer
Shows products in action through a series of photographs, video blogs and tutorials
Generates online buzz and excitement for new cosmetics and up and coming brands
How the beauty industry uses influencers – 3 beauty brands rocking it
There are many beauty companies out there, but here are three companies that are successfully using influencer marketing to promote their products.
Headquartered in New York City, Tarte Cosmetics has battled off fierce competition through strong influencer marketing campaigns. At the start of 2017, the company flew a gang of makeup and fitness gurus as well as a gaggle of social media influences with huge followings to various luxury locations including Hayman Island, Florida Keys and the Maldives.
The influencers enjoyed everything from morning yoga to dinner on the beach, posting their experiences on social media platforms using the #trippinwithtarte hashtag. The excursions quickly generated great interest on sites like Twitter as seen via the social analytics platform, Keyhole.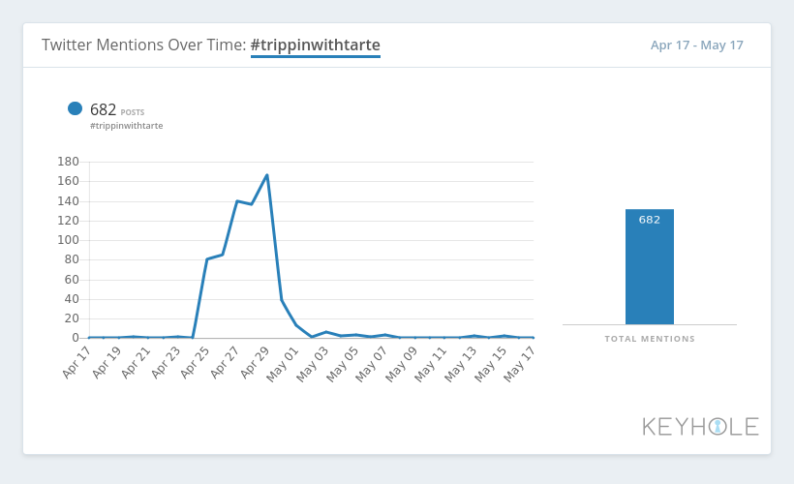 Takeaway 1: Use short, concise and punchy hashtags across social media platforms as part of an integrated campaign.
Takeaway 2: Target influencers with an impressive following. Fitness and makeup guru Tammy Hembrow, who attended Tarte's Hayman island trip, has more than 6.5 million Instagram followers, more than 700,000 YouTube subscribers, 34,000 plus Twitter followers and a successful blog.
As a Manhattan-based company set-up in 2014, ethical cosmetic brand Glossier has come on leaps and bounds in a short time thanks to word-of-mouth marketing and a super-engaged fan base. Unlike other companies who rely on A-listers to promote their products, Glossier has focused on interacting with the 'everyday girl' believing that all women can be an influencer in their own way.
The founder of Glossier, Emily Weiss, said:
"We're not going to make a commercial with wind-billowing satin, like a unicorn whispering luxury."
Instead, Glossier decided to make their marketing campaign more personal by sharing Instagram selfies across their social media platforms with captions such as "recent #maskforce inductee."
Takeaway: Don't underestimate the importance of your everyday consumer.
Cosmetic brand Too Faced has been known to work with many beauty digital influences regularly reposting content from beauty bloggers and active Instagram users. The Two Faced team also joined forced with YouTube star, Nikkie Tutorials, to create a new makeup collection The Power of Makeup.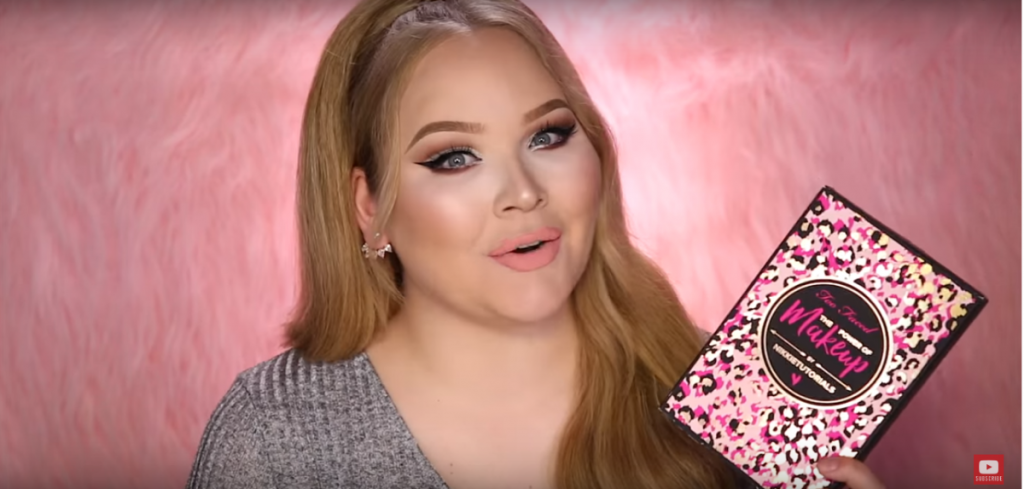 This collaboration followed the success of Nikkie's viral "Power of Makeup" video – which prompted followers to share pictures of their face with and initiated the #PowerOfMakeupChallenge.
Takeaway: Take note of social media trends and use the content to power your business model.
Influencer marketing on a budget: Is it possible?
While collaborating with top celebrities and well-known influencers can cost a fortune, it is possible to jump on the influencer bandwagon without going over budget. Whether you're an ethical brand or a charity looking to generate buzz, it all comes down to thinking outside of the box and creating excellent content that people will want to share. One simple tweet from an influencer can have a positive impact on your business, so with this in mind, here are some useful tips to improve your online reputation and get the support of well-known influencers.
Be as active as possible on multiple social media platforms
Develop content that's interesting to read and easy to share
Network with influencers that match the ethics and values of your company
Offer giveaways, perks or a meaningful incentive to attract influencers
Need to make your content marketing campaigns more beautiful? Talk to the Contentworks team today for more information. Did you enjoy reading how the beauty industry uses influencers? Sharing is caring!