Optimising for People Also Ask (PAA) is a great way to enhance your site's reach, offering another opportunity to appear in the Search Engine Results Pages (SERPs) for a particular query. But what exactly is PAA and how can you get your content in this top spot? Grab a coffee and join us as we answer the question: How Can I Get My Content on 'People Also Ask'?
What is 'People Also Ask'?
People Also Ask is a feature on search engines that allows users to find information through question and answer lists. The questions and answers are similar to the main one you asked, saving you from searching again for similar information. Each question can be expanded to show short yet detailed answers and Google provides a clickable link to the source below each answer. People Also Ask answers can include paragraphs of text, bullet points, infographics or even videos.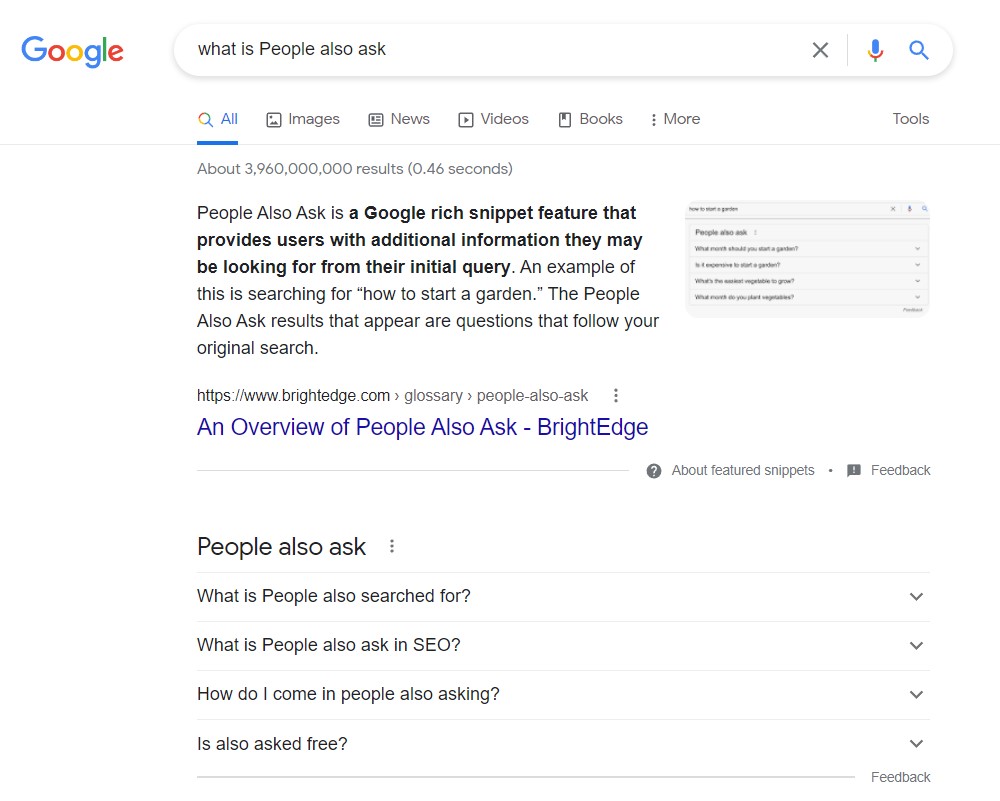 Why is 'People Also Ask' Important for SEO?
Despite a recent dip in the number of times a People Also Ask box appeared for searches, it's believed that this kind of SERP result shows up for about 60% of desktop queries. That's huge and shows just how important Google considers PAA to be from a user experience perspective. Also, while the position of the PAA box is not fixed, it tends to take up extremely valuable real estate on the Google SERP. In fact, Google SERP data from Apparel & Accessories-related keywords revealed that over 85% of the PAA results appeared within the top three results. What's more, the PAA box shows in second position for the search query, 'How to become a paramedic." PAA can even appear as position one, although that's not particularly common.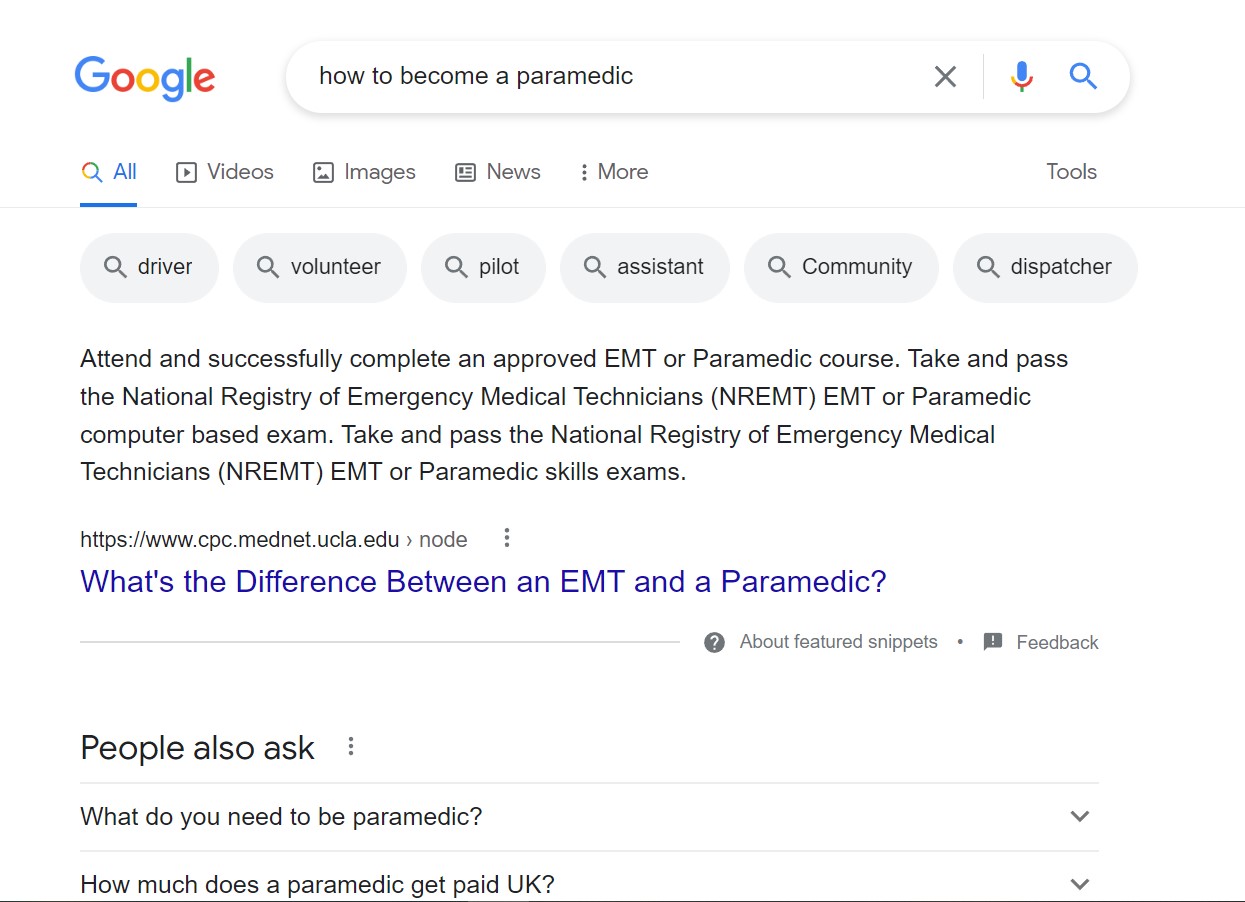 Considering the top three Google search results get 54.4% of all clicks, appearing in the PAA box suddenly becomes a marketer's dream. The PAA feature is undoubtedly one of the most visible elements of a modern SERP, potentially putting you in front of a much wider audience. So how can you optimise for this feature? Let's find out more.
Before you start, make sure you also read our blog on Google's Helpful Content update. Incorporating these techniques into your PAA will improve your ranking success.
People Also Ask Top Tips
Search has come on so much in recent years that you can actually gain a top PAA spot with the right content, even if your website isn't yet ranking on the first page. Your PAA strategy must be on point for this to happen, however. So here are our PAA ranking tips:
#1 Research PAA Questions
The first step to ranking for PAA snippets is to create a list of questions that people are already asking. Thankfully, there are many tools available to make finding keyword-related questions a whole lot easier. Also Asked, for example, allows you to enter any search term to discover the associated PAA queries in visual form. This makes it quick and easy to see the types of questions you should be optimising for and whether you've any gaps in your overall PAA SEO strategy. Answer The Public also displays PAA queries as a visual chart. And there's a free Chrome browser extension called 'Scraper' that will scrape PAA queries into Google Docs for hassle-free collation.
Focus Point: Optimise for relevant questions that show up for lots of keywords with a high combined monthly search volume. Optimising for low volume searches is time consuming and won't drive much organic traffic to your site. You can also use Organic Research to identify which of the keywords your domain already ranks for are not generating PAA results for you in Google as this will flag up some more SERP opportunities to explore. Don't fancy doing all this work yourself? Ask our team to do it for you!
#2 Create Question and Answer Content
Identifying PAA questions and SERP opportunities should give you plenty of content creation inspiration. The search term, "How to look after a dalmatian," for example, brings up a whole host of PAA ideas which you can turn into factual and interesting articles. Not only will your blog rock. But if it's loaded with questions and answers related to what people are already searching, your content is more likely to be pulled into the PAA box. After all, you've done your research and are awesome enough to rank for relevant searches. You can also embed well optimised videos into your blog or YouTube playlist as these will be pulled through to the SERPs too!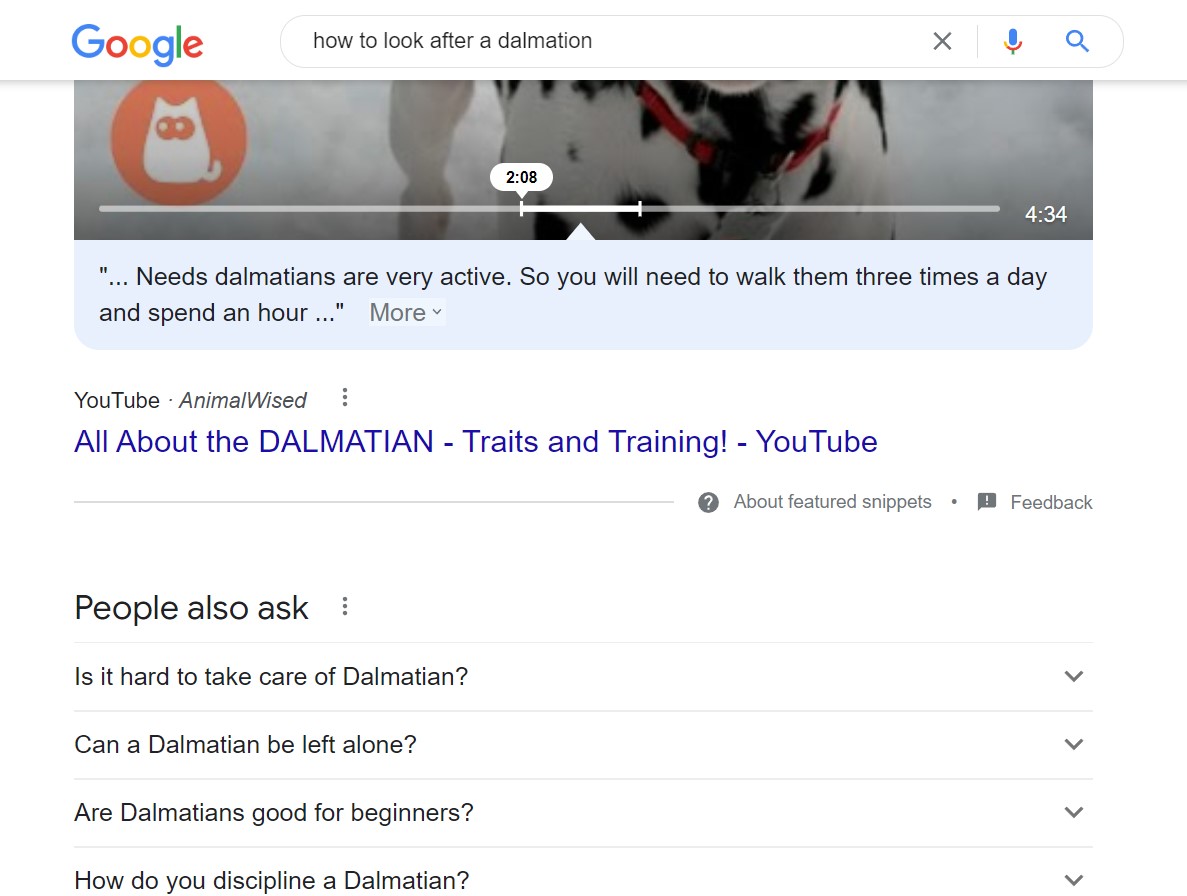 Point of Focus: To take things one step further, it's worth noting that Google will often choose from a webpage that already ranks on page one of the SERPs when selecting PAA answers. This isn't necessarily the case. However, if you rank on the first page of results for the tracked phrase that generated the question, it's worth answering the question on the ranked page.
Haven't I Already Created Q&A Content for Featured Snippets?
Now, let's just throw in a quick curveball – Featured Snippets. You might already be noting the similarities between Featured Snippet optimisation and PAA boxes and there are plenty. But, research shows that PAA boxes have appeared on 10x more SERP pages than Featured Snippets. This is based on three years of data analysis. While Google algorithms are never easy to work out, forming a strategy for both so you don't miss any SEO tricks is worthwhile.
#3 Ensure On-Page Content Optimisation
When writing for PAA, make sure your answers are detailed yet concise and divided into short paragraphs that are easy to pull from your webpage. You should also think about formatting as this plays an important role when it comes to PAA. Messy code can often confuse Google, so using clear headings (H1, H2, H3) and removing any unnecessary error code is important.
Focus Point: PAAs can come in many different formats. But did you know that you can actually check which format Google expects by looking at the current answer to the question? For example, if you type, "What is the best accounting system for a small business," you can see that Google expects an unordered list. This is a tried and tested response that's been pulled into a PAA box and gives you a clue as to what you should be doing.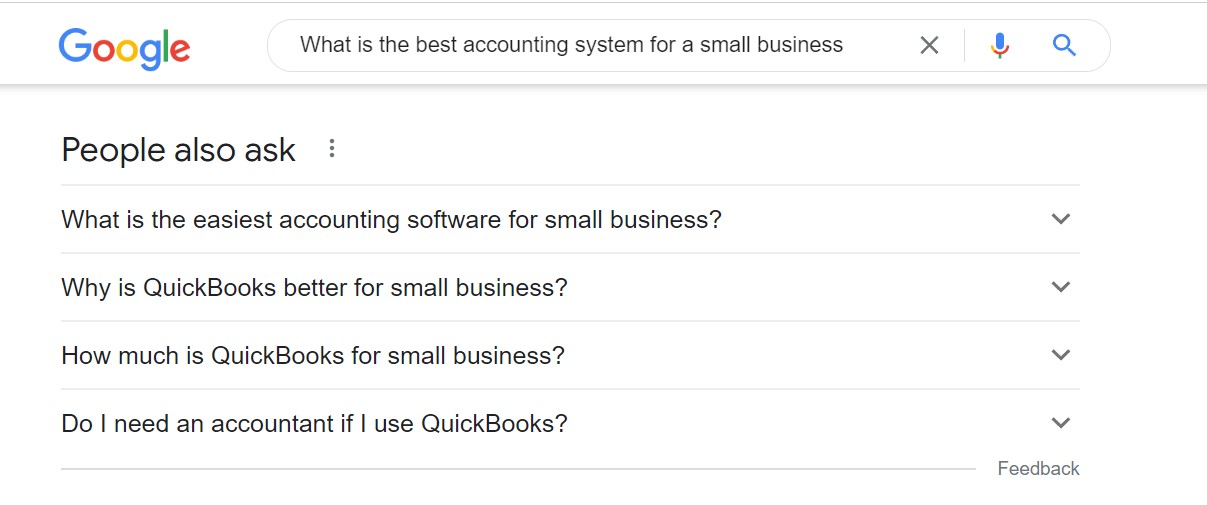 Similarly, the search query 'How to put up a tent' reveals a PAA box filled with videos, so you might want to think about embedding video content underneath your target question.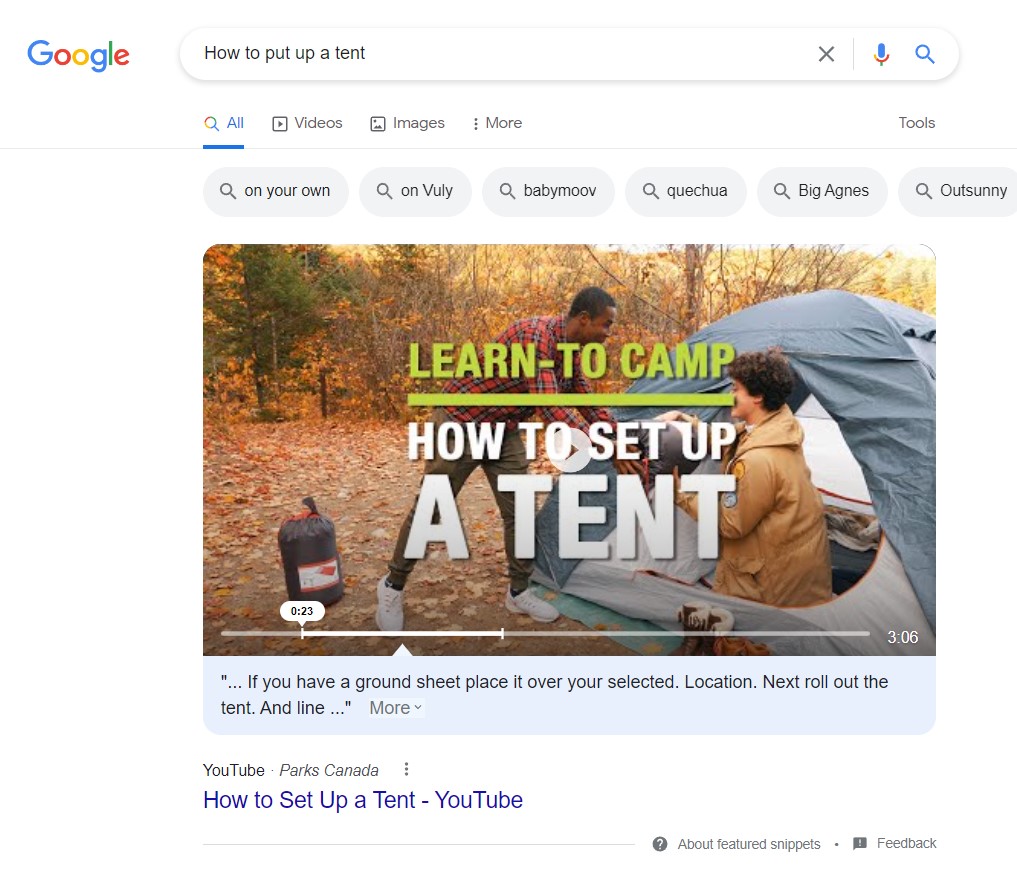 Notice how Google will even take you to the exact part of the video that answers your question. This is a good reminder to write clear scripts with well defined sections that hit your PAA goals.
#4 Re-Optimise Existing Content
When it comes to People Also Ask, creating new content might be necessary. But you could also save yourself a whole load of work by re-optimising and tweaking content that's already on your site. Dividing blog posts into relevant question and answer sections could be enough to help you rank in the PAA box. You could also add a series of FAQs at the bottom of existing, high-ranking articles based on your PAA keyword and question research. Using simpler language or dividing your content into more manageable paragraphs is another valuable trick to keep up your SEO optimisation sleeve.
Focus Point: Draw from existing articles, blogs, social media updates and website content to create a unique FAQ page. The question and answer format is great for Featured Snippets and you can also add in any questions unravelled from your PAA research to ensure you've covered all angles.
#5 Create Excellent Content for Branded Queries
Branded queries are usually low volume, but people searching for them are more likely to convert. So optimise for branded queries to ensure you seal the deal if they're close to making a purchase or using a service. Misleading, poorly written or inaccurate information at this stage could easily throw them off and direct them to a more SEO-focused brand. Check out this great example of PAA optimisation for QuickBooks.
When 'QuickBooks' is typed into Google, 'Can you get QuickBooks free?' is one of the questions in the PAA box. The reply underneath is absolutely spot on, answering the question quickly and concisely. The content has also been positioned on the correct page, directing people who ask this question to the free trial page. This is an important point as you must think about why you're optimising for PAA in the first place. Sure, you want brand recognition and to be in front of more eyes. But wouldn't it be even better if, through excellent content creation, you could direct people straight to the relevant page and further along the marketing funnel? Think carefully about content positioning when crafting PAA-relevant content.

#6 Keep Your Content Fresh and Up-to-Date
It's no secret that Google loves fresh content. Updated content also tends to include recent stats and facts that will be more beneficial to the users, therefore improving their overall experience. This ticks a big box for Google. Here at Contentworks Agency, we update our popular blogs every year and audit our landing pages to make sure they are current. We do the same for our retained content marketing clients!
Updating PAA content does require organisation and you might want to keep a spreadsheet of the question you've targeted, the page where it's placed and the date it was updated. That way, you can keep track of what's been updated and what hasn't. If you've got time-sensitive content on high-ranking pages that needs to be changed, make note of key dates so that your brand never puts out anything irrelevant.
Remember – Google encourages user feedback on PAA. so if your blog is out of date or irrelevant, users can downvote it!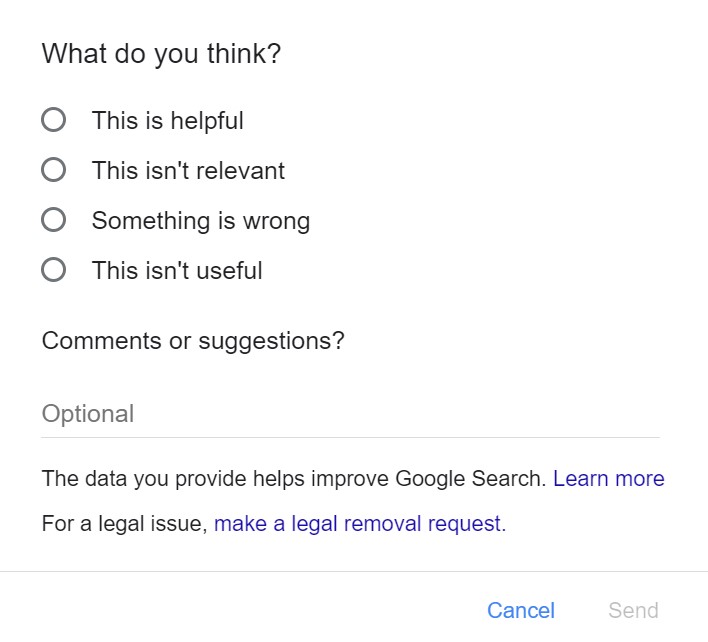 Optimising for People Also Ask boxes is worth your time considering how prevalent this type of search result feature is. The process can be time-consuming though, especially if you're not familiar with all the SEO techniques.  Speak to Contentworks Agency today for a fresh search engine-friendly content strategy.