Get Christmas off to a great start this festive season with tinsel, turkey, twinkles, trees, Terry's Chocolate Orange and – TikTok. With the number of monthly active users set to jump to 1.8 billion by the end of the year from 1 billion in Quarter One, 'tis definitely the season to be jolly for anyone with a sparkling social media strategy. TikTok can boost brand awareness, increase engagement and attract a younger audience to your brand. So, let's find out how to create a buzz around your channel this Yuletide with these 7 Christmas marketing tips.
Our most popular TikTok article deserved an update so here's a 2022 refresh! 
#1 Embrace the Christmas Cheer
There's no time for a Scrooge-like attitude this Noel. So put some more coal on the fire, fold your Bah-Humbug T-shirt away and get in the festive spirit. According to research from the TikTok HQ, the TikTok community LOVES Christmas. 82% of users report feeling positively about the holidays and are 20% more likely to plan or celebrate. Moreover, 40% are more likely to continue engaging after the holidays compared to users of traditional social media platforms. A whopping 31% of users continue to discuss the holiday with family and friends, 29% purchase something related to the holiday and 21% even get a head start on next year's shopping.
A Christmas Cracker – Get in on the action early and keep that Christmas marketing flame burning for as long as possible. If you're worried about launching your campaigns too eagerly, remember there are lots of things you can do in good taste including festive sneak peaks and teasers. Check out this classy example from Waitrose which smoothly jumps in early.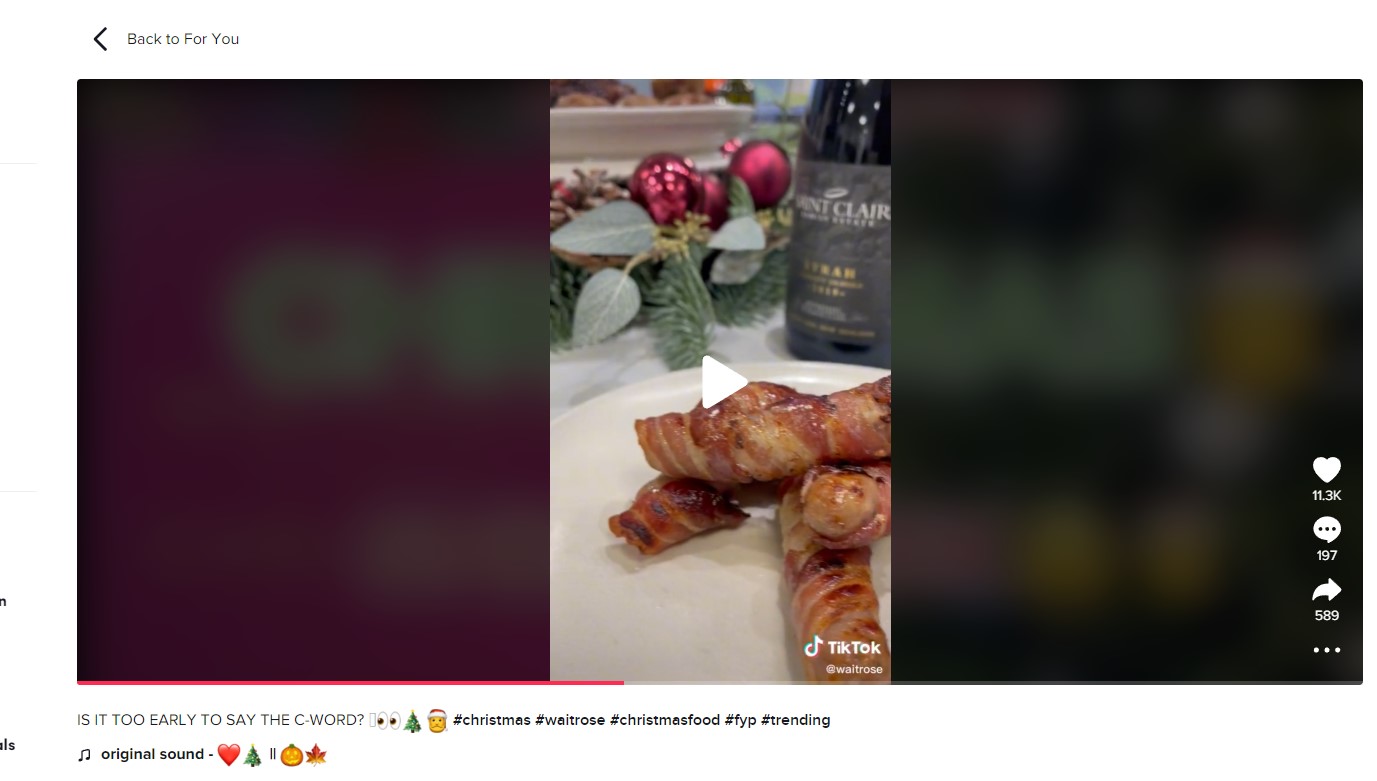 If you're planning on launching a new product in time for Christmas, why not also build excitement by creating a series of teaser videos? Each video released could give away just a little bit more information. You could also then keep Christmas alive with some great sales and special discounts for TikTok followers into the New Year.
#2 Make the Most of TikTok Shop
TikTok research also reveals how the platform's community has a special relationship with brands. When it comes to the holidays in the US, TikTok users are 1.2x more likely than users of traditional platforms to shop online or in-store, to impulse shop, or to engage in shopping right on the platform. For this reason, it's really important to explore TikTok Shop and to boost sales through social commerce without directing consumers elsewhere. TikTok users can now purchase directly through in-feed videos, LIVE shopping and a product showcase tab prominently featured on TikTok profile pages.

A Christmas Cracker – If you work with third-party partners, make sure you connect your product catalogue through TikTok's partnerships. The platform currently collaborates with multiple providers including Shopify, Square, Ecwid, PrestaShop and more.
As well as utilising shopping tools to engage savvy shoppers, marketers should also make the most of trending hashtags such as #TikTokMadeMeBuyIt and #AsSeenOnTikTok to ensure content stays as visible as possible. These hashtags have received millions of views showing the power of social media. Don't also forget to include seasonal hashtags such as #Christmas2022 as seen above and #ChristmasGiftIdeas.
#3 Inspire Holiday Shoppers
2022 will be the first full year for TikTok Shopping, a suite of e-commerce tools that turn videos and LIVE into shoppable entertainment!
When users come to TikTok, they want inspiration for what to wear, how to decorate, where to travel, what to cook, and more – particularly around the holiday season. In fact, TikTok users are 2.1x more likely than users of other platforms to seek inspiration about fashion and 2x more likely to seek inspiration about beauty. Research shows they're 1.6x more likely to seek inspiration about decor and 1.4x more likely to look for inspiration around travel destinations.
Armed with this knowledge, marketers from a wide range of sectors can inspire their TikTok community with all kinds of short video clip ideas. These include: cooking tips, outfit ideas, party games, fancy dress, holiday prep, travel plans, present DIYs, Christmas cocktail recipes, makeup ideas, tree decoration, tree shopping, homemade cards and more. The marketing material you put out at this time of year does not have to be promotional. Instead, it should be designed to fill an audience with festive cheer.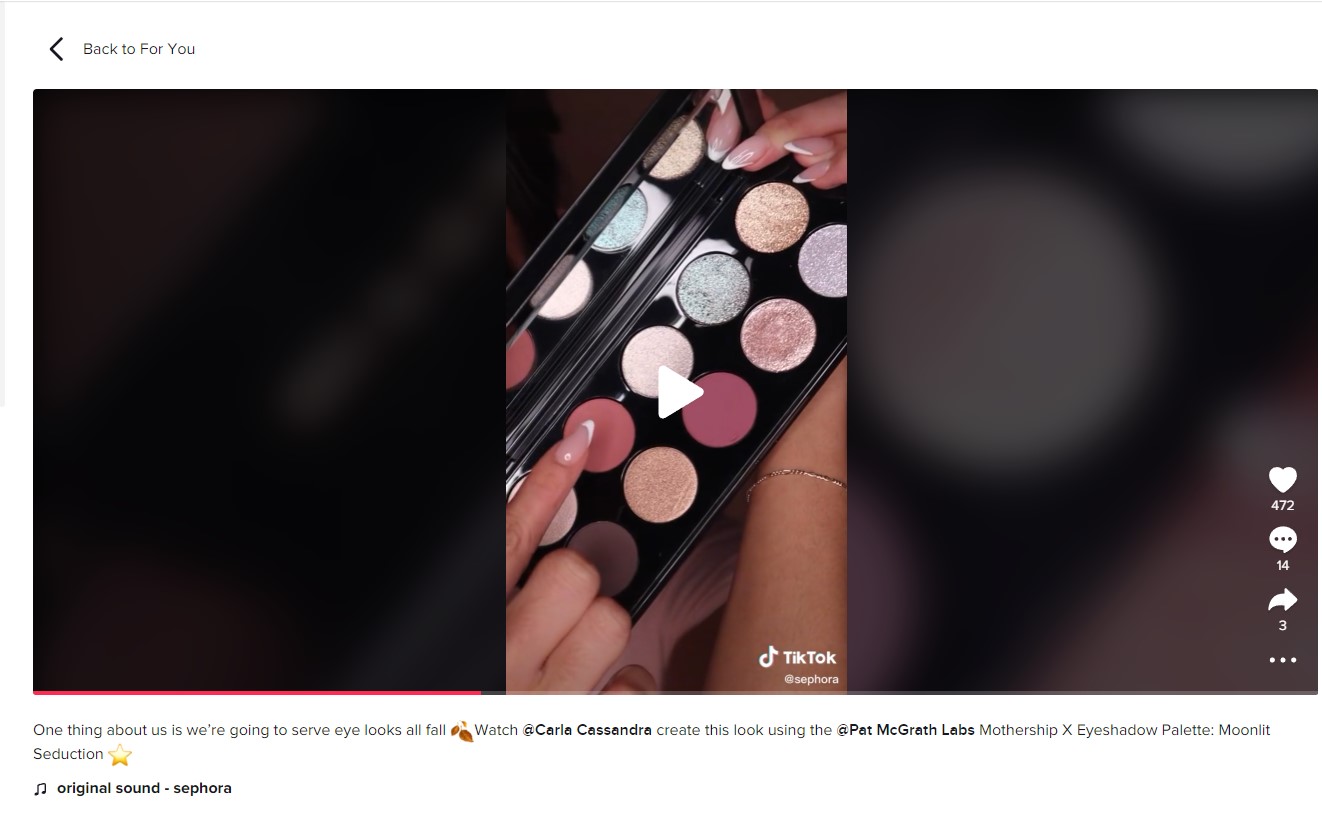 A Christmas Cracker – Take inspiration from other brands to see if you can replicate an idea in your own unique way. When it comes to creating inspiring beauty content, for example, Sephora nails it every time. The brand appeals to beauty lovers by presenting products clearly and giving exceptional tutorials. They even have their very own Sephora Squad – a team of beauty influencers – for increased engagement. Similar tutorials can be done at Christmas by using gold, sparkly shades to create a glamorous party look. It's all about getting creative. If you want to boost follower numbers this year, it's a good idea to work with micro-influencers that have high engagement levels. Look for contributors who have similar passions and can interest your followers while extending your network.
#4 Join in Trends
If you've been anywhere near TikTok recently, you'll know that the #christmas hashtag starts trending in October, even before Halloween is done! With TikTok's caption limit increased to 2,200 there's space for a great caption, landing page or shopping link and a few trending hashtags. Christmas videos can really attract ecommerce sales so let viewers see what's on offer and where they can buy it. Check out Marks & Spencer last year with a happy, jingly chorus of fun!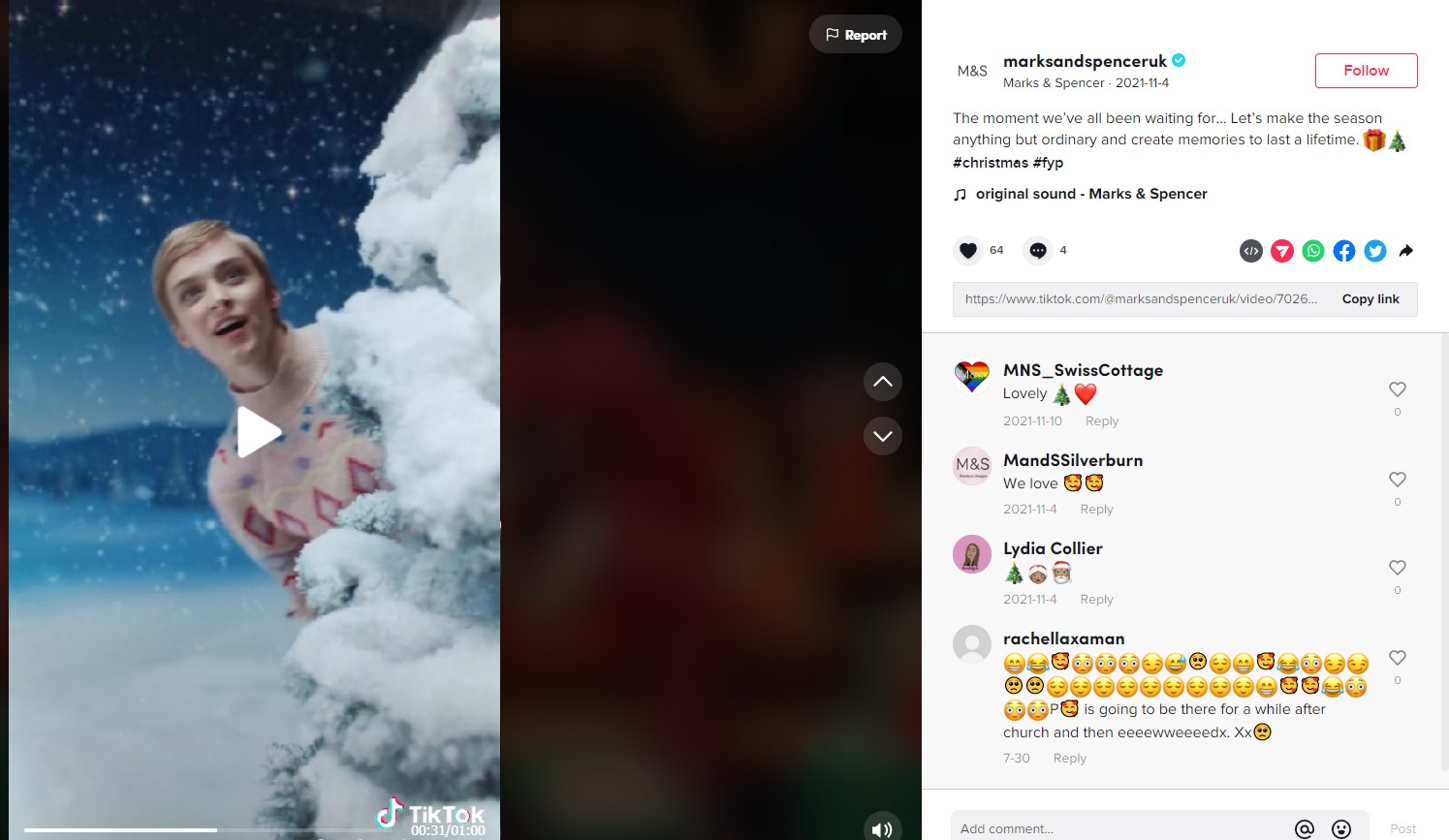 Start early if you want ecommerce sales for holiday products. It will take you time to create the TikTok and any matching landing pages you need to snare those sales. Plus, people shop in advance of big holidays.
Showcase your products if you want to sell them. Viewers need to know what the packaging looks like, the name of the product and where they can buy it. You can drop more details in the caption so viewers can head straight to the checkout!
Keep it short if you want great traction. TikTok users found videos that were over one minute in length to be stressful and that a quarter of the highest performing videos on TikTok were between 21 and 34 seconds in length.
#5 Create a Branded Hashtag Challenge with a Festive Spin
Get involved with another huge TikTok craze – challenges! This is exactly what Pret A Manger did last year in a bid to spread joy over the holiday season. The brand invited the TikTok community to share their personal moments of joy, as part of a bespoke branded hashtag challenge. #JoyWithPret marked the first time a major UK high street food and coffee retailer had launched a branded hashtag challenge on the platform. And the result was phenomenal, with the hashtag receiving 3.3 billion views to date.
This year Pret has already started with the Santa hats and Mariah Carey singalongs and TBH we're here for it.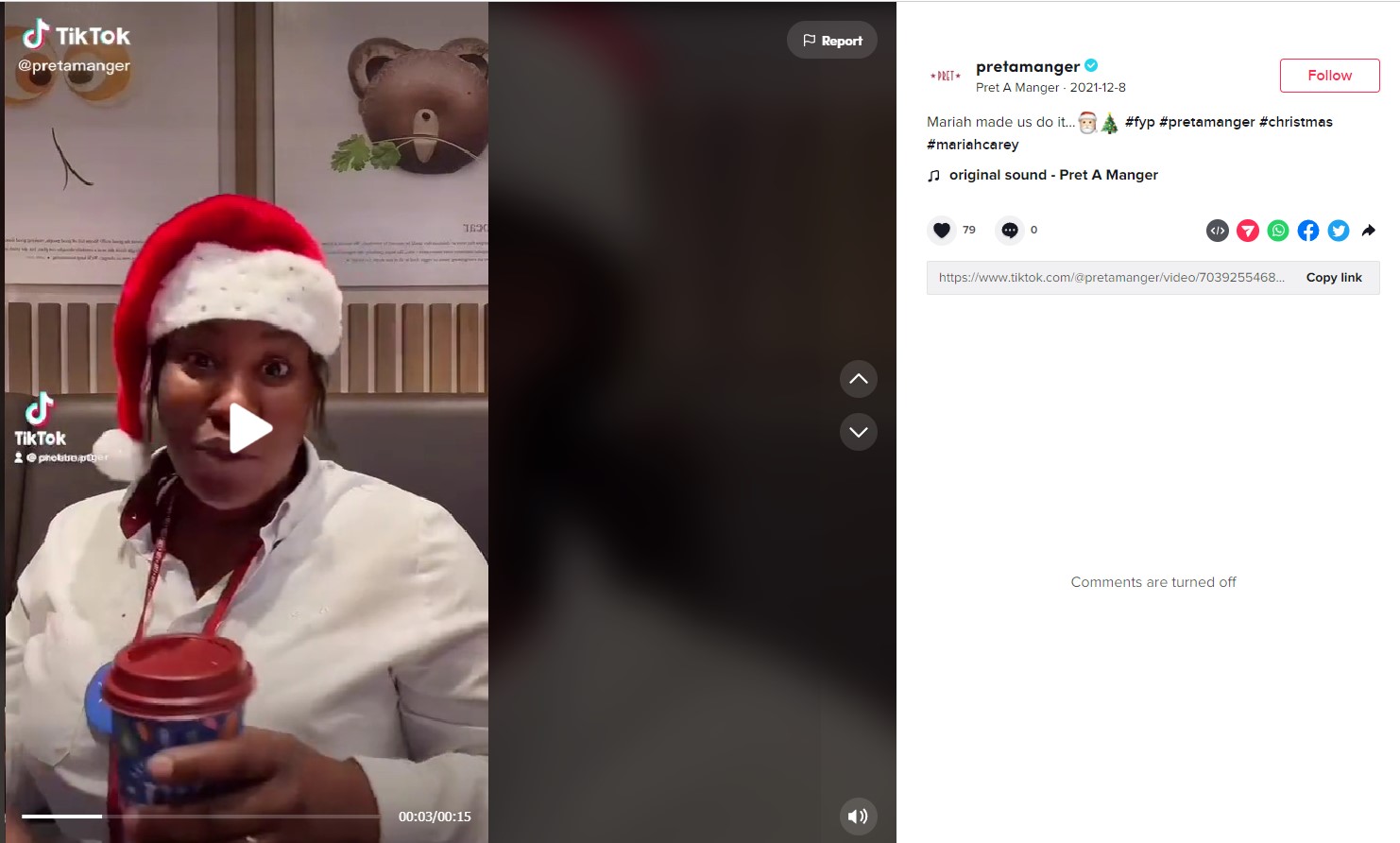 A Christmas Cracker – When it comes to Christmas challenges, come up with ideas that'll resonate with your audience. Pret A Manger was so successful because they tapped into the Christmas theme of 'joy' and asked their followers the very specific question – "What brings you joy?" We all know that people love to share their emotions and stories on social media, and so this garnered a fantastic response.
#6 Do a Christmas Countdown
One of the best ways to showcase your Christmas spirit this year and to satisfy the Yuletide yearnings of your festive audience is to create your very own countdown. This provides the perfect excuse to post daily in the run-up to Christmas and allows you to easily showcase your brand's giftable products. You might choose to post every day of December, or you could also stick to the classic, '12 Days of Christmas' countdown. This strategy won't fit all brands, but works particularly well for brands in home goods, fashion, makeup, food and drink and even travel. Airbnb recently listed some spooky dwellings for Halloween. So take this a step further and countdown 12 of your cosiest holiday offerings for the season. Or stocking fillers showing a different one each day. Remember to add links to each product!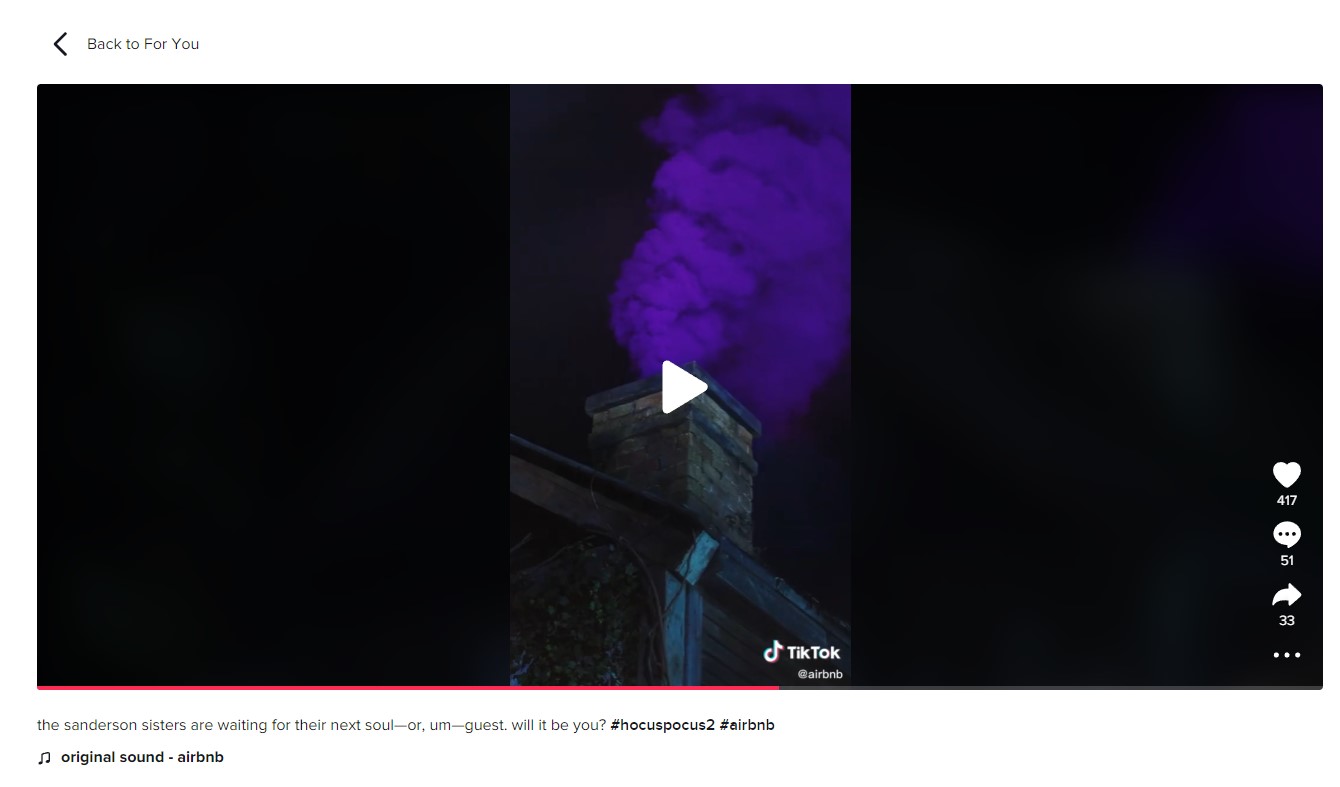 A Christmas Cracker – As well as running your own countdown, don't forget to promote advent products as these allow followers to countdown to the big day themselves. Teaser videos are great for this as they show a sneak peek of what's behind each window.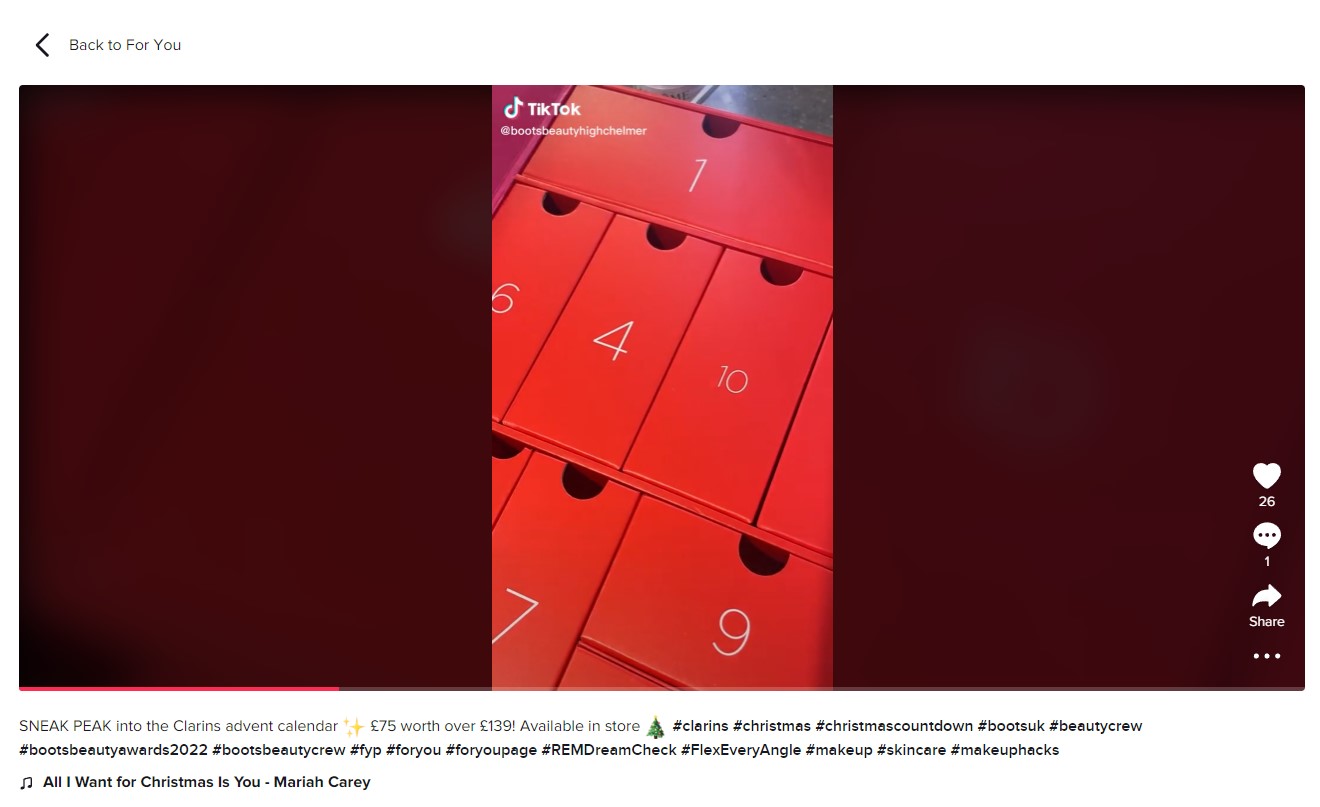 #7 Make the Most of UGC
User-generated content (UGC) can have a phenomenal impact on your audience. After all, who can better explain to your customers why they should invest in your brand than your customers themselves? In fact, recent stats suggest that 92% of customers are looking for reviews and recommendations from existing customers. What's more, 87% of brands are using UGC to share authentic content with their customers and about 72% of brands believe UGC helps them engage customers and build brand trust that results in a good connection with their customers. So, with more people off work over Christmas and in the mood for some great social content, get the ball rolling with a festive fancy dress competition or a giveaway for best decorated tree.
DIY store Homebase is running a Christmas takeover on its TikTok channel. It features Dick and Angel, reality TV stars who traded in their two-bed apartment in Essex for a dilapidated 19th-century French chateau. The pair give Christmas tips on hosting guests, preparing your home and shopping!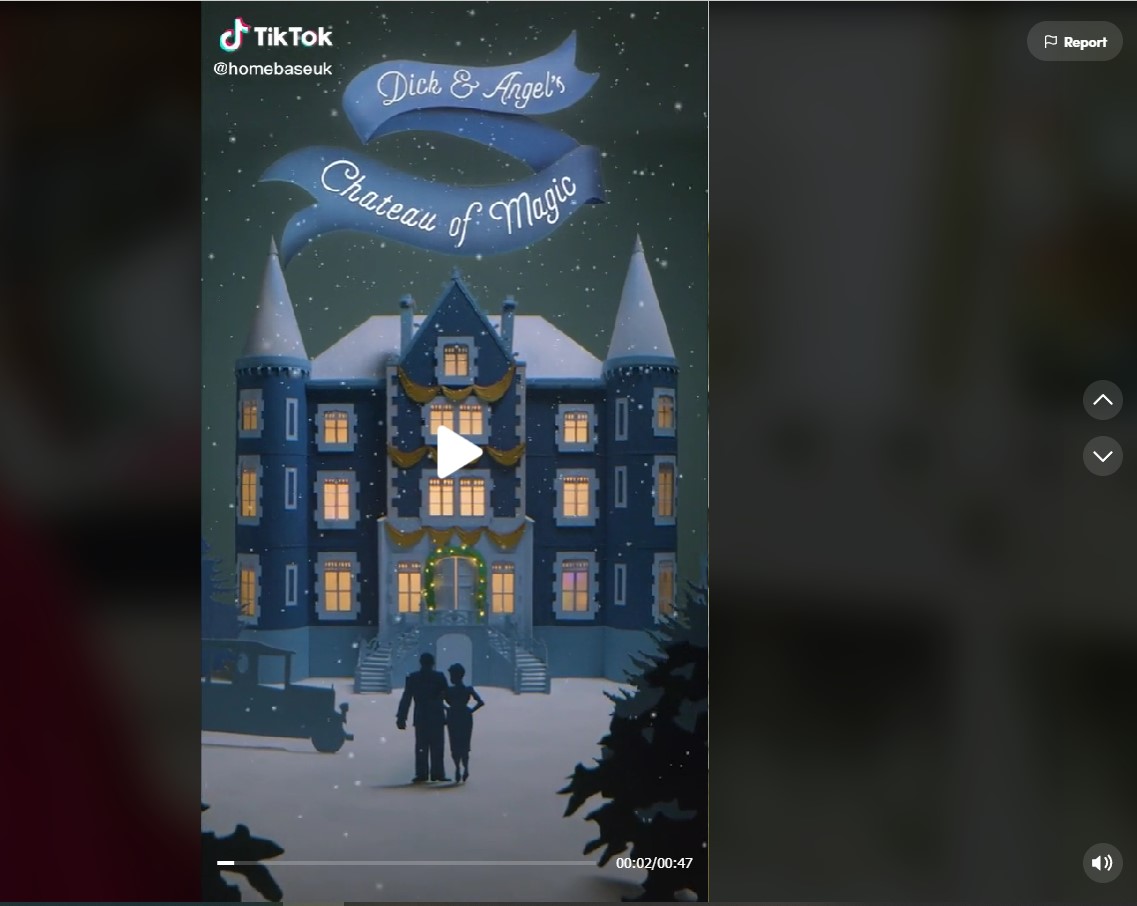 Are you ready for Christmas on TikTok? Talk to us about your Christmas content marketing strategy and don't forget to follow the Contentworks crew on TikTok.