Is your brand going to integrate TikTok into its 2021 holiday marketing strategy? There's no denying the unprecedented popularity of TikTok and tbh, it's fun for us marketers too! Here are 7 TikTok Christmas marketing tips to try this year.
With people more likely to be at home during the Christmas holidays, TikTok engagement is expected to rise. In fact, last year, downloads of the app increased from 70.9 million in November to 82.5 million in December and 104.7 million in January. Significantly more growth than in the rest of the year. Still not convinced? Check out some pretty compelling TikTok facts below.
TikTok fast facts
TikTok has over one billion monthly active users (September 2021)
It was the most popular app download globally in 2020
TikTokers spend an average of over 850 minutes a month on the app
9/10 TikTokers use the app more than once a day
TikTok has the highest engagement rates per post compared to all other social media platforms; TikTok sees 17.96% engagement per post, compared to 3.86% for Instagram on average for micro-influencers
77% of TikTokers say they have bought something they saw on the app
47% say that TikTok is likely to inspire a gift idea this year
7 TikTok tips for Christmas marketing in 2021
The time to start planning your TikTok 2021 Christmas campaign is now! Don't get left behind this year. Without any further ado, here are our 7 Tiktok Christmas marketing tips.
#1 Do a Christmas countdown
One way to align your branding with the Christmas spirit is by using the natural Christmas countdown to the big day. This gives you the perfect excuse to post daily in the run-up to Christmas and showcase your brand's key giftable products. You might choose to post every day of December, or perhaps use the classic '12 days of Christmas' countdown. This strategy won't fit all brands, but works particularly well for brands in home goods, fashion, makeup and food and drink.
When your audience gets reminders about your offerings, they're more likely to bear you in mind when they come to select gifts for their friends, family, and colleagues. And, done like this (in line with a Christmassy theme), you're less likely to annoy your customers with these daily posts. Instead, your audience will be hooked and waiting to see what your next post will be.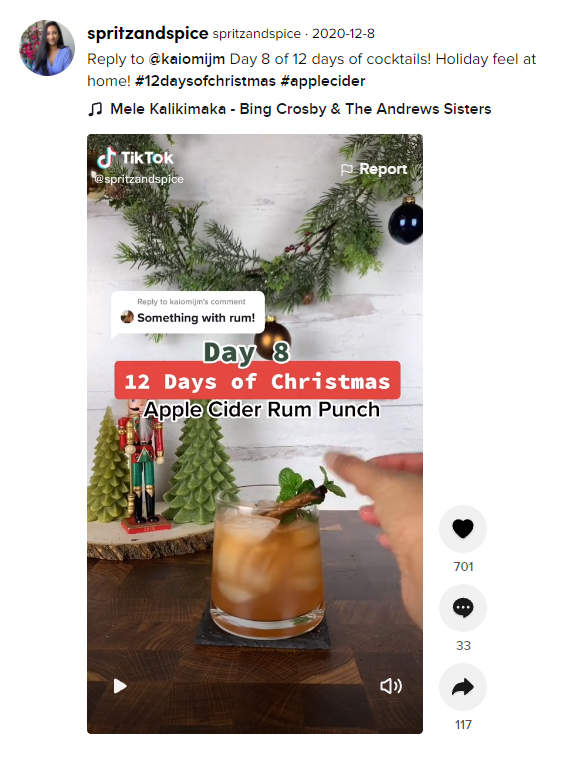 Cocktail and mixology blogger @spritzandspice did this last year with great success. Each day she showcased a different Christmassy cocktail for the twelve-day run-up. The best thing about this strategy is that not many brands have done it on TikTok before – your content will stand out and get you noticed.
#2 Lead magnet competitions
Competitions are a classic tool for generating leads. Did you know that 45% of Gen Zers cite discounts, deals, and competitions as the most important factor in purchasing decisions? Run a competition or offer a store credit reward for signing up to your mailing list. What sort of incentives you give will depend on your brand's size and reach. If you only have a small number of followers on TikTok, consider giving each and every participant something small in value for signing up. If you have a large following, you could give just one big prize to a randomly selected participant.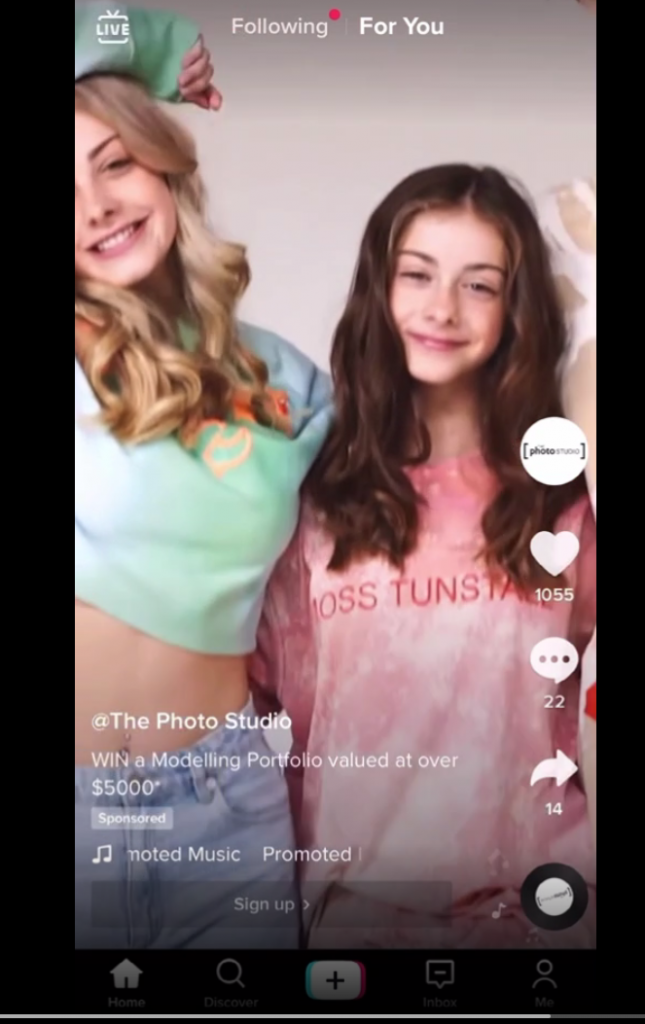 Australian brand, The Photo Studio, offered their followers the chance to win a model portfolio valued at over $5000. All participants had to do was sign up using the integrated form on the platform – the perfect lead magnet. Read more about how they did it here.
#3 UGC
User-generated content (UGC) can have a phenomenal impact on your audience. After all, who can better explain to your customers why they should invest in your brand than your customers themselves? In fact, 93% of consumers say UGC is 'very helpful' when making a purchasing decision. The only challenge is getting your audience to participate. Christmas time offers the perfect opportunity for encouraging your customers to create UGC.
A pretty fail-safe method of doing this is by incentivising the creation of TikTok videos. You could give a cash or store credit prize to the UGC creator who you judge to have made the best video or to the one that gets the most views. Whatever you decide to do, make it Christmassy! Use a Christmas tree and decorations in your video and get staff to dress up too. Customers like to see brands' human sides, and showing that your staff are in the Christmas spirit is a great way to do this.
TikTok is the home of dance challenges. You could ask your followers to post videos of themselves showing off their best dance moves. All you need to do is choreograph a dance routine. Bonus points if dancers wear your brand's products like clothing or makeup, or dance with your home goods products in view etc. Create a hashtag to go along with the campaign to help spread the word, and announce the competition across all your social media accounts.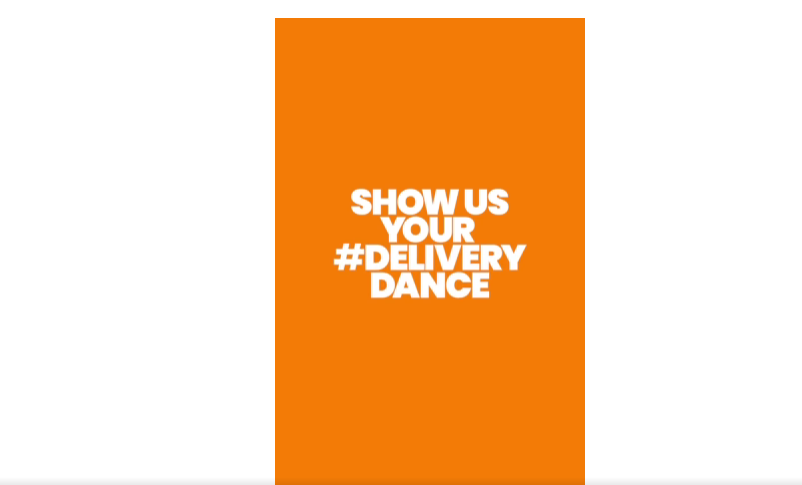 This is just what Australian food delivery brand Menulog did. They gave their customers the chance to win a year's worth of free food by entering a dance competition. Customers had to recreate Menulog's dance moves to be in with a chance to win. The clever part is that customers will have been more likely to order food through Menulog just to get their hands on those branded bags to do the dance with. Check out their video here.
#4 Mid-tier or micro-influencers
With consumers now bombarded by advertising on a daily basis across pretty much all platforms, it can be hard for marketers to break through consumer cynicism for ads. This is especially true for Gen Zers, 65% of whom have some form of ad-blocking technology installed. Since you can't always target younger generations through traditional ads, TikTok offers the perfect solution – over half of Gen Z consumers are on TikTok with this generation now making up 60% of the app's demographic.
Even when using TikTok to break through to ad-avoidant younger generations, your marketing efforts need to be savvy. Harnessing the power of micro/mid-tier influencers might just be the solution. In fact, Influencer Marketing Hub recently surveyed 5000 marketing agencies and 90% of respondents said that influencer marketing had been effective for them. By partnering with influencers, your brand won't just reach your own audience, but quite possibly, the audience of that influencer too. You can also ask your chosen influencer(s) to promote your brand on their account too.
The cost per post for mid-tier influencers can be around $100-1000 and just $20-200 for micro-influencers. Additionally, evidence suggests that micro-influencers actually garner more engagement on TikTok than mega-influencers. 17.96% versus 4.96% respectively. Learn more about the benefits of micro-influencers for your brand here.
TikTok allows you to 'boost' videos as paid ads. So, once you see the video is gaining some traction, you can increase views via this method. TikTok Ads Manager provides four bidding methods which are cost per mille/thousand impressions (CPM), optimised cost per mille/thousand impressions (OCPM), cost per thousand views (CPV), and cost per click (CPC).
Skincare brand Admire My Skin promoted their brightening serum through mid-tier influencer @motherhoodonpurpose/@Terena. To further boost engagement, they used relevant hashtags that make discovery of the ad easier. They also offered a 20% discount for views on Amazon using a discount code. This is the perfect Christmas time incentive to increase sales.

#5 Incorporate trends
Christmas time is all about togetherness – this also extends to the online world. Just like last year, there's sure to be some TikTok Christmas trends that your brand can get involved in, or you could even create your own trend. Joining in with trends can show your audience that your brand is human, relatable and that you understand them. In fact, nearly half (42%) of Gen Zers want to see content that is 'fun'. They're also more likely to prefer content that is 'relatable' than older generations. Plus, creating trending content will mean your audience will be reminded of your brand and more likely to keep you in mind for Christmas gifts.
What sort of 'trends' are we talking? Popular music/samples and (of course) dances are excellent starting blocks when devising a trending TikTok. You can also give Christmas challenges a go too. Whatever TikTok you make, be sure to showcase your brand's products – particularly those that are Christmas/winter themed.
Last year, Pret A Manger created the #JoyWithPret challenge. They put it to TikTok to share the things in their lives that bring them joy. Pret teamed up with influencers to get their challenge off the ground and spread the word. Many TikTokers joined in with the challenge by posting their own videos. To date, the hashtag has over 3.1 billion views.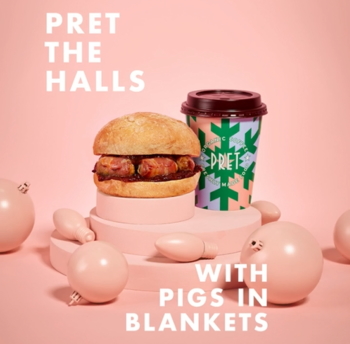 #6 Be relatable and authentic
86% of consumers cite authenticity as a key factor in choosing which brands to support and 77% of Gen Zers prefer ads that 'show real people in real situations'. There's no better time than Christmas to show your audience that your brand is a relatable and authentic brand made up of real humans. Show your customers that you're just as excited to get into the Christmas spirit as they are.
Don't be afraid to show your customers your silly side but be careful to avoid your content coming off as contrived. If your brand's tone is usually serious, abruptly holding an office ugly sweater competition might not sit right with your audience. To avoid this, you may want to start gradually shifting the tone in November to give your followers time to adjust and allow your content to come through as authentic.
Behind-the-scenes TikToks are a surefire way to create relatable and authentic content. There's a reason why house-hunting programmes are so popular – everyone wants to get a peep of what things look like behind closed doors. Show your customers how your brand is celebrating Christmas at the office, TikTok a fun event like 'bring your pet to work day', or get the whole team to dance along to a track donning Santa hats. It's best to avoid hard sells with this kind of content as it comes across as disingenuous and ruin the point of creating relatable, authentic content.
Last Christmas…
Last Christmas, one of Germany's largest online retailers, OTTO , ran a five-day Branded Hashtag Challenge campaign called #FREUDICHHART  ("Rejoice Hard") with some of Germany's most influential TikTok creators. The challenge called on the TikTok community to share their reactions to presents selected by a Branded Effect "gift generator." Including selfie sticks, salami, Christmas jumpers, and kebab grills, the gifts ranged from the ordinary to the outrageous, and resulted in hilarious content. We love how on-brand this was with a nice connection to gift buying!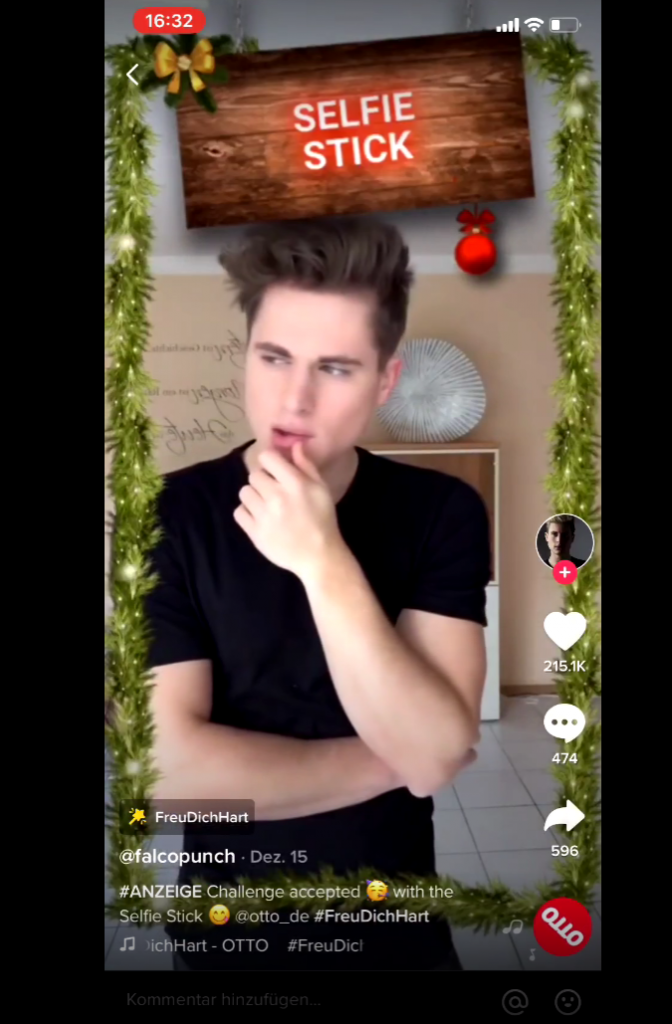 #7 Share the holiday spirit
75% of consumers think that companies should support causes and charities and 71% of young consumers will change brands if one is more charitable than the other. Especially during the holiday period, the spirit of giving is at the forefront of consumers' minds and this extends to their chosen brands too. Consider donating a portion of profits from certain product sales, or even across all profits over a particular time period. Homeless charities are a worthy cause for your customers to get behind during the cold Christmas/New Year's months. BUT and it's a big but… don't film yourself making donations to homeless people unless you get the backing of the individuals or a registered charity. There's a huge backlash against charitable filming on social media with people calling out influencers for being motivated by likes.
TikTok has their own TikTok for good initiative, stating that nonprofits can use their app to "grow their audience, activate supporters, and raise awareness around specific causes." The platform is known to donate generously to charities involved in campaigns – for example, they donated $1 to the American Society for the Prevention of Cruelty to Animals for every video posted with the hashtag #PetBFF (up to $175k). TikTok wants charities and brands being charitable, to be a part of their platform.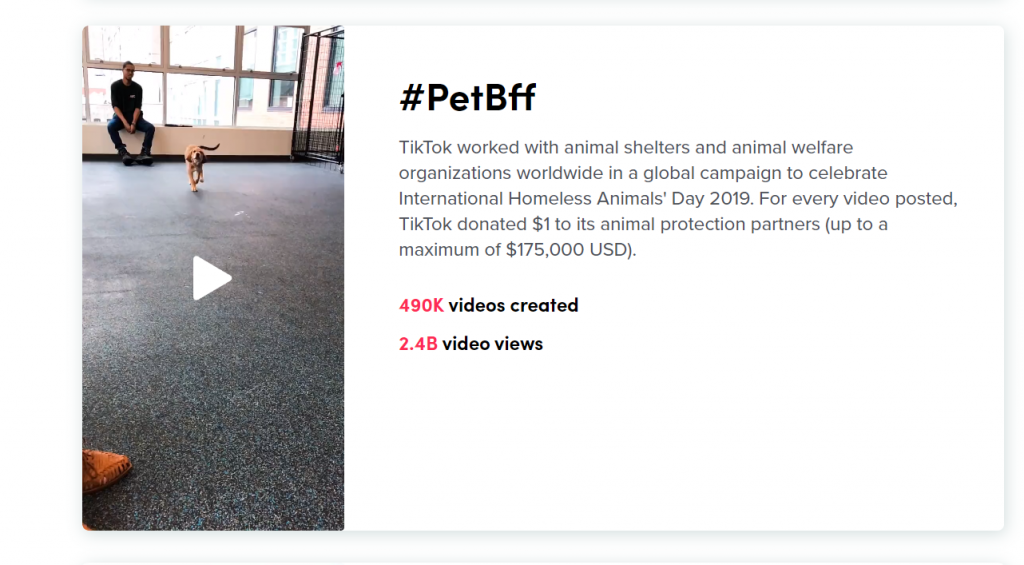 British Red Cross is another TikTok winner that raised over £90,000 from TikTok alone.  The charity was the first in the UK to make use of TikTok's 'Donation stickers' embedded onto videos. When clicked, the stickers take the user straight to a donation form where they can give money. This feature makes use of Tiltify, and is streamlined so donors don't have to leave the TikTok app.
So, TikTok Christmas Marketing?
TikTokers love to shop, share their thoughts on recent purchases, and discuss the online consumer experience. It's also full of popular hashtags for shopping and holiday-related content on the platform. In terms of holiday shopping, #blackfriday has more than 950 million views, while #itsblackfriday   2020 hit 1.2 billion. TikTokers and brands on the channel also used #gift up to 5.3 billion times and #unboxing got a whopping 7.2 billion views and counting. Users on the platform also love to showcase their #holidayhacks  and  #christmasmakeup, 
Remember to provide links to your online store or landing page offer and clear details on your promotion. You only have 100 characters so get creative. From Contentworks agency it's a big YES to TikTok Christmas marketing. Follow us over on TikTok and tag us in your Christmas marketing campaign!