Social media and FOMO (Fear of Missing Out) play a key role in the success of BNPL (Buy Now Pay Later). We see the merch, we want the merch and we want it now. With BNPL taking off we're looking at the top BNPL brands killing it on social media.
What Is BNPL?
According to Statista, online businesses lose about 75% of their sales due to online cart abandonment. Point-of-sale financing like BPNL enables customers to make a purchase, receive it at once and pay for It later, typically over a period of instalments. Whilst BNPL brands are quick to reiterate that BNPL is not a loan or a credit card, it is still a form of credit.  Usually, the first payment is due at checkout and the rest will be billed to the consumer's debit or credit card until the purchase is paid off. Charges will often apply if payments are not met. BNPL is now embedded into the checkout of large retail sites to facilitate quick purchases.
This is how BNPL looks on the New Look shopping site for example.

FOMO and BNPL
How does FOMO play into retail checkouts? Take another look at the example above and see how many instances of FOMO content you can find.
Items in your bag aren't reserved and may sell out. Classic FOMO marketing which pushes you to hurry and pay before you lose out on something great.
5 sold recently is an example of social proof. The retailer is telling you that other people bought this product and so it must be good.
Pay in 3 interest free instalments is FOMO inducing. You can have all those products now for just £21.66. Wouldn't that make you want to add more items to your cart? According to Guidance, the average order value can increase by up to 45% when a consumer has the option of BNPL.
Did You Know Stats About BNPL
8% of consumers have now used a BNPL service, up from 37.65% in July of 2020, an increase of almost 50% in less than one year.
Buy Now Pay Later usage growth was largest in the 18 to 24 (62% growth). Perhaps more surprisingly is the 98% growth amongst the 55+ group.
61% of BPNL users would rather use a BNPL service offered directly from the retailer they're buying from than going through a third party.
So which brands should we look to for BNPL marketing inspiration?
#1 Chime Cash Giveaways on Instagram
Chime is killing it on Instagram with 907K followers and killer engagement. Giveaways helped Chime increase its Instagram followers by a whopping 15x. It runs cash giveaways regularly to acquire new customers and boost engagement.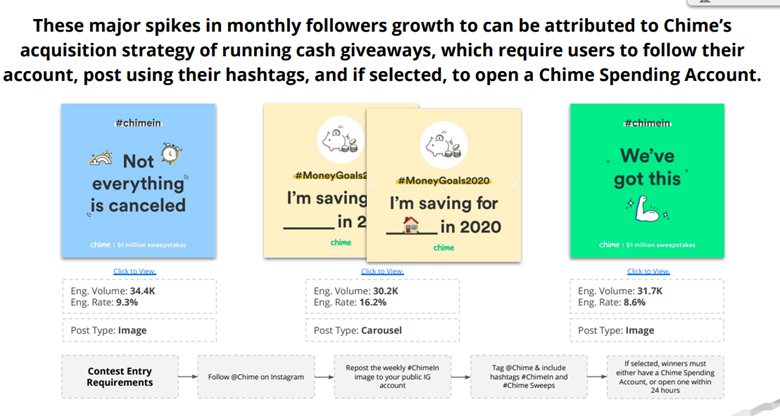 Here is an example of their tax refund sweep: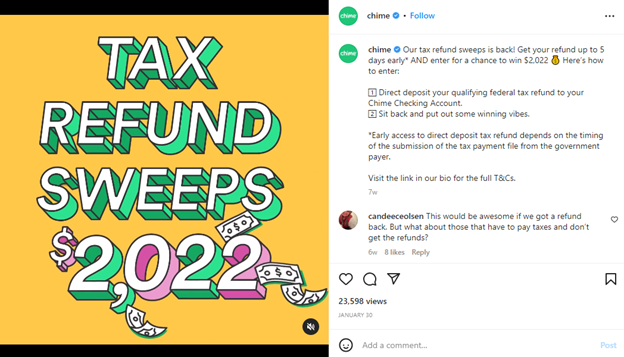 The engagement on these sweeps is insane. Chime does a great job of clearly defining the steps to participate in the contest. Chime also uses trending filters, music and quizzes to ramp up engagement. Like this money personality filter, we love it!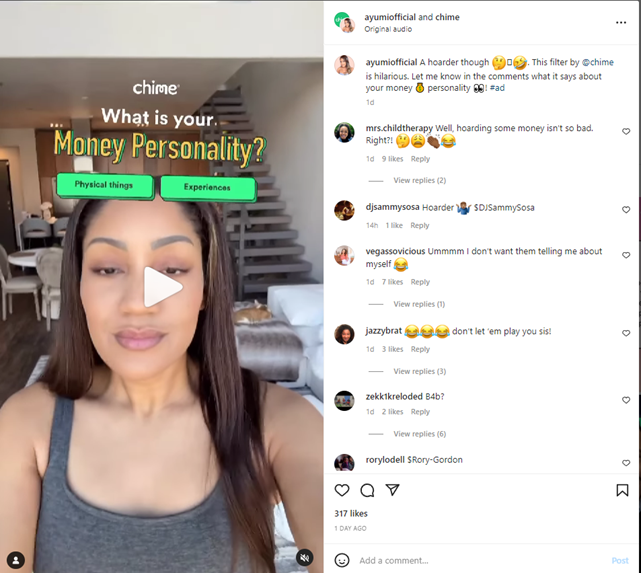 Key Takeaways
Cash rewards work best on social media for engagement. But, finance brands need to be careful not to flout regulations in their region. If you do specify cash, ensure you create solid terms and conditions for regions and contestants.
Share details of the winners with your followers to show them that you have selected a winner. Research shows that 86% of consumers are willing to pay more for products from transparent brands.
Make participation easier for your followers. The process should be explained in detail and needs to be broken down into small steps. Keep your CTA straightforward and your landing page simple.
#2 Klarna #getsmoooth Campaign
Klarna partnered with A$AP Rocky during the lockdown to run a campaign. The #getsmoooth challenge was initiated when people were asked to share their lockdown looks and tag Klarna to win a vintage item by A$AP.
This campaign increased Instagram engagement significantly with tons of media coverage such as Forbes and GQ. The campaign was announced via a YouTube video: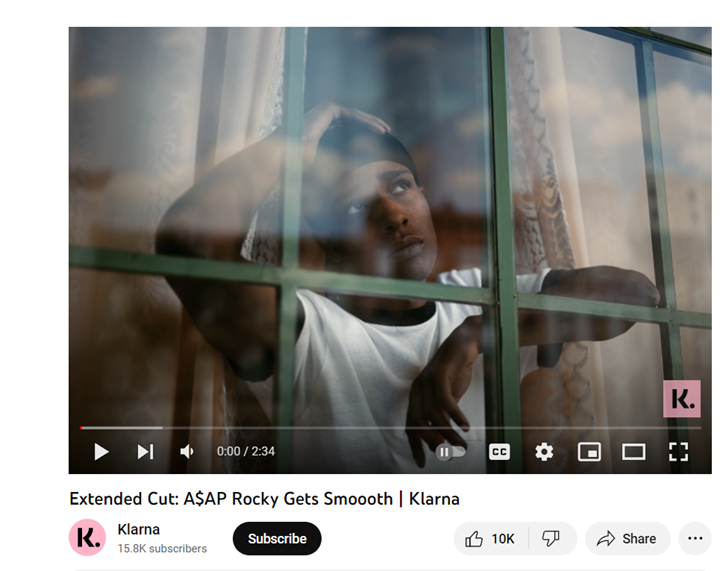 The videos on YouTube generated more than 5 million views and the #getsmoooth hashtag has more than 7K posts on Instagram:
This was a successful campaign by Klarna that was backed by hype. Klarna also partnered with TikTok fashion influencers for the #getsmoooth challenge along with promotion on Snapchat. This resulted in a massive reach of the challenge. More than 100 partner brands joined the campaign which resulted in a 40% increase in retail orders and a 20% AOV increase.
Key Takeaways
Influencer marketing when done right can deliver exceptional results. Choose your influencers smartly though. Check out our director's article over at Agorapulse. Charlotte discusses the importance of drawing up a solid influencer marketing contract and details what needs to go into it.
Reach out to business partners and ambassadors to bring them onboard. In the finance space there are plenty of IBs and affiliates who can utilise their own tracking code on any promotions you run.
#3 Afterpay Trending Memes
Afterpay is one of the fastest growing BNPL companies. It was founded in 2014 and acquired by Square in 2021 for $29 billion. Among the many factors that led to the gigantic growth of Afterpay, its social media marketing is a big one.
It uses informative posts, Reels and Stories on Instagram to educate and entertain its users. These helpful posts by Afterpay helped the brand reach and connect with its customers (mostly millennials). The engagement on informative posts shows that their audience loves them.
They also tap into trending memes and audience wants, like those Lizzo tickets! Yes please!
Key Takeaways
Product awareness works best on Instagram. As much as 72% of consumers make purchase decisions based on what they see on Instagram
Connect with your target audience by using the same language they use. Use words that your primary target audience uses so you don't appear alien to them.
Build solid educational resources on your site with concise and helpful answers. These help you to rank for Google snippets plus they provide customers with the information they need to make confident financial choices.
Help your fans to visualise themselves buying products using BNPL. We love this starsign gift guide on IG!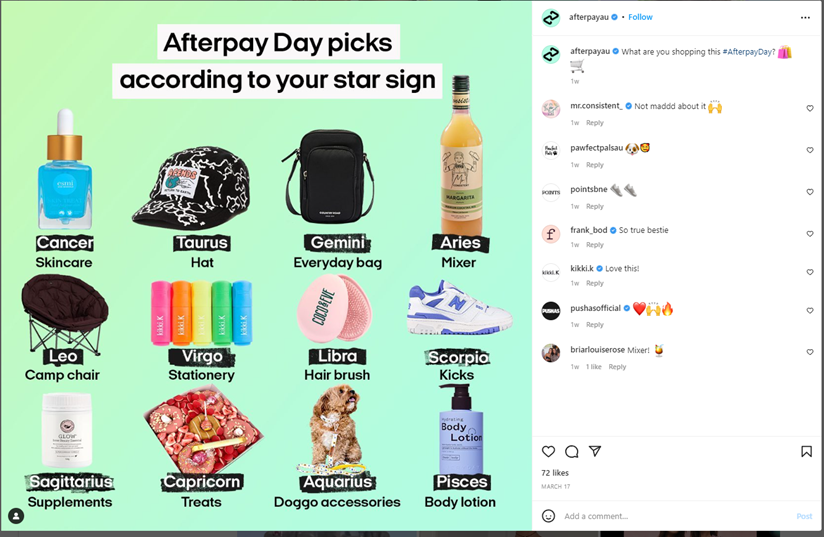 #4 Affirm Partner Campaign on TikTok
Affirm has a lot of helpful marketing material for partners, merchants, and influencers. Affirm partnered with influencers on TikTok for its #affirmpartner campaign. And the results were amazing.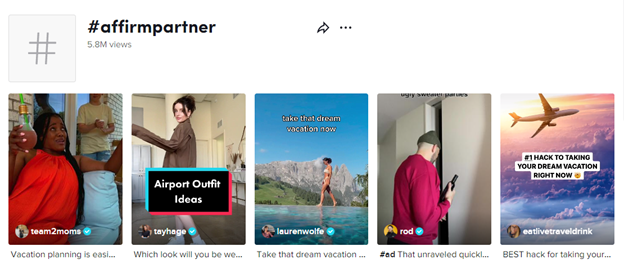 The #affirmpartner has more than 5.8 million views on TikTok and growing:
The same hashtag on Instagram has over 1,000 posts with massive engagement and is also used by retailers who have partnered with Affirm on social media.
We love their bucket list approach to BNPL too. The year is running out so take that cruise ASAP! Ok Affirm, if you insist!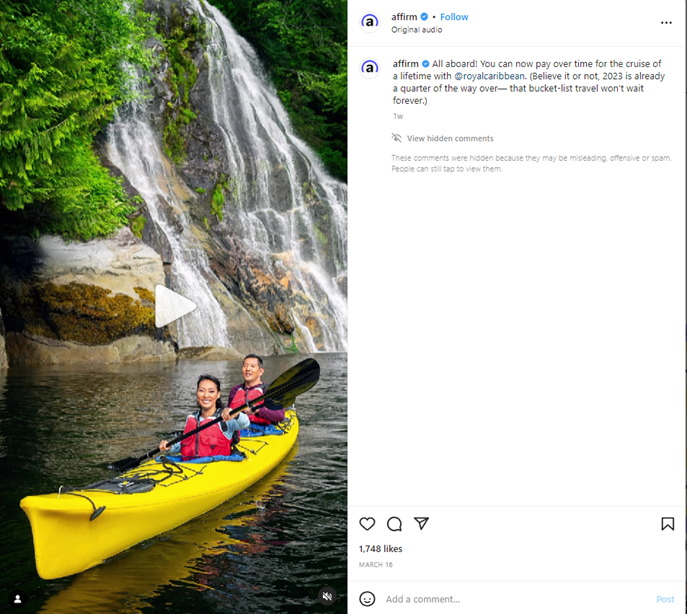 Key Takeaways
Utilising Creators is one of the best ways to use TikTok. A survey reported that 71% of consumers love co-branding partnerships and TikTok has some great resources for marketers.
Create hashtag challenges and campaigns that raise engagement and awareness on social media. Affirm gained over 5 million views from a handful of videos on TikTok by creating quality content, working with influencers and using hashtags.
Use short videos and rolling gifs to grab attention and quickly convey a message without tons of text. Very Gen Z.
BNPL is still in a growth period, but soon everything you buy from clothing and food to vacations, will come with a BNPL option. Based on current growth, Kaleido Intelligence estimates there will be $680 billion of BNPL transactions by 2025.  And Juniper Research suggests transactions up to $995 billion by 2026.
If your finance brand wants to educate, explain and excite consumers about BNPL, Contentworks can help you. Speak to our team about expert financial services content and social media for your brand.