Marketing in our new decade is about authenticity. It's about forging strong branding and building trust with consumers who expert more from brands than just products. Corporate responsibility is a hot topic, with 70% of consumers wanting to know that the brands they support are addressing social and environmental issues. So, let's delve deeper and check out the 5 brands who took a stand as part of their marketing strategy.
Taking a Stand – The Stats You Need to Know
To bring people together around social and political issues, more than two thirds (67%) of consumers believe brands should raise awareness around those issues on their social platforms.
40% consumers feel more connected to brands who talk about important topics facing society on social media as well as social good initiatives.
46% pay close attention to a brand's social responsibility efforts when they buy a product.
Millennials were more likely than older and younger generations to say that companies they do business with should support environmental initiatives all the time, even if means raising prices (44% millennials versus 28% of Gen-Z and 35% baby boomers).
56% of consumers would like brands to highlight awareness days or months on social.
5 Brands Who Took A Stand As Part Of Their Marketing Strategy
Taking a stand helps to resonate with a specific audience. It can also show that you care about the world around you. Not just making a profit, even if increasing your ROI is part of your strategy. The trick is to represent causes that match your ethos to avoid looking inauthentic, fake or publicity hungry. We love these 5 brands who took a stand as part of their marketing strategy.
As a leading lingerie brand, American Eagle's Aerie has been standing up for natural beauty for years. They've done so with their #AerieREAL campaign featuring real women and untouched photographs. Aerie has been the largest growth driver accounting for more than 60% of the company's growth during the last four years. So, what have they been doing?
Supporting related causes
In a bid to encourage body positivity and diversity, the brand promised to donate money to the National Eating Disorder Association (NEDA) for every unfiltered photo posted to social media. Not only does this show they're prepared to give back, but it also promotes acceptance and create a sense of community and support.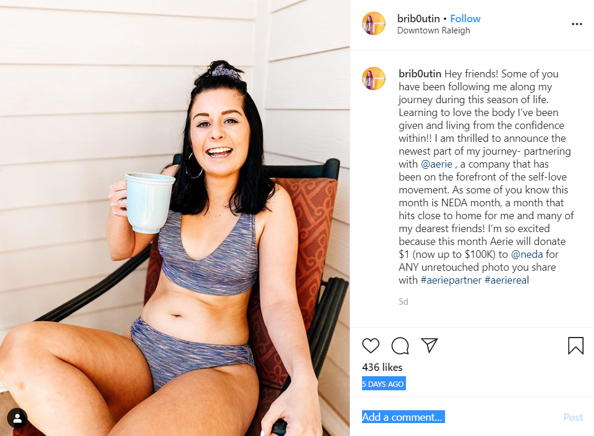 Aerie does not just talk the talk. They also walk the walk, through inclusive brand marketing. Aerie's newest #AerieREAL campaigns features role models including actors, activists, entrepreneurs and athletes. Notable faces of the brand include Transgender actor and model Hari Nef, Olympian Aly Raisman, actress Busy Philipps, and Keiana Cave, a scientist and CEO. By representing all different body shapes, styles, races, sexualities and so on, the brand is showcasing their key messaging in a strong way.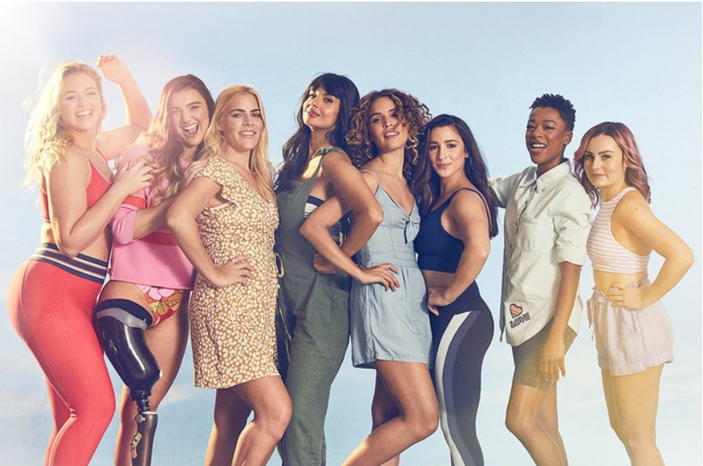 Say what? Yes, Barbie really does have an inclusive marketing strategy. This might go against the grain of Barbie being a stick-thin blonde made of plastic, but the brand is really on point when it comes to diversity. In fact, it encourages young girls to be anything they want to be with dolls being made in all shapes and sizes.

In celebration of their 60th anniversary and International Women's Day 2018, Barbie honoured #MoreRoleModels from around the globe. One-of-a-kind dolls were made in the likeness of extraordinary women including boxing champion, Nicola Adams, conservationist, Bindi Irwin, snowboarding champion, Chloe Kim, filmmaker, Patty Jenkins, singer songwriter, Lira, activist, Yara Shahidi and tennis player, Naomi Osaka to name a few.

Barbie's ongoing Dream Gap Project initiative also gives girls around the globe access to researches to help them achieve their goals. Research shows that girls as young has 5 can start to have self-limiting thoughts and so their aim was to close the Dream Gap with the help of a GoFundMe-backed solution. The $250,000 raised in March was given to the following:

Taking a stand often means being bold and brave, facing criticism and ultimately following what you believe is right. When Nike made NFL quarterback Colin Kaerpernick the face of an ad that ran during the NFL's regular-season opening, it was clear the brand had something to say about black rights in America. Kaerpernick became renowned for kneeling during the national anthem of games to draw attention to the issue of racial inequality and police brutality.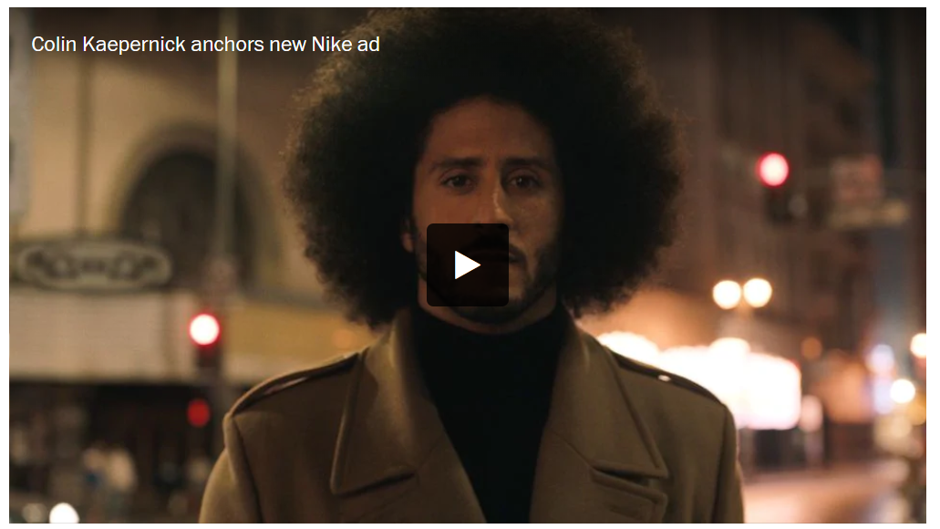 Interestingly, but perhaps not surprisingly, the campaign received more support than criticism from a younger generation who take social issues really seriously.  Spotlighting Kaepernick resulted in the company's stock closed at an all-time high.
Nike also continues to unite people through sport. They follow multiple campaigns centred around inclusivity and sustainability. The Nike Pride grant, for instance, made it possible for a documentary to be made about the first transgender athlete, Chris Mosier, to make a men's U.S. national team.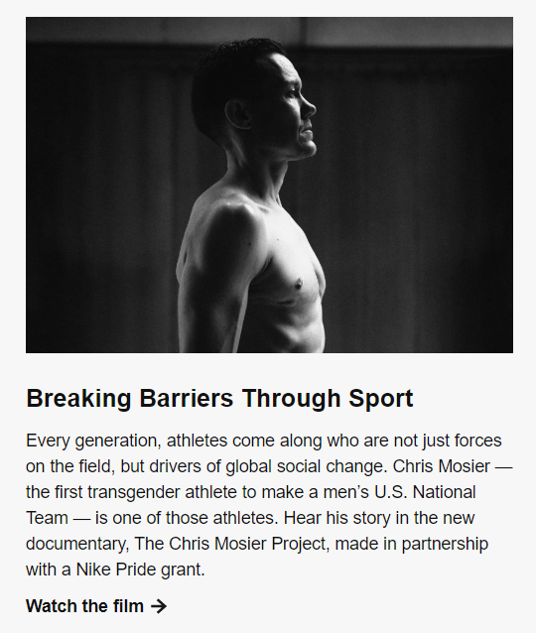 #4 TOMS – Backing Gun Reforms
Standing for a better tomorrow where humanity thrives, TOMS' mission is to give back to society and take a stand against poverty. The brand supports a wide range of organisations to keep people physically safe such as Outside Da Block as well as Mental Health organisations like The Mix. The brand's, clear, easy-to-read, storytelling approach backed by expressive imagery helps them to stand out.

Recently, TOMS has also taken a stand against gun crime in America, fighting for gun reform laws to be reviewed. They launched a campaign to urge Congress to pass federal legislation requiring background checks for the purchase of firearms. That's along with a $5 million donation to advocacy groups, a postcard-writing initiative and a slew of new marketing campaigns both online and in stores.
"We are not just taking a stand to end gun violence together, but we are announcing an evolution to our giving model with a new platform for social change," Blake Mycoskie, Toms Shoes founder stated. "This move will allow us to continue to give shoes to children around the world, but also to make significant contributions to local organizations working to solve some of the biggest issues of our time. We believe this new platform will allow our partners' customer to connect to the Toms brand in a more meaningful way."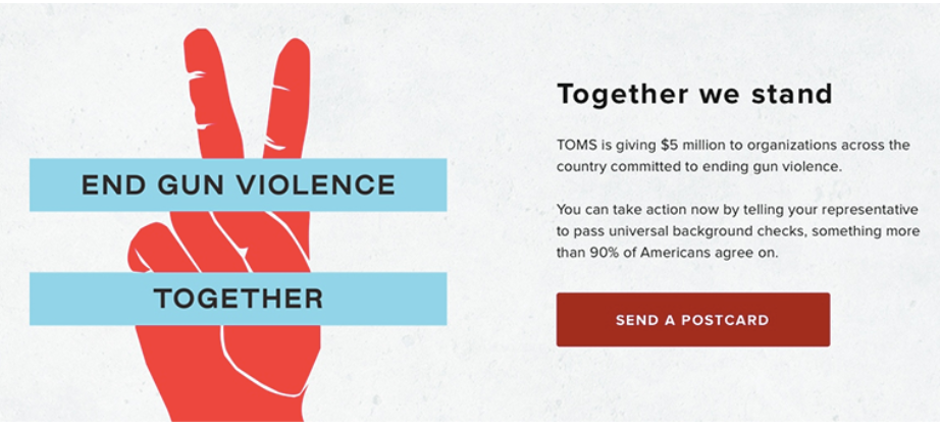 The brand had reason to celebrate after a bill they supported through their End Gun Violence Together campaign passed in the House of Representatives.
Ben & Jerry's is an ice-cream brand that cares about many major issues in today's society. While churning out delicious desserts is their thing, so is standing for what they believe such as non-GMO products. Their website clearly states where they're at with this.

They explain how dairy and egg suppliers still use conventional animal feeds that contain GMO grains. But, instead of sitting back and doing nothing, they are actively seeking cost-effective options for farmers within the Ben and Jerry's supply chain to convert to non-GMO animal feed.
Very clear non-GMO standards are laid out for the brand so people know exactly what they can expect resulting in transparency and trust.

Those are our favourite 5 Brands Who Took A Stand As Part Of Their Marketing Strategy, do you have any to add? Tweet us @_Contentworks and let us know. For expert marketing strategies, talk to our team now.