WOW, 20K Facebook Fans – thank you from our team and time for a celebratory dance! In all seriousness, we're thrilled to have reached this milestone and would like to thank our fans for being totally awesome. And, if you're not already a Contentworks page groupie there's still time.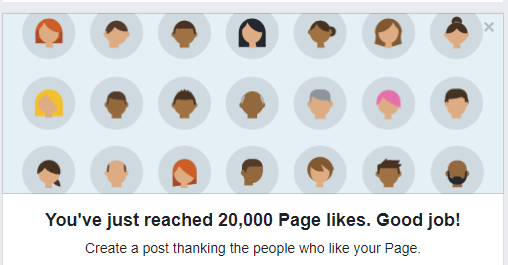 Having a strong social media presence is all about creating an awesome community spirit. You've got to be fun, upbeat, innovative and responsive. So, here's how we got to 20k Facebook fans.
Be Interactive and Engage Your Audience
Facebook is the perfect platform to be interactive and engage with your audience. So get your fans involved with a poll, questionnaire or quiz as we did below (click the bottom right for sound). You can then keep the communication flowing and maintain the 'buzz' of your post by responding to comments.

Top tips: Use cool imagery. Keep your post short, sweet and to-the-point. Make the most of trending hashtags where necessary or think up your own branded hashtag.
Be interesting – not dull or boring
If you're dull, people will fall asleep at their desks. Well, maybe that's a bit extreme, but they certainly won't pay much attention to what you're saying. There's loads of competition out there, so stand out by posting interesting content. The post below is educational and interactive encouraging our fans to watch our page for the answer. Facebook has plenty of post options and as a social media marketing agency we just have to test them all!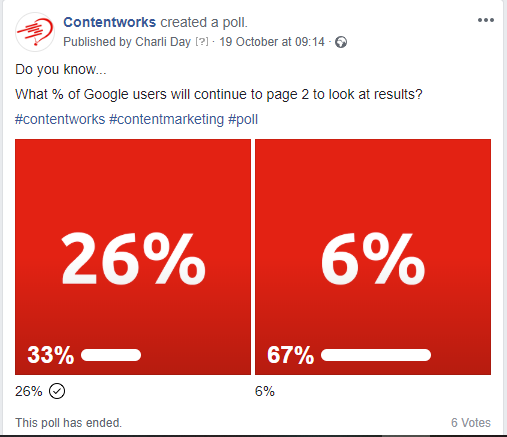 Top tips: Come up with questions and polls that are likely to interest your target audience.  As content marketing geeks, the above was relevant to what we do on a day-to-day basis. Also notice the colours – red and white are integral to the Contentworks brand.
Make the most of gifs & videos to stay relevant
Video marketing achieves a 54% increase in brand awareness so it's definitely worth going down the visual route.
The Contentworks gif below was rolled out over Halloween and was therefore timely and highly relevant. Keeping your content 'on trend' and preparing for high-profile events is a definite must.

Whether you want to capture the spooky spirit of Halloween or the festive cheer of Christmas, it's important to have your content schedule mapped out to reflect your target audience. From Eid Mubarak celebratory gifs to Happy  Diwali messages, there's plenty you can do.
Top tips: Make the most of all the cool apps out there. There are many social tools we can't live without, so give them a try and get creative. Again, think carefully about branding and the hashtags you want to use and don't worry about budget. The right tools will keep your costs down.
Be Real and Authentic
The need for real and authentic content is so important at the moment. Consumers can see straight through fake reviews and testimonials making it essential to generate original content that's unique to your brand. One way to do this is through video so your followers can 'meet the team' and discover what happens behind the scenes. It's also a quick way to share useful hints and tips with your followers as our very own Creative Director, Charlotte Day did below (click the bottom right for sound):

Top tips: Give your brand a face by introducing the team. Increase engagement through hashtags such as #AskCW and be prepared to respond to questions with original, thought-leading answers. If you're posting a video, explain what it's about and why people should view it. Link back to a source of further information for those who want to find out more.
Each one of our 20K Facebook fans has helped to contribute to our milestone so again a huge thank you! If you want your finance or tech brand to have a strong social media presence, you need our Socially Sorted Solution.