The crypto world is fast paced, innovative and exciting with online buzz being fuelled by some of the brightest minds in the sector. So, without further ado, let's carry on our top 20 blog series which includes articles such as top 20 blockchain influencers to follow this year and top 20 women in finance to look at 20 people who are totally rocking crypto on Twitter.
1. Chris Gledhill – @cgledhill
As a super smart fintech influencer with over 56,000 followers, Chris Gledhill is certainly one to watch for all the latest industry updates. Offering a wealth of insights, screenshots and relevant data, this account will help you to see both the serious and funny side of finance.
2. Patrick Abrar – @patrickabrar
With a passion for all-things crypto, Patrick Abrar is one of the top thought-leaders within the crypto space, entertaining his 3.34 million followers with motivational and inspiring tweets.

3. Alexander Haxton – @AlexanderHaxton
A Bitcoin advocate since 2012 with a strong interest in blockchain technology and the crypto revolution, Alexander Haxton is a prominent figure on Twitter. His tweets are strongly focused on how blockchain is transforming many different sectors and he regularly uses crypto-related hashtags to get conversations flowing such as #TokenizeTheWorld.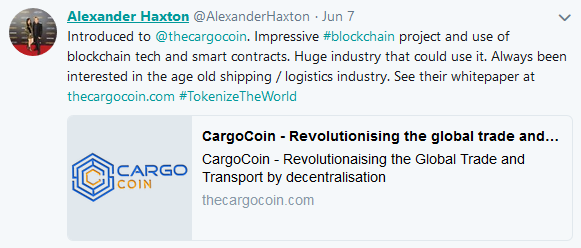 4. Joel Comm – @joelcomm
As co-host of The Bad Crypto Podcast, Joel Comm knows just how to take his listeners – and his social media followers – on an exciting, humorous and knowledgeable crypto adventure. Many of his tweets are designed to inspire people to love what they do and to keep pushing limits.
5. Travis Wright @teedubya
Co-hosting The Bad Crypto Podcast alongside Joel Comm, Mr.Travis Wright is an influential figure within the crypto world and an all-round entertaining and humorous guy. When he's not verbally expressing his views on decentralised technology, crypto marketing and associated topics, he's often sharing politically charged tweets. Mr. Travis Wright is a keen advocate for free speech.
6. Oren Shabat Laurent – @OrenLaurent
Oren Laurent is a crypto fan, blockchain backer and all-round finance expert always on the lookout for his next crypto project. His tweets are often accompanied with links to informative, educational articles which help to spread awareness about crypto concepts.
7. Paolo Bediones – @paolobediones
COO of LoyalCoin and Appsolutely, Paolo Bediones is a blockchain enthusiast, ICO consultant and motivational speaker. As a crypto trader himself, he also provides his 326,000 followers with regular market updates and information snippets.

8. Thomas Power – @thomaspower
Thomas Power is a professional speaker and influencer with an interest in crypto, blockchain, GDPR and the ICO space. He keeps an eye on global fintech/crypto news and shares this via his social media platform. His tweets are often focussed on how blockchain goes beyond crypto and is becoming an integrated part of society's framework.
9. Jim Harris – @JimHarris
Jim Harris is a #1 international bestselling author on disruptive innovation. His tweets largely centre on fintech technology as well as crypto and blockchain developments. He can often be found talking about going green and sustainable living.
10. Apolo Anton Ohno – @ApoloOhno
As well as being an 8 x Olympic medalist and a bestselling author, Apolo Anton Ohno is a truth seeker and tech lover with blockchain/crypto fascination. He regularly shares his travel experiences and daily adventures with his 303,000 Twitter audience.
11. Lori Moreno – @LoriMoreno
A top social media influencer and brand ambassador, Lori Moreno is a buzz creator and pioneer focussing on many different industries including the tech/blockchain/crypto sector. She's one of the many women in tech who are making their mark during this period of great innovation and change.
12. Tammy Camp – @TammyCamp
Tammy Camp is a passionate crypto influencer with a 122,000-strong following on Twitter. Founder of @strongholdxchg, Tammy follows the recent blockchain movements closely and shares updates with her audience. She's also an avid supporter of other strong females entering the crypto space. Same here Tammy!
13. Laura Shin – @laurashin
Laura Shin was the former Senior Editor of Forbes magazine managing the coverage of crypto assets. She's also a crypto/blockchain journalist and the host of Unchained Podcast and the Unconfirmed Podcast which both touch upon big ideas from the innovative world of blockchain. Basically, she's nothing short of a crypto superwoman!
14. Chris Bukowski – chrisjbukowski
Ex-Bachelor contestant Chris Bukowski is well-known as a TV personality, but he's also an avid crypto investor and active tweeter. He regularly delights his fans with the latest from the world of blockchain and ICOs and engages with followers to create an active social community.
15. Brooke – @bitcoinmom
With the Twitter description "too many kids, not enough Bitcoin," Brooke AKA @bitcoinmom clearly identifies herself as a crypto fanatic and spends much of her time re-sharing humorous posts from the crypto space. She's an avid supporter of #womeninbitcoin.
16. Luke Martin – @VentureCoinist
A blockchain start-up investor and advisor, Luke Martin keeps an active feed on VentureCoinist which links through to his Venture Coinist trading group. He offers up news as well as advice to over 186,000 followers maintaining a level head in a world of extreme volatility.
17. Crypto Hustle – @CryptoHustle
While many crypto fanatics share detailed charts and data analysis only, Crypto Hustle provides useful insights as well as plenty of tongue in cheek commentary. The blockchain/crypto space can be rather intense, but Crypto Hustle tries to see the lighter side of things.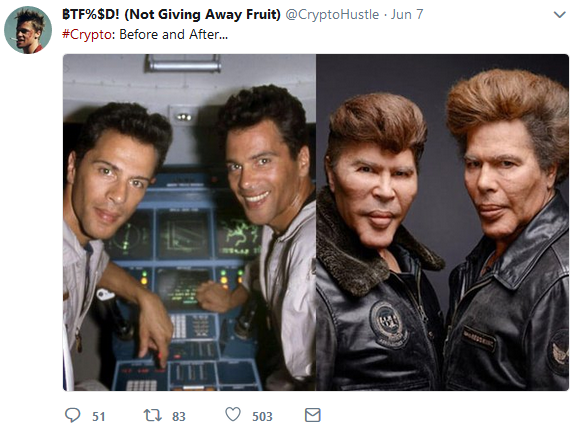 18. Bitcoin Benny – @bennydoda01
Bitcoin Benny is renowned for his no nonsense, straight talking style. He cuts straight to the point keeping an active crypto/bitcoin-related commentary on Twitter while posting news, reviews and videos to his website. He provides clear information without getting too bogged down in the more complex details.
19. Dimitriy – @Dimitriysz
Again taking the straightforward approach, Dimitriy fills his Twitter account with useful trading advice regularly posting candlestick charts with handy annotations. He's ideal for crypto newbies as all of his posts are relative and easy to understand. Dimitriy is also not adverse to a little crypto-related humour.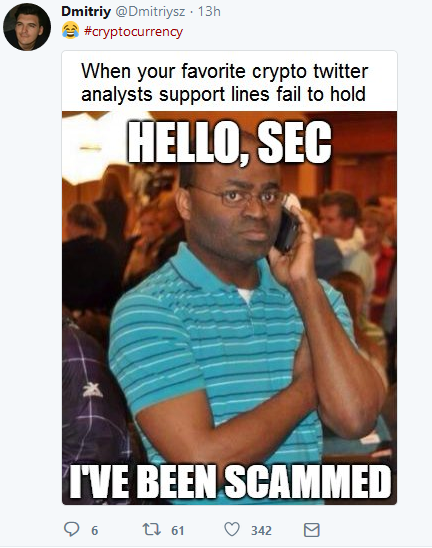 20. Zissou – @ZeusZissou
Cryptocurrency connoisseur, day trader and analyst, Zissou rides the market highs, faces the lows head on and laughs at all the weirdness in between. His tweets are loaded with useful information including market insights, technical analysis, educational rants and more.
If you're looking to launch a blockchain product or need to promote your cryptocurrency/ICO via Twitter speak to the Contentworks Crew today!