Albert Einstein once wrote a note about happiness. He gave it to a bellboy instead of a tip stating that one day, it might be valuable. The note later sold at auction for a whopping $1.6 million. So, it seems happiness, or at least the pursuit of happiness, sells. Which makes perfect sense. Emotions elicit a response. And 86% of companies that believe it's important to make people happy also experience revenue growth. As International Day of Happiness approaches on March 20, we're looking at 10 brands who reignited customer happiness.
The ever-demanding consumer
It all sounds easy doesn't it? But making consumers smile isn't always a piece of cake. Indeed, consumers expectations have increased dramatically. People expect way more from brands with 63% expecting a personalised service as standard. But, if you can nail these details, you can reap the benefits. According to a new study, 93% of businesses with an advanced personalisation strategy increased their revenue.
Similarly, consumers are increasingly seeking out eco-friendly brands and are willing to pay 5% more for environmentally friendly products. Why? Because eco-friendly purchases stimulate positive emotions and feelings of satisfaction and happiness. So, if you can meet such demands, you could enjoy a more profitable margin. Or, at the very least, create a community that feels good when they shop with you.
There's been plenty to feel 'meh' about recently – Brexit, Coronavirus, isolation, you name it. But among all the doom and gloom, we're looking at brands nailing the happiness game.
#1 Krispy Kreme – Win, Win, Win!
What better way to take someone to sugary heaven than with a sweet treat giveaway? Krispy Kreme celebrated the return of their much-loved Cookies & Kreme donut with a simple competition. Simply tag a mate you'd let try one of your FREE dozen. Deliciously satisfying, smart marketing.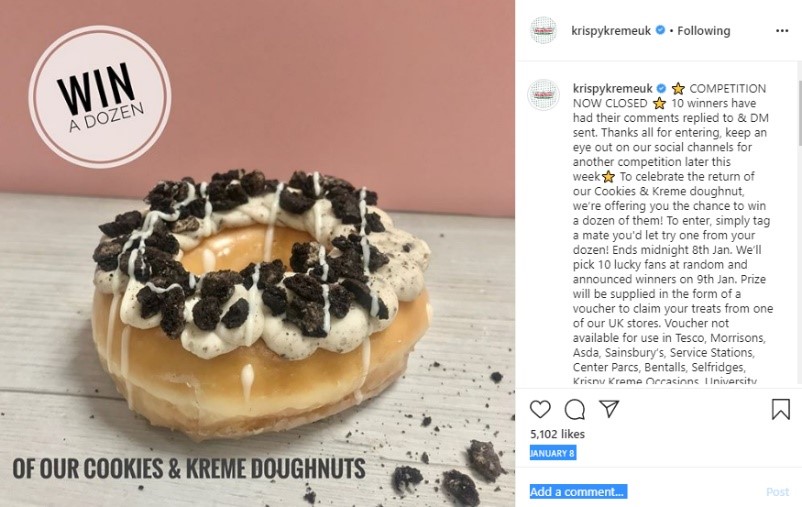 Top tip: Create happiness-inducing campaigns that can also boost brand awareness. You can do this by writing a call-to-action that involves tagging a friend or sharing your post.
#2 Dove – #HairLove
One of the best ways to put a smile on the face of your consumers is to share uplifting stories and news. Or, by being part of something inspiration. In a bid to end hair discrimination, Dove supported the Academy Award-winning animation Hair Love created by former NFLer-turned film producer Matthew Cherry.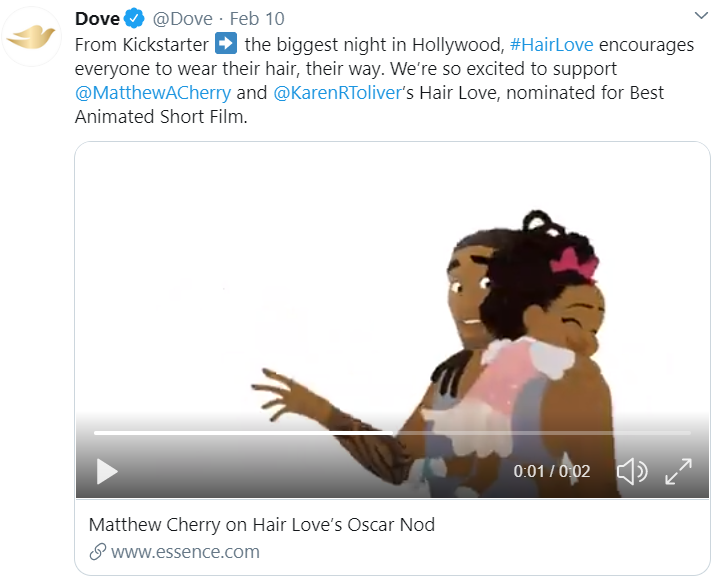 While Dove's involvement was relatively low-key with no product placements or big shout outs, the brand showcased their collaboration across social media.
Top tip: Collaborate with campaigns that are on brand. Dove's anti-discrimination mindset blended perfectly with the #HairLove production.
#3 New Look – Flash Discounts
Everyone loves a bargain which is why New Look's flash sales work. With offers running for a set period, this helps to induce FOMO. Moreover, New Look cleverly incorporated a survey with their most recent promotion in order to gain deeper consumer insights which can shape later campaigns.

Top tip: Work FOMO into your marketing efforts. You can do this by putting time limits on offers or by releasing a limited line of products.
#4 Wendy's – Free In-App Purchases
By 2021, more than 20% of US smartphone users will use a food delivery app. So, brands like Wendy's are jumping on this trend to deliver unmissable offers. Food equals happiness for many people and if you can throw convenience into the equation, you're onto a winner.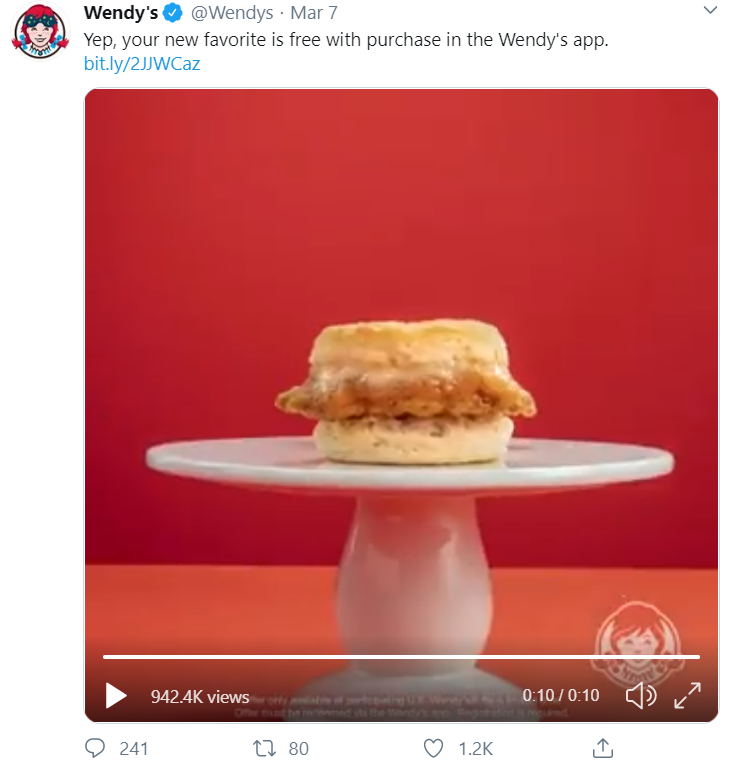 Top tip: Video content is a great way to catch people's attention, particularly on social media where people want instant information. Use it to draw consumers towards services that will boost revenue quickly – such as a brand app.
Also, don't shy away from a little humour if your tone of voice allows. Wendy's, being renowned for their humour and wit, do this a lot. It's a great way to interact with consumers and make people smile.

#5 Charmin – #DollyPartonChallenge
Staying social media 'cool' means keeping on top of all the latest trends and identifying opportunities to shine. When the #DollyPartonChallenge went viral, toilet paper brand Charmin seized the day, posting their very own response. And the caption? "Get you a toilet paper that does it all." Genius.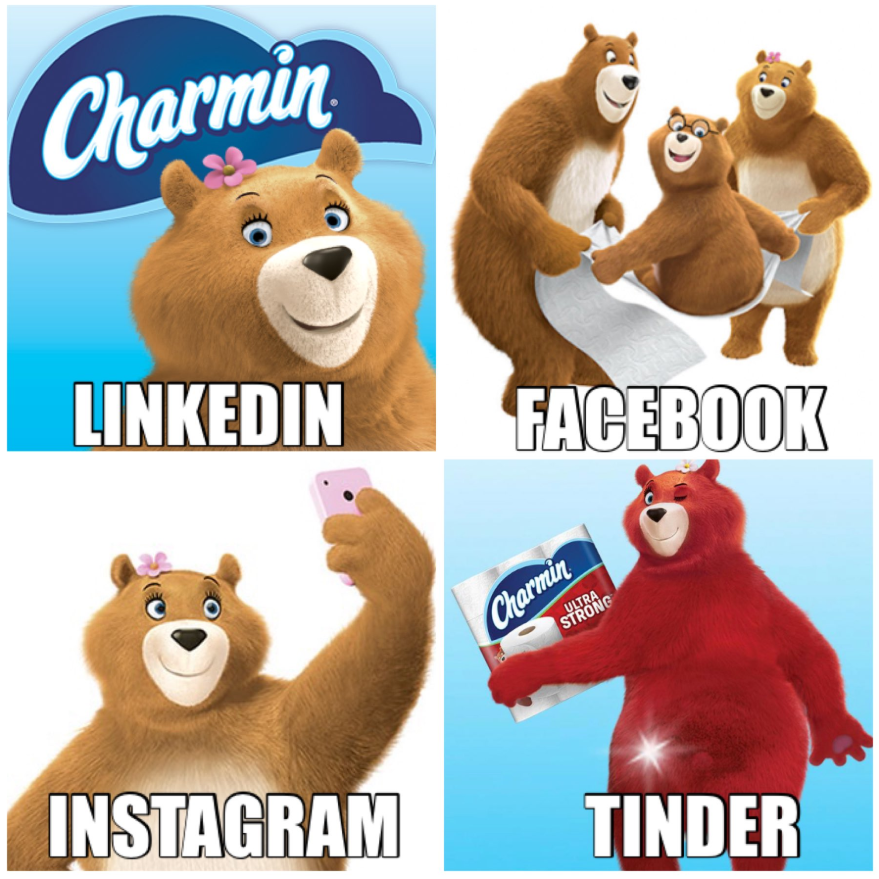 Top tip: Show you're alive, witty and relevant. Putting your own spin on a trend or challenge is a quick and easy way to spark happiness.
Contact Contentworks to get Socially Sorted.
#6 Nike – Common Thread
Nike's Common Thread series celebrates the power of sport and how it can bring people together in a beautiful way without stigma. The series embraces storytelling and gives athletes a voice in a way that's uplifting for all – including consumers.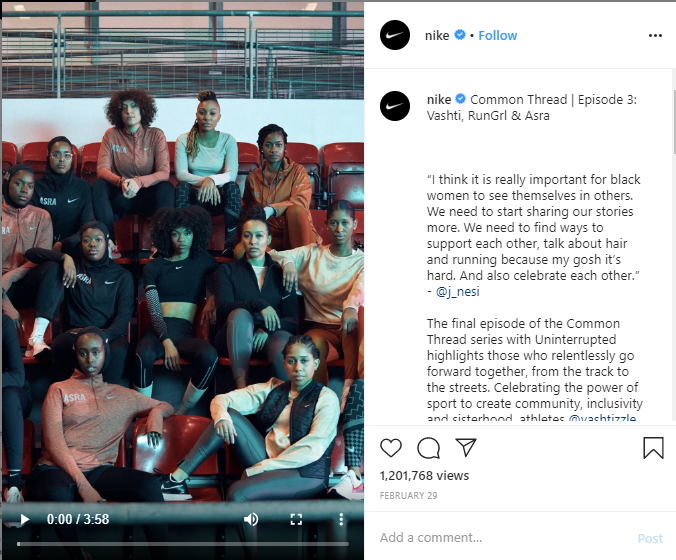 Top tip: Consumers love authenticity. It makes them happy. Especially Gen Z who crave for brands to ditch the fake for a more real approach. By focusing on real stories, you can humanise your brand and form a closer bond with customers.
#7 Dunkin' – Free Donut Friday
Fridays are pretty darn good, right? But with the weekend looming, what if you also got a free donut? Dunkin' is embracing that feel-good feeling by offering DD Perks Members a free donut every Friday throughout March. Of course, this is an effective way to attract people who aren't already members while satisfying those who are.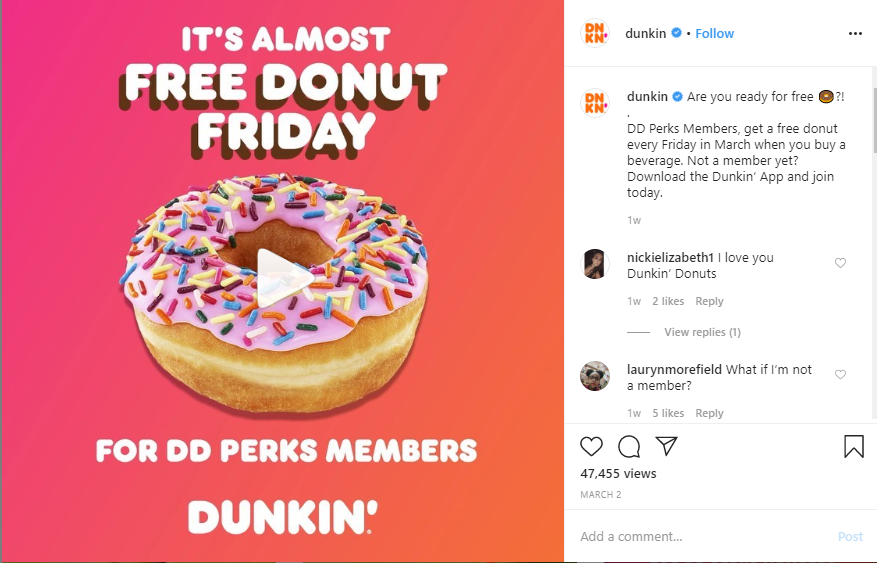 Top tip: Freebies always go down a treat. And offer an incentive for people to follow a call to action. It's not a bribe as such, but a little sugar goes a long way. Bribe away baby!
#8 ASOS – Embrace the Hard Times
The reality is Covid-19 has got many of us in lockdown. It's a difficult time for businesses, but ASOS hasn't lost their humour. In fact, the fashion retailer is keeping their social interaction on point by asking people to share their ASOS-inspired 'stay-at-home' looks. There's even a 'treat' incentive to encourage interaction.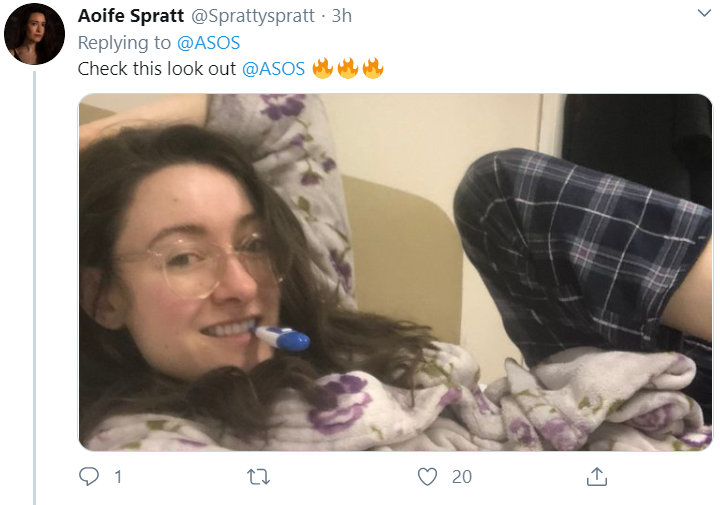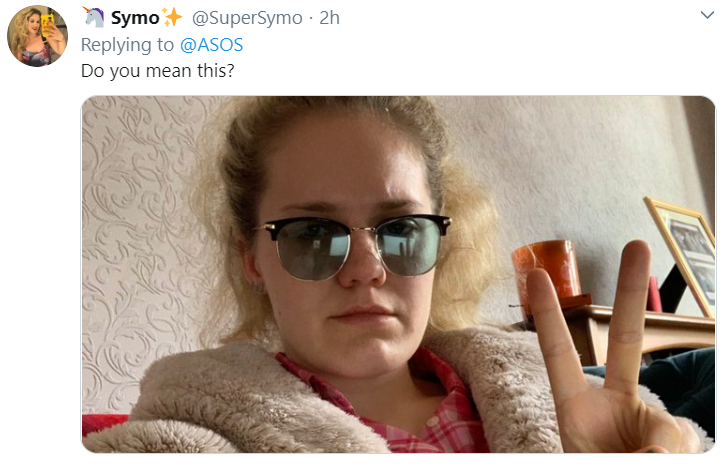 Top tip: Unless there's a complete worldwide blackout, there are always ways to communicate with your fans to help them smile during difficult events. Keep the positivity up and your fans will follow your lead.
#9 Dominos – Let Your Hair Down
People need to connect with brands in a fun, unique way and will be turned off if you're overly salesy. Social media is the perfect place to let your hair down and spice up your accounts with a bit of humour. Dominos is great at this, regularly receiving hundreds of replies.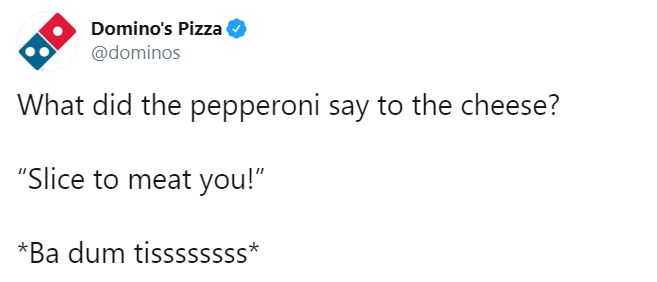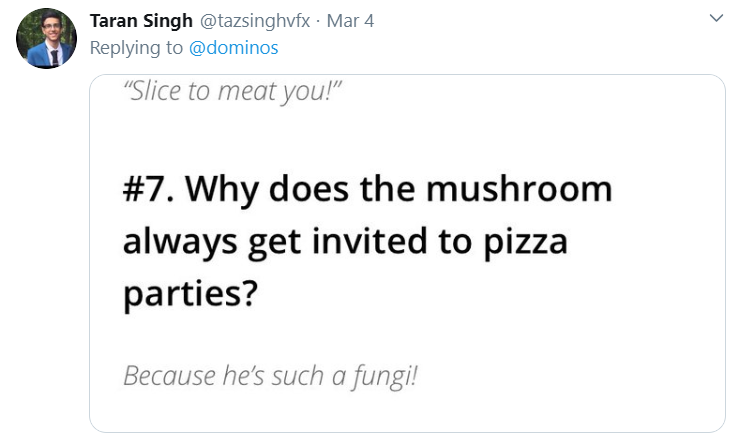 Top tip: Post content that sparks engagement. By posting a joke, Dominos received many other jokes in return, raising interaction levels considerably.
#10 Levi's – I Shape My World
Most consumers want brands to take a stand on social and environment issues. In fact, 70% of consumers want to know what brands are doing to address key topics. And 46% are paying close attention to social responsibility efforts. So, to make consumers happy, it's important to pay attention to the world around you. Levi's is constantly upping their efforts, supporting the achievements of woman. The I Shape My World campaign is designed to shatter glass ceilings and empower women across the globe.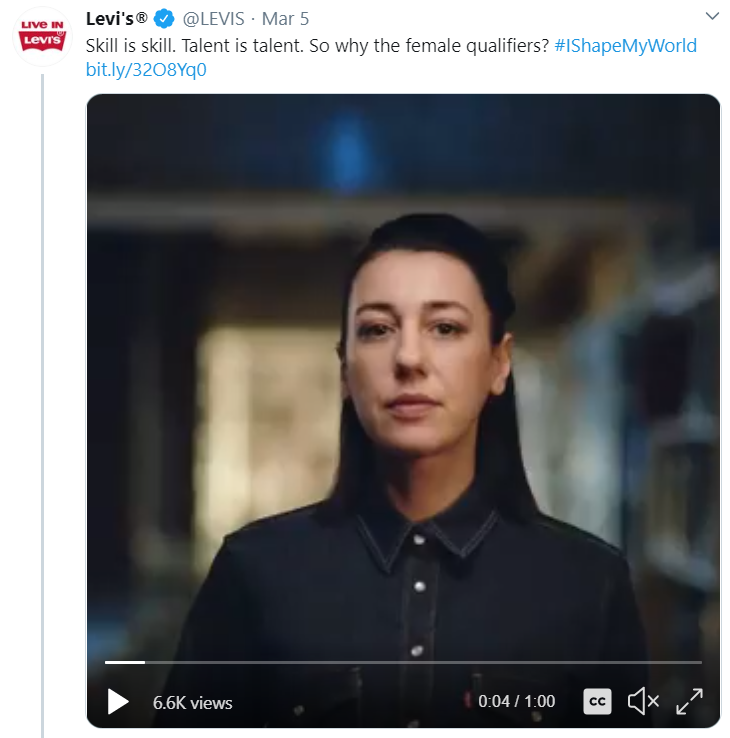 Top tip: Being a successful brand goes beyond sales messages. It's important to have a sense of corporate responsibility and showcase how you're doing your bit for the world. Here at Contentworks Agency, we've collaborated with Room to Read, a non-profit organisation that encourages childhood literacy across the globe.
Enjoyed reading 10 brands who reignited customer happiness? Go ahead and hit share to spread the love. Want to spark happiness with your content and social media marketing? Our team are skilled at creating a happy place through social media management, articles, video scripts, PR, whitepapers, e-books and more. Talk to us today!