PR disasters happen to even the biggest brands. You can go from hero to zero overnight. But what's the best way to deal with such a reputation crisis? Let's take a look back at the worst PR disasters of 2019 as well as the big brand responses.
Nike and the Williamson shoe disaster
Top of our worst PR disasters of 2019 is Nike. On February 20, during one of the most anticipated US college basketball games of the season, Nike suffered a high-profile embarrassment. Star basketball player Zion Williamson got a knee sprain just 33 seconds into the game after his Nike PG 2.5 PE shoe burst.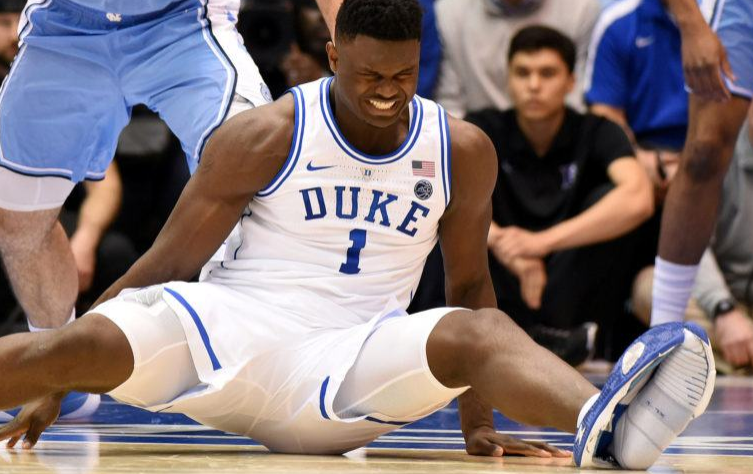 The reaction
As soon as the shoe malfunction occurred, social media was abuzz with many people blasting Nike for poor quality and others claiming that the shoe was tampered with. Nike became the target of ridicule as social media users labelled the issue "Shoegate."

Other brands were also quick to jump in on the opportunity to put the spotlight on their own products.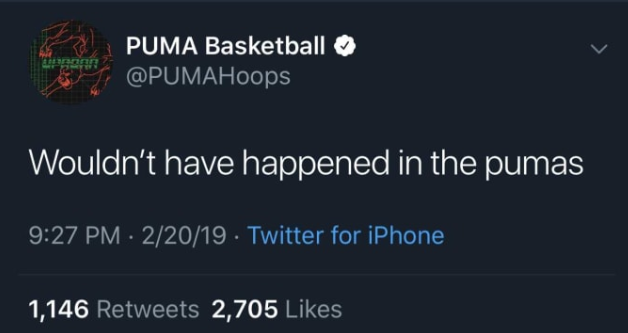 Why was this incident a disaster?
Showing good crisis management, Nike responded relatively quickly after the incident.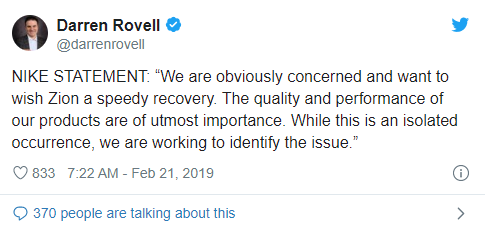 There was only one problem with this statement – a quick Google search revealed that this wasn't a unique incident of Nike shoes failing. In 2015, Kenyan runner Eliud Kipchoge had an unfortunate experience with Nike shoes, which likely cost him a world record at the Berlin Marathon. In 2016, basketball player Aaron Gordon's Nike shoe tore open and NBA players Andrew Bogut and Manu Ginobili also had similar malfunctions.
On February 21, 2019 Nike suffered a $1.1 billion drop in market value.
How did Nike handle the situation?
Instead of shifting blame or deflecting the story, Nike owned the crisis. The brand used the incident to highlight its commitment to continuous quality improvement and to reassure customers.
Top tip: Never go silent and wait for a PR crisis to blow over on its own. This will cost you your reputation, which is everything in the business world.
What did Nike do right?
After acknowledging the problem quickly and apologising, Nike showed a genuine interest in fixing the problem by doing some things right:
The brand was proactive in resolving the issue.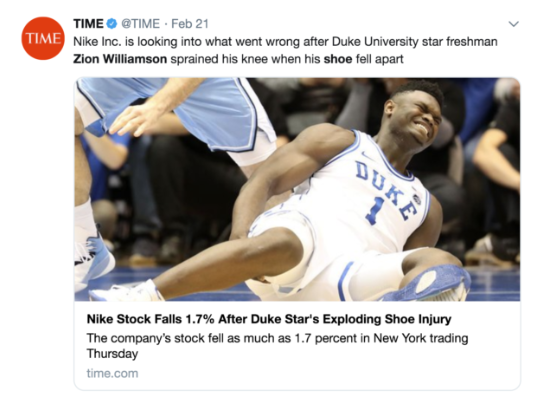 A few days after the incident, Nike sent a team to North Carolina where the game took place followed by a visit to Nike's manufacturing site in China. The team returned with numerous suggestions from these trips.
It shared its plan to resolve the crisis. Armed with suggestions from the site visits, Nike shared how it was working to improve the quality and performance of its shoes.
The brand showed how well its solution worked. About a month after responding to the shoe malfunction, Williamson returned to the court with custom Nike shoes which he described as "incredible." This follow-up was great for regaining consumer trust.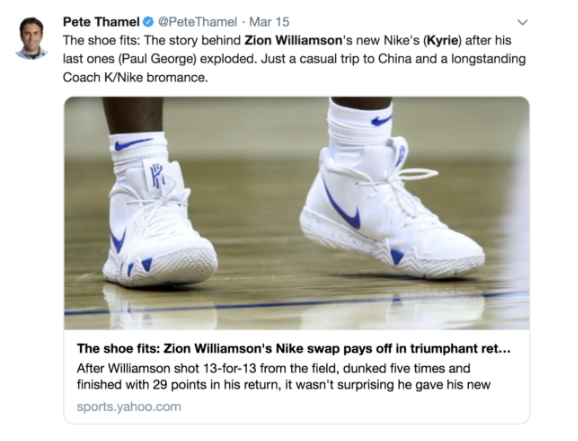 Key lesson: A good crisis management strategy is timely, compassionate, proactive, and it doesn't run away from any past mishaps. Your response to a disaster should put customer concerns at the forefront, demonstrating a willingness and commitment to fixing the situation.
Boeing and the 737 Max crisis
In March 2019, an Ethiopian Airlines plane crashed shortly after take-off, killing all 157 people who were on board. The aircraft was a Boeing 737 MAX. Of course we should point out that the loss of human life is the biggest disaster here, however, let's look too at the PR angle.
This tragic crash occurred barely five months after another Boeing 737 MAX plane crashed into the Java Sea just 13 minutes after take-off, killing all 189 passengers and crew.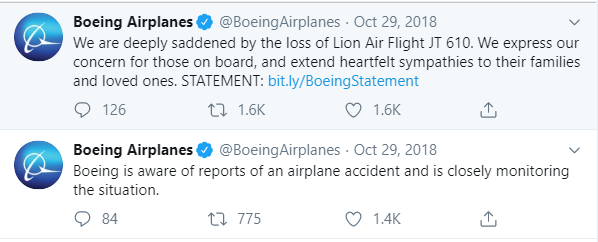 The reaction
There was outrage after the truth came out that Boeing hadn't alerted operators about all the new features on its popular 737 MAX jets. Pilots were furious that they hadn't been warned about the autopilot system that engaged during take-off and was susceptible to error. Air travel authorities all over the world officially grounded the 737 MAX in March.
What aggravated this disaster?
The worst and most damaging crises are those that remain stuck without a clear resolution. For months, the crisis has remained unsolved in a situation that has been exacerbated by reports that Boeing CEO, Dennis Muilenburg, initially insisted that the other aircraft were safe.
This tone-deaf response to consumer safety concerns cast doubt on whether flyers will trust the plane when it does return, especially considering the media is penning stories of a history of quality complaints at the facility that produces the 737 MAX.
What did Boeing do wrong?
Boeing is a classic example of a brand failing to handle a PR crisis well.
The company did not follow the first rule in any crisis – showing that you care. The company's response to the crisis confused and scared people, making it hard for them to believe the apologies.
For example, Boeing became less insistent about its claim that its 737 MAX aircraft was safe as more evidence was uncovered. The company then attempted to salvage the situation by promising to update the plane. This confusing and ambiguous response left consumers more anxious and concerned, likely deepening mistrust in Boeing rather than winning back customers and business partners.
Top tip: During crises, always be transparent and be ready to listen to and address consumer concerns. Boeing doomed its early attempts to address public concerns with its lack of transparency and failure to listen.
The apology came too late. Muilenburg apologised in a video 26 days after the second crash. In the video, he acknowledged that a preliminary report confirmed that the plane's sensors had misfired the same way on both jets that crashed.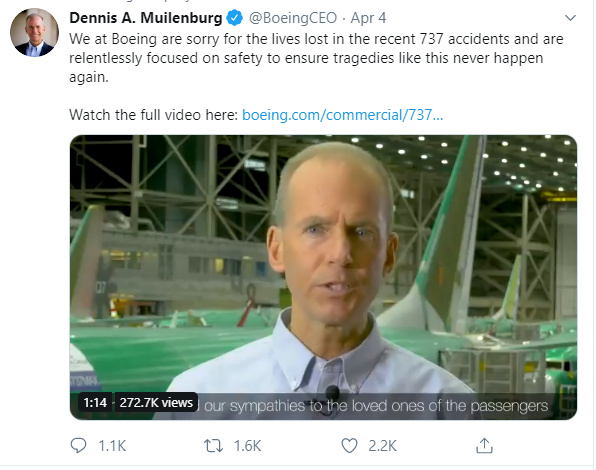 The video was to the point and addressed important issues, but it was created too late. This video statement was better than not issuing a statement at all, but would have been more effective if it had come soon after the crash occurred.
For instance, Indonesian flagship airline, Garuda, cancelled a $5 billion order for forty-nine 737 MAX jets citing that passengers "lost trust and no longer have confidence in the plane." Boeing could have avoided this by alleviating fears promptly.
Key lesson: Own your crisis and avoid knee-jerk reactions. It's bad for your brand when you delay responses and backtrack on significant issues. This can hurt your brand financially and will certainly cost you consumer trust.
Sephora and the US college admissions scandal
It was front-page news when it emerged that prominent people, including actresses Felicity Huffman and Lori Loughlin, were bribing school officials to get their children into elite universities. This scandal made a whole nation face the possibility of college admissions regulations with some people questioning why certain universities were so selective in the first place.
Lori Loughlin was charged and the repercussions reached her daughter, 19-year-old beauty influencer Olivia Jade Giannulli. It was revealed that Loughlin and her husband, Mossimo Giannulli, paid $500,000 to make it appear that Giannulli had been a rower to guarantee her admission to the University of Southern California.
When an influencer partnership goes south
Before the scandal, Olivia Jade had collaborated with Sephora's in-house beauty brand in December 2018 to launch the Olivia Jade x Sephora Collection Bronze & Illuminate Palette.With a nearly 2 million–strong following on various platforms, Giannulli did sponsored content posts for Sephora.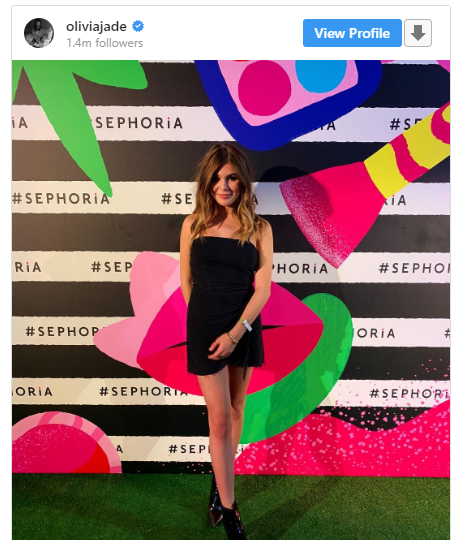 When the scandal broke out, there was outrage. People bombarded the palette with negative reviews on Sephora's website where they also demanded the palette be discontinued. Many people urged Sephora to drop Olivia Jade.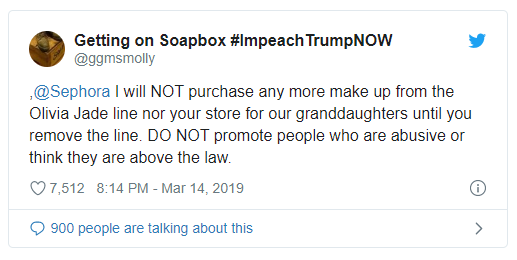 What did Sephora do right?
The brand acted with haste. Sephora pulled the products with Olivia Jade and issued a statement immediately highlighting that it would no longer be partnering with her.

If the brand had waited longer before ending the partnership, people may have interpreted the move as the brand just bending to public pressure. This would have cast doubt on the company's values and ethics.
There was clarity. The company cut its ties with Olivia Jade and stood by its words – the statement was clear.
The brand safeguarded its reputation. Removing the products from its stores was obviously costly but Sephora chose its reputation over any possible financial gain. This showed that the brand was listening to its customers.
It stayed on top of the news. Sephora wouldn't have known what was happening and it wouldn't have been able to react fast if it wasn't closely monitoring the news.
Top tip: Leverage social media for crisis management. Using social media to address a PR crisis humanises your brand and signals that you are ready to have a conversation with your audience. Here's how social media can help you fix your PR disaster.
Key lesson: Many PR disaster firestorms occur on social media. You must have a robust plan for handling any crises on social platforms. It's also important to have social listening tools (or utilise an agency that does) to monitor and minimise the impact of negative sentiment and bad press.
Did you enjoy reading Worst PR Disasters of 2019? If you did then hit that share button.  Today PR crises take on many unique forms and degrees of severity. You must be prepared for whatever gets thrown your way. Speak to the Contentworks team for more information on reputation management and other PR solutions.