The magical festive period is filled with excitement, warmth and fun. But this year it was almost all sabotaged by one very cross and grumpy elf (he clearly hasn't had a chestnut praline latte). Here at Contentworks we've been working very hard to keep this special day on track. We've not even had time for one mince pie. Our festive tale has been unfolding on Facebook so pour yourself a drink, get cosy and read #SantaIsReal and the Elf Who Hated Christmas
21 December – the Elf Who Hated Christmas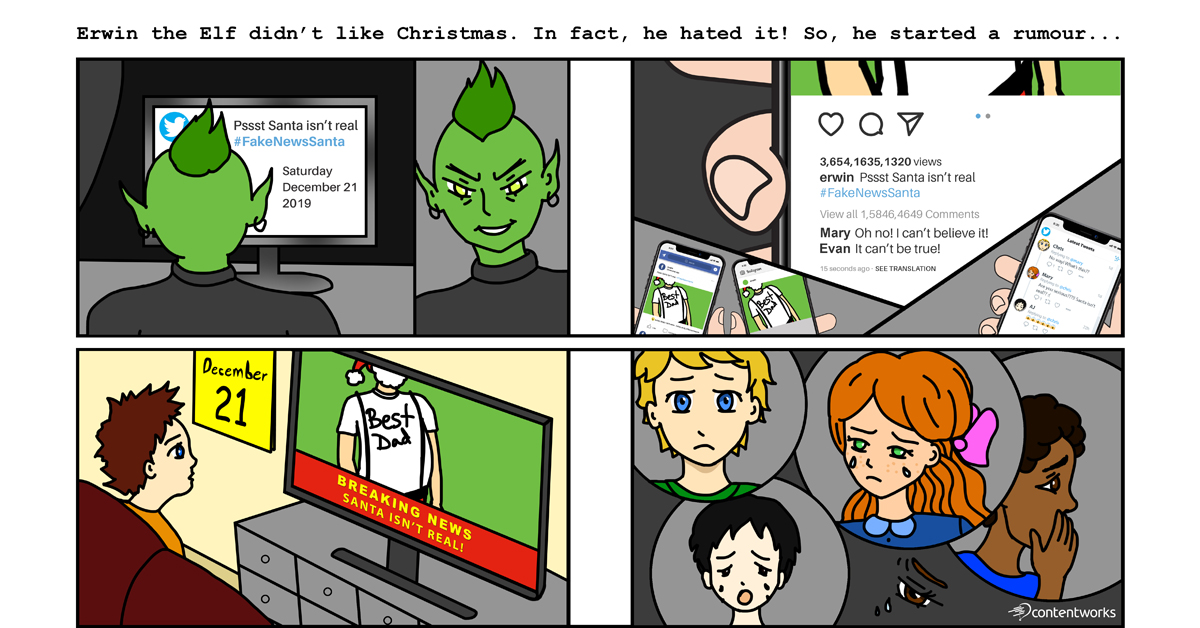 Erwin the Elf didn't like Christmas. In fact, he hated it. Sitting year after year at the North Pole painting rocking horses… Bleurggghhh! And his tight green leggings were killing his street cred, not to mention being rather chilly. Yes, Erwin was done with jingle bells, had fallen out with Rudolph and had even been told off by Mrs Claus. "Imagine if there was no more Christmas" he pondered. No more cold long nights, no more jolly holly decorating and no more green leggings. So, he started a rumour. The worst rumour an elf could ever start. A rumour that could sabotage Christmas entirely.
Erwin told everyone that Santa is 'Fake News'.
Elvin's live broadcast from the North Pole and #FakeNewsSanta tweet spread like wildfire. It was seen by girls and boys across the globe who had already hung their stockings for the jolly guy in red. Whatever had he done?
22 December: Will Christmas be Ruined?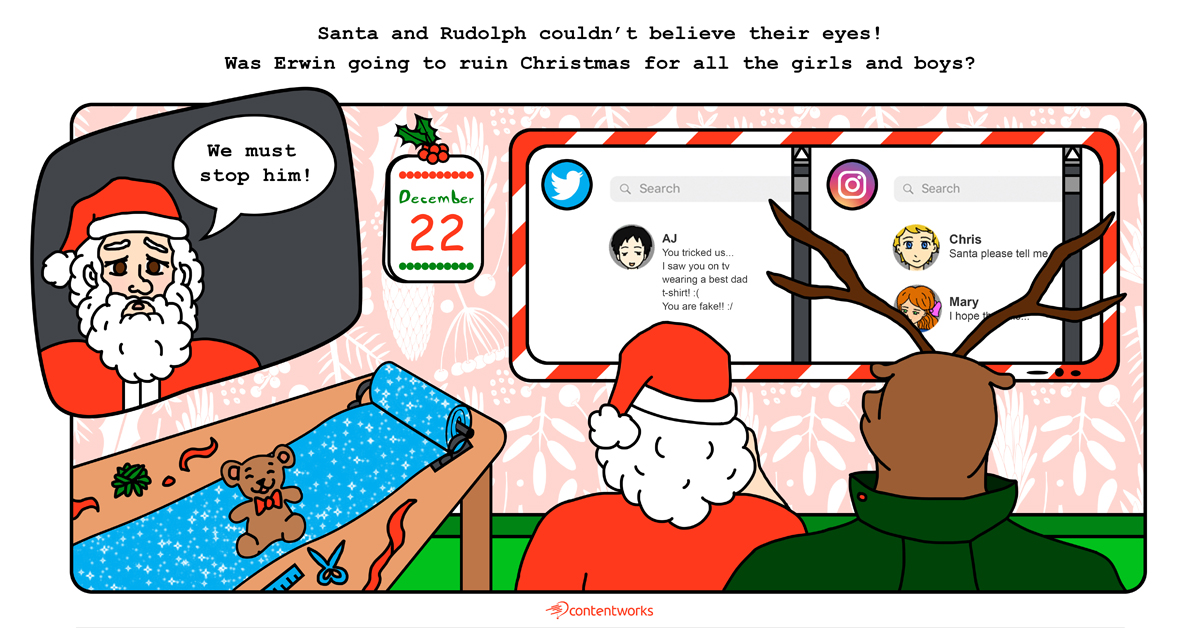 The next morning, with just 3 days 'til Christmas, Santa and Rudolph woke up to the bad news. They couldn't believe their eyes. #FakeNewsSanta was trending, Michael Buble has posted an anti-Santa meme and a ton of leading supermarkets were tweeting about withdrawing Santa and Rudolph selection boxes. The word 'fake' had been splattered over every Santa pic on Facebook and even the Easter Bunny had posted an Insta of him and Santa on Insta Stories with the caption, "who is this guy?"
The festive spirit seemed ruined. The other elves knew Erwin hadn't forgiven Santa for putting him on the rocking horse painting station which in his own words was "boring". But, was he really going to ruin Christmas for all the little girls and boys? What should Team Santa do?
23 December: #SantaIsReal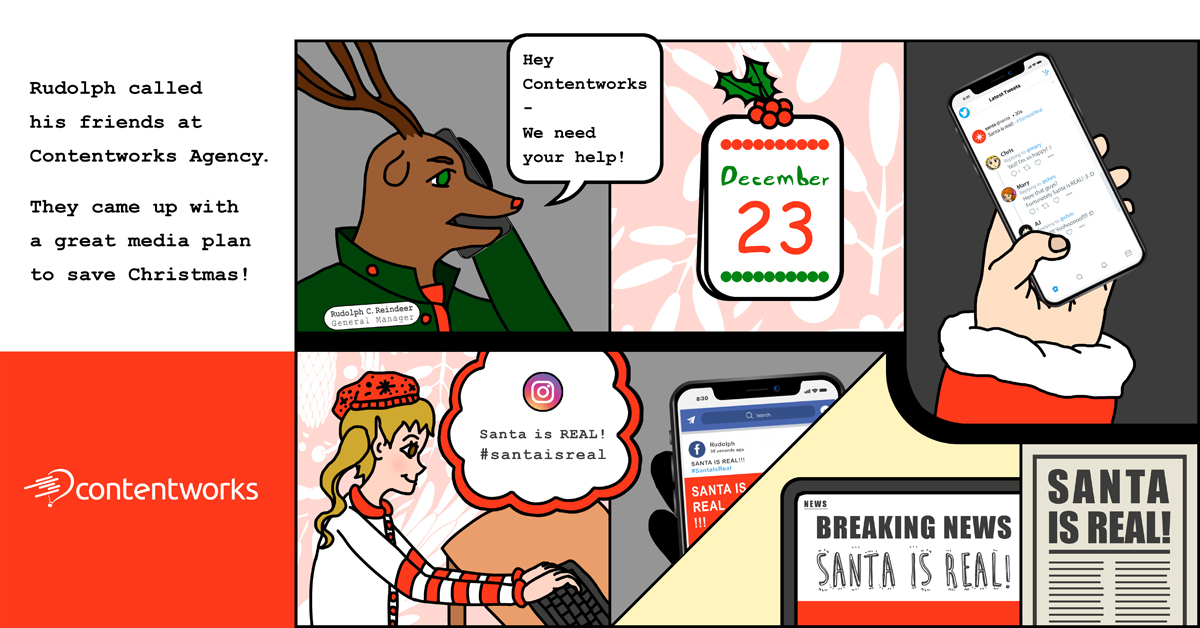 With Christmas Eve rapidly approaching, Rudolph was so sad his nose had dimmed to a pale pink. Santa had been crying into his eggnog all night and Mrs Claus was busy comforting Dasher who was always extra sensitive at this time of the year anyway (carrot allergy issues). The workshop was unusually subdued.
Then suddenly, Rudolph had an idea. There was still time to save Christmas for all the boys and girls wasn't there? So, he messaged his friends at Contentworks: "Hey! we need your help." In PR disaster mode, the Contentworks team responded. They told Rudolph that they were onboard to help save Christmas, but Santa and the elves would need to do something they'd never done before. They would have to use every media channel available to expose Elvin's lies. So, the elves along with Santa, Rudolph and Mrs Claus tweeted #SantaIsReal. Because, you know, he is.
24 December: Santa's Social Media Fame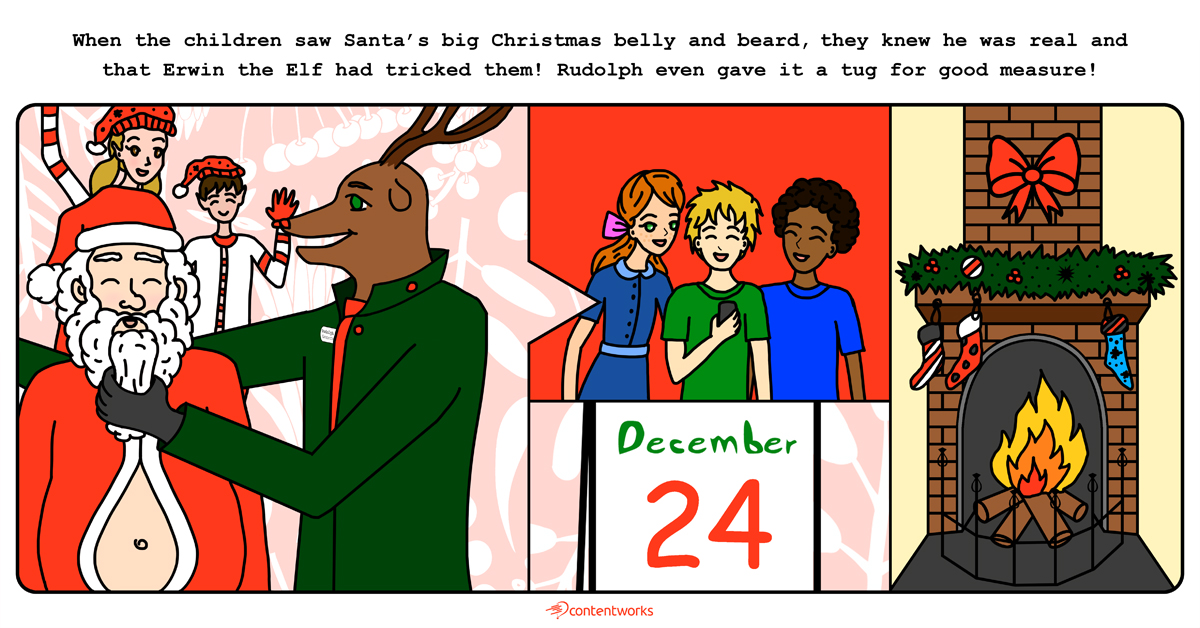 In a true "our hashtag is better than yours" stand-off, the North Pole battled back against Elvin through Twitter, Facebook, Instagram, TV, newspapers and every other media outlet across the globe. The children saw Rudolph pulling Santa's beard on Facebook Live to show it was real, Mrs Claus posted hot chocolate recipes to Twitter with #SantaIsReal and the elves took part in TikTok Hashtag Challenges to prove Santa exists. This was particularly awesome as they dared Santa to go for 3 minutes without eating cookies – but he couldn't and the whole thing was recorded and shared.
#SantaIsReal went viral and the children saw the North Pole like never before. They knew Lapland was real and that Erwin the Elf had tricked them. Christmas was back on track and Santa had to take a break from Insta to deliver all the presents. But not without replying to the Easter Bunny's story first with a laughing emoji.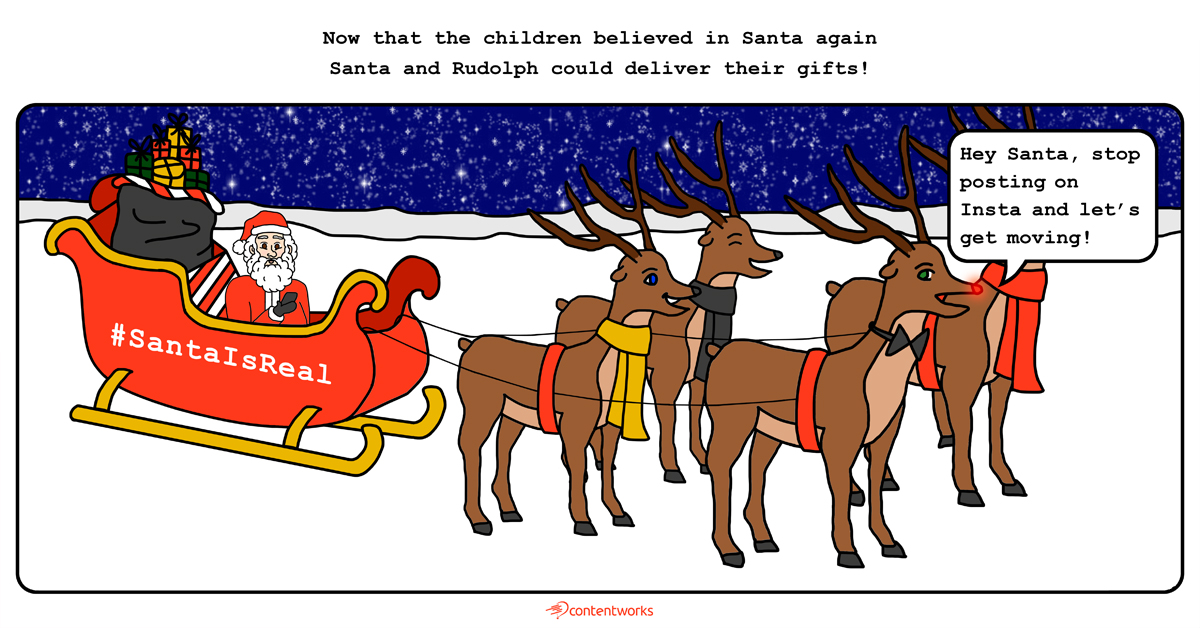 25 December: Christmas is Saved
Yay for Santa, Rudolph and the elves. Everyone got their gifts. And, in the spirit of Christmas, even Erwin got a gift; a t-shirt with #SantaisReal printed on the front. And of course, a warmer pair of green leggings. Peace was restored to the North Pole and Santa and Mrs Claus finally got to relax with some Netflix and a large warming cocoa.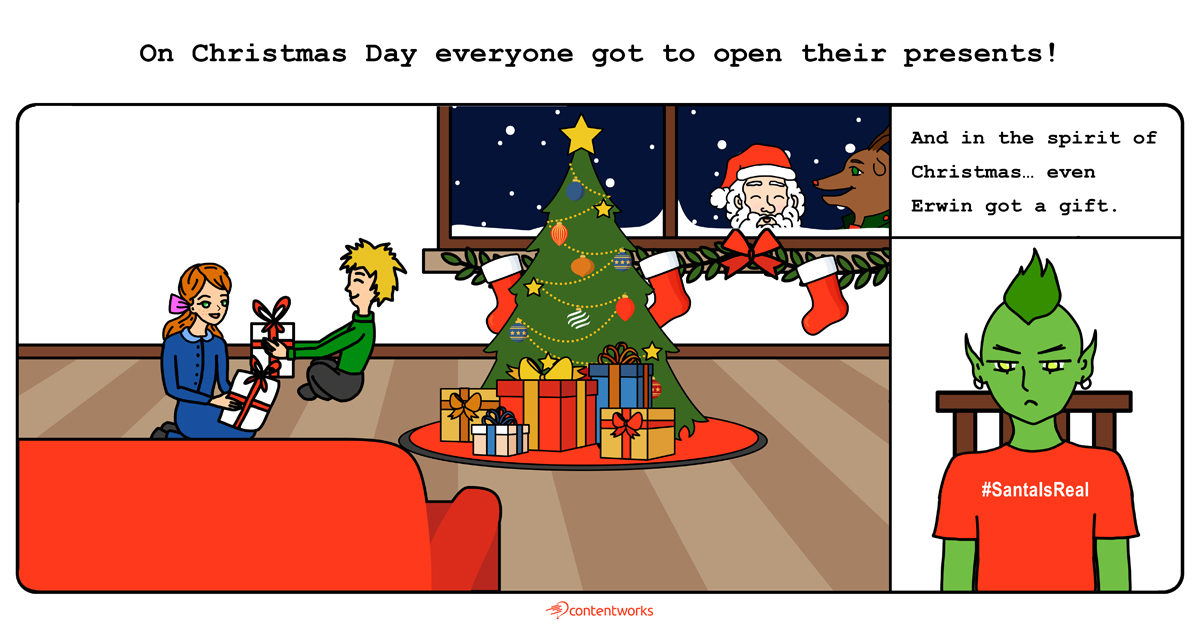 We hope you enjoyed our festive tale, if you did then be sure to hit share. A very Merry Christmas to all our clients, colleagues, partners and even naughty Elvin.

From Santa, Rudolph and the Contentworks Agency team
#SantaIsReal.