When something goes wrong, it's essential to be prepared. And that's where strong social media management comes into play. The right approach can reassure consumers, improve brand reputation and minimise any damage caused. So, it's really important to implement an emergency plan. Here's why social media is essential in a crisis and why you need our best crisis marketing tips.
From unexpected brand backlash to global pandemics, social media can iron out issues and get your company back on track. It's all about being present, active and taking control of the situation. Before we dig in, if you're in the finance sector you'll love our finance specific social media crisis management tips. 
Now, let's take a look at some crisis handling examples.
Emirates and Travel Restrictions Due to Covid-19
Social media usage spiked during the height of the Covid-19 pandemic with research unearthing a 22% increase in Instagram campaign impressions from Q4 2019 to Q1 2020. Brand engagement also increased across platforms with responsive companies taking to their social media channels to boost interaction and keep consumers up to date.
While it's no secret that travel suffered greatly during Covid, airlines such as Emirates have been fighting back despite grim predictions that airline passenger revenues are set to plunge 55%, or $314 billion, in 2020 according to the International Air Transport Association.
With a strong social media strategy throughout the Covid-19 pandemic, Emirates:
Offered tailored health and safety information. By discussing specific safety details such as cabin air filters in detail, Emirates set themselves apart as a leading airline amid Covid-19 concerns. The below post alone received almost 70K likes in just a few short days, showing how important safety is to Emirates followers.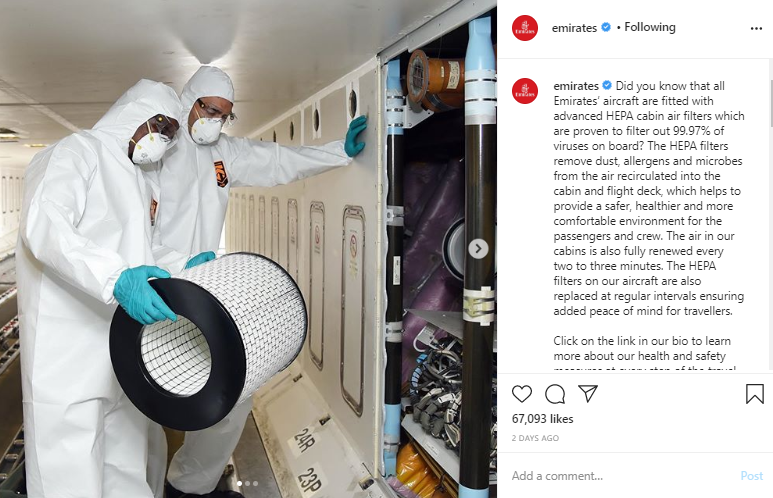 Used impressive visuals and specific hashtags. When it comes to promoting an airline business during a crisis such as Covid-19, visuals are important. Emirates used Instagram to post tempting pics as they resumed flights. The #WindowViewWednesday hashtag is also innovative and a great way to keep followers interested.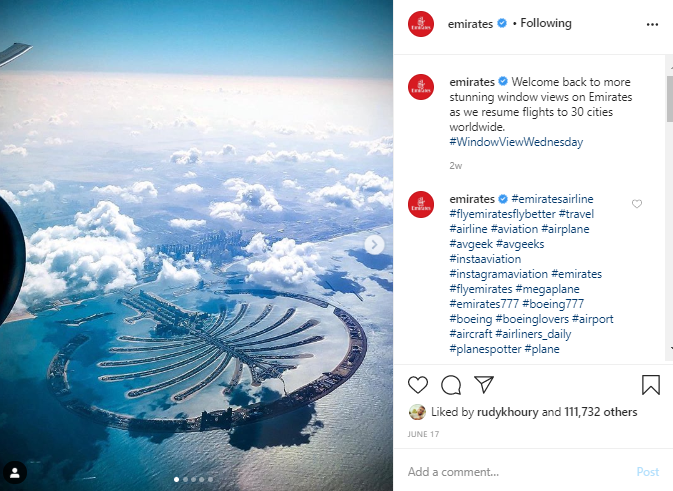 Released timely video content. Emirates remained in the spotlight by focusing on the positives and maintaining exceptionally high customer care standards. Their light-hearted yet informative videos served as pandemic updates without zooming in on the doom and gloom.

EasyJet and the Covid-19 Flight Cancellation Crisis
Airlines have been met with hordes of angry consumers as Covid-19 resulted in thousands of flight cancellations. While it was difficult for airline brands to manage the crisis due to the large-scale impact, companies like EasyJet made a decent attempt on social media to:
Show empathy. By acknowledging consumer frustration, EasyJet showed an appreciation for the current climate and kept people up-to-speed with the progress being made – no matter how slow.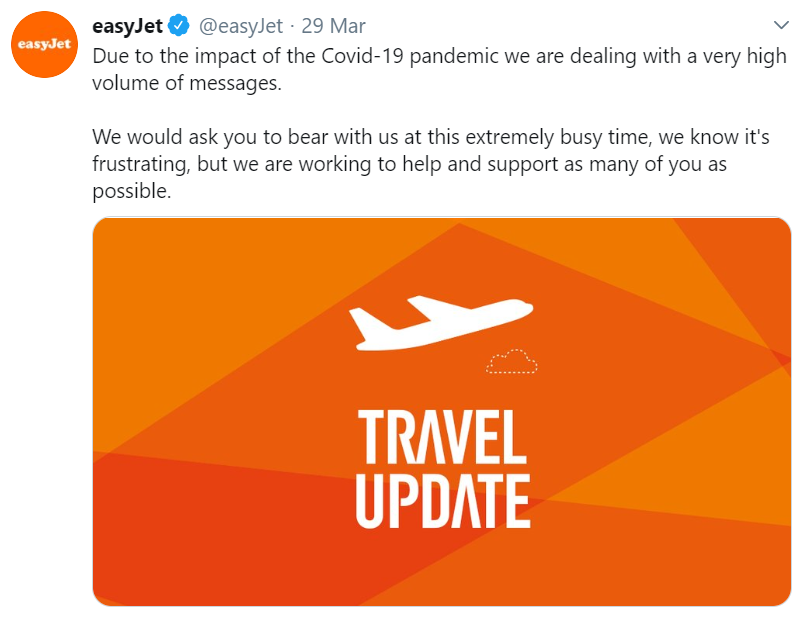 Post timely replies. Social media is great in a crisis as it allows you to talk to consumers directly in a timely and proactive way. Providing the relative links to further information is also an important part of customer service.

Airbnb and its Covid-19 'Online Experience' Movement
Airbnb has long been known to promote travel experiences as part of their marketing strategy. But what happened when people were no longer allowed to leave their homes or forced to social distance? Well, aside from promoting staycation hotspots and whole property accommodation, Airbnb also pushed an Online Experience initiative to keep the brand firmly in the spotlight. For instance, they teamed up with award-winning chefs to deliver an online cooking experience. Pretty awesome, right?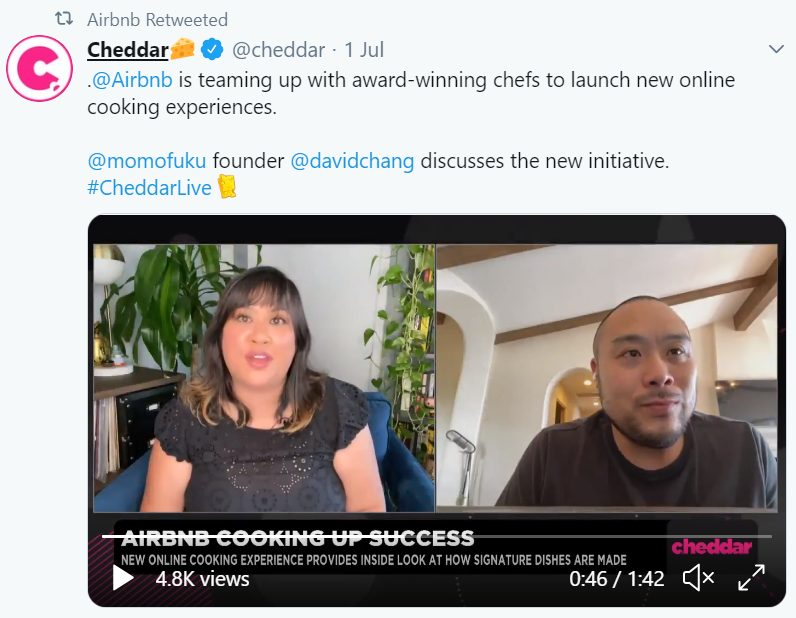 In order to successfully navigate a pandemic, you must remain positive and adapt your business model accordingly. This means promoting new services and reaching out to consumers to ask what it is they want from your brand during a specific time. Asking questions on platforms like Twitter helps to boost engagement and is an effective form of market research when you can't get out and about.

H&M and the Racist Hoodie Crisis
There are times when brands are faced with personal backlash that requires careful social media management. For instance, when H&M posted an online advertisement that featured a black boy modelling a sweatshirt reading "Coolest monkey in the jungle," this caused outrage across social media.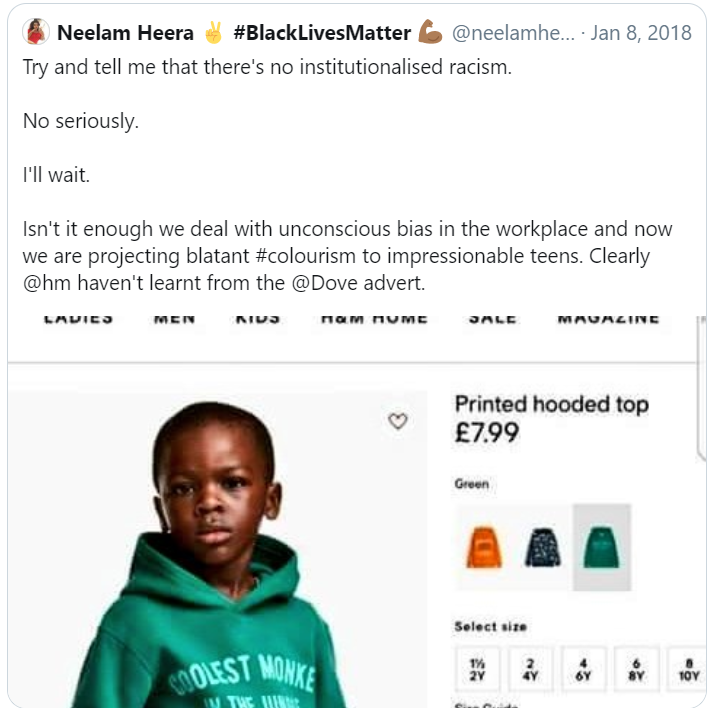 To avoid further crisis and to try and make up for the marketing error, H&M issued a social media apology and withdrew the garment from sale, promising a thorough investigation. While the campaign should never have been given the green light, a public apology is the first step to improving your reputation and moving forward.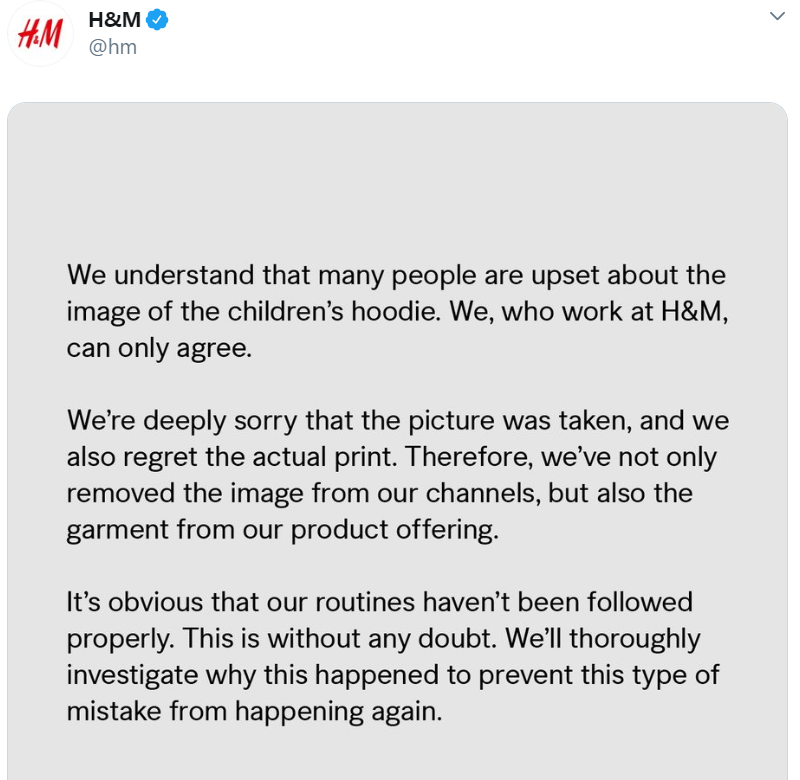 Backlash can quickly spiral out of control if not monitored so it's really important to act quickly when such a situation arises and to admit when you're wrong.
The Benefits of Social Media in a Crisis
Having looked at some of the ways that brands use social media in a crisis, it's now time to delve deeper into the benefits of doing so.
Did you know, more than half of consumer expect brands to respond to a crisis within an hour? Furthermore, 47% cite social media as the preferred channel for receiving a response from a brand about a crisis. This highlights the importance of staying on the ball and acting in a professional and timely way.
Rapid response means:
Posting timely updates to a situation
Responding to Live chats and consumer comments
Taking action in a socially responsible way.
SOPHY Hyde Park acted quickly during the Covid-19 pandemic, opening up their rooms to medical staff without delay.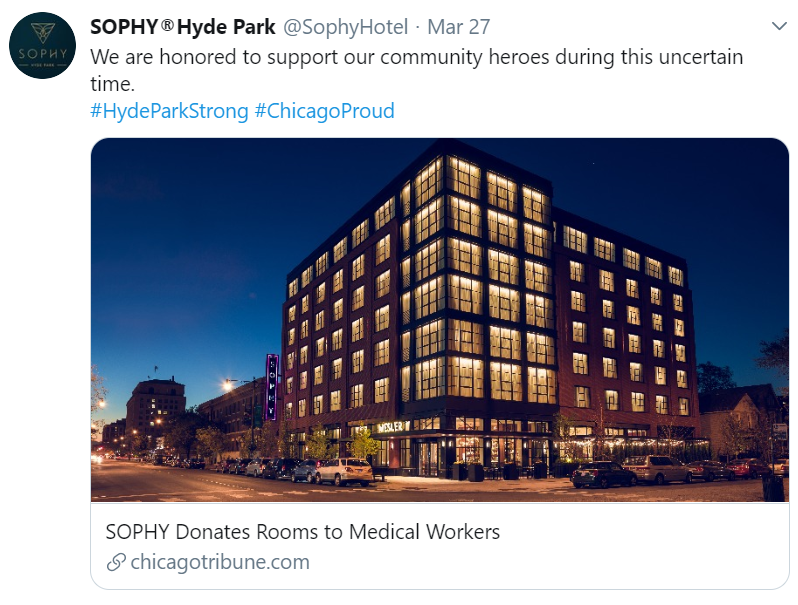 Whether it's an apology or a service update, consumers seek reassurance from the brands they follow on social media. Indeed, according to a survey conducted by the American Association of Advertising Agencies (4A's) and real-time market research platform Suzy, 43% of consumers find it reassuring to hear from brands they know and trust during these uncertain Covid times. Another 40% want to hear how brands are responding to the COVID-19 outbreak, such as with cleaning procedures. Only 15% of consumers said they did not want to hear from brands at this time.
KFC did this well by emphasising the cleanliness of their drive-through restaurants on social media with imagery and clear service descriptions.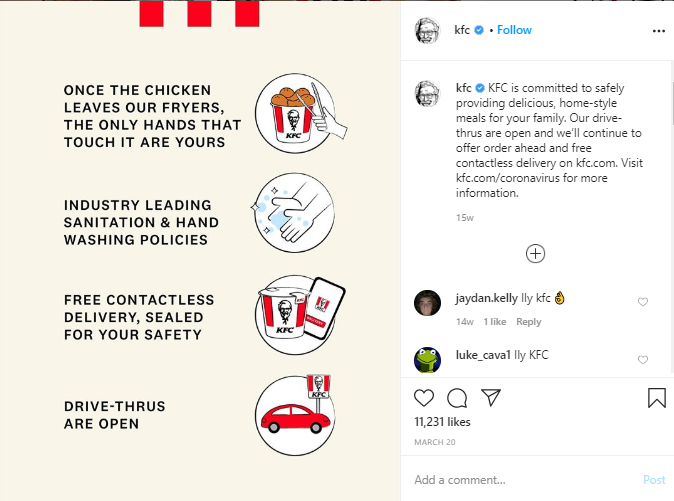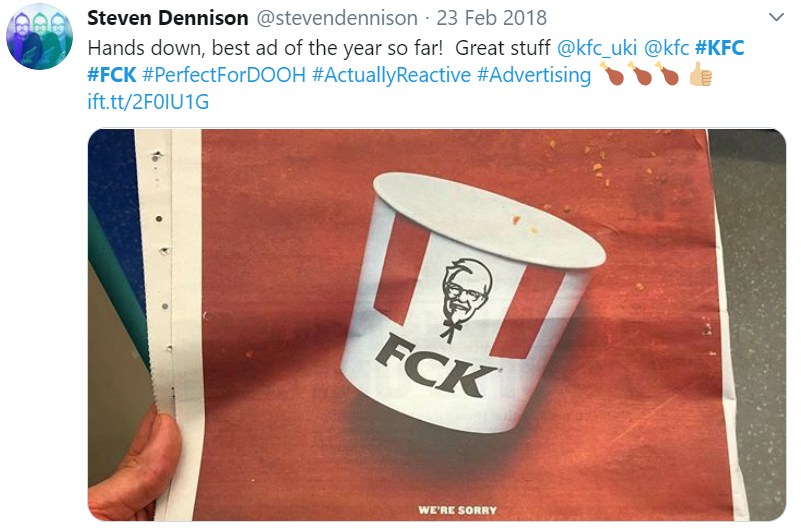 Really? During a crisis? Well yes, if your products are relevant or solve a customer problem a crisis can also go hand in hand with innovation.
While Marmite ran out of yeast during the Covid-19 pandemic, they were able to overcome this bump in the road by launching a pretty epic new product – Africa & Marmite Lynx. This has been promoted all over social media which helped to minimise and distract from the pain of a temporary supply shortage.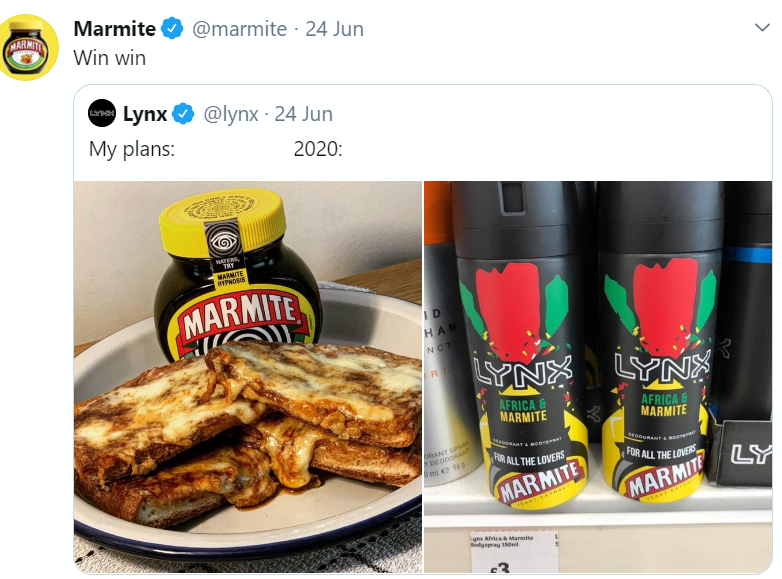 Make a Decision Framework For Disasters
Having a solid disaster plan in place is crucial to being able to manage a crisis if it does happen. Knowing exactly what you should do and when will save you a lot of hassle down the line, so here are several things to consider:
Who are your decision makers?
Are they the right people to make social media updates?
Which communication channels will you use?
What will you do if key players are away?
Do you have an "out of office hours" emergency plan?
Get Your Facts Straight During a Disaster
If things go wrong, be sure to get your facts straight and communicate them internally.
Miscommunication is one of the biggest causes of fallout on social media. Once you know the score, it's time to update your channels. Here are some channels you may wish to consider:
Email blast
Social media channels
Website homepage
Press releases
Pause scheduled posts
Update any ads if necessary
Be sure not to misspell any names or make additional errors while trying to recover from your initial mistake. All apologies and follow-up content should be closely edited to avoid another surge of negative press.
Respond Quickly To Your Disaster
The first 24 hours are crucial after a PR faux pas and the longer you wait, the more the online rumour mill will kick into gear. Of course, responding quickly doesn't mean cutting corners.
Here are some of the things you shouldn't do on social media:
Don't delete critical comments – people have screen grabbers and will call you out on it.
Don't get into arguments – The role of social media managers during a crisis is a bit like a hostage negotiator. Stay calm, cool and in control.
Don't block critics – they could be your customers and are certainly your social media followers.
Don't get personal – remember, you are a spokesperson for the brand. Personal opinions are irrelevant and could prove damaging later.
Maintain your brand voice – Watch your tone and try to maintain a level of continuity during the crisis.
Enjoyed reading Why Social Media Is Essential in a Crisis?  Hit share and speak to the Contentworks team . We can advise on social media and content strategy, reputation management, PR and internal communication.