Twitter played a big role in the 2016 US presidential election. It drove media coverage and shaped political conversations, giving candidates unprecedented control over how they presented themselves to the voting public. Twitter's simple and personal messages resonated with voters in a way that traditional media never could. Are elections won on social media? Here's what you need to know about Twitter and the US Elections.
Twitter and the US Elections – A look at the past
During the 2016 election campaign, many people thought Hillary Clinton would win. People believed this so much that when "Time for Change," one of the most accurate forecasting models in political sciences developed by Alan Abramowitz, predicted that Donald Trump would win by a comfortable margin, it seemed unfathomable. Abramowitz himself had even publicly shared his view that Trump would not become President.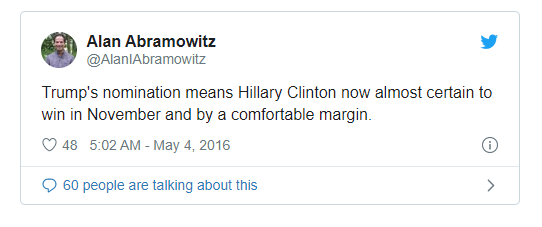 The model correctly predicted all presidential elections since 1992, and 2016 was no different. People woke up to Donald Trump as President-elect on 9 November 2016. Trump spent the least money on reaching his audience. The one thing he did better than his opponents was using FREE social media extensively.
The power of Twitter to build interest
Since announcing his presidential candidacy, Trump gained 10 million more Twitter followers and he retweeted 3.5 million times. Instead of having staff running his Twitter page entirely, he frequently tweeted statements that spoke of what he believed in. This made his campaign that much more credible and personal.
Social media gave Trump lots of free publicity. During the first debate before the elections, the most retweeted post from a candidate was Trump's tweet from 2012 in which he discredited global warming as a Chinese hoax.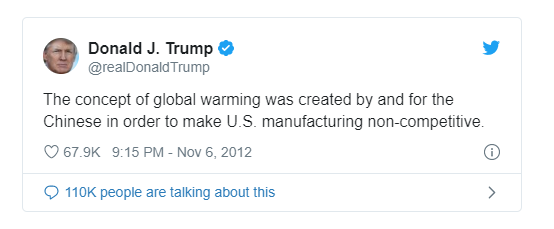 Although Trump confirmed that the outlandish tweet was a joke, it still funneled more people to his page and spread his face all over the internet during the campaign. There's no such thing as bad PR right?
Hashtags for increased exposure
Along with extensive Twitter use, hashtags also increased Trump's exposure. Trump's hashtags consistently outperformed Clinton's.
Trump's #MakeAmericaGreatAgain and its #MAGA  acronym, were received with more enthusiasm than Clinton's #StrongerTogether. Trump's digital slogan was a strong call to action, a rallying cry that united voters in a clear mission.
@RealDonaldTrump got more engagement and wider reach than @HilaryClinton.
In the 28 days leading to the election, pro-Trump hashtags outnumbered pro-Clinton ones 2.4 x.
From Twitter support and sentiment alone, Trump was a clear winner.
Key takeaway: The correlation between Trump's win and Twitter sentiment shows the potential social media has as a free campaigning tool.
However, this potential has been marred by Facebook privacy scandals and the rise of fake news associated with election campaigns on social media.
Fake news goes viral
In the wake of the surprising 2016 election result, there has been a lot of talk about the role fake news may have played.
The information that's presented on social media timelines is heavily filtered by algorithms. If more people click certain content, algorithms tend to favour that content and place it more prominently. The news' credibility is not a priority.
For example, a few days after Trump's election, Eric Tucker reported that a group of people had been paid to protest against the President-elect, even taking pictures of buses that were used to transport them.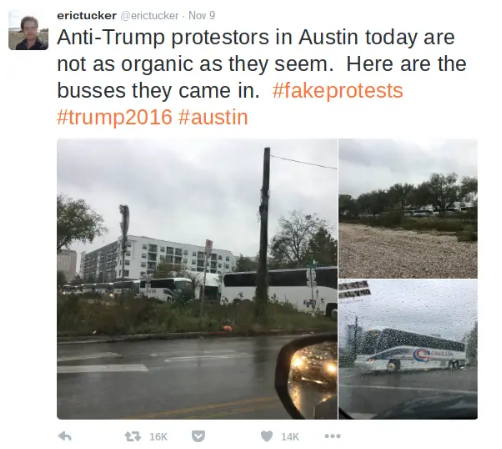 The story was shared 350,000 on Facebook and 16,000 times on Twitter. Trump even joined in.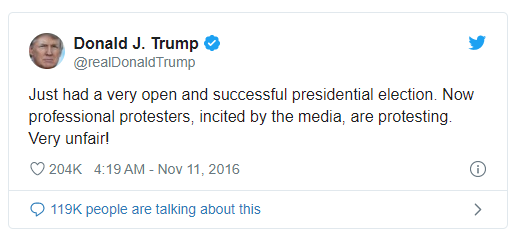 Two days later, it emerged that the buses had in fact been used to take delegates to a conference by Tableau. This correction was posted but it was shared a measly 3,500 times. Turns out the truth was less interesting than a made-up story.
#2020election
There is rising concern over how fake news can distort electoral processes, especially considering how politicians are already investing in their social media presence. All the major 2020 presidential candidates have a significant social media following and they are pouring money into social media ads. Pinned tweets and video content as well as snippets of talks and on-the-road campaigns are all doing the rounds on Twitter.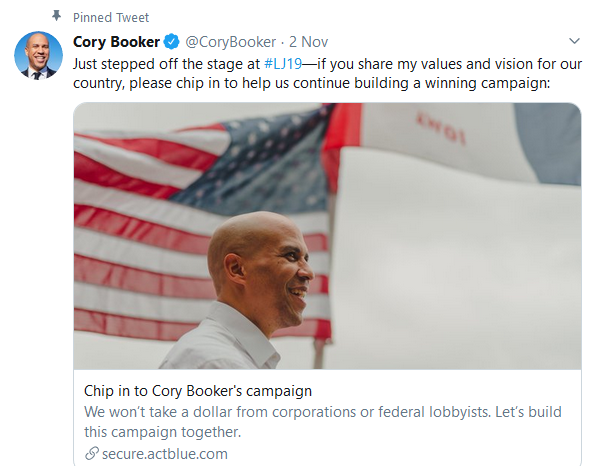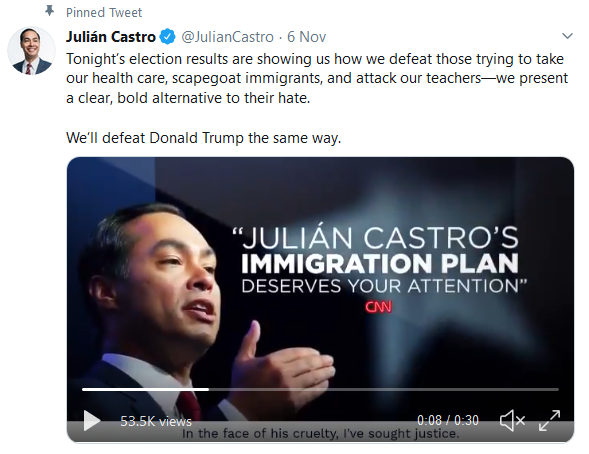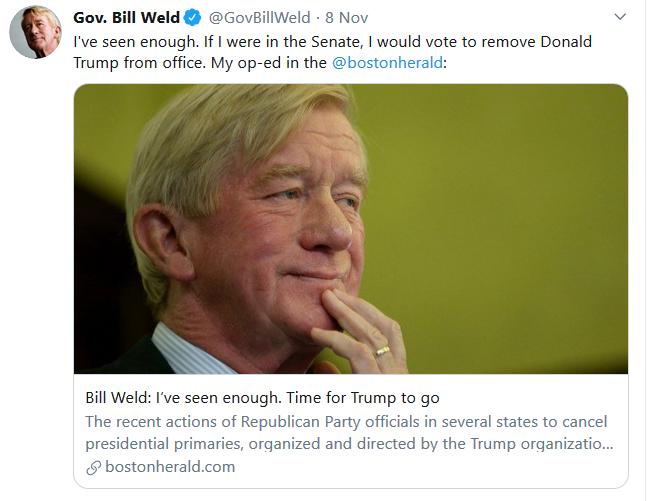 Already, the Trump re-election campaign has spent over $4 million on Facebook advertising since the start of 2019. Democratic candidates including Bernie Sanders, Kamala Harris, and Elizabeth Warren are also spending big on social media advertising.
In comparison, the Trump campaign and its backers have spent just over $6,000 promoting an official @TeamTrump Twitter account for the President's campaign. Twitter's records show no spending to promote tweets by Trump's @realDonaldTrump account, which he uses prolifically and which has over 66 million followers. This is probably a direct result of recent rule changes to the Twitter platform.
To counter the rise of misinformation on social media and privacy scandals, some changes are taking place as the 2020 election campaigns get underway.
Political advertising banned on Twitter
Twitter recently announced that starting November 22, 2019, it will ban all political advertising. According to Twitter CEO Jack Dorsey, this is so that "political message reach can be earned not bought."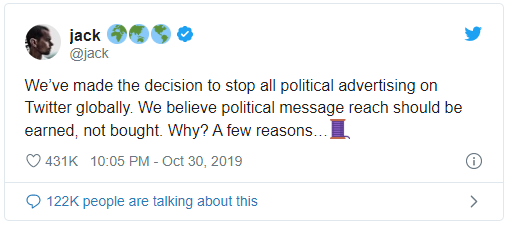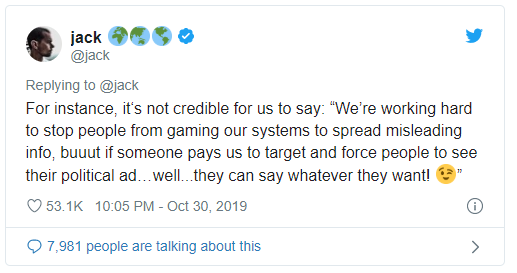 Facebook has also taken action, however, advertisements for social issues, elections or politics are still allowed so long as they follow Facebook's new policy.

The policy also comes with disclaimer requirements for political advertisers.

With Facebook still allowing political ads, and candidates on Twitter being given the right to earn a political following rather than pay for it, social media still has a role to play in the 2020 elections.
Twitter and the US Elections – What does it mean for traders?
If the effects of the 2016 social media political campaigning are anything to go by, traders need to incorporate elections into their analysis. A Wall Street Journal study known as the "Trump Target Index" revealed that 12 stocks were substantially impacted by Trump's tweets during the 2016 election campaigns to the first quarter of 2017.
Although corporate valuations typically recovered over time, some companies were unable to fully recover. For example, Trump's pre-inauguration tweet on Toyota's business operations had serious adverse repercussions.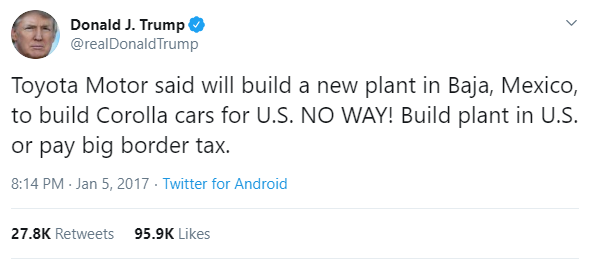 Toyota's stock lost $1.2 billion in market cap five minutes after the tweet was posted.
The stock lost over 5% value (around $12 billion) in the preceding six months.
It was not just the stocks
Perhaps the currency most affected by Trump's Twitter activity was the Mexican peso (MXN). Mexico was a constant theme during Trump's campaign and his views shared on social media had a dramatic effect on its currency's volatility and valuation.
With the following tweet: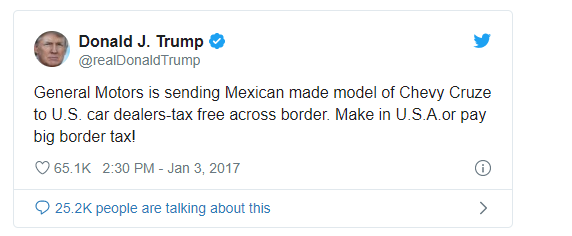 The USD/MXN traded down 2% to a record low of 21.619 pesos to the dollar immediately after the tweet was posted.
During extended trading, the MXN dropped 3.5% against the dollar and Mexico's Central Bank had to intervene.
Getting ready for the 2020 elections
Social media news can move the markets. Traders need to remember this in the build-up to elections. Elections can increase volatility and risk, but they still provide excellent trading opportunities.
Trading elections isn't about simply trying to trade the outcome of the event. It's about analysing the market for any movements before, during and after the election. Following social media developments, keeping an open mind, and having a stop in place, will go a long way in improving 2020 election trading.
Did you enjoy reading Twitter and the US Elections? If you did then hit the share button. In fact, please hit the share button as we cannot promote election content. Contentworks delivers hawkish content marketing solutions for the finance and tech sectors. Our team of content strategists, social media marketers, analysts and writers provide compliance friendly content to banks, forex brokers, fintechs and many other sectors. Talk to our team now for financial market coverage of the US elections.