The Christmas ads season is in full swing and we're loving it here at Contentworks. While some clips have warmed our hearts,others have had less festive appeal than a bowl of soggy brussels. It's been a mixed bag this year full of house shaming, drum playing dads and a cute little dragon. So, join us as we share our Best and Worst Christmas Ads 2019.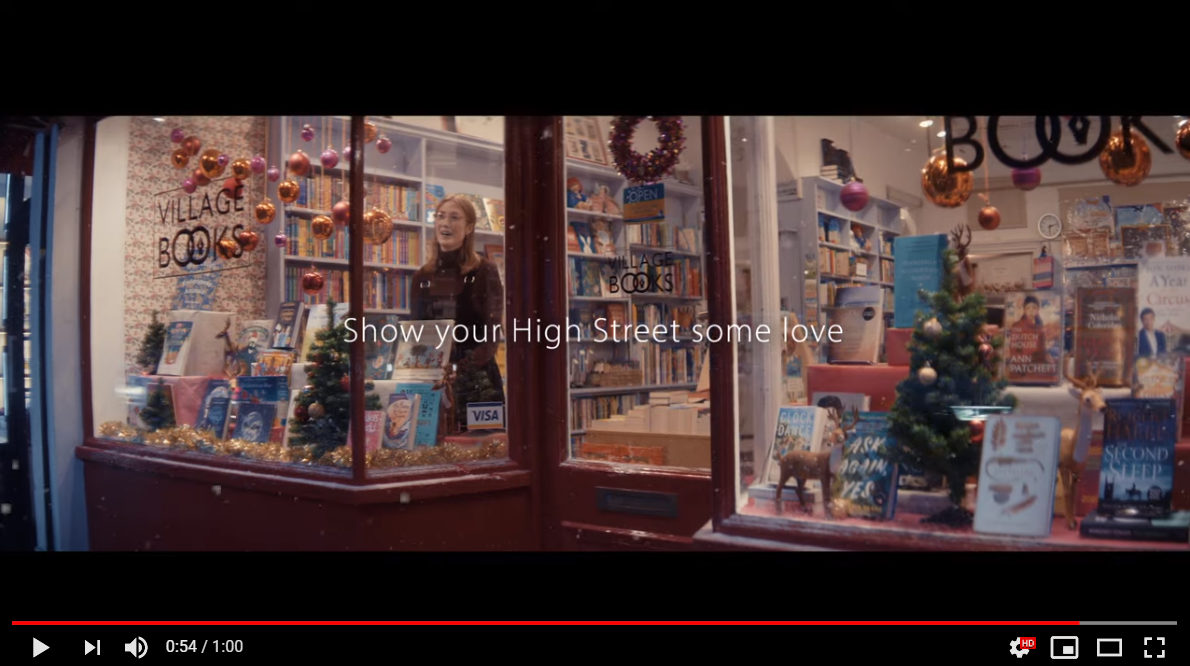 Best for: Inspiring people to shop locally
This ad ticks all the right boxes for many reasons. Firstly, it's set to an awesome soundtrack. Queen's Somebody to Love might not be a traditional Christmas song, but it's warm, well-known and filled with just the right of sentiment, kicking off with the line, "I work hard, every day of my life." Featuring 13 real life shopkeepers, Visa is inspiring people to shop local and show their high street some love. The message is clear with a strong tagline.
Visa has played all their cards right this year (excuse the pun), commissioning research which helped shaped their campaign. Of those surveyed, 73% of consumers said that shopping local filled them with happiness. 42% said they'd felt happy knowing where their money was going, while 21% loved the sense of community spirit.
Hats off to you Visa, you nailed it.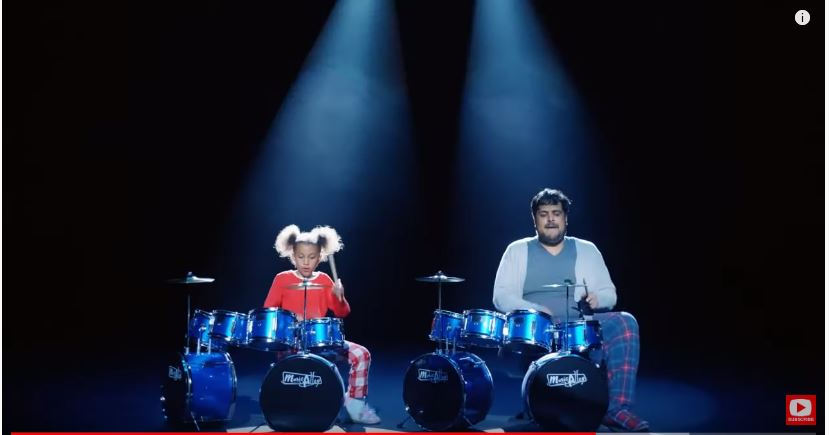 Best for: Evoking Nostalgia
For the first time in a decade, Argos has put the brand's iconic catalogue at the centre of their Christmas ad campaign. And we love it. As a mainstay of British households for almost 50-years, kids have long used this Book of Dreams to create an all-too-long wish list for Santa – and this ad knows how to pull on those heartstrings.
Dan Elton, Head of Marketing Communications said:
"This year we wanted to celebrate a festive tradition that families up and down the country all know and love. The nostalgia of circling your dream gift in the Argos catalogue never goes away and it's still going strong in today's tech-obsessed world."
Set to the 80s hit, 'Don't You Forget About Me' by Simple Minds, this ad starts with a dad seeing that his daughter has circled a drum kit. This then magically appears in front of him and results in a father-daughter drum concert in front of a cheering crowd. Cubby the Curious Bear can be seen crowd-surfing, with this little cutie expected to be one of the best-selling Christmas toys of the year. The ad cleverly showcases a ton of Argos products without appearing too promotional. Also loving the cuddly Dad and cute daughter duo.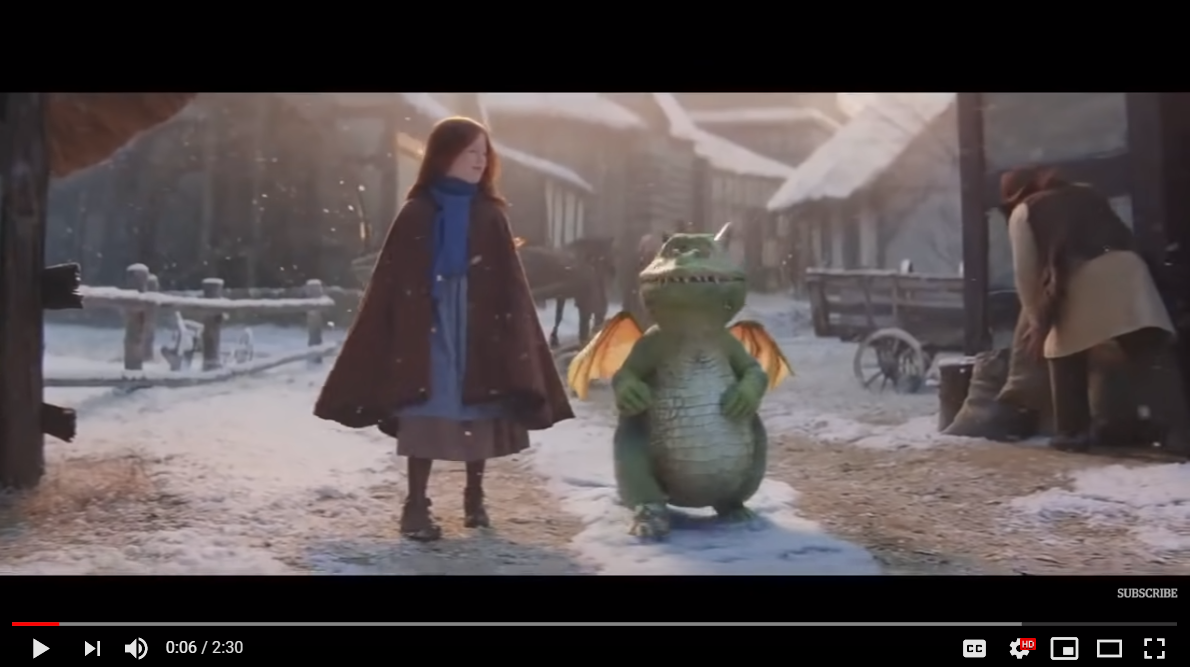 Best For: Spreading the Message of Friendship and Inclusivity
Everyone loves a heart-warming message at Christmas, right? A festive spark – a flicker of hope? But what about a fire breathing dragon called Edgar who simply can't control his festive excitement – or his ability to melt snowmen? Being surrounded by ice rinks and flammable Christmas trees is not the best for this little dude. But with the help of friend Ava, he's eventually given a very specific purpose. Lighting a delicious Christmas pudding and making everyone happy.
So, why's this advert great? Well, it's all about bringing people (and dragons) together. There's a strong message of inclusivity and love. It also resonates with people looking to buy the perfect gift for the characters in their life. John Lewis are really capitalising on their ad efforts too by offering an Excitable Edgar plush toy – an awesome stocking filler (hint, hint.)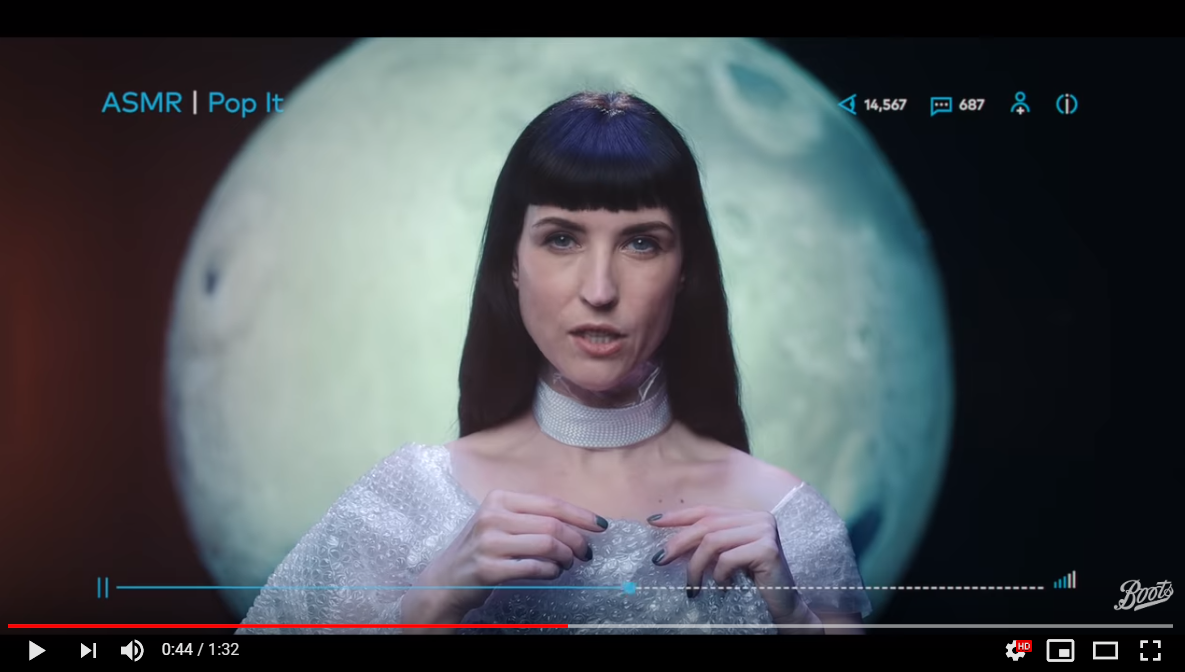 Centered around the difficulty of buying gifts, the new Christmas ad from Boots certainly has funny moments. There's the scene when a guy screams: "Why is gifting so problematic?" at the top of his lungs, followed by a makeup contouring lesson with a kitchen utensil. Random. But that's exactly the point. The whole ad is a little chaotic. So much so that you have to watch well over a minute before finding out that Boots is the solution for Christmas shopping dramas. While this ad does have its highs, it's easy to lose the message amid turkey stroking vegans and aggressive personal trainers.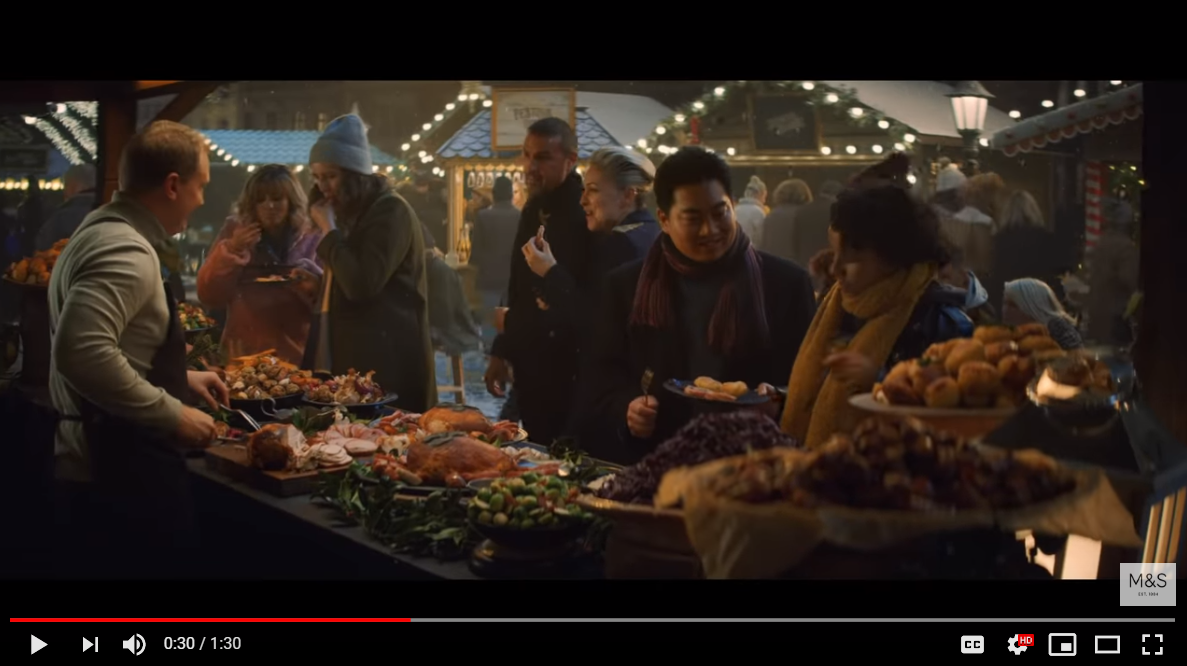 Featuring Paddy McGuinness and Emma Wilson, you'd have thought the M&S Christmas food ad would be at least a bit exciting. But unfortunately, it's a 'No Likey' moment for Charlotte. There's that same old slogan which, to be honest, is becoming a little tired – "This is not just food, this is M&S Christmas Food". And the celeb pair essentially just walking through a marketplace trying different treats. With other brands completely upping their game this year, this ad feels dated, bland and not one you'd want to watch again and again as you tuck into leftovers.
Sadly, this year's M&S ad series is all very product focused without much of a story. The repetitive brand mentions are unnecessary for today's sophisticated viewer. and when did Fleetwood Mac's Albatross become a Christmas song? It's not and if anything it gives the ad a bit of a hollow feel.  The same concept also applies to the Go Jumpers for Christmas campaign which is set to House of Pain's soundtrack Jump Around. It spotlights the retailer's range of 50 festive jumpers and while 5 million are set to fly off the shelves this year, the advert certainly doesn't have us 'jumping for joy.'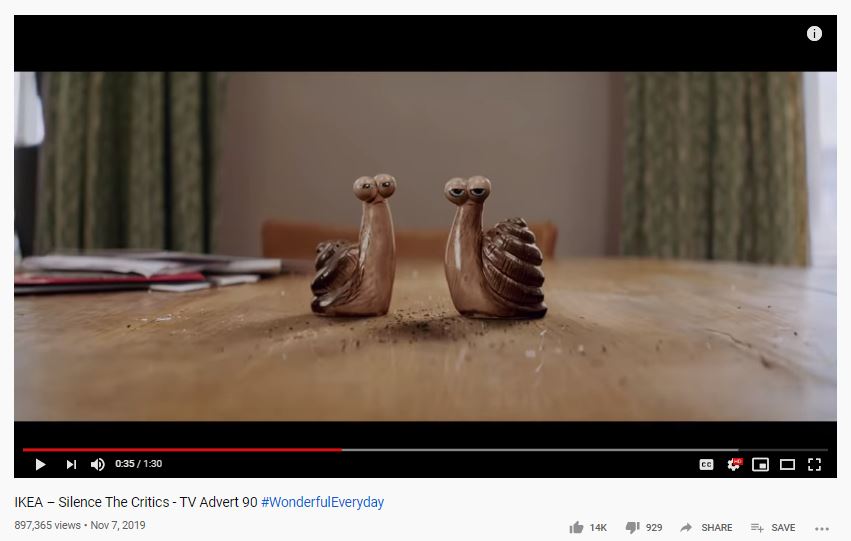 There are some cool things about the new IKEA ad. Firstly, the original grime track voiced by D Double E – a winner. Secondly, being house shamed by retro bits of junk and dust-gathering ornaments. Smart idea. But this ad simply misses the mark in many ways. And it's mostly an issue of timing.
While it encourages people to 'silence the critics' by sprucing up their property with an IKEA makeover, is this really realistic at Christmas? It's unlikely that you're going to buy a whole load of furniture and fix the crack in your wall, when you've just shelled out for a bunch of Christmas presents and a new tree. What's more, those visiting your house over Christmas are likely to be close friends and relatives; those who have probably seen your home before and should love you for you – not what your house looks like.
There's a strong marketing message. But it is void of Christmas values and sentiment.
So, these are our best and worst picks of the year. But in true Christmas spirit, here are a couple more that didn't make the list, but still deserve a mince pie prize. Mmmmm mince pies….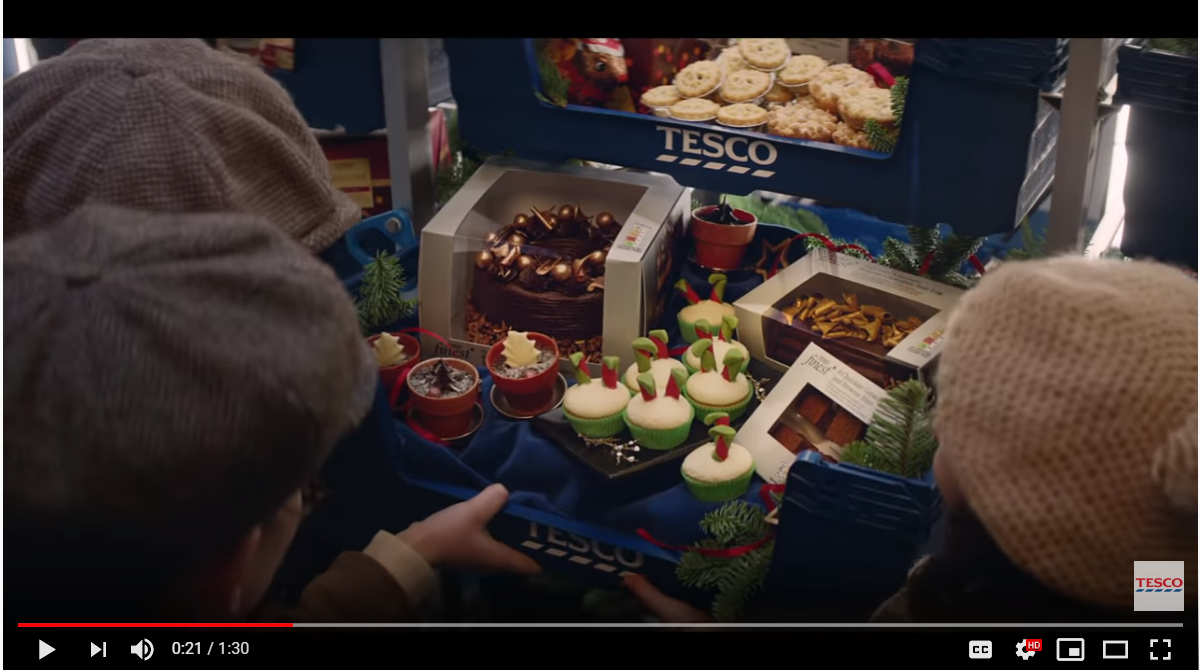 With the strong tagline 'delivering Christmas for 100-years,' this ad follows a Tesco driver's unexpected time travel adventure through the decades. Delivering food to everyone from Winston Churchill to the classic 1980s gameshow Bulls Eye, this is a nostalgic flashback for UK viewers. We particularly love the line, "what the Dickens," when he rocks up in Victorian Britain.
A family-run hardware store in Wales has created a viral Christmas ad this year which cost less than £100 to make. Hafod Hardware has been revealing their own adverts for several Christmases, but this one has gone down a storm thanks to one little star.
Promoting the heartfelt message "be a kid this Christmas" the ad shows a young boy managing the store all by himself. When he locks up at the end, we see that he's really a 30-year-old man, in a tear-jerking twist that reminds us how important it is to embrace all the small pleasures, as if through a child's eyes. Considering the John Lewis/Waitrose ad costs around £7 million to make, this shows what a small budget can achieve. It's already received well over 2 million views on YouTube alone.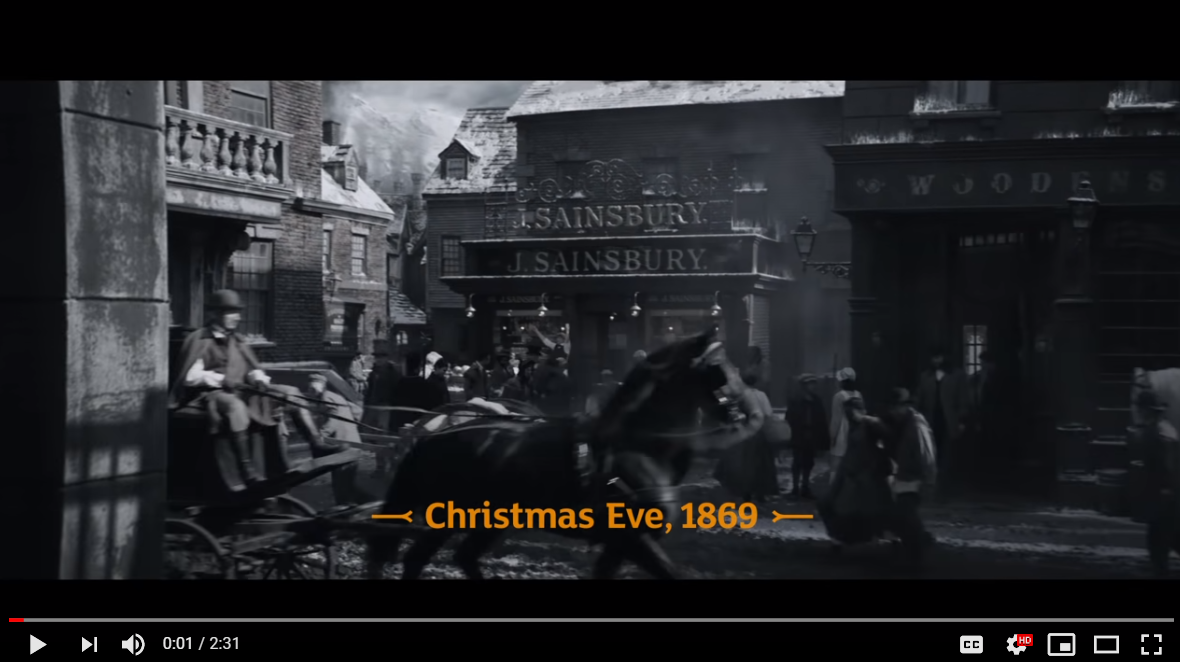 In celebration of its 150th anniversary, Sainsburys has travelled back in time to create a beautifully scripted, 2-minute long Dickensian tale. Nicholas the Sweep tells the story of a poor orphan wrongly banished from London for stealing from the original Sainsburys store on Christmas Eve, 1869. Luckily, Sainsburys Founder Mary Ann spots the real, thief – who has an uncanny resemblance to Oliver Twist's Fagin – and goes in search of Nicholas before taking him back to London. She gives him a bag of fruit which he gifts to his fellow orphaned friends, leaving the Fagin-like character with nothing but a lump of coal. It's all very sweet and a great festive story that helps viewers connect with Sainsburys as brand.
Aviation Gin – Runner up for: Quickest Advertising Comeback Ever
Actor Ryan Reynolds' Aviation Gin has a new ad that plays on the controversy surrounding the Peloton commercial in which a husband gives his wife an exercise bike for Christmas. Don't even get us started on the Peloton commercial. Let's refer to it as Voldemort- He Who Shall Not Be Named. The Peloton spot sparked outrage over its sexist overtones and drove down the company's stock value. But salvation came in the form of a quick response from Aviation Gin. The brand used the same actress as Peloton's to create a follow up hinting at a breakup. The ad begins with her face staring into the camera while her two friends look on with concern. She breaks the tension by saying, "This gin is really smooth," and her friend tells her she's "safe here" before they toast to new beginnings. The ad tweet from Reynolds, (who has 15 million plus followers) is the latest example of the actor being a savvy digital marketer, having previously launched social media campaigns for his role in films like "Pokemon Detective Pikachu" and "Deadpool," Aviation Gin, we salute you with a large glass of your finest.
And that's a wrap. Did you enjoy reading The Best and Worst Christmas Ads 2019? If you did then hit the share and let us know your favourite. Want a video that hits the mark in 2020? Yep, we do that too. Talk to our team about video marketing.