Following the success of our first Big Forex Breakfast webinar, we're back for a second bite on October 15 2020. This time, we're catching up with forex experts to assess the Q4 landscape. After the volatility of Q1 and Q2 and the summer lull, it's time for some fresh insights. Register now for The Big Forex Breakfast 2 hosted by QUBE Events and Contentworks Agency. The Big Forex Breakfast – Back For A Second Bite, here's a preview of what to expect:
WHY ATTEND
Face to face interaction (webinar) with industry decision makers
Learn sales and marketing tips for lead generation
Attend remotely from anywhere in the world
Enjoy interactive Q&A sessions
Fits into your working day in under 3 hours
Align your Q4 strategy
Join the conversation and gain insights from leading experts
CONTENTWORKS AGENCY & QUBE EVENTS
Contentworks Agency and Qube Events are finance savvy, well connected and keen to hear from the best thought leaders in the forex space. The Big Forex Breakfast webinar series was created in response to broker demands for short, insightful webinars that answer key industry questions.
Contentworks Agency Niki said:
"In Q2, we were missing face to face interaction and insights from financial services thought leaders. We received stellar feedback on our first Big Forex Breakfast event in July and we're excited to hear from more panelists in October. "
THE AGENDA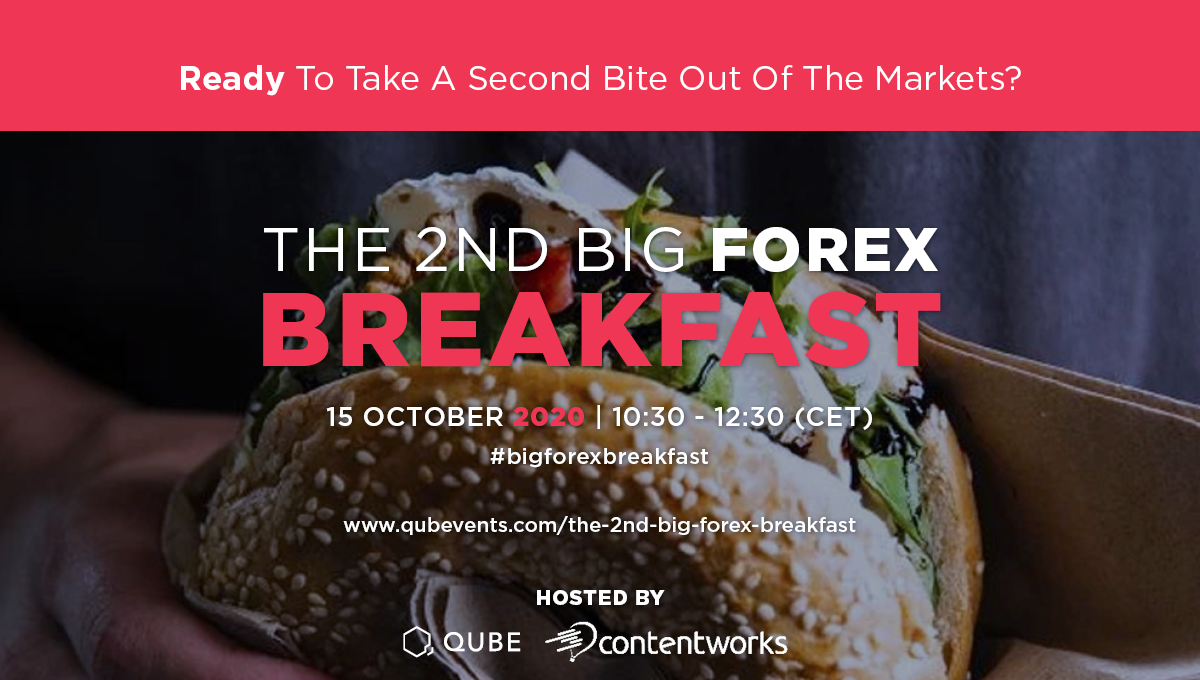 Keeping to a short and punchy schedule, The Big Forex Breakfast fits nicely into your working morning. The webinar is ideally suited for CEOs, CMOs, Sales Managers and Marketing leaders in the finance and forex spaces.
What trends are we seeing after the summer? What's hot and what's not? How are brokers coping with continued lockdowns/ cut in expos and events? Where are they spending their money? Effective marketing strategies. Building trust and brand awareness.​
Sales Chat Room With Live Q&A
Acquisition – what's the best approach? How to manage sales teams if remote? What are the leads like? What trading opportunities are coming up that should be promoted? FX sales news and analysis.
Challenger Session With Live Q&A
The FX trading technology landscape – key trends and forces. What's on the horizon for brokers? New, disruptive technologies, and the importance of technology solutions, and developments. How to successfully predict the moves of the market in the future?
Sign up for The Big Forex Webinar on October 15.
BECOME A SPONSOR
Sponsoring a webinar like The Big Forex Breakfast provides you with a perfect opportunity to showcase your solutions and interact with your target audience. You can expect to secure new connections with key decision-makers and industry influencers. Our sponsorship includes logo, pre-event promotions, social media mentions and event address.
Stay tuned for more event updates and speaker reveals on our blog and over on Twitter. We will be tweeting key insights from the event so be sure to follow and tweet @_contentworks and @ForexBreakfast using hashtag #bigforexbreakfast.