Rainbows, parties, picnics and parades. Welcome to Pride Month. This is celebrated annually in the month of June to honour the 1969 Stonewall Uprising in Manhattan, which became a tipping point for the Gay Liberation Movement in the United States. Events today continue to show support and respect for the LGBTQ+ community, with many brands embracing diversity through Pride-themed products and advertising. But who's nailing Pride marketing this year? We're checking out the best Pride campaigns of 2022.
#1 Skittles – 'Giving Up Our Rainbow to Celebrate the One That Matters'
Skittles are famous for their multicoloured sweets, with 'taste the rainbow' being one of the most famous taglines from a confectionary brand. But this year, traditional Skittles packets are turning grey for Pride. Why? Because Skittles want to give up their rainbow to 'celebrate the one that matters.' Of course, they're talking about the Pride rainbow which symbolises the LGBTQ+ community. But what does the campaign involve?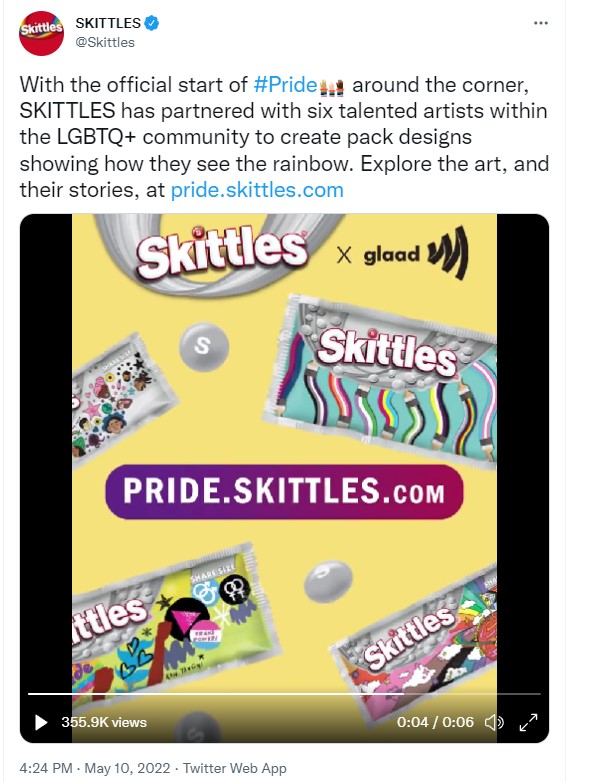 Skittles has partnered with GLAAD, an American non-governmental media monitoring organisation, founded as a protest against defamatory coverage of gay and lesbian people. Plus six talented artists within the LGBTQ+ community to create pack designs that represent how they see the rainbow. To generate as much buzz as possible ahead of June, promotion for this started in May. Note the Pinned Tweet. This is significant considering many people believe brands just jump onto Pride marketing at the last minute, as tweeted by Elon Musk.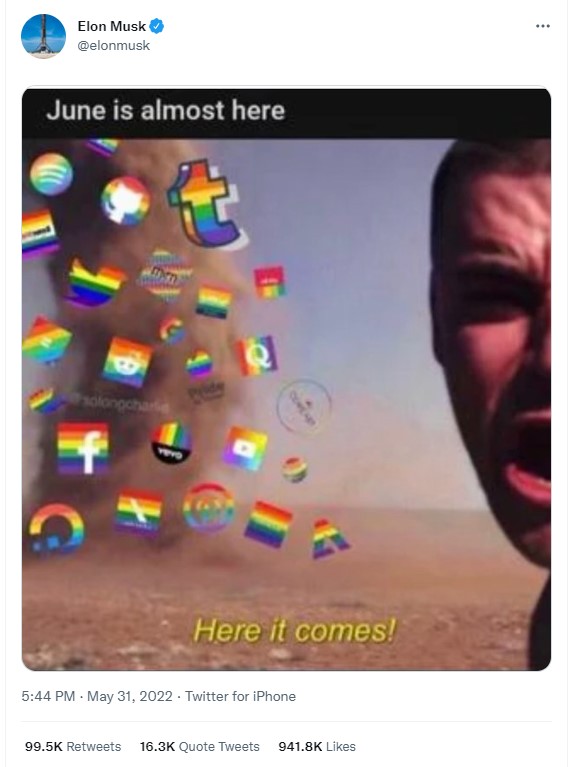 And social media users are sensitive to the exploitation of Pride for commercial gain.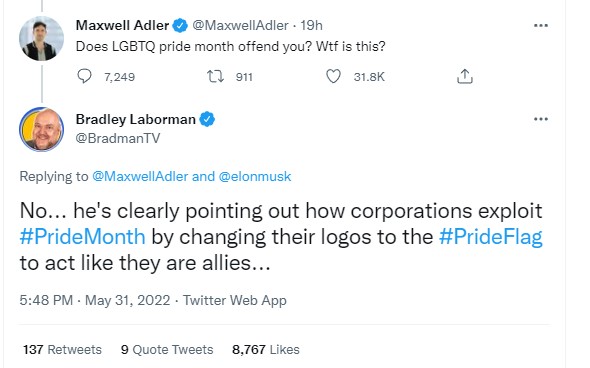 Showcase your passion for diversity throughout the year and invest in initiatives that help the gay community all year round to avoid looking fake. Also, don't be afraid to promote your Pride efforts early before your competitors step up.
Why We Love This Campaign
Corporate responsibility. There are so many reasons to love this campaign, but the first point to mention is the corporate responsibility shown by the Skittles brand. For every Pride pack of Skittles purchased, $1 goes directly to GLAAD. This shows that Skittles has a genuine passion for supporting LGBTQ+ rights and isn't just doing it for the spotlight. Some kind of giving back initiative is definitely recommended if you want to come across as genuine Pride advocates.
Dedicated Pride hub. When it comes to marketing, storytelling is key as it helps consumers to further connect with your brand. It also takes people on a journey and helps them to understand different perspectives. This is essential when it comes to LGBTQ+ representation and explains why Skittles has taken the time to create unique and inspirational content based around the artists of their rainbow campaign. By clicking on the digital studio of each artist, you can find out who they are, what they do, what their art is all about and how to follow them on social media.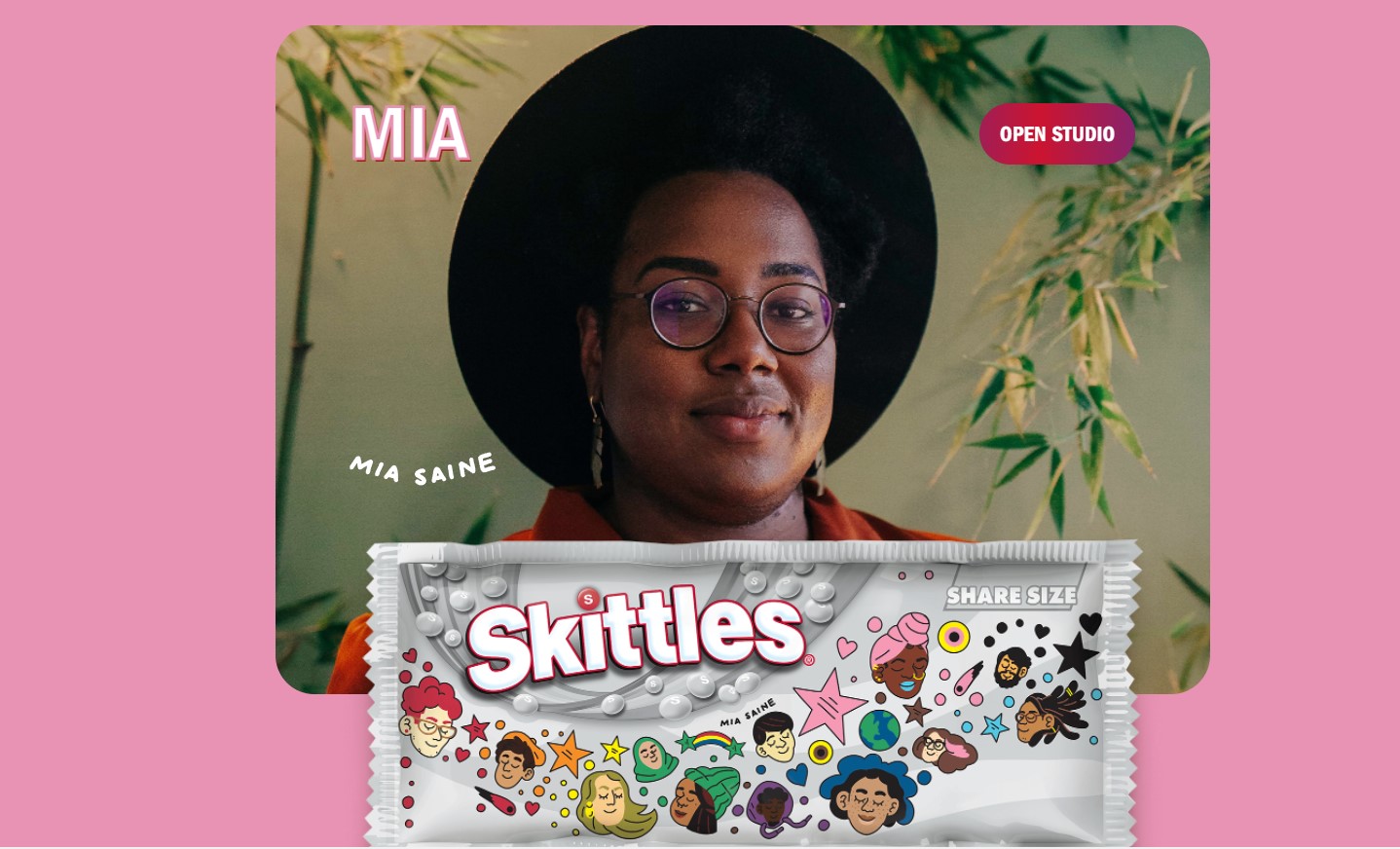 Innovative calls to action. Through the Pride content hub, Skittles encourage consumers to 'click for awesomeness.' This leads to a raffle page. People can win a free Pride bandana created by one of the artists in return for a few personal details. Not only does this add extra excitement but it also allows for clever data collection. Also, the longer you can keep people on your site, the better it is for SEO as Google starts to understand that consumers want to interact with you.
When it comes to any kind of campaign, including Pride, dedicated content hubs work well as they provide extra keyword opportunities and allow you to generate relevant content that can be easily shared to social media. This is your chance to be unapologetically creative, so think about shooting fresh imagery, setting up competitions, creating unique GIFs and more.
#2 Absolut Vodka – Out & Open
Another brand absolutely rocking corporate responsibility is Absolut Vodka. The brand has launched Out & Open, a new ongoing initiative, in partnership with actor and comedian Bowen Yang, that raises awareness of the LGBTQ+ bars, which have declined by 15.2% between 2019 and Spring 2021. The campaign provides resources to business owners to help these establishments thrive and there's a particular focus this year on outposts bars. These are gay bars that are an hour or more away from another and are considered special as they provide a rare physical space for the LGBTQ+ community to meet safely.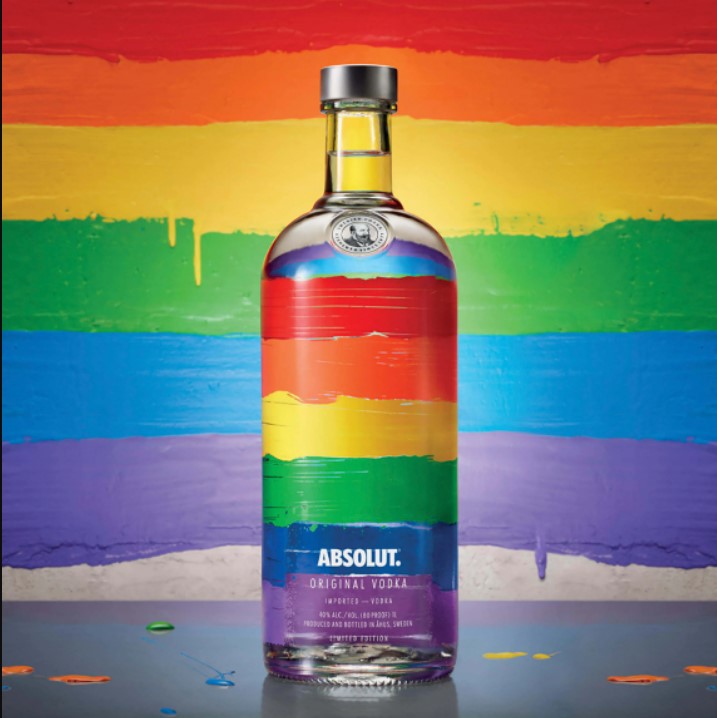 As part of Absolut Vodka's supportive efforts, the brand has published an audio-visual series with real stories about the poignant role that LGBTQ+ bars have played. For every listen to an Absolut Out & Open story, Absolut will increase its $175,000 donation to the National LGBT Chamber of Commerce by an additional $1 to fund succession planning education and training.
Why We Love This Campaign
It's Relevant. Vodka and bars go hand in hand, so this is a well thought out initiative. There's also a need for the campaign which makes it even more important.
Greater Exposure. Collaborations and shared passions lead to improved brand awareness as all brands involved can promote the campaign
High-quality content. As previously mentioned, we love a content hub as it adds depth, creativity and understanding to a campaign. The Out & Open hub is particularly impressive as it brings to life stories from the LGBTQ+ community. We particularly love the audio elements with background bar noise as it adds a sense of atmosphere and makes the statement more poignant.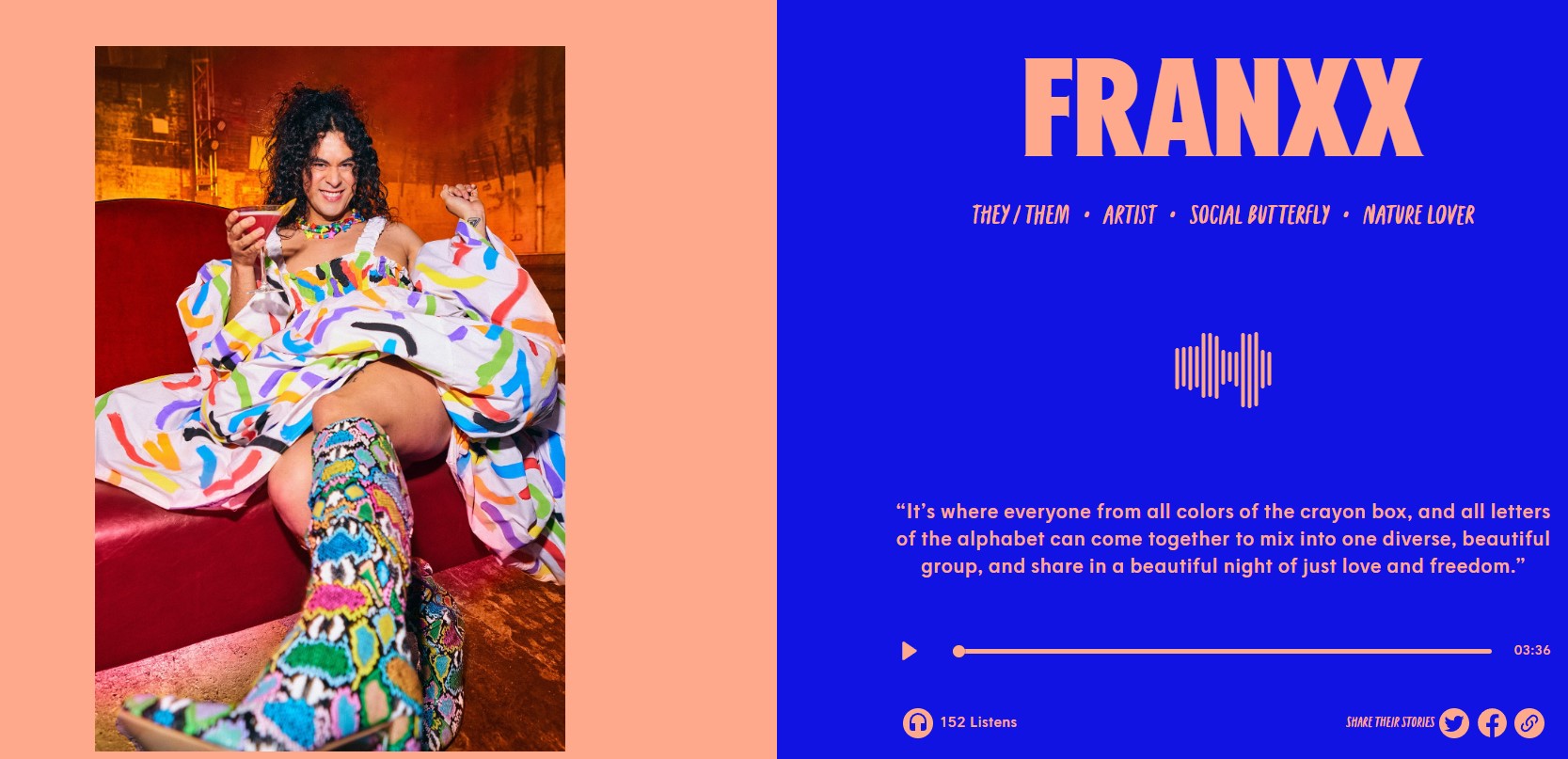 When it comes to marketing, think of unique ways to communicate your point. Content is far more than the written word. So think videos, podcasts, audio clips, imagery, infographics, interviews, Go Live sessions and more.
#3 Zynga – #PlayWithPride
Game developer giant, Zynga, will have in-game features, employee spotlights and social interactions across several titles to promote inclusivity, diversity and belonging. LGBTQIA2S+ refers to Lesbian, Gay, Bisexual, Transgender, Queer/Questioning, Intersex, Asexual, Two Spirit and countless ways in which people self-identify, according to a Zynga statement. Additionally, Zynga's employee resource group, zPride will also be donating $50,000 to multiple non-profit organisations that support the LGBTQIA2S+ cause.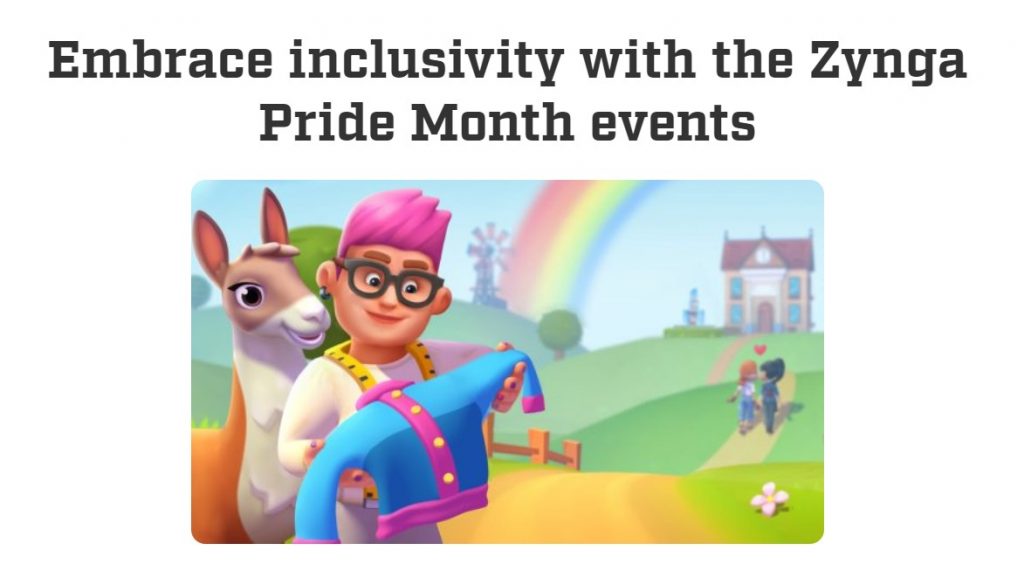 And it seems their efforts are going down well so far.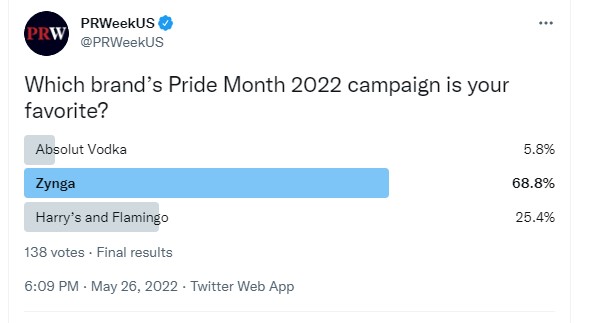 Why We Love This Campaign
Cool graphics. Each game has been given a unique spin for Pride, all uniquely marketed through really cool graphics. For example, Pride Month will see four of FarmVille 3's LGBTQIA2S+ characters in the limelight. Bobbi Stitch, who believes in inclusivity, togetherness, and acceptance, Ginny Glaze, a grilling legend who loves without any differences. The lumberjack Chad who will use his axe on any biases, and finally Carlos, who spreads the message of diversity and equality, while also serving delicious ice-cream.
There will also be some cool changes to the Wizard of Oz Slots throughout June, with Emerald City getting in on the Pride Month festivities (naturally) . Everyone is coming together for a special event filled with challenges, rewards and a raffle to win the Rare Rainbow Pack.
The hashtag. #PlayWithPride is used consistently across Zynga's Pride Month marketing material making their content both relevant and easy to find.
#4 Calvin Klein – This Is Love
Family isn't always your biological one. For many in the LGBTQ+ community, family is chosen. And it's this that's both acknowledged and celebrated in Calvin Klein's new This Is Love campaign. Shining a light on chosen family, an element of the Queer experience that is often overlooked by mainstream media, the campaign is sensitively presented and packed with personal stories. It also features apparel pieces modelled by the likes of legendary film maker John Waters, an avid supporter of gay rights and gay pride and musician Snail Mail.
Why We Love This Campaign
All-Round Inclusive. The campaign is inclusive in multiple ways, not only celebrating different types of relationships but also different types of bodies too. By working with celebrities, influencers and everyday people, CK manages to reach out to multiple audiences while boosting brand awareness. Note how CK also uses content generated by campaign stars to promote their Pride efforts in an organic and natural way.
Clever Use of Social Media. CK uses Instagram Stories to bring This Is Love to life. By creating a special Pride Story tab, users can flick through the imagery which includes captions such as This Is Tender, This Is Real, This Is Chosen, and This Is Family – all very impactful statements. The images bring diverse relationships to life while simultaneously showcasing CK's Pride collection. There's also a link to Shop the Collection or further explore the Pride campaign.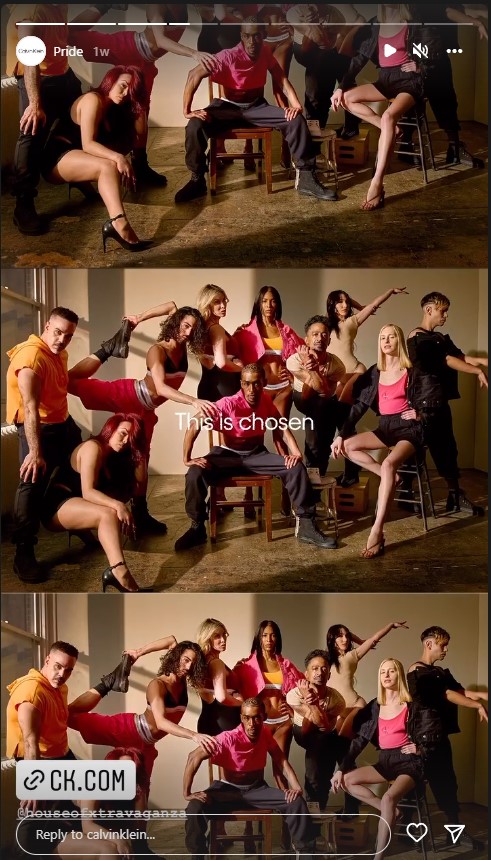 Real-Life Content. If you choose to explore the campaign further, you'll be directed to a host of stories which communicate real-life emotions and events. Nothing is forced here. The language is natural. There's accounts of breakups and friendships as well as tales of growing up with a Queer sibling. Such stories add a sense of authenticity to CK's overall Pride campaign, and we love how each one is so different. There's a very strong sense of community and acceptance running through 2022 and we're definitely here for it.
CK GIFs. To help their Pride campaign work even harder and to generate interaction online, Calvin Klein also dropped a bunch of branded GIFs and encouraged others to reply to the GIF launch post with their favourite. Branded GIFs are a great way to have a bit of fun while boosting brand awareness. If you do create a GIF, however, be sure to include your brand name.
Recognising and celebrating Pride is more than turning your brand's profile picture rainbow for a month. Here at Contentworks, we fully support diverse and inclusive working environments and can't wait to see more campaigns over the coming month. Do you have a favourite Pride campaign or wonderfully diverse brand we should be following? Tweet us @_contentworks and let us know!
Happy Pride Month everyone! 🌈