The world of financial services marketing is full of roadblocks. There are things you can do and thing you most definitely cannot. But by staying on top of the rules, you can implement a strategy to engage while pleasing the regulatory warlords. Yes, we're talking about you CySEC.  As a leading content marketing agency based in Cyprus, we're fully clued up on marketing for CySEC and all it entails. We're always releasing marketing guidance and Regulation Roundups to help brokers stay on the right side of the law. And now we're back with this essential guide. Join us as we delve into content marketing for CySEC brokers and show you how to flourish within a restrictive environment.
The Cyprus Financial Landscape
Cyprus is an important financial hub with over 250 regulated Cyprus Investment Firms listed on CySEC's website. Approximately 200 of these listings are forex brokers and it's not really surprising considering the broker benefits of setting up camp on this beautiful Mediterranean Island. As well as low fees for processing a business application, CySEC's periodic fast track service also gives Cyprus the edge helping to further reduces application costs. Cyprus also offers the lowest rate of corporate income tax in all of Europe, currently set at 12.5% and when shareholders of a company in Cyprus want to pay dividends, there is no tax on the income they receive.
As English is widely spoken in Cyprus, the country offers a very comfortable environment for expats to invest. Cyprus is also beautifully sunny and is not a hard sell when trying to attract top talent from abroad.
The Importance of CySEC
With the financial market growing and companies rapidly expanding, it's important for the industry to be properly regulated to improve consumer protection and eliminate malpractice. In Cyprus, the capital markets are regulated by the Cyprus Securities Exchange Commissions, commonly referred to as CySEC. As an EU member state, CySEC's financial regulations and operations comply with the European MiFID financial harmonisation law. CySEC's mission being to protect investors and create a healthy, transparent and honest financial services industry. The main duties and responsibilities of CySEC are as follows:
Examine applications and grant operating licenses to entities under its supervision, as well as to suspend and revoke the said licenses.
Supervise and regulate the operation of the Cyprus Stock Exchange and of other organised markets in the Republic and the transactions carried out in these markets.
To supervise and regulate agencies under its supervision in order to ensure their compliance with the laws governing their operation.
Carry out all necessary investigations in view of the exercise of its duties under the law as well as on behalf of other foreign competent Authorities.
Impose the administrative and disciplinary sanctions provided by the law.
Require the cessation of practices which are contrary to the securities market laws.
Apply to a competent court for the issue of an order for detention, or charge or freezing or prevention of alienation or transaction involving assets.
Issue regulatory Directives and Decisions.
We could go on. But the point is, CySEC has power and is formidable when it comes to enforcing the rules. They can fine businesses hundreds of thousands of euros for disobeying the regulations. Or, revoke CySEC licenses making business operation illegal. That's not what you want, so it's important to do all in your power to avoid catching their attention.
Who Does CySEC Apply To?
If you think CySEC doesn't apply to you and you're in the financial services sector – it's time for a wake-up call. Their responsibility is to oversee financial services institutions based in Cyprus including capital investment companies, UCITS, investment firms and more. CySEC also enforces international, European and local laws on Cyprus forex brokers. So, this is where being regulatory 'woke' is a must.
Forex Regulation Tightening
CySEC may be operating on a hot, relaxed island, but they've not been slumbering in a beachside hammock. In fact, they've been helping to enforce many regulations which have tightened in recent years. As well as supporting the roll out of MiFID II – a legislative framework instituted by the European Union (EU) to regulate financial markets in the block and improve protection for investors – they have also issues policies in line with the European Securities and Markets Authority (ESMA).
In September 2019, for instance, CySEC permanently introduced ESMA Measures into national law in accordance with MiFIR. The Cyprus National Product Intervention Measures include restricting leverage limits from 30:1 to 2:1 on the opening of a position by a retail client. Another restriction was the adoption of the same leverage limits for all retail clients, with ranges from 2:1 for cryptocurrencies as an example.
What did this mean for content marketing for CySEC? A whole lot including checking leverage limits across advertisements. And this brings us nicely onto out next section.
CySEC Regulations and Content Marketing
It's fair to say that regulatory changes of late, particularly, MiFID II which is enforced by CySEC, has had a significant impact on brokerage marketing strategies. Put it this way, if you need 10 coffees just to get through the working day – we hear you. But is your strategy on point and what should you be doing differently? Here's a rundown of rules that will affect content marketing for CySEC.
Improved Transparency
A large part of CySEC's job with regards to marketing is to ensure all material obeys the transparency laws laid out in the latest MiFID II updates enforced by ESMA back in January 2018. The changes made to the regulations are focused on protecting participants in the financial markets in Europe. Things to keep at the front of your mind include:
Risk Warnings
As a CySEC registered broker, it's essential to give a fair and prominent indication of any relevant risks when promoting a service or referencing any potential benefits of a financial instrument. So, whether you're updating website copy or posting to social media, you must include all relevant risk warnings as shown by leading broker eToro.
You'll find messages like this across their social platforms…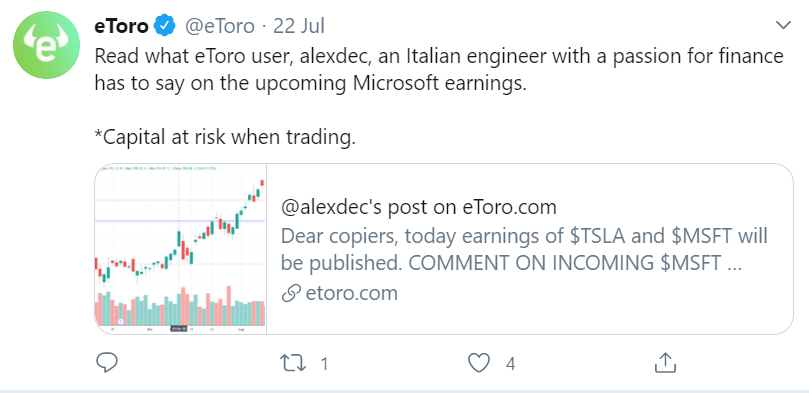 And this weaved into website content.

easyMarkets can also be seen to do the same on their Twitter feed using percentages to highlights the risk of trading CFDs.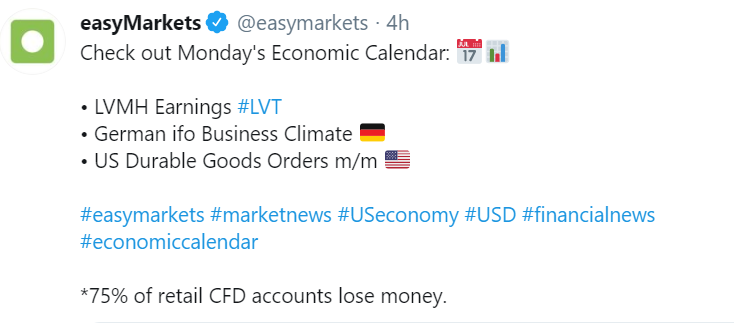 Prominence and Formatting
Risk warnings are not new to the finance sector, but updated rules mean that the layout and font size of risk warning should make them as prominent as the rest of the text. In other words, don't try to hide risk warnings to make your text seem more attractive or persuasive as this could be viewed as misleading and not as transparent as CySEC and ESMA would like.
For example, on this comparison chart for best brokers for beginners in Cyprus for 2020 published by Broker Chooser, there's a very clear CFD warning at the bottom. The text is legible and there's no attempt to hide the messaging.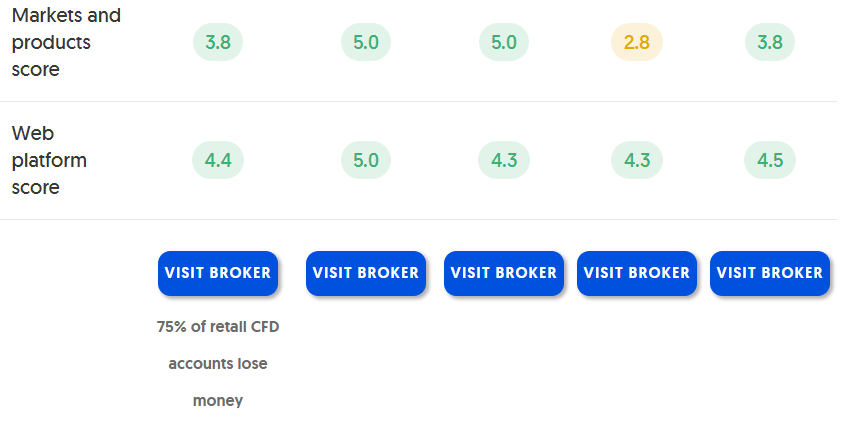 The same applies to the warnings issued by XM. Note how the risk warning text is completely the same font style and size as the rest of the promotional material.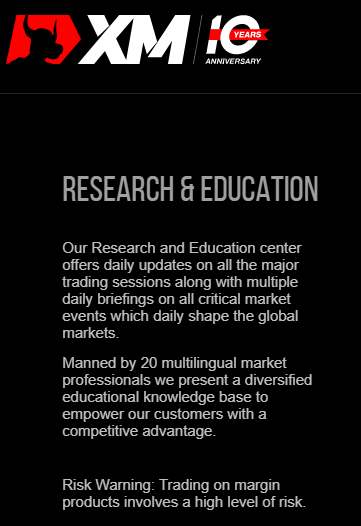 Language
All finance-related information should be presented to the client in the language of their choice and not changed half-way through correspondence in a bid to mislead the client.
Images
Imagine your audience cannot read and only sees the images you're posting. Are they misleading or indicative of instant wealth? Your images need to be compliant so forget anything with people in suits rolling around in cash. Seriously, forget about it. All images need to have risk warnings on them too. Even if the risk warning is in the accompanying text on social media posts. Our director Charlotte talks about financial services social media marketing here. 
Fair, Clear and Not Misleading
Financial services content created for marketing purposes must be fair clear and not misleading. The rules ask all participants to act honestly and fairly, disclose obligations and avoid all conflicts of interest. Whether you're giving past performance information or future performance information, you must also include the effect of commissions, fees and other charges. In addition, MiFID II requires firms to provide much more detailed information regarding future performance, including how investments are expected to perform in both bull and bear markets.
Make it really clear that you're following the rules laid out for the financial services sector. This could include sectioning out your content to show exactly what makes you a top CySEC regulated broker. This is exactly what XM has done below.

Up to date
In a world where your every move in scrutinised, there's simply no room for sloppy behaviour. Staying up to date with regulatory changes and updating your marketing for CySEC accordingly is a must. In other words, you shouldn't still be promoting extremely high leverages when the leverage limits were slashed in 2019. for larger brokers, this means keeping track of hundreds of landing pages, banners, social media campaigns and printed materials.
Working with Partners
As a CySEC regulated broker operating under European law, brokers are responsible for the messaging put out by their partners of affiliates. One way to avoid taking the hit for unprofessional or non compliant partner marketing is to take the reins. Instead of giving partners the freedom to write on your behalf, try to provide them with compliant, approved material to distribute to their social media channels. Offer to add their logo or name to personalise the offering.
Here at Contentworks, we can help you get Socially Sorted and will produce high-quality, compliant content marketing material for you and your affiliates. If you decide to take it on in-house, make sure you have your compliance team check through all marketing messages before they're released to the public.
CySEC – What Works?
When it comes to marketing under CySEC, there are many things you should steer clear of, such as offering direct investment advice to clients. Or, using words that could be deemed misleading such as 'success' 'win' 'huge gains' 'impressive leverage' 'best returns' and more. Doing so is against CySEC regulations and can result in a hefty fine.
You should also pay attention to the rules of other regulators such as FCA, even if you're registered with CySEC. Cypriot firms recently landed in hot water with the FCA for continuing to offer high risk CFDs to UK investors. They also used unauthorised celebrity endorsements as part of their marketing strategy, charged customers undisclosed fees, failed to tell them about the risks of trading CFDs and more. CySEC took action and fully suspended the regulatory authorisations of the companies in question. Doh!
So, what works? Well, lots of things. Here are some ideas.
Be informative
Post relevant, informative and timely content that sets you apart as a go-to source of information. This includes daily market reports, weekly overviews and currency pair comparisons as well as new regarding trending subjects such as Covid-19 and their impact on the trading world. Be sure to provide reputable sources for any stats or quotes.
Answer FAQs
By tailoring your content around FAQs, you'll be providing much needed information. This will enhance the knowledge of your existing audience and garner the attention of those who want to progress in the trading world, but perhaps don't know how.

Interestingly, content formed around questions is also great for SEO as it could help you land that much desirable Position Zero spot. The Google algorithm aims to deliver the most relevant content at the very top of the SERPs page. The most successful content often answers a question. So, to appear in 'Featured Snippets', think about dividing your website into question and answer content.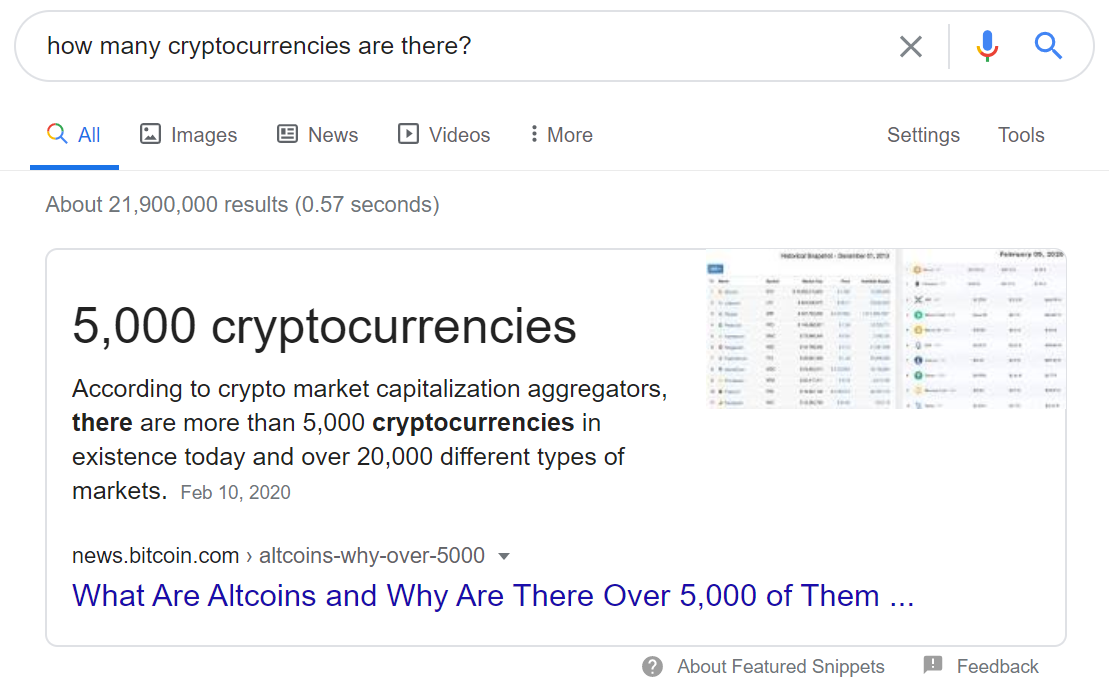 Showcase Participation in Events
One of the best ways to stay in the limelight is to get involved in industry events and to talk about your participation across your website and social media pages to generate excitement. By including pictures of top team members, you also help to add authenticity to your marketing campaign, which in turn builds trust. This is completely compliant, so long as you don't make any lavish statements or put something about high leverage in a speech bubble!
Use your common sense! Keep things simple and stick to the facts. Oh, and don't forget those all-important risk warnings as seen below from AvaTrade.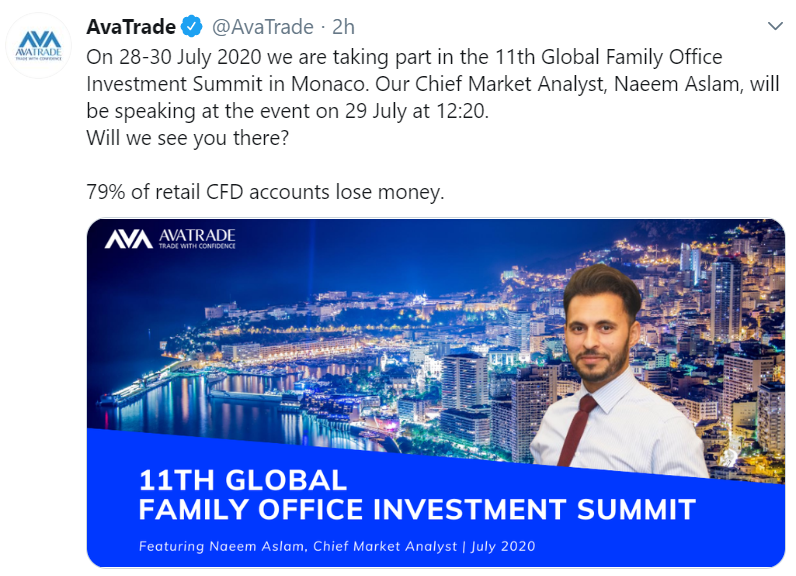 Content Marketing and CySEC Brokers
As an international content marketing agency for the finance sector, we're fully clued up about all CySEC rules and always keep our eyes on regulation updates. We firmly understand how to create compliant content for a wide range of broker types and have worked under CySEC to provide marketing material for reputable CySEC brokers across Cyprus. We are also accustomed to working with internal compliance officers to ensure a swift, hassle free approval of all content.
Our compliant services for CySEC brokers include:
Social media updates
Video scripts
Website updates
Blogs and articles
e-books
Whitepapers
PR material
Reputation management – and more.
All content is fully tailored to the needs of your business and won't put you at risk of CySEC regulatory scrutiny. Speak to the Contentworks Agency team today to discuss the content marketing needs for your CySEC regulated broker.