LinkedIn is one of the top networking channel for business. The platform boasts over 810 million members in more than 200 countries and has been around for almost two decades. It's a powerful tool for lead generation, thought leadership, building credibility and finding new talent. So mastering LinkedIn marketing is crucial. But what's the best way to maximise your presence on the channel? This article maps out some strategic LinkedIn marketing action points to consider for your brand.
What Is A LinkedIn Marketing Strategy?
Your LinkedIn marketing strategy will become vital in achieving your goals and will determine the nature of the content you put out on the platform, as well as its frequency. Here's how to build your strategy.
Identify Your KPIs
All brands are different, which is why setting objectives or KPIs is the next part of the strategy. One size does not fit all here. Targets could include:
Improving brand recognition
Improving customer retention
Achieving better SEO rankings
Enjoying higher social media engagement rates
Getting more social media follows
Boosting web traffic
Managing your reputation online
Improving online customer response
Obtaining thought leader status
Enhancing your influencer marketing strategy
Once you've got a goal, it's time to hone your strategy for reaching it. You may have heard of the SMART acronym. It's an approach to breaking down objectives into something more attainable so that you can better achieve them. It goes like this:
Specific: What is your specific goal and why do you want to achieve it? Example: I want to gain more followers on LinkedIn so that I have a bigger pool of potential clients.
Measurable: What will be your metric for measuring the progress towards reaching your goal? Example: I want to gain 500 followers in 6 months.
Attainable: Is your goal attainable? Example: I should look at other similarly sized brands in my niche to ascertain the average number of LinkedIn followers and try to find data on the average cost per follower.
Relevant: Is your objective relevant to the needs of your brand? Example: Will this goal ultimately lead to increased revenue?
Time-based: What's the deadline? Example: I want to gain 500 followers by the end of this year.
LinkedIn Marketing Strategy Tips
Once you've got your objectives down, it's time to start working towards achieving them. We've detailed some tips that will help you and your brand to achieve your KPIs. Remember, Contentworks agency has a team of social media marketers so we can just do it all for you if you prefer!
Publish on a schedule
Devising a schedule for publishing and sticking to it consistently is crucial to any LinkedIn marketing strategy. There's so much conflicting information out there on the ideal post frequency that it's difficult to determine the magic number for your brand. LinkedIn itself recommends posting once a business day and no more than five times a day. We can work with you to determine the best time of day to reach your target audience and region.
Post a content mix
While posting consistently is recommended, you should avoid posting the same type of content repeatedly. This also means that you don't have to spend hours creating lengthy text posts each day. Be sure to note which types of posts garner you the most engagement, but still keep some diversity regardless. Types of posts could include:
Text only posts
Event coverage
Recruitment posts
LinkedIn articles
Blog shares
Photos of the team
AMAs
Videos of your product
Track engagement
Be sure you monitor which content is getting the most attention. As an admin of a company page, you'll have access to analytics on visitors, updates, followers, and employee advocacy. View analytics on 'updates' and you'll be able to see engagements, discovery, impression demographics, article performance, article viewer demographics, video performance, and video viewer demographics. This is all really useful, especially the metrics on demographics. See who your posts are appealing to the most and if you're not reaching your target market, investigate why.
Create a LinkedIn group
LinkedIn groups are used to discuss niche topics, share tips and resources, and network with fellow professionals. Here you can also share the same content that you've shared on your company page to gain more detailed insights from professionals in your industry. Remember to:
Avoid spamming the group with your promos
Listen to other members and encourage discussions
Spark debates at least once per week with a poll or question
Remove spammers promptly before they annoy others
Keep your group topic niche, on brand and interesting
Promote the group elsewhere to encourage new members
Create a poll
A poll on LinkedIn is a great way to get high engagement while also learning more about your audience. The polls you create can have up to four customised answers and users can also comment on the poll. Here are some poll ideas:
Product Based:
Have you tried our new product/service? Yes/No
Which of our services do you use the most? (List them)
What would you add to our services if you could ? (List possible options)
Industry Based
In your role, are you seeing X new trends?
What do you think about X News impacting our sector?
Is your business implementing X new measures?
Human Focused
Do you prefer working from home/ office or hybrid?
What would make you subscribe to a newsletter?
What's your biggest pain point in X service/sector?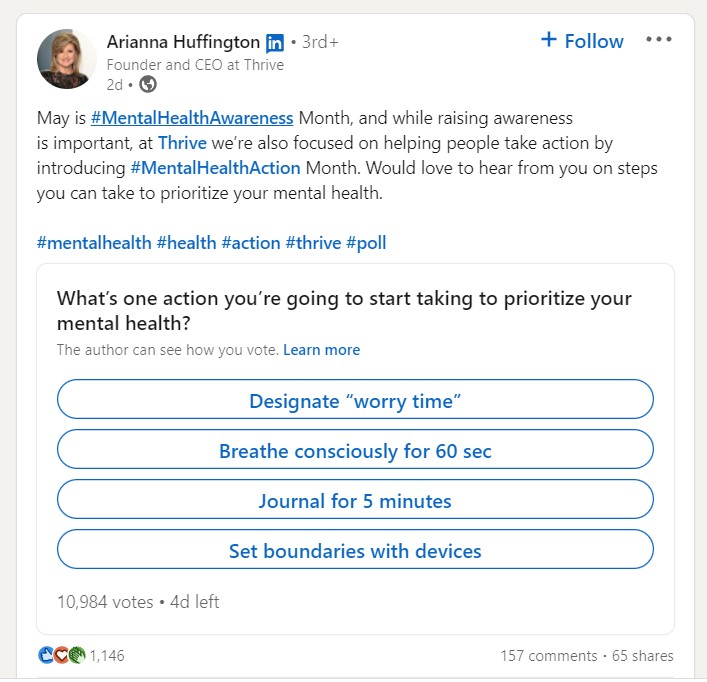 Don't abuse the poll feature though. LinkedIn users are mindful of meaningless poll engagement techniques!
Publish documents
LinkedIn allows you to post documents up to 300 pages long. Anything over 20 pages is likely to be much too lengthy for most brands. Potential documents could include tips, how-to guides, or insightful whitepapers. Make your document visually appealing by using a design app. You can also speak to the team at Contentworks to have a bespoke document crafted for you, so all you have to do is hit 'post'.
Share lead magnets
The term lead magnet refers to an incentive for prospective clients to subscribe or provide their contact information for follow up. They help you strike an organic conversation with the client or keep them in contact with your brand and what you have to offer. It is easier to convert someone to a loyal customer if the engagement is consistent and/or worthwhile for them. On LinkedIn this might be:
eBooks, guides, and whitepapers
Free training
Live or virtual events
Bonus content
A planner or template
Free software trial or demo account
Account credit or coupon
Post native video
Native video plays directly on your followers' feeds. It involves uploading the video to the platform. Videos can be between 3 seconds and 10 minutes. This type of post can be more appealing to users, meaning greater engagement. The kind of videos people enjoy watching on LinkedIn include:
Company updates and news
Culture and the company behind the scenes
Q&A's or AMAs
Interviews with team members and clients
New product or service launches
Event coverage
Host a LinkedIn Live event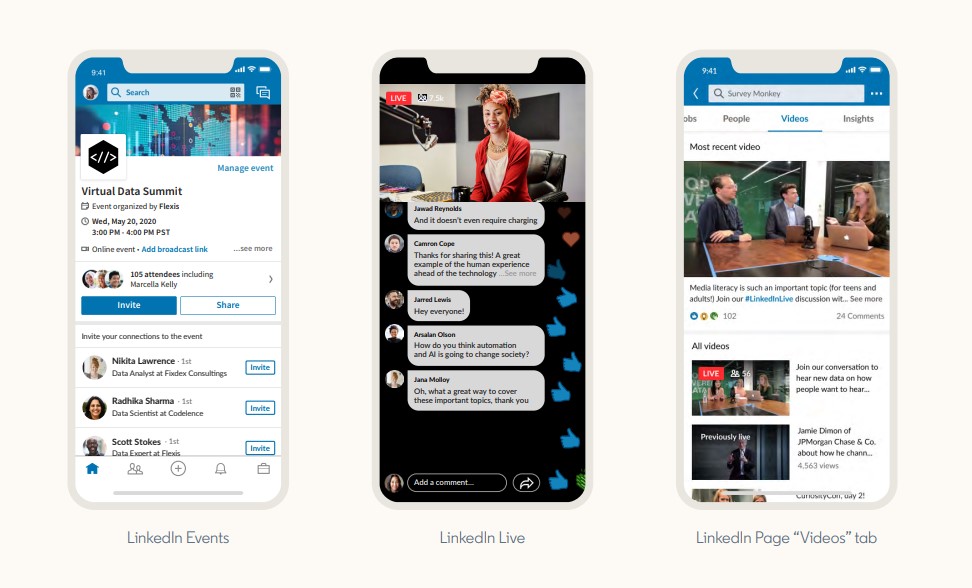 Does your brand ever host virtual events, or could you in the future? These can be great material to stream using LinkedIn Live, attract high engagement and act as a medium to interact with your audience. You're able to schedule LinkedIn Live events ahead of time and then share the upcoming event with your audience to give them a heads up. Remember to:
Host your event in a trusted environment.
By hosting your event on LinkedIn, you're using a platform people know and trust. Now, you have the option to use LinkedIn Live to drive broad awareness for your event content, or LinkedIn Events to drive engaged conversations with a targeted subset of your audience. You can also facilitate the entire event lifecycle on LinkedIn by streaming LinkedIn Live video content directly to your LinkedIn Event attendees.
Attract the right professional audience.
New organic discovery features and intuitive sharing options make it easier than ever to attract the right professional audience to your event. Check out this handy playbook.
Engage your audience before, during and after.
As the event organiser, you can start or contribute to existing conversations. Encourage attendees to connect & engage with one another on the Event page, even prior to the event. As an organiser, you can recommend key posts in the event feed to your attendees up to two times per week.
Utilise employee advocacy
One of the easiest ways to increase your following and engagement is by getting your employees involved. Ask your employees to connect to and follow your brand's page. When you share content, there's an option to 'Notify Employees' on the dropdown menu before you share a post. They can also share the post among their own followers to boost the original post. Here are some more tips:
Help each department understand the benefits of sharing company posts
As marketers, we know how beneficial LinkedIn is but the rest of your company might not.
For Management: Increase brand awareness, boost revenues, impact on the bottom line.
For Marketing Team: More brand awareness, website visitors, lower customer acquisition costs.
For Sales Team: More leads, more conversations with decision-makers, an increase in their sales pipeline.
For HR Team: Attract more employees, showcase a good company culture, lower cost of hiring.
You can also send updates to your company to let them know how they can take part in your LinkedIn  marketing. These might include:
AMA or Interview: Invite anyone in the company to be featured in a photo interview or video AMA. Don't just pick managers, include everyone to give a balanced and enjoyable view of the company.
Team Events:  Encourage people to share pictures from team outings.
Webinars: If one of your employees has delivered a webinar or speaking engagement, ask them for video content that you can share.
You can also incentivise sharing with a competition or rewards system. For example, a spa voucher for the top sharer each month. Never force employees to take part or to join LinkedIn if they don't want to.
We really love ASOS' "Life at ASOS" tab on LinkedIn where they share fun pics, behind the scenes, CSR and new team members.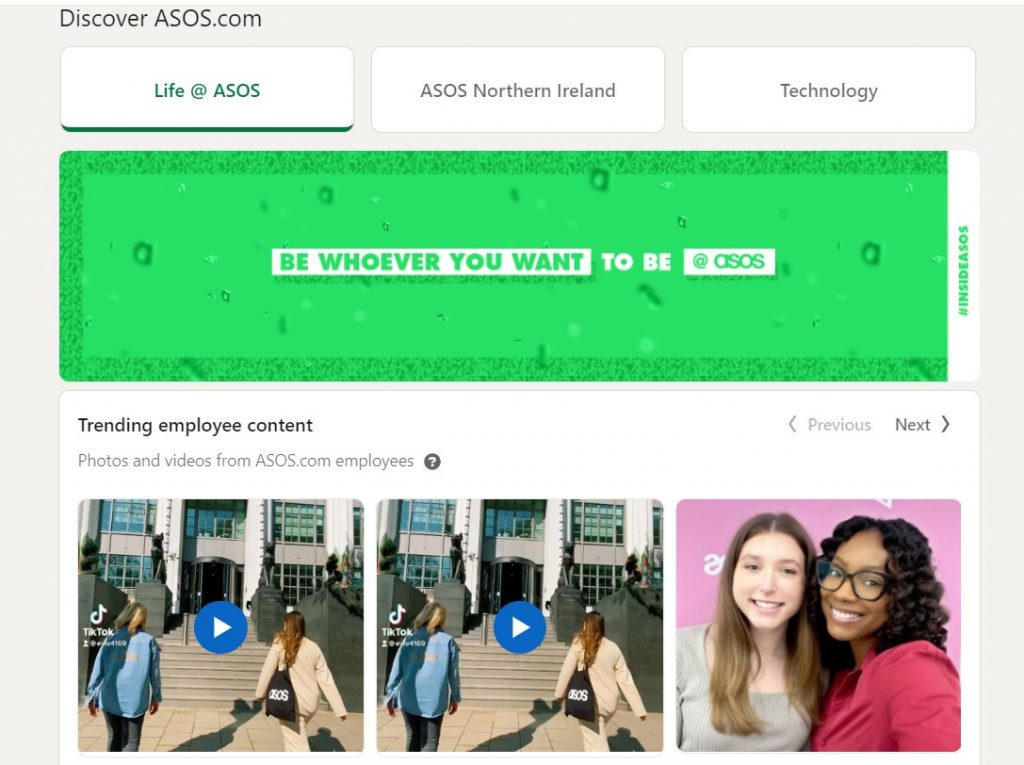 Share the good that you're doing
Established brands are often involved in charity or community work which is great. Corporate social responsibility (CSR) has become more important than ever. In fact, 90% of Gen Z think brands should act to help social and environmental issues. You can keep it on brand too, like Rolex does with it's incredible environmental support, adventures and exploration. Knowing its target audience are likely to be wealthy business leaders who travel, the brand nails their CSR efforts on LinkedIn.

If your brand isn't already working on a CSR strategy, research what your customers would most like to see your company do. It could be supporting local non-profits if you have a physical store or working with organisations that are relevant to your niche.
Always respond to engagement
Don't ignore engagement by your followers. If they've taken the time to read your text post or watch your video and then comment, be sure to follow up with them. This will mean they're more likely to do the same again. You should also aim to engage with others as a brand. Start by commenting and engaging with other people's content. This builds awareness and trust in the long term, and it will come back tenfold. You can also promote and tag other brands and people in your posts. This builds engagement but will also avoid your brand becoming a "me, me me" place.
Devising a LinkedIn marketing strategy is essential. With the foundations laid and a sound understanding of the tools at your disposal, it's possible to grow your network, get your brand noticed, generate leads, and achieve your KPIs.
The most crucial aspect of any marketing strategy is the content you post. For goal-driven content creation and expert social media management, speak to Contentworks Agency today.
Enjoyed reading about Strategic LinkedIn Marketing? Go ahead and hit share.