From brilliant marketing campaigns to cheesy CEO banter, you won't be short of entertainment on social media. So, in light of Social Media Day, which takes place every year on 30 June, we're checking out the good, the bad and the very, very ugly. "Let's get social … on social media 🎵 " Later.
But First, Did You Know?
The number of social media users globally grew from 4.2 billion in January 2021 to 4.62 billion in January 2022? That's a whopping 10.1% year-on-year growth. While Facebook continues to reign as the King of Social, with 2.91 billion active users, YouTube is close behind with 2.2 monthly active users. TikTok, which catapulted to popularity during the 2020 lockdowns, also remains a go-to for Gen-Z and Millennials, with 8.9 million monthly users. And with platforms adding new tools and e-commerce initiatives, it's clear that social is being further integrated into our daily lives.
The Good
Let's start on a positive note by sussing out some awesome social media campaigns.
Marks & Spencer – #HolidayModeActivated
82% of global internet traffic will come from either video streaming or video downloads in 2022. And with 54% of consumers wanting to see more video content from their favourite brand, it's clear that TikTok is the place to be. Many brands have taken to the short-video platform of late in a bid to connect to a social-savvy audience. But it's Marks & Spencer that's really stealing the show for us this year. Their #HolidayModeActivated campaign encourages users to 'show us what you've got in store for summer' and has resulted in a load of user-generated content which helps keep the platform interesting and buzzing with activity.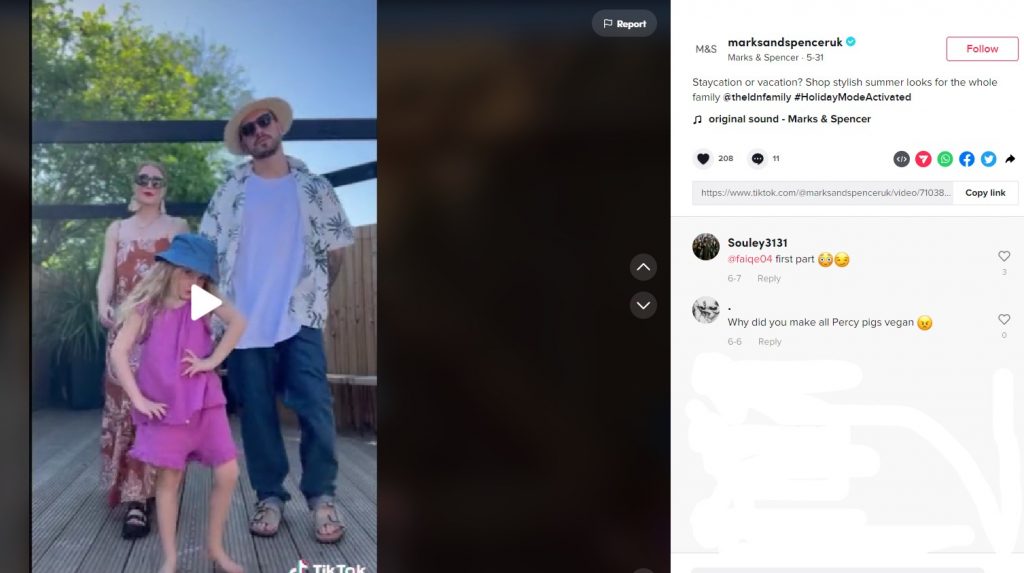 #HolidayModeActivated has an authentic vibe and is a celebration of inclusivity and diversity. It features people of many different shapes and sizes as well as multiple ethnicities, showing that summer fashion really is for everyone. Tagging creators also opens up the campaign to a much larger audience and helps to increase brand awareness considerably. We particularly love the summer outfits packed for my cruise feature by Megan and this whole family contribution.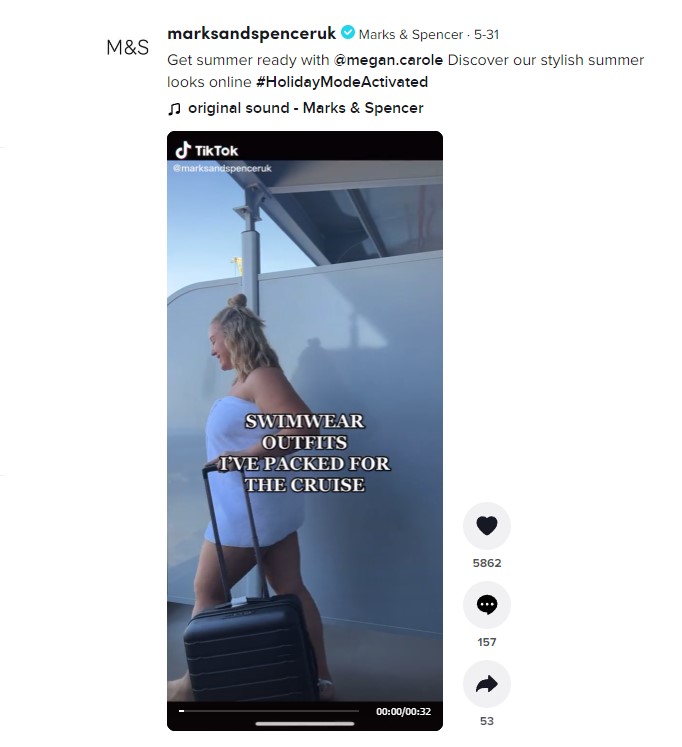 Top Tip for Marketers: Creating a hashtag related to your campaign is a must if you want people to easily interact with your idea and share their own content. Hashtags also make posts much easier to find and will help you to stand out from the crowd. they also mean you can monitor the results of specific campaigns.
As a brand, it's also really important to be inclusive. And really be inclusive. Consumers want to feel represented and that's why skipping the filters and relying on normal people to enhance your marketing efforts is a great idea. This is particularly true in the TikTok age as Gen-Z appreciate a more natural approach marketing and is quick to call out brands who fake it.
Boots – #GymLips
Trends are huge on TikTok. So why not use hot topics to your advantage in a bid to get all eyes on your brand? This is something Boots UK has nailed recently with their #gyplips posts. Gym Lips is a makeup trend invented by New York City based makeup artist Kelli Anne Sewell, who first shared the look on Instagram. Explaining the TikTok trend, she said, "It's basically an overline lip I wear to the gym that's really natural."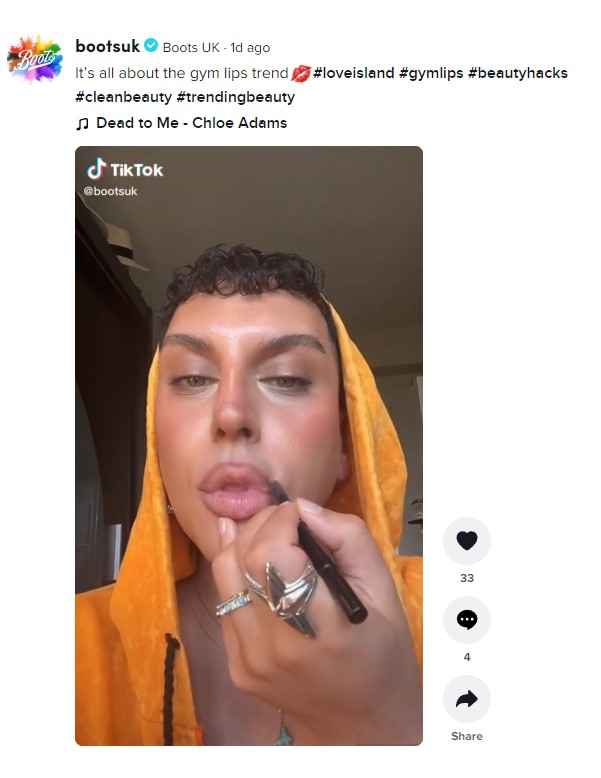 By posting #gymlips content, Boots shows that they're an on-trend brand and make it easy for social audiences to relate – and search for relevant beauty products. Boots UK has also taken things a step further by posting Love Island-themed content. Love Island is one of the biggest shows of the summer and by featuring content from Islanders themselves, this naturally helps pull in a crowd. Their recent video of former contestant Amber's skincare routine is pulling great engagement on TikTok.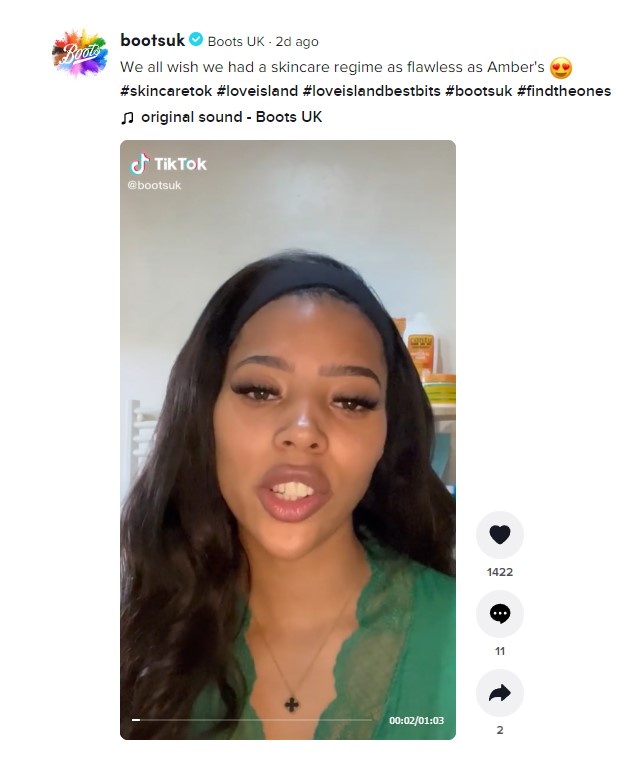 Furthermore, Boots has also expertly partnered with hair-dye brand SHRINE to celebrate the arrival of festival time! Tagging collaborators helps to expand a brand's audience and allows for increased visibility. Also note how timely this campaign is and how cleverly the hashtags are used. Boots really want to be noticed this summer. We've seen you girl!
Top Tip for Marketers: During collaborative marketing efforts, make sure it's a two-way street. Your collaborator should be tagging you in posts and sharing your content on an equal basis. You might also want to think about imagery that represents both brands. We've seen clients sign up for "influencer collabs" where the influencer isn't even acknowledging them. That's a hard no!
Airbnb – Moulin Rouge
Airbnb has promoted a stay at the iconic Moulin Rouge venue which has never been open for public access. Why? Because they 'Can-Can-Can.' Sorry we couldn't resist. Guests can throw on their sparkling diamonds and feel the rhythm of the night at a venue which includes a secluded room inside the iconic red windmill. Not only is this marketing initiative extremely unique and exciting for fans of the hit movie. But it's also wonderfully presented on TikTok. The offering was introduced in French for an authentic touch and was accompanied with a visually impressive video clip of the red windmill. Subtitles were also provided for English readers to ensure there were minimal language barriers. The post has been watched by 26.9K people and attracted some pretty excited comments. One user even commented, "Does an evening lullaby with Ewan Mcgregor come with the nightly stay?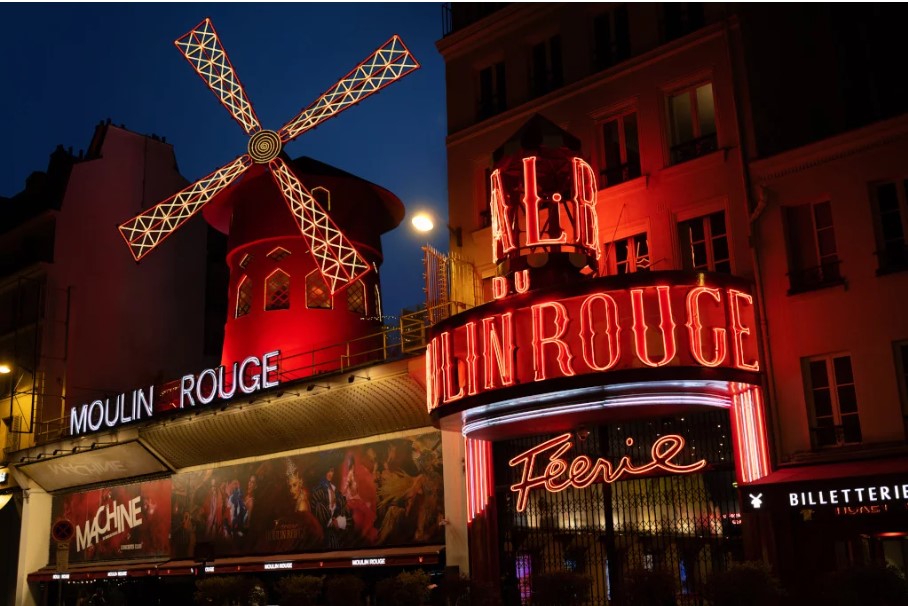 Top Tip for Marketers: Consumers love exclusive offers and deals on social media. So launch an exclusive range or a limited number of new products. You could also make use of a countdown clock to create a sense of FOMO.
OutHorse your Email
And we have to give some kudos to Iceland for their Outhorse your email campaign. We are huge fans of the campaigns coming from Iceland's tourist board and this is no exception.
Iceland is saying nayyyyyy to checking work emails while on holiday as it launches its world-first OutHorse Your Email service, encouraging travellers to switch off and take an uninterrupted trip. Visit Iceland found that 41% of people globally check their work emails between 1 and 4 times a day when on holiday, while 14% review them 5-6 times every day. To encourage workers to disconnect and experience Iceland, the country offers its OutHorse Your Email service, a world-first email response system which sees its unique breed of horses take centre stage.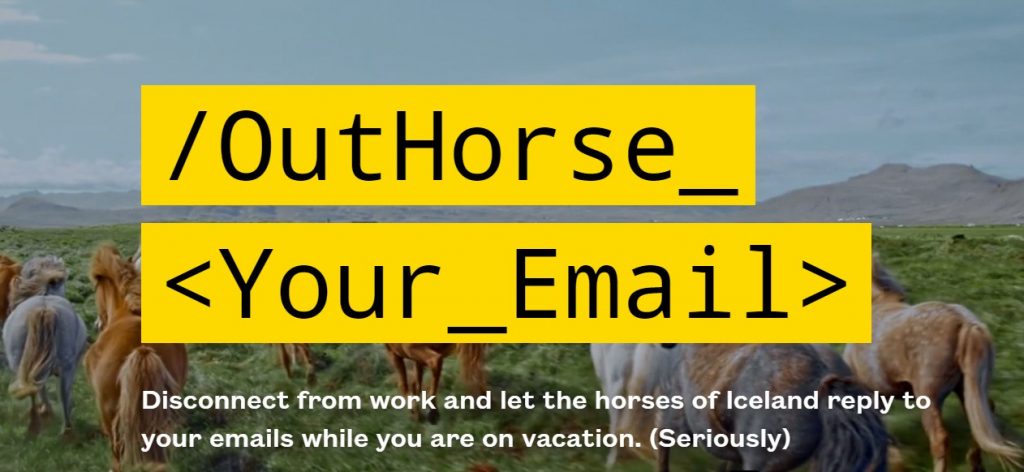 Using a large keyboard mat, Iceland's OutHorse Your Email horses walk, trot, canter, tölt and pace their way across the fields as they take on the role of out of office. From þþnjifai='.,,lmbmbnbbhgycdw/'pfæ ndaiFVxhðut7r7r7djsmfdsm to þnjifai\'/.p,oii9unnyvgjhbjm,kfæ,.iklp–jpomohu o/'k;,i,mumnf, travellers can request to get their very own emails written by Icelandic horses, so that they can go gallop-vanting around the country undisturbed.
We love everything about this advert. The humour, the content, the fluffy ponies and the ASMR (Autonomous sensory meridian response) effect of those hooves!
Top Tip For Marketers: You don't need to hard sell your product or service. In fact don't. Storytelling, humour and relatable video marketing will naturally win you business.
The Bad
There have been some really cool campaigns of late from many different brands. But there's also been quite a lot of bad. For example, how cringe it is for Elon Musk to be publicly dissing Zuckerberg. As a business magnate, investor and architect of Tesla, Musk has had his fair share of success. But he doesn't always keep it classy. Musk's $44 billion offer to buy Twitter was accompanied by an appearance at a Ted conference in Vancouver, during which Musk accused Zuckerberg of having too much control over public debate given his ownership of Meta.
He said:
"As for media sort of ownership, I mean, you've got Mark Zuckerberg owning Facebook and Instagram and WhatsApp, and with a share ownership structure that will have Mark Zuckerberg XIV still controlling these entities."
Musk seemingly referred to King Louis XIV, the "Sun King" whose wealth and power were legendarily vast. While it's true that Zuckerberg does have huge social power, Musk's comments were extremely cringe and not a good look.
Let's check out some of the other recent social media failures.
EasyJet – Holocaust Tattoo
Yes you read that title right. Low budget airline, EasyJet, was forced to apologise after posting what many interpreted as a Holocaust-themed advert. On 7 April, 2022, EasyJet uploaded a tweet featuring a flight number tattooed on a passenger's arm. They captured the post 'you never forget your first flight.' The phrase, 'Never Forget' is widely used when discussing the horrors of the Nazi genocide during World War II. Some have also said that the tattoo is also reminiscent of the serial numbers forcibly inked onto prisoners in the Auschwitz concentration camp during the Holocaust.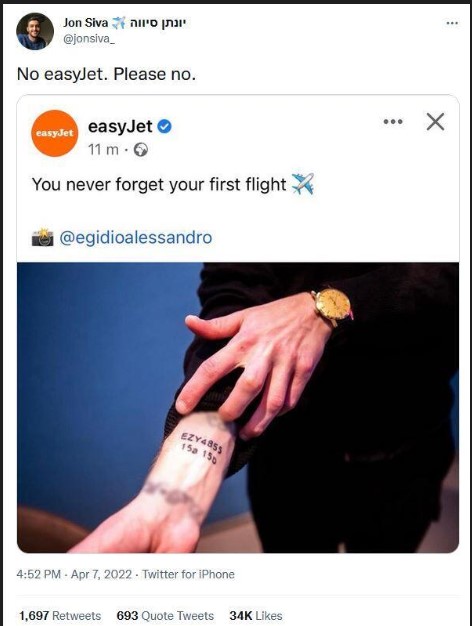 While this was likely an innocent mistake, we would go one step further and say that we bet the actual marketing team didn't like this idea and were overruled. Listen to a diverse range of team members and if anyone has doubts take them seriously! With all the cancelled flights this year from EasyJet too, it's really not been a good year for them so far.
Burger King – Tone Deaf Pride Whopper Campaign
Acknowledging and supporting Pride Month is something many brands do well. But Burger King massively missed the mark this year and were slated online for their 'tone deaf' efforts. So what went wrong? Well, the fast food joint in Austria released a Pride Whopper where customers could choose either two top buns or two bottom buns. The campaign was promoted with rainbows and included the slogan, "Time to be proud." The company also posted the new concept to its Instagram account alongside a lengthy caption, which (roughly translated) stated that the Whopper represents, "two equal buns for equal love and equal rights" and that the sandwich is "meant to put a smile on our faces."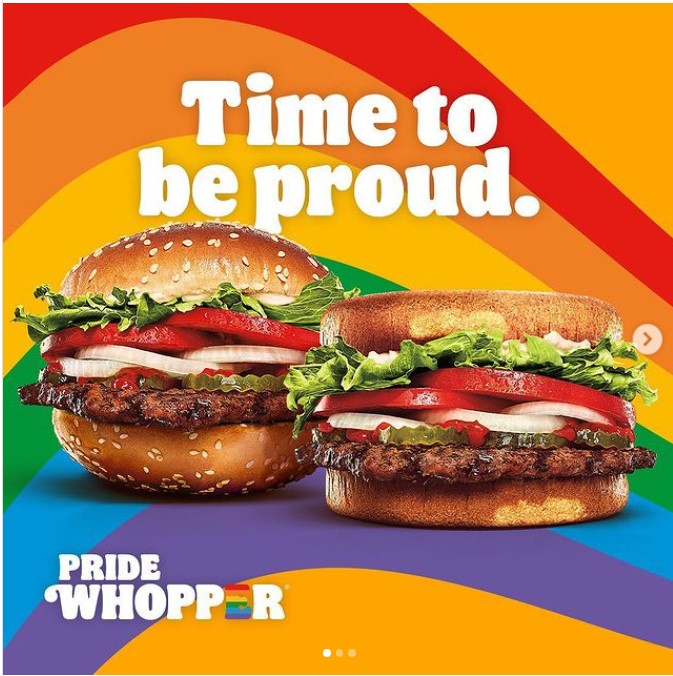 The campaign was rightly slammed for a lack of awareness as obviously two tops and two bottoms in the gay community often face issues of incompatibility. Here's a few Twitter responses…

and then…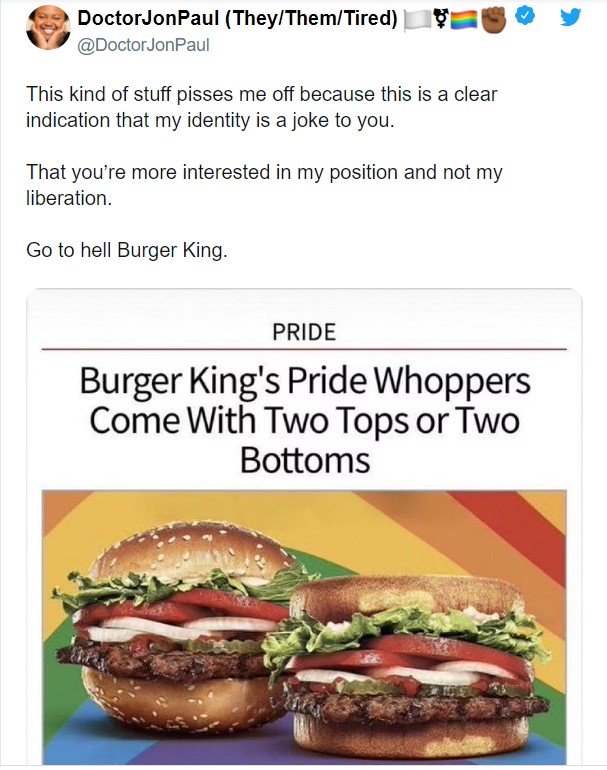 And this very valid point…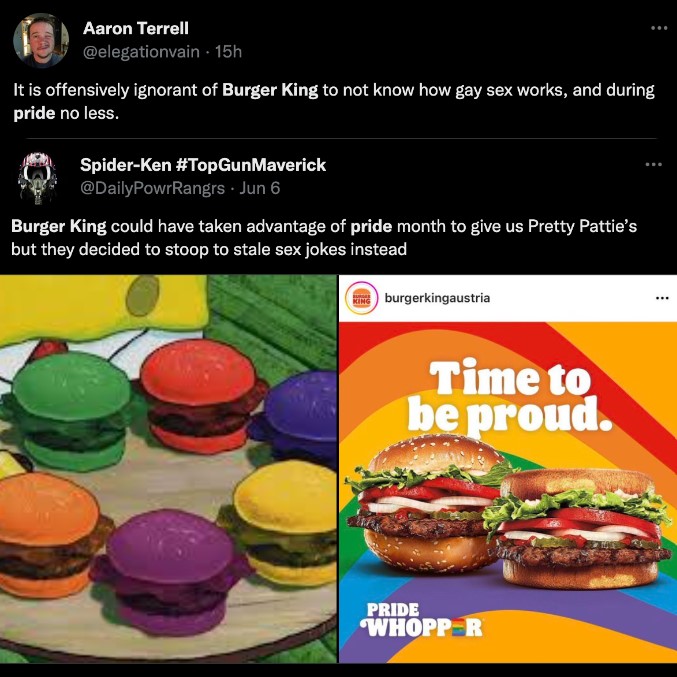 Top Tip for Marketers: If you're going to support an event such as Pride Month, you really should have an understanding about the subject and what Pride stands for. Simply joining in the trend can be embarrassing for your brand. If you're new to supporting a trend, ask your followers what they'd like to see from your brand in a bid to deliver something that's on point.
Otley Burger Company – Madeleine McCann Ads
Burger King isn't the only food joint to have been criticised for poor advertising this year. Otley Burger Company was slammed for publishing online ads during Britain's Mother's Day featuring images of missing child, Madeleine McCann. The social media images showed Madeleine and her mother Kate, with the accompanying caption: "Burgers for dinner? With burgers this good, you'll leave your kids at home. What's the worst that could happen?" This led to the Advertising Standards Agency (ASA) passing messages to Twitter, Facebook and Instagram for the brand's accounts to be suspended.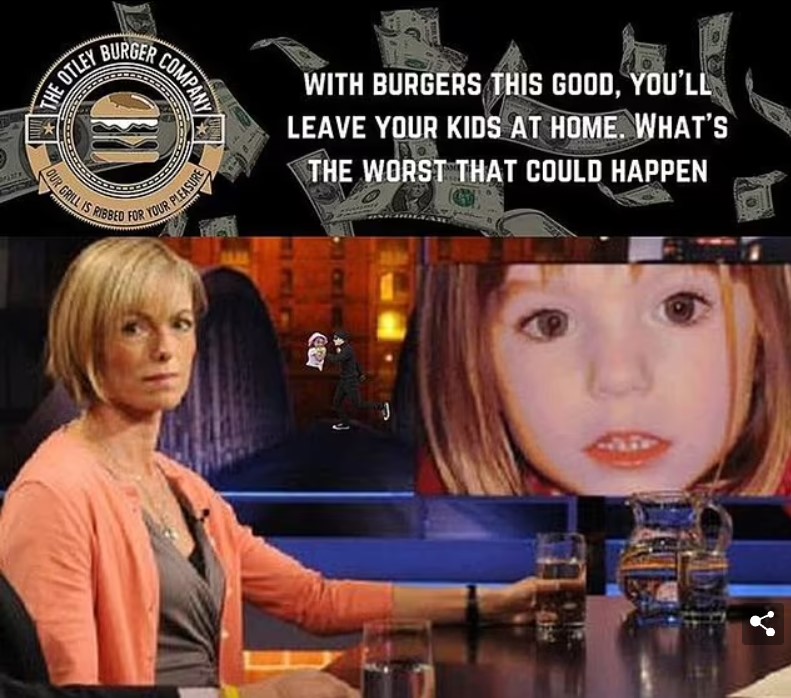 In a statement about the ad, Otley Burger Company boss, Joe Scholey, unrepentantly said: "I'm not taking the mick out of a missing toddler. I'm basically saying, 'Happy Mother's Day' to all the mums."
The burger shop has been in similar trouble before having previously used images of Yorkshire Ripper Peter Sutcliffe, notorious paedophile Jimmy Saville and serial killer Fred West in its Father's Day ad. The ASA has announced it's told the burger company to ensure, "They avoid causing serious and widespread offence and distress" again.
LinkedIn Humblebragging
When will people learn that humblebragging is never OK? It's cringeworthy and completely unnecessary. If you're proud of an achievement or want to shout about something awesome, just do it. Don't hide it behind a self-deprecating statement when you really want people to notice your achievement. Humblebragging is definitely on the bad list. Here are a few examples of it in full swing.
Backhanded Covid attention-seeking post. "I've got the lurgy, but I'm still super good at my job." Go to bed.
The " I donated my last 1 pound to a homeless man/dog " speech. Great but why share it?
Humbled to have won this award (that I paid for) posts.
And this guy who sacrificed his wife and kids for YOU? Please don't.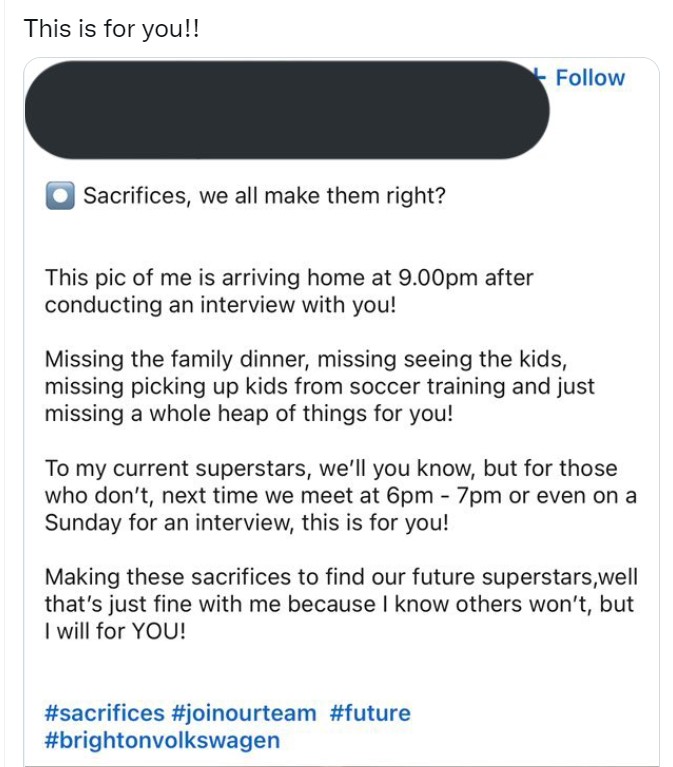 The Ugly
It's been pretty ugly already, right? But we couldn't end the article without referring to the god awful Let's Get Social song which has been classified as one of the biggest internet fails of all time. Performed by Mary McCoy, the 'song' is probably the most awful thing you'll see today. So on behalf of the Contenworks team, relax, enjoy and let us know your thoughts. We're not laughing – you are!
At Contentworks, we know what works online and what doesn't. Contact us today for carefully crafted social media campaigns and reporting for your brand. Loved reading about The Good, Bad and Ugly of Social Media? Go ahead and hit share!