Japan has a total population of 127 million with 118.9 million using the internet. That's a penetration rate of 94%. Social media popularity has soared in recent years with active users now topping 78 million. That's 61% of the population and an increase of 9.9% (7 million people) from January 2018 – January 2019. And with mobile social media users coming in at 78 million, it's clear that a demand for on-the-go access to accounts is a big hit in Japan. Tech is huge news in this beautiful and forward-thinking country. So, let's delve a little deeper, discover some fascinating facts and learn how marketers can put this info to good use. Social Media In Japan – The Stats You Need To Know, let's do this.
The Japanese Spend 3 Hours 45 Minutes Online Per Day
The average time spent on the internet per day on any device is 3 hours 35 minutes. People also spend an average of 36 minutes per day on social media. Indeed, 91% of internet users access the internet once a day. 90% have visited or used a social network or messaging service in the past month and 76% have engaged in social content. The average number of social media accounts per user is 3.7 with 6.1% using social media for work purposes.
Top Marketing Tip: Social media engagement levels are high among users. So, use this to your advantage by hosting polls and competitions to keep people interested in your brand. You can also increase brand awareness by giving away freebies to those who interact with your posts. Retweets and 'likes' are the most popular type of engagement for a Japanese audience.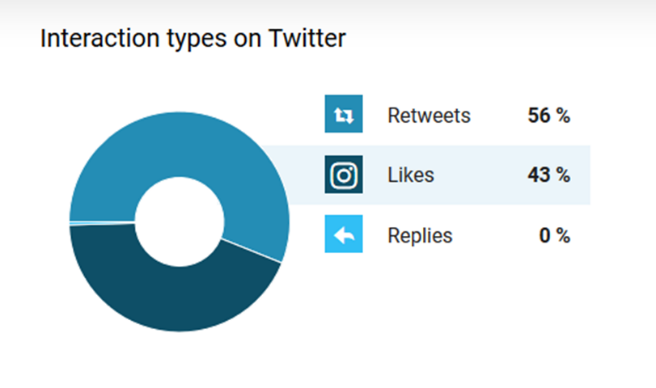 Twitter has More Than 45 Million Users in Japan
Twitter has 45 million monthly active users in Japan equating to 35.6% of the population. This is in comparison to Instagram's 29 million and Facebook's 28 million. Slightly more females (54%) than males (43.5%) use this channel with Twitter being more popular with those over 30. In fact, 38.7% of under 30s use Twitter compared to 61.3% who are over 30. That said; approximately 70% of all teens and people in their 20s have a Twitter account.
Top Marketing Tip: Twitter is an excellent place for companies to grow their presence in Japan thanks to high usage rates. Companies should be sure to set up a social channel if they wish to infiltrate the market. This is particularly true for businesses with consumers aged 30+.
Japan is Twitter's Second Largest Market Globally
Japan is Twitter's second largest market globally trailing behind the USA and second in total penetration, behind Saudi Arabia. Interestingly, there were only 6 million users in 2011. This number soared x 7 in the space of 7 years making the increasing rate of new Twitter users in Japan the largest in the world. If you speak to a Japanese person, there's an approximate 1 in 3 chance that they're an active Twitter user.
Starbucks Tops Japan's Most-Followed Accounts
Tokyo just opened the world's largest Starbucks. Spanning 32,000 square feet, this breath-taking "Roastery" features a bakery, tearoom and cocktail bar.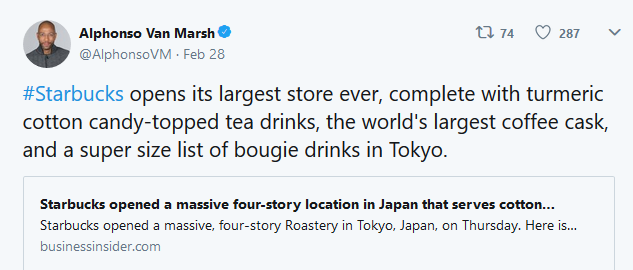 Indeed, with over 1000 Starbucks stores spread across the country including Starbucks Dazaifu which features over 2,000 wooden cedar batons interwoven into lattice structures using traditional kigumi woodwork techniques… it's perhaps no wonder that Starbucks tops Twitter's top-five most followed accounts in Japan as of June 2019.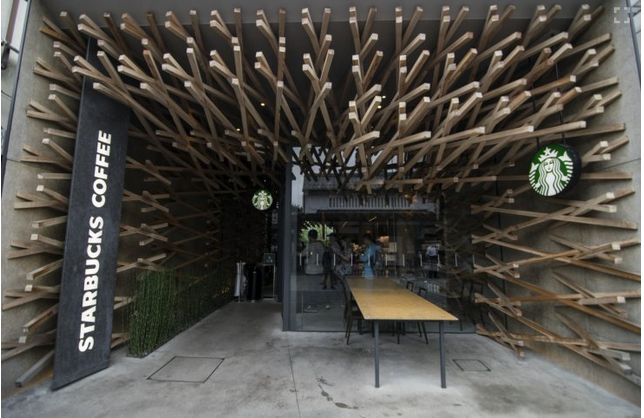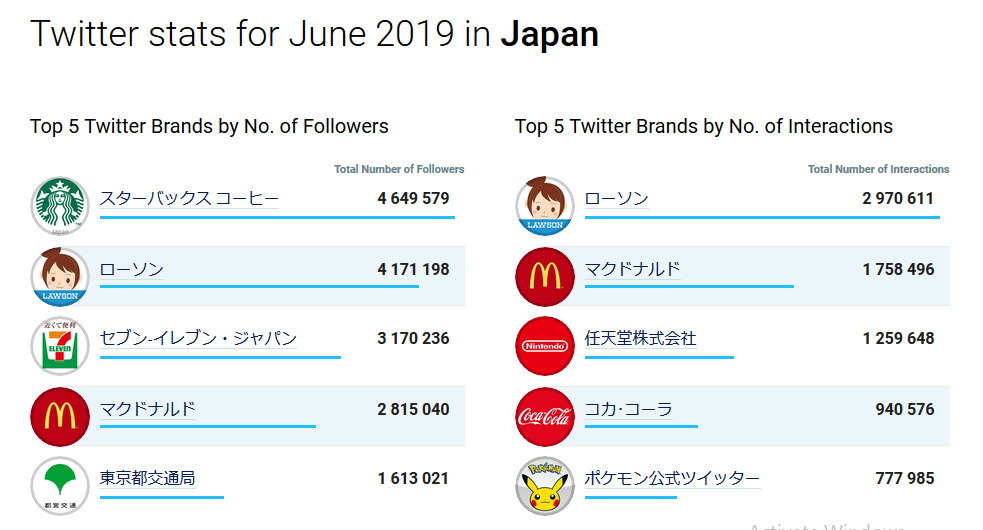 Coca-Cola Japan has the Fastest Growing Number of Twitter Followers
The account @CocaColaJapan is booming on Twitter with 1 million followers and counting. This could be because Coca-Cola will sponsor the 2020 Tokyo Olympic Games and will partner with the Olympic Torch Relay. The company is showcasing their support in a fun, friendly and inclusive way on Twitter with the one-year countdown underway.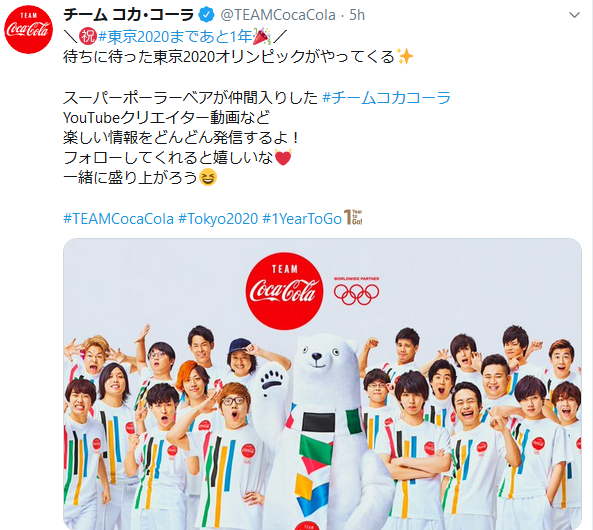 Top Marketing Tip: Leverage your brand online through sponsorship deals or by getting involved in events. This is the ideal way to promote your business without being overly salesy.
Why is Twitter so Popular?
Twitter is hugely popular in Japan. But why? There are several reasons to consider.
#1 Twitter Improves Communication
Following the devastating Japanese earthquake of 2011, Twitter was one of the only ways people could contact each other amid the destruction. Phones were not working properly and therefore the community turned to this social networking tool. After this event, Twitter usage increased by 33%.
The account @earthquake_jp has over 2.8 million followers and is one of the 10 most popular Twitter accounts in Japanese. It tweets the location, time and magnitude of earthquakes when they're observed. As Japanese Twitter Manager Yu Sasamoto said, Twitter "started as a lifeline and morphed into the culture."
#2 More Can Be Said in Japanese than in English
A lot more can be said in Japanese than it can in English. Here's an example from the Martha Stewart of Japan @Remi_Hirano. She tweeted the following to her follower base which now tops 429,500.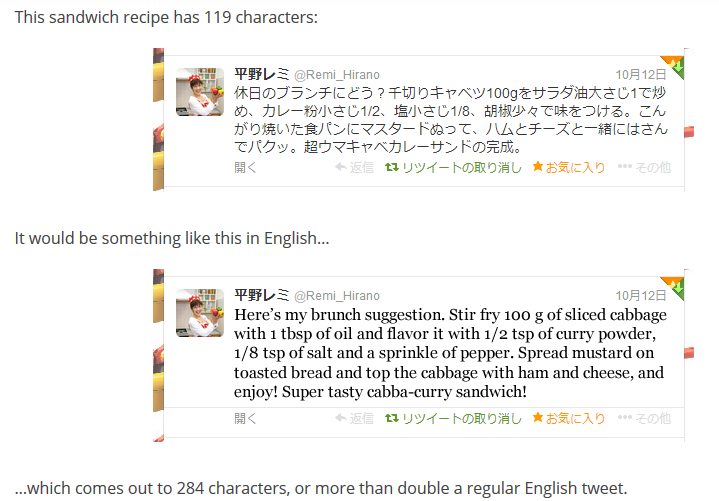 #3 The Japanese Like Their Privacy
According to Kiyo Yamauchi who leads user research for Twitter in Japan: "Japanese people tend to not feel comfortable expressing feelings or opinions in public." Unlike Facebook, Twitter doesn't require people to use their real names and this allows users to sign up with usernames that correspond with a specific interest, from anime to gaming. Having numerous profiles allows people to express multiple dimensions of their personality.
Top Marketing Tip: The Japanese are very personal and therefore asking for private details via social sites should be a no-no. Instead, offer engaging content based around appropriate themes for your business.
Twitter Trivia
When Castle in the Sky Laputa was aired in 2011, the viewing audience set a world record by firing off 25,088 tweets per second of the magical word "barusu." As the very first anime under Studio Ghibli name, Laputa has developed a cult following triggering an enthusiastic social media tradition of tweeting the word when it's said during a pivotal point in the movie. This happens every time it's aired on TV. In 2013 the film was shown on TV again, and this time the tweet-per-second count for 'barusu' soared to 143,199.
LINE Dominates Japan's Instant Messaging Services
With over 80 million monthly active users as of the first quarter of 2019, Line is Japan's most popular online communication tool. Line's main target group are young adults aged 15 to 34 years, representing more than 50 percent of the company's Japanese userbase in 2018. Line Corp. has recently unveiled new services, from credit scoring to an AI-powered robot receptionist, as the operator of Japan's dominant messaging platform seeks to expand beyond chat.
According to reports, Line Corp. is also close to obtaining a licence to launch a cryptocurrency exchange in Japan. The service, which will be named BitMax, will make it possible for Line's users to buy and sell cryptocurrencies including Bitcoin and Line's own token, Link.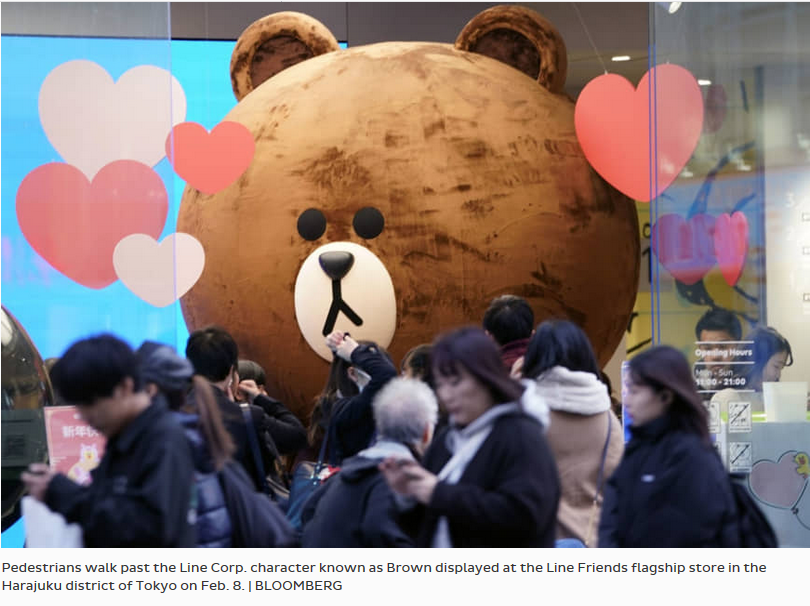 1/5 Instagrammers Check Their Feed When They Wake Up
While trailing behind Twitter, Instagram is enjoying increased success in Japan. Indeed, one in five Instagrammers check their feed and stories the moment they wake up. What's more, Japanese Instagrammers report typically checking their feeds when they have 'down time' including when relaxing at home (59%), commuting (31%), watching TV (16%) and waiting for someone (16%). More than one in three people in Japan are on Instagram right before bed.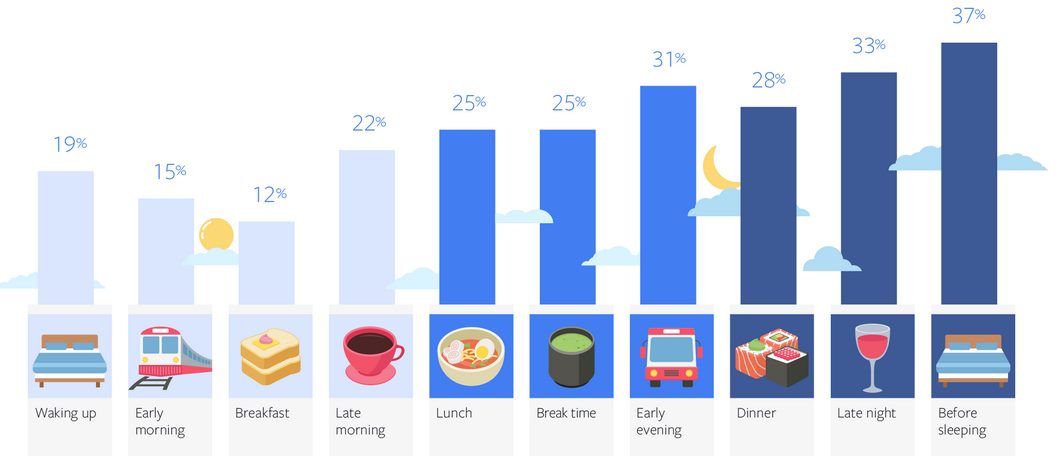 Top Marketing Tip: Schedule Instagram promotions and #ads to appear at the busiest times of the day such as early evening or at night when Instagram interaction is at its highest.
Visuals and Outreach Get an Insta Thumbs Up in Japan
Japanese Instagram users love the visual element of the social media platform as well as the fact that you can connect with people other than your friends.


Japanese photographer Hiro Goto uses his Instagram account to show Japan through his unique perspective. From the bustling, colourful streets of Tokyo to the stunning, tranquil landscape views of Mt.Fuji, this Instagrammer peels back Japan's layers and shares them with his 104,000 followers stating: "I can share photos with people all over the world and I want to share the beauty of Japan with many people."

@elrubiuswtf is Most Popular Instagram account
One of the most popular influencers in Japan is @elrubiuswtf who boasts well over 10 million followers. This account belongs to YouTuber Rubén Doblas Gundersen who typically covers everything from gameplays to vlogs. Seeing as gaming is a huge industry in Japan, this correlation makes sense.

Facebook has 28 Million Monthly Active Users
Facebook comes in at 28 million users and has an engagement rate of 4.13% per post. 52% of the platform's ad audience is male in comparison to 48% which are female.
Japan's Largest Airline ANA Shows Impressive Interaction
Topping the list of Japan's most popular brands on Facebook according to interaction is ANA Japan. As the country's largest airline, ANA had almost 315,000 followers as of June 2019.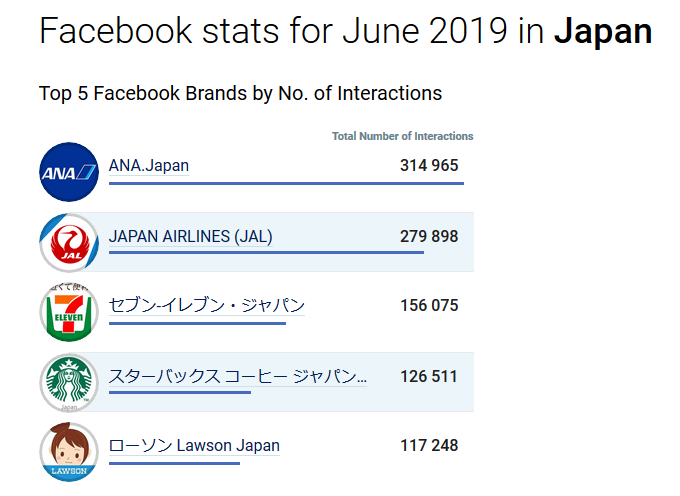 Like Coca-Cola, ANA are supporters of the Olympic Torch Relay in 2020 and are promoting this across their channels to help boost their following and encourage brand interest. ANA is also the official airline partner of the Tokyo 2020 Olympic games.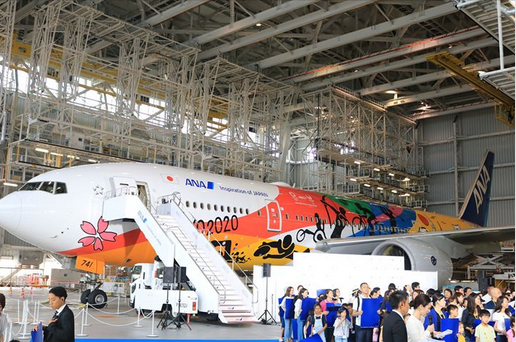 Top Marketing Tip: Ensure strong visual branding for all marketing initiatives. Be consistent across all related campaigns in order to build consumer trust.
Ecommerce Most Popular Industry on Facebook
According to Facebook stats for 2019, ecommerce ranks the highest followed by services, retail, fashion and auto.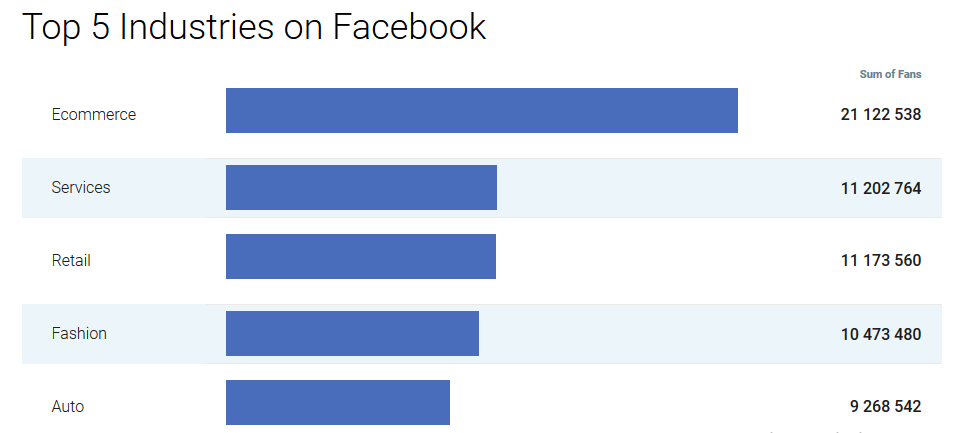 Ajinomoto among top YouTube Brands by Average Interaction
Japanese food and biotechnology corporation Ajinomoto is flying high on YouTube with an impressive 75,000 followers. The account's slogan encourages used to 'eat well, live well' and is packed with short, sharp and enticing video that stimulates the senses.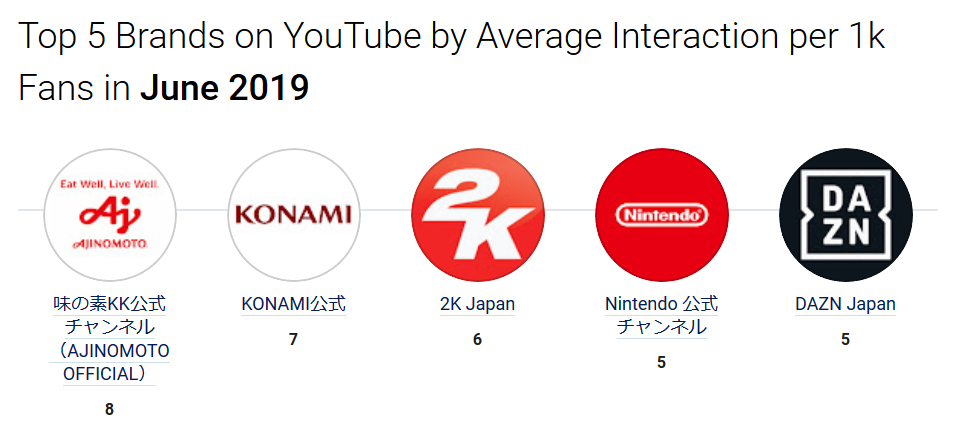 Top Marketing Tip: Attention spans are waning. So, keep your videos, ads and other video content short and snappy with a strong call of action. A video of 30 seconds is more watchable than one than lasts several minutes. When a video is watched until the end, YouTube's algorithm sees it as useful and therefore boosts its ranking.

TikTok Booming in Japan
TikTok is a video sharing platform with a twist. Videos can last no longer than 15-seconds and cover a wide range of themes including music, dance, travel, cooking and fashion. While it was one of the US and Europe's most downloaded apps for 2018, it's also booming in Japan. At the end of January 2019, TikTok officially announced their monthly active users (MAU) in Japan for the first time at 9.5 million users. TikTok is used on average 6 times a day with daily usage reaching 41 minutes.
While the MAU of TikTok is only 1/4 of Twitter's MAU, its growth rate is unprecedented since it first launched in 2017. Indeed, 71.5% of Japanese teenagers have known TikTok since June 2018.
TikTok's success so far has been quite surprising in Japan seeing as 80% of social media usage in the country is usually anonymous – and yet TikTok invites users to create their own content. The platform is getting over this hurdle by creating 'challenges' based on specific themes so that users and communities don't feel alone in their video making efforts.
Enjoyed reading Social Media In Japan – The Stats You Need To Know? Hit that share button! The social media profile of Japan is fascinating with many brands pulling out all the stops to impress. If you want social media management for your target audience, get Socially Sorted today.
At Contentworks Agency we always credit our sources. Thanks to the following sites for providing great information:
www.globalme.net/blog/twitter-why-so-popular-in-japan
www.socialbakers.com/resources/reports/japan/2019/june
www.humblebunny.com/japans-top-social-media-networks-for-2019