There are currently 3.2 billion social media users worldwide and 80% of smartphone users check their phones every morning before brushing their teeth. #Guilty. Technology is an addiction with 90.4% of millennials active across multiple social media platforms. So what has this got to do with the financial markets and forex in particular? Plenty actually. Here's our look at social media for forex- A 2019 guide
Social Media for Forex – It's Necessary!
Projections from 2017 stated that there would be 2.77 billion social media users in 2019, but this number has already been exceeded by close to 25%. Some trends and hypes come and go, but social media is here to stay. Regardless of the complex nature of the forex industry, failing to have a social presence could put you at a distinct disadvantage. Here are the latest figures:
43.5% of traders are aged 25-34 years
Over 85% of the global forex market transactions happen on just 7 major pairs GBPUSD, EURUSD, USDJPY, AUDUSD, NZDUSD, USDCHF, USDCAD
#NYSE, #DOW, NASDAQ, #SP500plus #Trump, #Brexit, #OPEC and #Fed are the most popular FX hashtags
Forex trading daily volume is 53 times more than the NYSE
95% of all traders fail and 80% quit in the first two years
Social media for forex can help foster relationships with clients, facilitate the sharing of information for decision-making and serve as a channel for quick communication and interaction.
Just look at Twitter…
In 2017, the US President addressed the involvement of the auto industry in Mexico in a tweet which read "General Motors is sending Mexican made model of Chevy Cruze to U.S. car dealers-tax free across border. Make in U.S.A. or pay big border tax!" This tweet depreciated a currency. The Mexican peso immediately traded down 2% to a record low of 21.619 pesos and the currency dropped 3.5% against the USD during extended trading.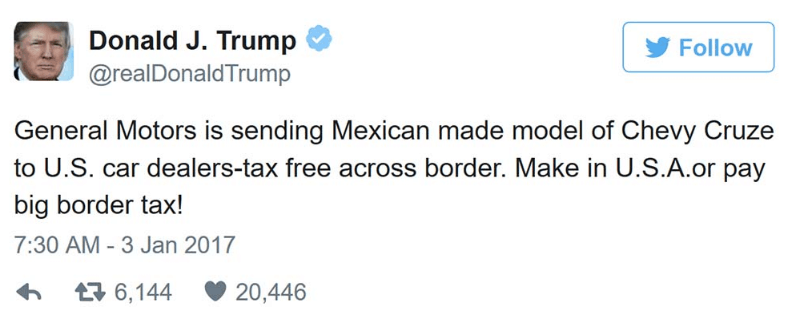 Social media is a powerful communication tool that can help traders share information quickly. This includes sharing news and events that can affect the market, keeping up with trends and confirming the authenticity of information with traders all over the globe.
#1 Set specific social media goals
Setting tangible goals is an important element of any social media plan for forex. Think carefully about what you want to achieve be it increasing brand awareness or promoting a new product. Once you know what you're aiming for, you can then break your plan into actionable steps with very clear KPIs.
Top tip: Think big, but make sure your goals are achievable. Small accomplishments can lead to great success.
#2 Know your audience
You wouldn't talk to your grandma in the same way as your friends. Knowing the dos and don'ts of your industry is essential. But you must also understand your audience. The worst thing you can do for your brand is to plan your strategy without any regard for those interested in your product/service.
We can all learn something from Revolut, a finance company offering a digital alternative to the big banks. Modern and upbeat in their approach with a millennial audience in mind, their tone is far from traditionally stifled. A sample email from the brand found its way onto Twitter, showcasing a large dollop of humour.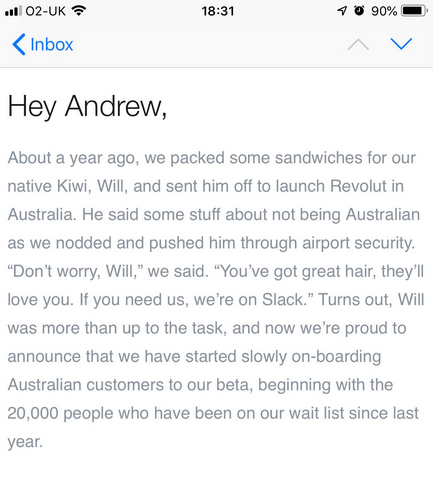 Connecting with your forex audience can be done in many ways. And as consumers are waking up to the importance of corporate responsibility, weaving this into your social strategy can also help you to stand out from the crowd. Commission-free trading company Robinhood has this nailed across their social sites including Twitter.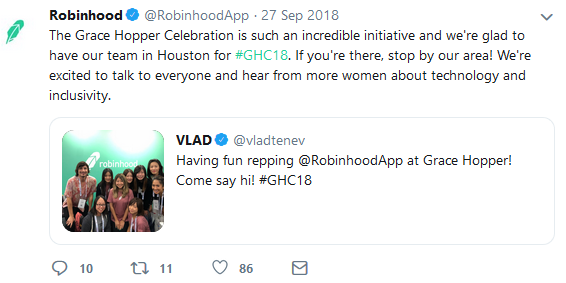 Top tip: Remember, if you're not speaking the language of your traders they will instantly see you as an impostor. That means your social media team must understand the FX world and its jargon.
#3 See what the competition is doing
What better way to understand the needs of your audience than through analysing a competitor who is doing well?For example, TD Ameritrade is a popular name in the forex industry. A quick scan of the brand's Facebook page will show you that this broker is serious about educating clients and their fans love it. They're topical, interesting and ready to spark a good debate! Check out your competition by monitoring hashtags, checking their responses and watching their engagement rates.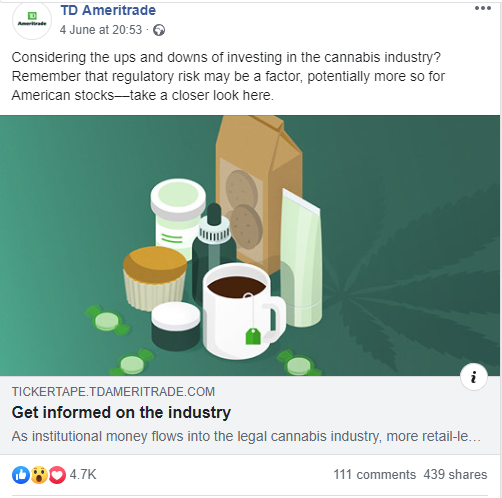 #4 Have brand guidelines
Consumers are crying out for consistency. It makes them feel safe and secure helping them to trust your brand. In order to be consistent in your social media marketing efforts, you need to have very clear brand guidelines in place. Will you use slang language? Will you use emojis? Is your tone fun and lively or straight tie corporate? Whatever you decide, stick to it. Guidelines help to develop the personality of your brand and this is crucial to all marketing activity. Once you know the boundaries of what you can and can't say you can be appropriately creative.
Top tip: Have a style guide document detailing your brand and content guidelines for social that all relevant people can access. Don't have one? Speak to our team to get started.
#5 Know the rules
You cannot say whatever you like on social media. This is a huge no-no and shunning the rules could leave you in incredibly hot water. By now you should be more than familiar with the transparency rules of MiFID or the data sharing rules of GDPR and be incorporating them into your social strategy.
For example, risk warnings and disclosures are part of forex life – don't skip them!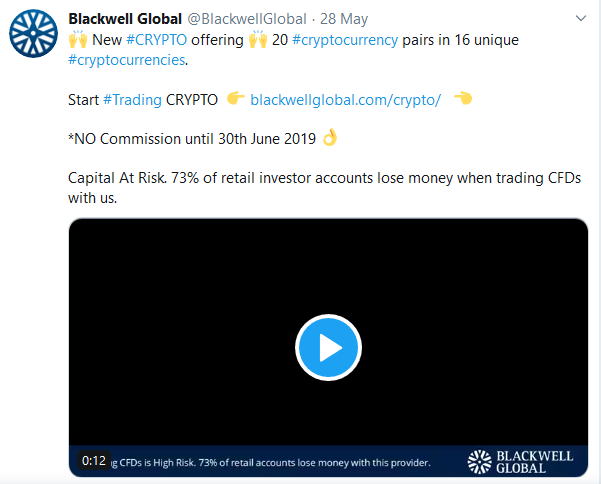 Top tip: It's better to know too much than too little in this instance. So, make sure your social team are fully clued up on all regulation updates. To make life easier, draw up disclosure templates that can be added to each post as necessary.
#6 Don't shy away from some help
Just like social media, technology is going to grow and dominate for a long time. So why not embrace it and let it make your workload lighter? The right tools will help you track appropriate metrics. They will also help you store all the data required by MiFID II regulations. By using tools, you free up some time to take care of the other aspects of your social media presence and brand building.
Top tip: Look for software than will free up time for your social media team. We love AgoraPulse, Canva and Crowdfire.
#6 Have a top content plan
78% of consumers prefer getting to know a company through articles rather than ads. You need a solid content plan that will keep your audience engaged. Social platforms are extremely busy, so your content needs to be fresh, informative, and timely.
In addition, you need to know the type of content that does well on the different social media platforms. Images won't do as well on Facebook as they will on Instagram and your blog posts should go on Twitter or LinkedIn.
Golden rules for social media for forex in 2019
Focus on the consumer, not yourself
We understand that you love your brand, but you won't have a brand without any clients. And so, acquisition and retention need to be at the forefront of your mind. TIOmarkets uses incentives and surprises to keep traders on their toes.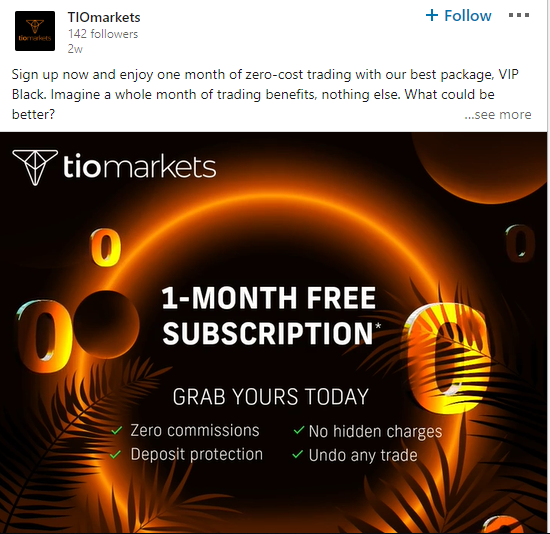 Key lesson: Showcase your benefits. Make them clear to see. Give the audience a reason to come to you. Short, sharp content will help to communicate your messages clearly.
Don't forget video content
Video is the consumer's favourite type of content to view on social media. Close to 90% of video marketers report satisfaction with the ROI of their video marketing campaigns. Video content is generally more engaging because it draws your attention longer than other content types. Look at how IG regularly uses video content to stay in touch with its followers. On average, video content gets more than 2x the standard engagement.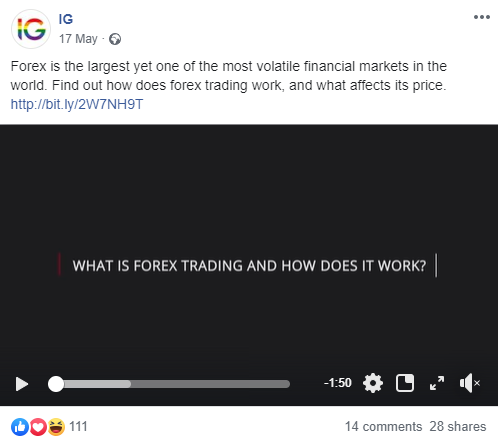 Key lesson: Video content will account for 80% of internet traffic by 2020. So how about delving into various video creation types? How-tos are great for the forex industry as they make trading a lot easier to understand.
Incorporate UGC into your content plan
User-generated content (UGC) shared on social media platforms generates 28% more engagement than standard brand posts. And social campaigns that use UGC see a 50% increase in engagement. While UGC is not straightforward for forex, you can encourage your audience to share some video content of them sharing tips and insights they have found useful. This strategy combines two powerful tools – video and UGC.
Key lesson: Encourage your audience to share their content with you. This will increase your connection with your followers while boosting your engagement and brand growth.
Teach your audience, they will love you for it
The forex market is hard, even at the best of times. 80% of forex traders end up losing their money or quitting in the first 2 years! The common reasons surrounding failure include lack of a good trading strategy, failure to manage risk, uncertain trading, and becoming greedy. There is a common solution to all these problems – receiving the right education and support. You need to educate your audience like Blackwell Global does. This increases your chances of growing a sustainable brand that is backed by loyal clients. Blackwell's high quality education centre has them ranking high for SEO too!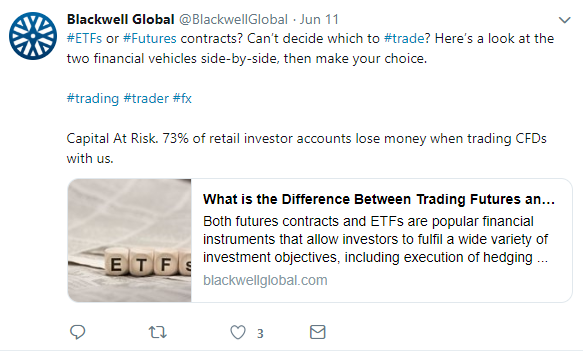 Key lesson: Have a genuine interest in client success. Give them the relevant resources and knowledge they need to increase their chances of being successful. Creating a content hub on your website loaded with fact-filled blogs is also a great place to start.
Optimize for mobile
91% of all social media users access the social networks on mobile devices and traders are increasingly undertaking $100 million deals using mobile apps. Mobile devices are convenient as they allow their users to carry on with what they are doing even when on the move. These statistics and insights show that you need to provide mobile-friendly content in 2019. Social media is evolving in line with smartphones and we expect this trend to continue well into the future. Your strategy should include mobile-friendly interfaces.
Key lesson: Mobile is huge in 2019 and you need to factor it into your social media for forex. Make sure your videos are view-able on mobile and that your image text isn't too tiny to be read on a small device. Facebook's 20% text to image ratio for advertising is a good benchmark here.
Invite your audience to connect, give a little nudge
You get 4x the amount of retweets by asking followers to retweet. Sometimes all you have to do is ask people to do something for them to actually do it. A call-to-action works and you need to learn to use it where appropriate. Check out how CoinMetro is using the call-to-action strategy to get engagement.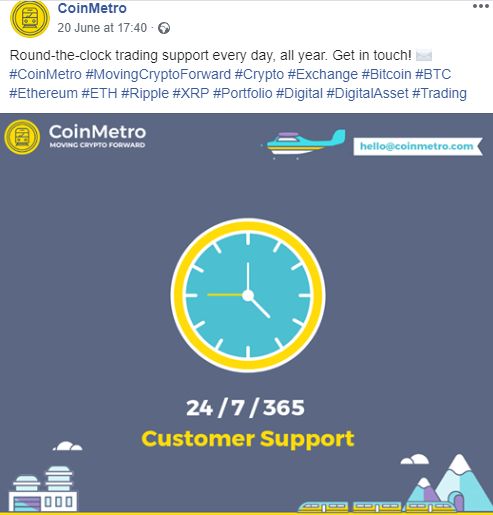 Key lesson: We all like it when people ask for something rather than just expecting to be given. Incorporate a call-to-action into your social media strategy by nudging your followers to take action.
Ready to put your social media plans into action? If not it's ok, we hear you. Full channel social media management requires time, skill and strategy. Talk to our team and get Socially Sorted today.