Following last year's phenomenal success, Europe's biggest fintech show is back. Taking place from 7-9 June 2022 at the Rai Amsterdam, Money20/20 gathers the industry's brightest minds and is a hub of innovation and creativity. A whopping 4,000 people from 1,900+ companies attended the event in 2021. So what can you expect this year? As returning media partners, we're checking out Money20/20 – 10 things you'll love in 2022.
#1 Fintech Power Players
Money20/20 is the place to be to make meaningful connections, with fintech's power players gathered together to spark industry change. From Payments and Banking to Fintech and Financial Services, this is your chance to network like never before. Money20/20 provides the perfect opportunity to push boundaries and test limits, with electric conversations spurring non-stop innovation.
Attendees are already hyped. So why not reach out to make those valuable introductions or arrange one-to-one meetings that could take your business to the next level?
#2 Networking Experiences
The networking experiences at Money20/20 are second-to-none and everyone's talking about the upcoming events. There's Money in the Park will take place on Tuesday 7 June from 19:00 -22.30. All badge holders will get a $35 prepaid card to enjoy all kinds of food and drink. This will be followed by Money Street Fest on the Wednesday from 18:30-20:30. Guests can expect a two-hour open bar experience and a whole lot of entertainment. There will also be a Connections Lounge, open daily for you to mingle and do business on the show floor. Boss it and show them what you've got!
#3 Stellar Attendees
Money20/20 knows how to create a buzz and have been dropping teasers on their social channels for a while now.
The Money20/20 event is huge, of course. So it's hardly surprisingly that a host of stellar names have been confirmed for the show including Amazon, Alpha Bank SA, Binance, Bank of America, ASOS, Financial Times, Klarna, Pelican, Uber and more. Anyone who's anyone has grabbed a spot, so don't miss out and be sure to keep up with all event updates.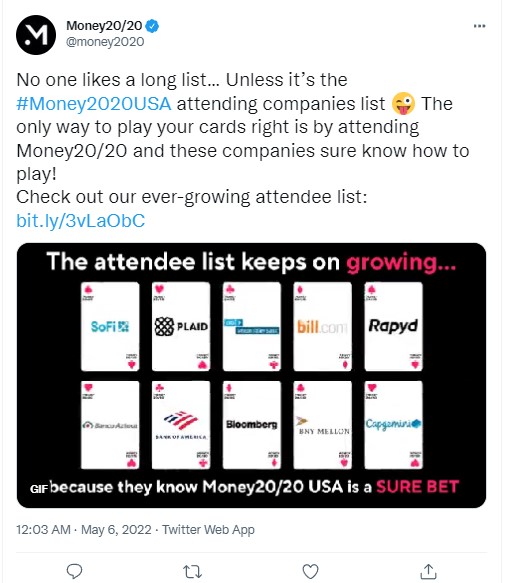 #4 A Huge Line-Up of Confirmed Speakers
Money20/20 encourages and prioritises industry development and change. It's about bouncing off others and really understanding significant shifts in the fintech world. For that reason, the summit welcomes a huge line-up of speakers, each bringing a wonderful amount of knowledge to the show. From Rafael Otero, Managing Director of Deutsche Bank, to Megan Cooper, Chief Platform Officer at Barclays, you can expect expert insights at the highest level. View the full speakers line-up here and make decisions about who you want to see on stage.
#5 Thrilling 2022 Agenda Themes
This year's show themes are like no other. The rules of the fintech game are changing and the sands are shifting in fintech, so it's important not to sink and lose your place in the money ecosystem. Money20/20 will give you the tools you need to succeed in an ever-changing landscape, touching on a wide arrange of exciting themes including:
Back end is out, front end is in
This focusses on the user experiences and explores: Channels of interactions, consumer trends, customer behaviour, customer engagement, customer journeys, customer needs, mission-driven business, sustainability personalisation, pro-customer approach, product ideation, UX/UI and more.
Champions are out, interoperability is in
The fintech world is becoming increasingly competitive. That's great. But to stand out, every bit of infrastructure must be beautifully and seamlessly linked. This theme will look into alternative payment methods, consolidation, M&A, cross-industry collaboration, ecosystem development, geopolitics, localisation, partnerships, software strategy and value chain.
Acquisition is out, distribution is in
Blowing your marketing budget on buying customers is futile. Using powerful end-user platforms as your distribution channels is the way of the future. Expect to delve into business models, contextual finance, embedded finance, customer engagement, monetisation strategies, financial inclusion and access – and more.
#6 An Action-Packed Schedule
There's no doubt about it, you won't be short of things to do. The event kicks off with an action-packed schedule complete with a wide array of agenda-themed talks. From presentations and interviews to panel discussions which always spark fascinating debates, you're sure to come away with a richer view of the fintech landscape. Money20/20's Global Shakers initiative even hands the stage over to start-ups who can then share their ideas, innovations and industry interpretations.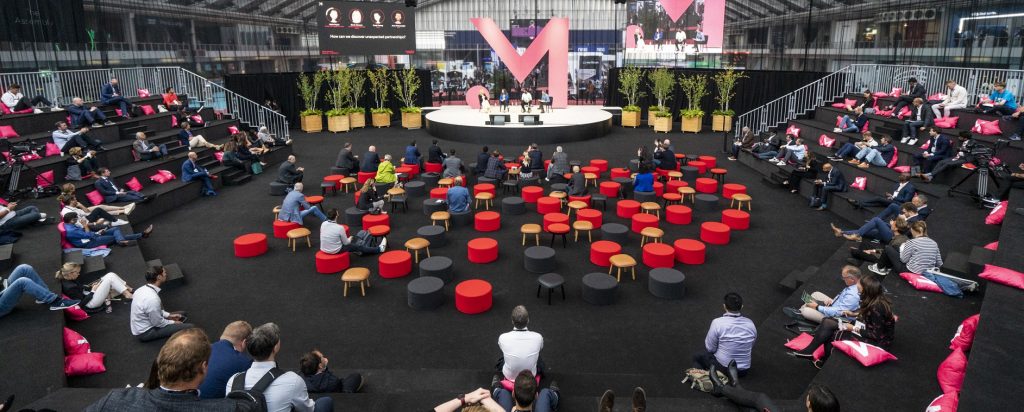 #7 Exhibit Zones
According to Money20/20, the most powerful conversations happen in real life, with 72% of attendees colliding and making business happen in the exhibit room. This makes perfect sense. Fintech can be complex. But when you see a product in action and can speak to those at the heart of each idea, it's easier to see the value of what's on offer. That's why Money20/20's exhibit zones are so vital when it comes to generating new business and valuable connections.
What's more, as 1 in 4 attendees are C-level or Board, you'll be talking to the right people. Fill in your knowledge gaps, ask questions and pin point any potential for collaboration. Don't forget to hand out business cards and follow up on important leads post-event too.
#8 Major Industry Launches and Announcements
The great thing about Money20/20 is that literally anything can happen. This summit has always been the platform for major industry launches and announcements. Money20/20 is quite literally where headlines are made, with announcements reaching top tier media outlets like CNBC, Cheddar, Bloomberg, Forbes and hundreds of attending analysts, bloggers and podcasters. It's where Uber announced Uber Money debit and credit cards, Amazon Pay launched Alexa Integration to pay bills and BitPay announced the Bitcoin Checkout 'One-Tap' App.
So watch this space…
We will, of course, be keeping you informed of all the Money20/20 gossip via our active social accounts including Twitter and Facebook. So be sure to keep checking back.
#9 An Event that Supports Inclusivity
Money20/20 is an initiative that supports inclusivity and is therefore an ethical event to get behind. RiseUp, for instance, is an explicitly exclusive program for all who identify as women. It's all about unlocking opportunities and providing tomorrow's female leaders with the network, tools and techniques needed to help them strategically advance and level up in the industry. It's no secret that fintech is a heavily male dominated world, just like finance. But change is being made. And Money20/20 is very much dedicated to making this happen.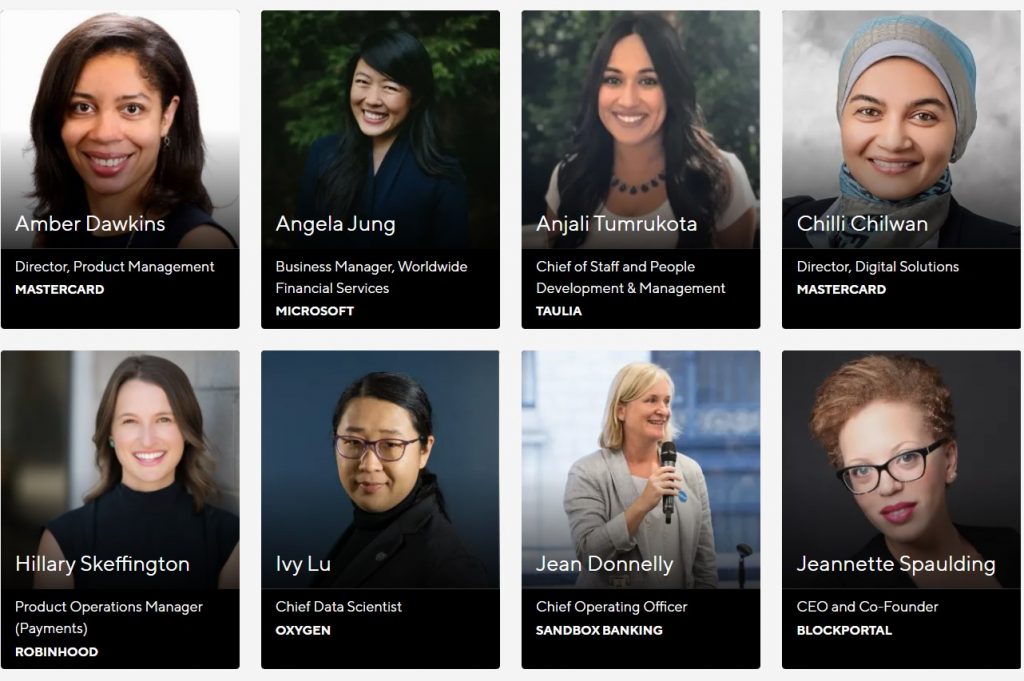 In fact, since 2018, more than 175+ women from around the world have participated in RiseUp programs, with more than 60% of participants being women of colour. The impact of the program is far reaching, providing aspiring women leaders with a unique opportunity to strategically create an effective roadmap for their desired career path. Here are some inspirational stats from the RiseUp scheme.
Over half have received a promotion/moved into a more senior role since RiseUp
80% felt more prepared for promotion after RiseUp
82% felt the RiseUp network helped progress their career/opened new opportunities
96% would recommend the programme to their peers
#10 Amsterdam!
One of the best parts of any summit is being able to explore a brand-new city. And, if you've been to Amsterdam before or live and work there already, you'll know how great it is. Maybe even extend your stay by a day so you can explore the capital of the Netherlands in style. From the Van Gogh Museum to the Rijksmuseum, there are many ways to stay cultured. You can also wonder through Vondelpark which is just 2.2Km from the Amsterdam Rai or head to Beatrixpark which is a relaxing 12-minute stroll away.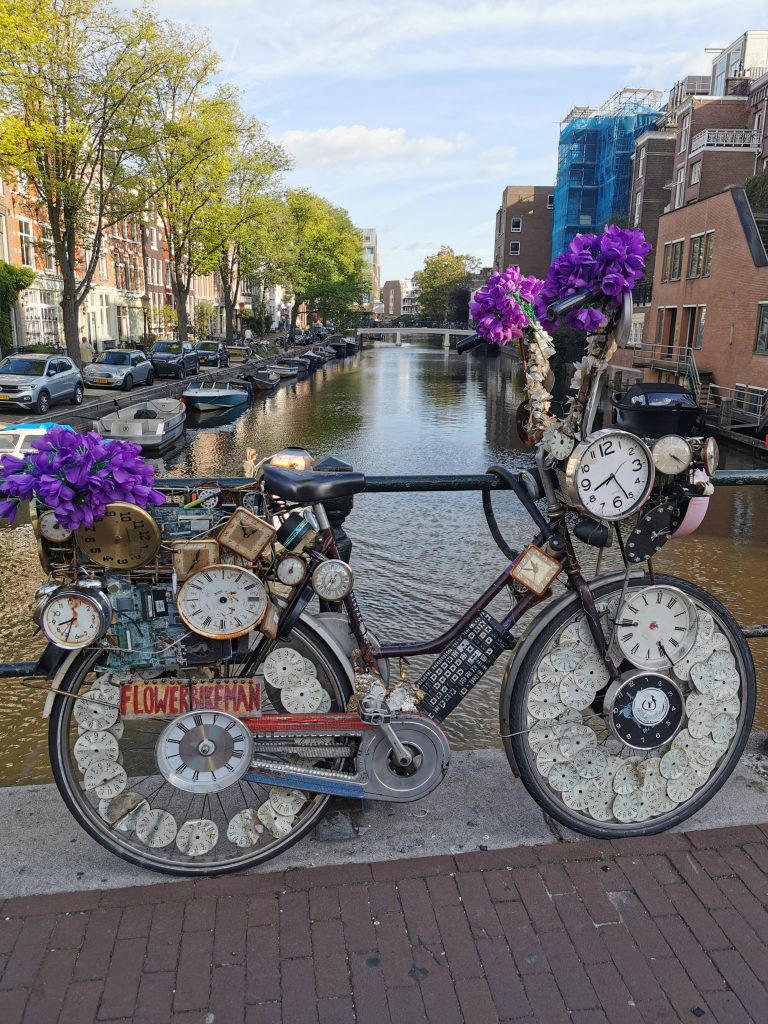 Credits to artist FlowerBikeMan who we discovered on Instagram!
The Anne Frank House is also a huge pull for many tourists. And to lift your mood after a history-fuelled morning, you could even find time for the Heineken Experience. Amsterdam's winding streets and canal-side houses are wonderfully pictures. And with so many eateries and bars dotted around the city, you'll find plenty of time to relax.
We think this year's show will be the biggest and best yet, don't you? Our team will be in Amsterdam so drop us a message to arrange a meet.