Pour the champagne and let us eat cake, Contentworks Agency is turning 5! From brainstorming business plans on an apartment floor to becoming a leading financial services marketing agency, we've come a long way. But before the sugar high kicks in, we'd like to take this time to reflect and look back at the years gone by. We've had loads of fun and worked with some brilliant people. So, here's a quick look at our Birthday highlights.
A Go-To Agency for Finance
The finance sector is niche. There are loads of rules and regulations to follow.Thankfully we've got you covered, making us a go-to agency for financial marketing. We understand and follow regulators like ASIC, CySEC, MFSA, FCA, FRB, SEC, MiFID II. And we make compliant content an absolute priority for our clients. But that doesn't mean boring.
As a specialist agency, we know how to make complex topics like blockchain and forex trading engaging through awesome content marketing. Whether you want to gain traction on Twitter, attract traders to your education centre or get more eyes on your brand through PR and social media management, we're here to help. We have a talented team, allowing us to create unique video scripts, long-form articles, education centres, e-books, whitepapers and much more that help drive consumers down that all-important sales funnel.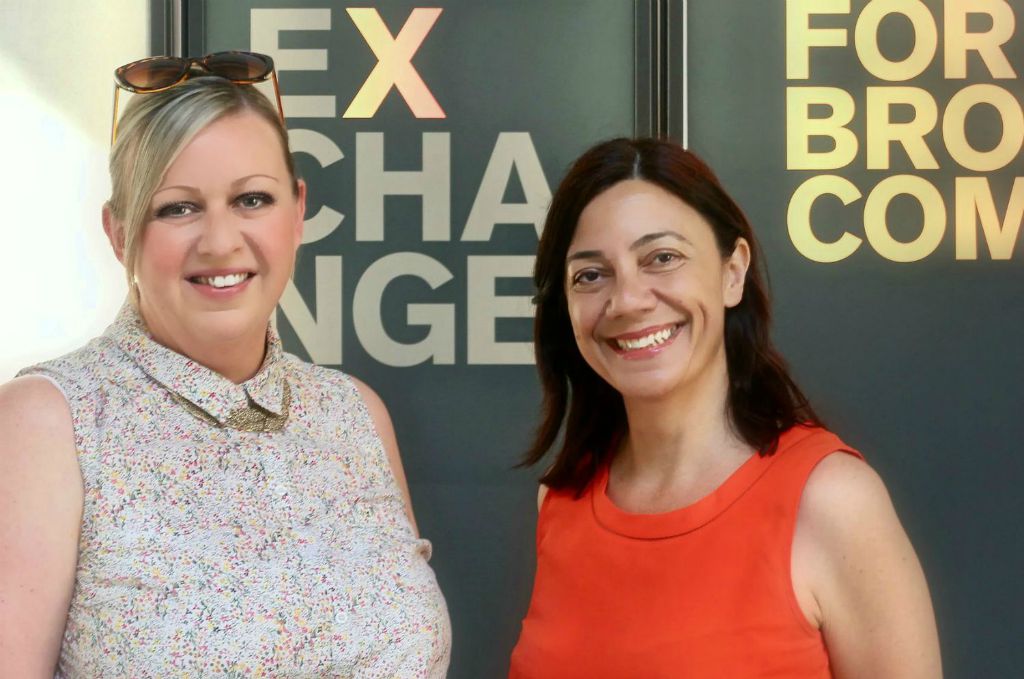 The Contentworks Directors at their first Bloomberg conference in 2017!
Oh So Many Projects
Having made a name for ourselves within the finance and fintech sectors, we've had the pleasure of taking on many exciting projects. If you fancy checking out our recent work, head over to our newly created Portfolio, where you can browse our projects in more detail. We're particularly proud of our client collaborations and our Bull and Bear animation which is a great example of how we write and bring to life a video script from scratch. We are also a 5-star review agency with numerous happy client testimonials.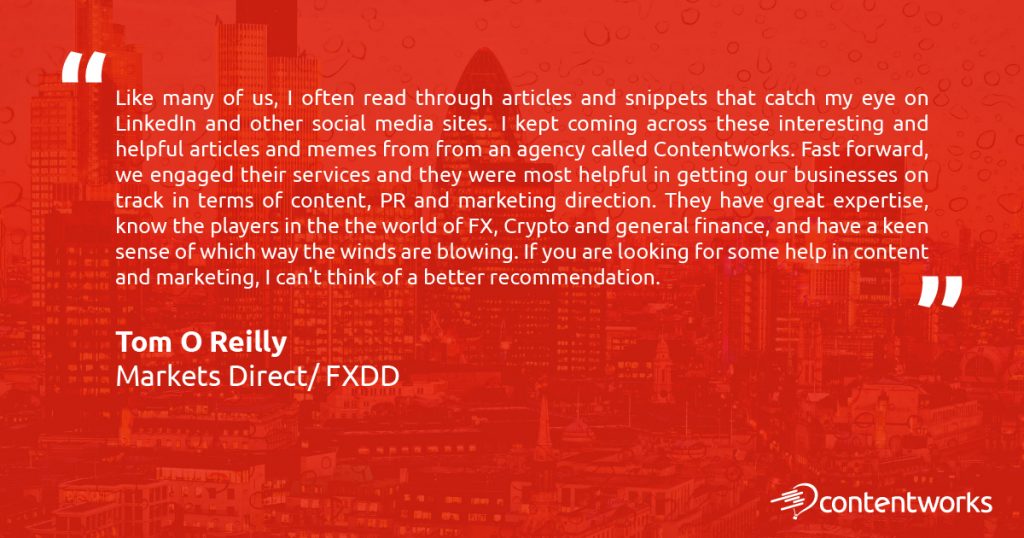 We've worked with some industry greats and strive to create punchy, gripping and compliant content across channels.
Events, Events, Events
We love events here at Contentworks Agency and are so pleased that the world of in-person networking is getting back to normal. Recent event highlights include media partnering the world-famous iFX EXPO Dubai. This took place in February and attracted more than 2500 attendees. Innovators, thought leaders and industry shapers flocked to the UAE's leading event venue, resulting in a hub of ideas and extraordinary networking opportunities. The atmosphere was extraordinary, and we can't wait for the next Ultimate Fintech event which will take place in Limassol this June. In 2021, our very own Creative Director, Charlotte Day, was part of the last marketing panel and you can read all about that here.
We also media partnered Europe's largest fintech event, Money 20/20 in 2021 and will do so again for the Amsterdam-based event which will be in June 2022. Money 20/20 attracted more than 4,000 attendees, from 1,900 companies and 76 countries, so it's guaranteed to be a biggie. Later in the year, Contentworks Agency will partner up with the Finance Magnates London Summit. This killer fintech conference and awards ceremony brings together leading execs in the heart of London.
Other event highlights included the Ai4 2021 Finance Summit presented by dotData as well as iGathering, a leading gaming event. These are just a few of the events we have partnered and we want to thank the organisers for welcoming us onboard and for their excellent collaboration.
Agency Development
As well as working with an array of awesome clients, we've also spent time developing our own agency. We've added a portfolio to showcase our work, redeveloped our site to be EVEN MORE social and we're now a hit on Medium and TikTok. There we present bitesize takes on finance news, plus funny marketing agency stories and problems respectively. We are our own Rockstar client, so if you like what you see, you'll love what we can do for your brand.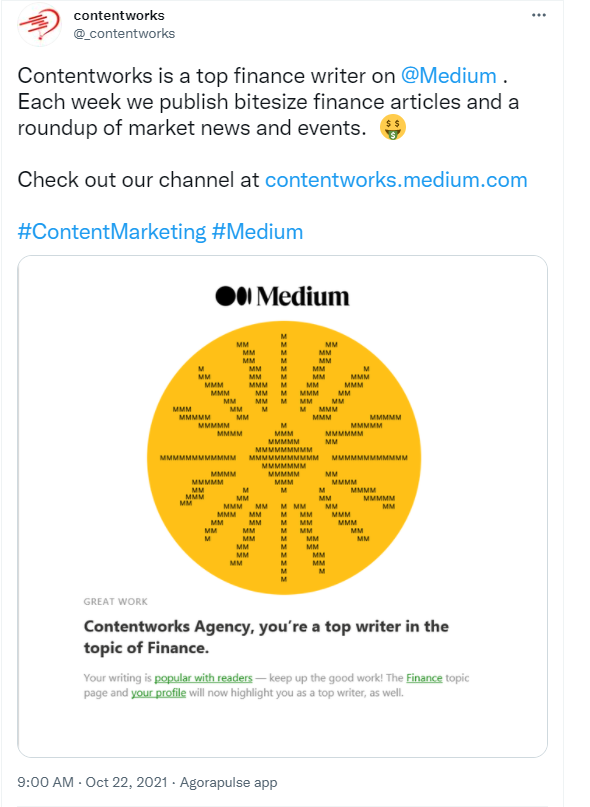 Fun Fact – We recently won a top finance writer award on Medium!
We've also created some free-to-download e-books and a financial content calendar to make your social media manager's life just a little bit easier. We are dedicated to making our Content Bar the go to place for marketing articles too. Our Content Bar is loaded with the latest content and social media marketing hacks and news for the finance, tech and lifestyle spaces.
Without trust, how can you expect clients to choose your services, deposit money, trade on your platform or recommend friends to you? At Contentworks Agency, we work with banks, brokers and fintechs to deliver winning content marketing solutions. And we understand that trust is a fundamental part of our client's success.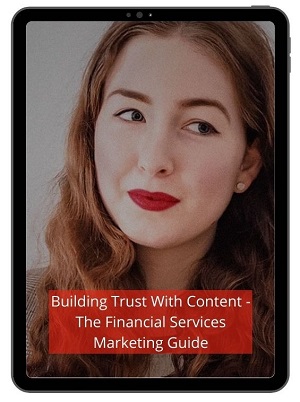 Download our latest eBook Building Trust With Content – the Financial Services Guide.
Future Predictions for Financial Marketing
The financial landscape has changed considerably over the past five years and shows no signs of slowing down. So, it's our job to adapt to the latest trends. We've currently got our eye on the Metaverse and topics like Twitter MuskGate. NFT projects are also on the rise, with people paying crazy amounts to own their very own slice of the blockchain. This is something that might need more and more marketing focus in the coming years. And we're ready for it. We've been blogging about it and are always on top of industry changes. We're also in tune with consumer sentiment and the content that matches it. This guides our strategy and helps us to tailor the right content to each demographic and sector.
Speaking about the evolving landscape, Creative Director, Charlotte Day said:
I see things going away from paid, targeted advertising and back to authentic content. We're also seeing finance brands address real consumer issues and streamline their fintech solutions to meet actual customer needs. Today's finance consumers, especially in the Millennial and GenZ spaces want honest dialogue, competitive pricing and fintech that really works for them. Unlike previous generations who stayed with their bank out of loyalty, today's consumers want to see performance. And that keeps everyone thinking forward and fresh!
What's on the Horizon for Contentworks?
As we enter our sixth year (wow), we're building our international presence, increasing our expansion into the USA. The financial landscape in the US is exciting with many finance companies adapting to end-to-end digital solutions thrust upon them because of lockdowns. Many brands are also looking to adopt a more consumer-centric approach and want to humanise the way they communicate with clients. Additionally, we are seeing many finance clients in the USA struggling to adapt to European financial regulations in their content marketing. Enter Contentworks.
Business Director Niki Nikolaou stated:
Companies are looking beyond the standard agency model. They want to feel you are part of their team and this is especially true for our clients in the US. We aim to provide a seamless service where we provide, not only great content, but also great teamwork. Our talented team of writers, editors and social media managers are now working across Europe, UK, GCC, Japan, Singapore, Australia and the US.
Thank You
Thank you to everyone who has trusted us over the years and helped us become a successful financial services marketing agency. We really value our clients, partners and team and look forward to many successful years ahead.