Sponsorships help brands get in front of target audiences. The right sponsorship deals can boost brand recognition considerably. But how can you maximise your sponsorship efforts and boost your profile? Join us as we provide top sponsorship marketing tips, check out campaign KPIs and learn about the ground rules you should be setting. Maximising a Sponsorship – Our Top Tips, let's do this!
How To Choose A Sponsorship
Before you rush into sponsoring your favourite golfer, football club or formula one team, here are some factors to consider:
Is the genre a good fit for your brand? EG- competitive sports match well with online gaming.
Do the followers or fans match your target audience demographics and interests?
Do they provide you with good giveaways, VIP access, fan incentives?
Who else is sponsoring the event (try to avoid clashing with competitors)
Look for events or teams that offer high digital exposure- this is especially important in the pandemic age of events being cancelled
Look for brands or events with a strong social media presence and good engagement
Does the individual or club have a history of scandal or a solid reputation?
Barclays has a long history of sporting sponsorship and is currently the Title Sponsor of the Barclays FA Women's Premiere League. This partnership marks the biggest ever investment in UK women's sport by a brand. And as Barclays is also the Official Banking Partner of the Premier League, it is the first brand to sponsor the leading English leagues in both men's and women's football. That's quite something. So, what is Barclays doing right on social?
Sponsorship-focused account
 Firstly, Barclays has its own Twitter account for sponsorship-related material @BarclaysFooty has garnered 243.1K fans and counting. Separating sponsorship content from regular banking content is a great start as it's easier to monitor and fans can be clear of what sort of posts to expect.
Secondly, Barclays has cleverly used the bio section of Twitter to link out to their sponsorship partners. This includes the Premiere League with 22.7 million followers and BarclaysFAWSL with 119.7K followers. This automatically gives the account authenticity as it would be inappropriate to link to official accounts if your sponsorship is not genuine. Links also improve brand exposure and show from the start that Barclays is in a sponsorship partnership that they take seriously. Another great thing about the bio is the hashtag introduction #AllToPlayFor which makes content easier to find.

Effective sponsorship marketing means staying on the ball and promoting big news from the brands you're sponsoring. Barclays does this well on Twitter, showcasing BarclaysFAWSL champions through a series of tweets including highly shareable content. The video below received over 12K views in the space of 10 days. In 2019, Twitter revealed that adding video to a tweet can attract ten times the engagement as a tweet without video. So that's something to remember for your next sponsorship campaign.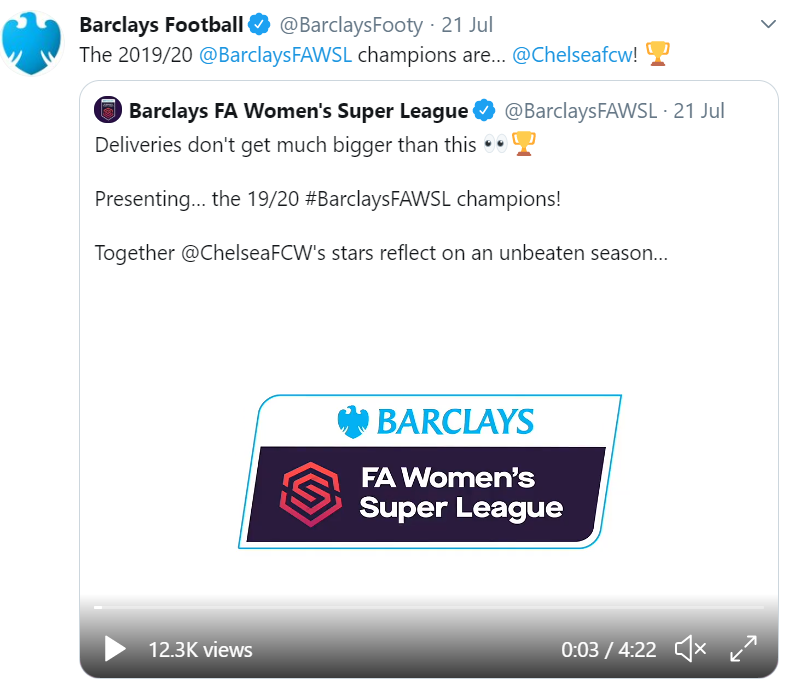 Barclays share major news from their sponsorships across multiple channels but diversify the content to keep things interesting and give fans a reason to head to all their platforms. While Twitter is often used for more general announcements, Instagram goes a bit more in depth. 'Check out this thank you message from Chelsea striker Beth.
If you plan to incorporate video into your Instagram marketing strategy, remember that the length of Instagram feed videos should be between 3 seconds – 120 seconds. IGTV video length can run up to 10 minutes – or 1 hour for some accounts. So this will give you more scope to expand. Like the video above, you can direct followers to check out the full video after posting a teaser clip.
Should you wish to take your sponsorship deal to a larger audience, how about working with influencers or well-known celebrities from the industry you're involved with. For the first ever @BarclaysFAWSL Awards, the hosts included former professional footballer and TV personality Ian Wright as well as former football forward for Arsenal Ladies, Kelly Smith. Note how both celebrities are tagged in the post for maximum engagement.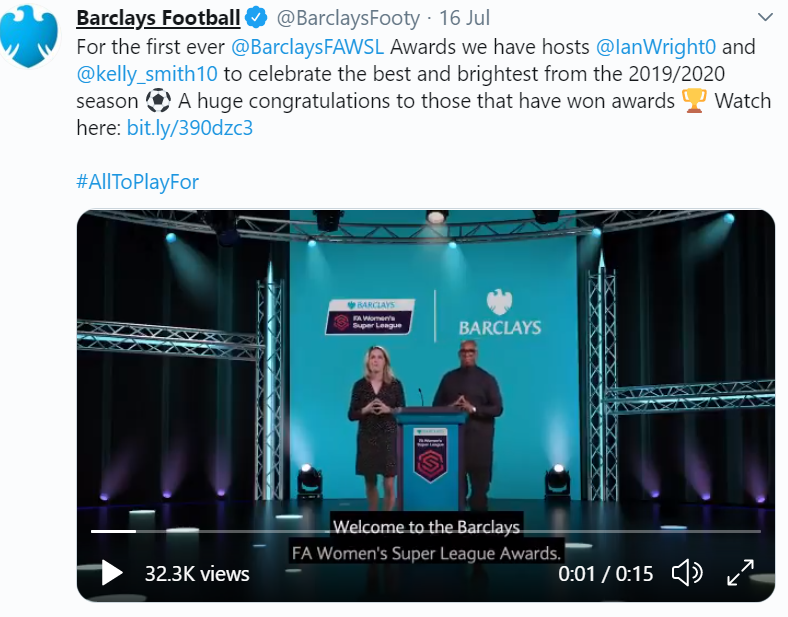 Barclays also draws attention to their sponsorship partners through unique engagement initiatives such as creating the Ultimate XI team and sharing the results. By asking followers questions, you tap into their natural desire to reply helping to keep attention on your brand and you brand's sponsorship goals.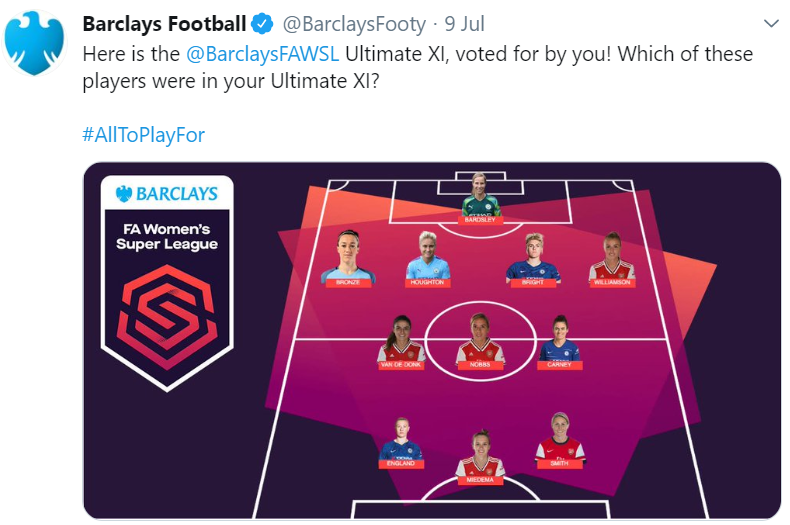 Tip – Give back to the fans or local community. Sponsors who utilise their power to provide charitable assistance or treats for fans are always well respected.
 Mastercard is another financial services brand with an array of sponsorships. They're official sponsors of Major League Basketball (MLB) which itself has a whopping 8.6 million followers on Twitter. So, what is Mastercard doing right in terms of marketing?
What better way to get people to engage with your brand and your sponsorship partnership than by offering a host of incentives such as a special Snapchat Lens to celebrate the MLB Opening Day? Not only is this bang on trend, but it also gives back to dedicated followers encouraging them to watch your channel.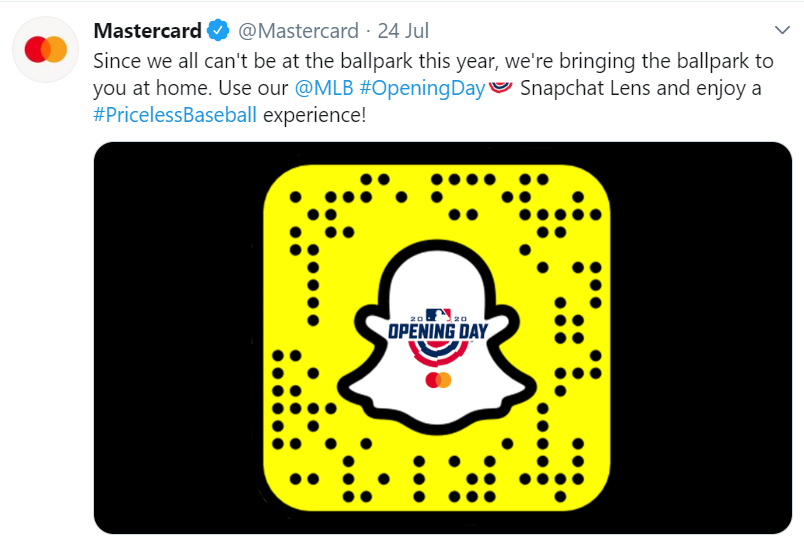 What's also really cool about the above Mastercard post is the use of branded hashtags such as #PricelessBasketball to make the sponsorship-related content even more meaningful. Mastercard's Start Something Priceless campaign centres on empowering people to follow their dreams. According to Mastercard's Chief Marketing Director, Raja Rajamanar:
"It's a call to action at a time when people expect actions, not just as, from brands."
Mastercard also used video content to draw attention to a branded #PricelessBasketball contest that again promoted the Mastercard Priceless initiative as well as MLB. The video below received 1.6 million views and featured Alexander Emmanuel Rodriguez, an American former professional baseball shortstop and third baseman who played 22 seasons in MLB.
The video's call for followers to create and share their own basketball celebrations is a great way to boost engagement while drawing attention to MBL. Working with a MLB star boosts awareness too.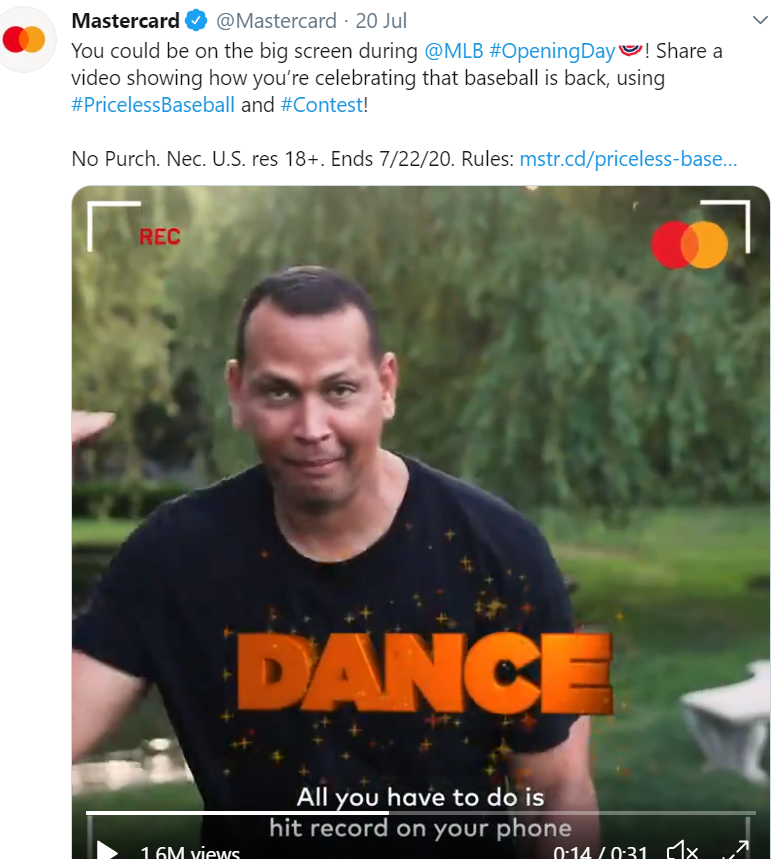 Live channel takeovers are an ideal way maximise a sponsorship and garner excitement. And Mastercard jumped on the idea by letting Red Sox legend and renowned right-hander Tim Wakefield take over their Twitter channel, broadcasting live from his Florida home with the assistance of his daughter, Brianna. After a few warmups, Wakefield gave the background on how he learnt to throw a knuckleball. This is one of the most confusing pitches in baseball which made the content even more interesting.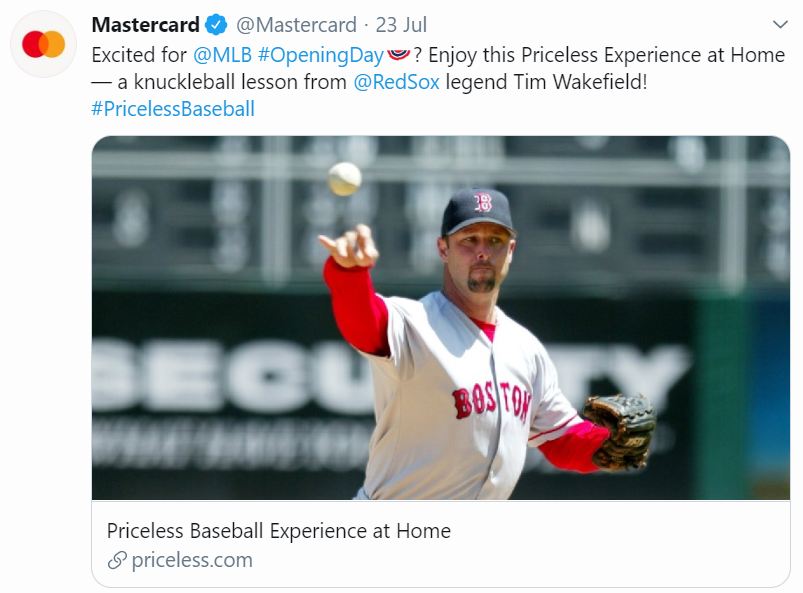 The takeover can still be watched here via Mastercard's Priceless portal, helping to maintain the momentum of this campaign.
For HSBC, Olympic sports sponsorship is a big deal which explains why, like Barclays, they also have their very own Twitter account dedicated to HSBC Sport.

 So, what else is HSBC getting right when it comes to maximising a sponsorship through marketing?
Personalised content for authenticity
Sponsorships lend themselves to interesting social media content. HSBC has a large golf sponsorship portfolio including The Open Championship. Posting birthday messages to a top golfer such as Ireland player Graeme McDowell helps to give a personalise twist, boosting authenticity. The below post is also backed by related content focusing on The Open which is relevant to the sponsorship partnership.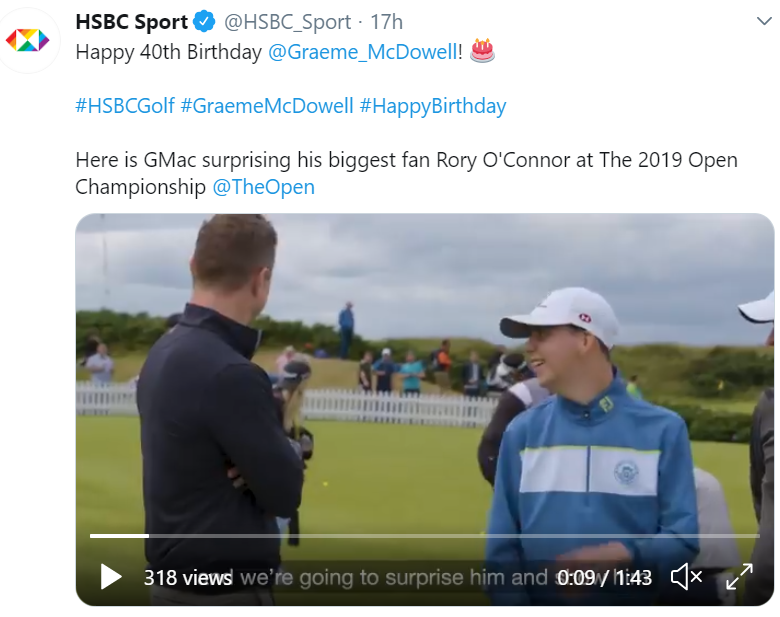 Again, one of the best ways to boost engagement and get people talking is to post polls and questionnaires. You can then post the results to keep people checking back.

Competitions are popular, especially when an epic prize is at stake. The great thing about the below post is it encourages people to follow the HSBC Sports page and to tag fellow golf fans to boost brand awareness. The relevant hashtags and the overall theme of the post support the sponsorship.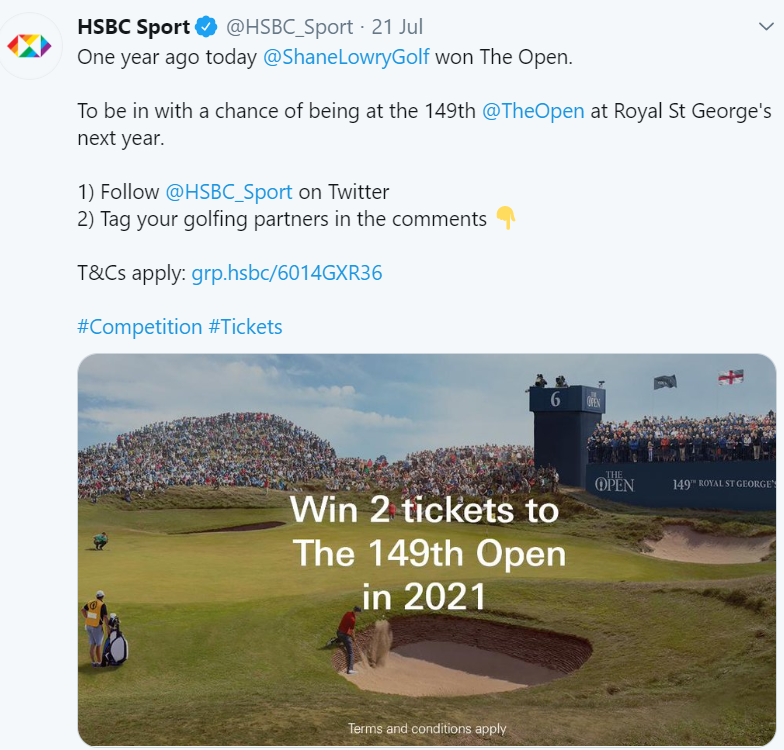 Aside from sponsoring whole teams, many brands also choose to sponsor individual athletes. Visa, for instance, recently told its global roster of Olympic and Paralympic hopefuls that their sponsorships will be extended into 2021 after the Tokyo Games were postponed. The credit card giant's Team Visa scheme features 96 athletes across 23 sports, including soccer star Megan Rapinoe, gymnast Simone Biles and Olympic champion David Rudisha.
Visa acknowledge their sponsorship arrangements by celebrating individual athletes on days such as International Women's Day.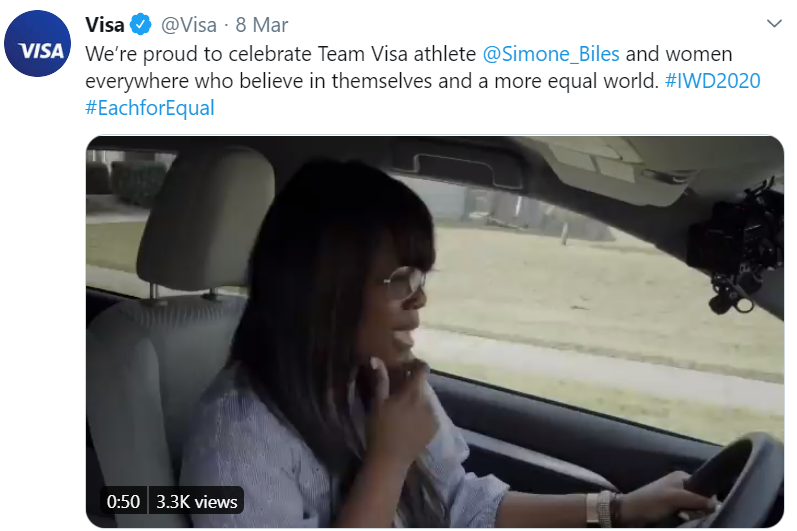 The brand also takes a very 'proud' stance using emotive language to show how much they care about their sponsorships.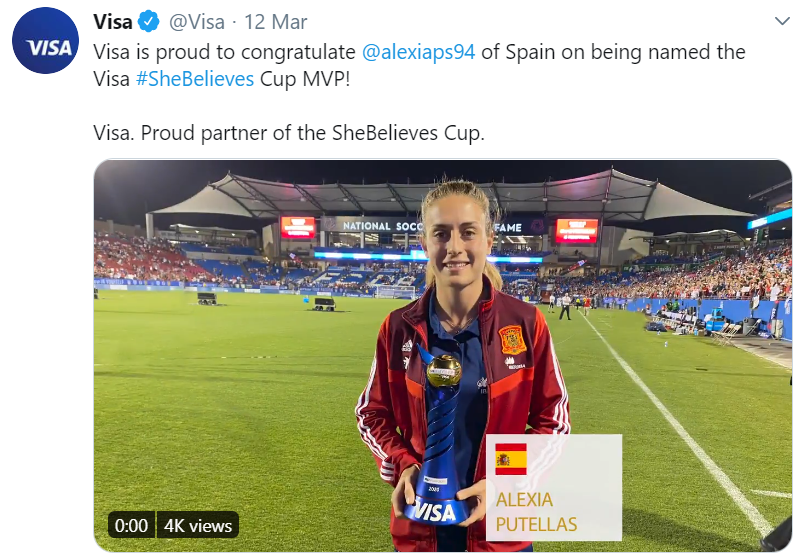 TIP- Don't try to take over or dictate your rules. The aim should be to provide value to the club or event and introduce your brand to its fans. Fans will be fiercely loyal to their sport or event and don't want to see a sponsor throwing their weight around!
How to Set and Monitor Sponsorship KPIs
Sponsorships need to be monitored. So, it's a good idea to set Key Performance Indicators (KPIs) to keep track of your campaigns and help with reporting. KPIs can revolve around:
Follower communication with your campaign can include things such as signing up for a newsletter, downloading an e-book, clicking on a link or anything else that you want your prospects to do. So, make sure you watch the figures. You can create UTM codes using Google's UTM tool to see exactly what got the hits you were hoping for – or not. You can also use Google Analytics Tracking by following the chain Acquisitions – Social – Conversations. Set goals for your campaigns to track users from social platforms.
Use Google Analytics to compare the metrics before and after a campaign. Metrics to pay attention to, include new visitors, referral sources, total page views, time on site and more.
Engagement is an important KPI because it provides an in-depth view of how your sponsorship marketing campaign was received. It can include likes, reactions, shares, comments, clicks, votes, pins, video views and brand mentions. To measure engagement, it's a good idea to use tools such as Agorapulse which will track and measure engagement for you. You can also do this manually by dividing the number of engagements by the number of impressions. Or by dividing the number of engagements by your number of followers
Ground Rules for Sponsorship Marketing
Maximising a sponsorship through marketing means laying down some ground rules too. For instance, you should:
Understand the marketing objectives of a brand. As a sponsor, you must know what you can and can't say by law and if there are any content restrictions (there will be). Also, it's essential to clue up on any compliance issues to avoid breaking rules.
Have a clear sign-off process in place. Understand who's checking what and who has approval to post online and on each social account.
Create a content plan and specific expectations so that workload doesn't suddenly increase unexpectedly.
Keep communication flowing and know the best people to contact for an emergency or crisis management response.
Have an approved source of images to avoid copyright issues.
Understand exactly what you are getting in terms of free tickets, passes, mentions, team access, interviews and PR.
As we mentioned above, at present it's essential to have digital exposure. Check your sponsorship contract includes sufficient online exposure to compensate for cancelled matches, events or interviews.
Where will your logo be shown? On shirts, a stadium, a website, social media? It's essential to understand the level of brand exposure you will receive.
Did you enjoy reading Maximising a Sponsorship – Our Top Tips? If you did then hit share. Contentworks Agency works with banks, brokers and fintechs and has plenty of sponsorship marketing experience. Get in contact with our team to discuss your sponsorship marketing.