Still think LinkedIn is 'just' a recruitment platform? Then you're probably missing out on some juicy LinkedIn marketing opportunities. With 675 million monthly active users and a revenue growth of 24% in Q2 2020, LinkedIn's got some swag. But how can you propel your brand into the spotlight? As a content marketing agency working with clients across multiple verticals including finance, we love LinkedIn marketing. So let's talk LinkedIn Marketing – How We Get Clients Noticed.
LinkedIn Marketing Stats Your Business Needs to Know
You might be looking to convince the CEO that LinkedIn is worth your time or justify social media spending on this platform. The good news is – it shouldn't be hard. Here are the most relevant Linkedin stats that'll prop you up in any marketing meeting.
LinkedIn is the largest global community of business professionals.
4/5 people on LinkedIn drive business decisions. This means by being on LinkedIn, you can appeal directly to those that have the power to interact with your brand.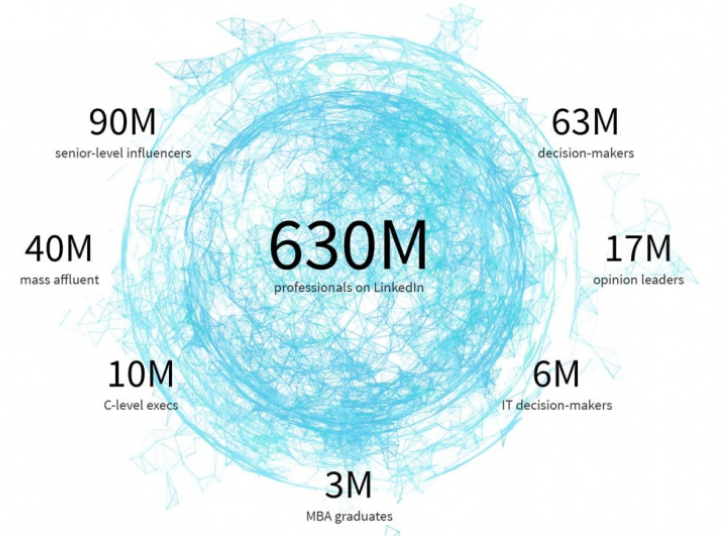 30 million companies are on LinkedIn. You need to keep up with trends, be where your competitors are and make a name for yourself within the business community.
An ad on LinkedIn can reach 12% of the world's population. Crazy, right? Basically, if you decide to go down the LinkedIn marketing ad route, your outreach is likely to be substantial.
Sponsored InMail has an average 50.2% open rate. That's more than double the average open rate for email campaigns which typically sits around 21.3% according to MailChimp's data.
While the US is LinkedIn's biggest market at 167 million users and growing, it has gained global traction. There are over 211 million users in Europe and 179 million in Asia Pacific making this a great platform choice for global enterprises. LinkedIn also operates in 24 languages for your convenience.
Data from January 2020 shows that 61% of LinkedIn users are between 25 and 34. So, if you're targeting millennials, this is the platform for you.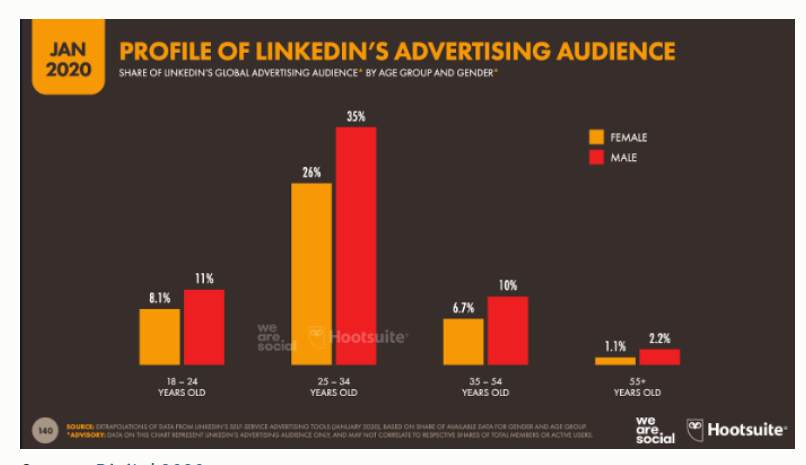 Here at Contentworks, we're all about matching brands to demographic-relevant platforms and developing an effective strategy. Contact us today to get Socially Sorted.
Benefits of LinkedIn Marketing for Brands
So, you know the stats. But what are the benefits of LinkedIn marketing for brands? This is the stuff you really need to know in order to justify a LinkedIn marketing strategy and budget. Here goes…
#1 Thought Leadership and Improved Authenticity
LinkedIn's business community consumes a range of professional content from industry news and expert advice to professional learning, peer insights and recommendations. They're interested in learning, growing from a business angle and being engaged by valuable content contributions. Many professionals also want to connect with those they view as inspirational or interesting. So, this makes LinkedIn the perfect platform for a thought leadership strategy.
Content performs incredibly well on the platform in general. LinkedIn has 15x more content impressions than it does job postings meaning it has transitioned from just a recruitment platform to being a professional network where people go to educate themselves. LinkedIn is also considered 3x as trustworthy for delivering worthwhile content than other social media platforms.
You can get the thought leadership ball rolling by:
Determining your thought leadership goals – do you want to boost trust and authenticity or are you more interested in getting partners or affiliates?
Researching questions or discussion points in your niche to see what interests people.
Finding your own unique angle using your own research and experience. Do not simply regurgitate content from others as this isn't being a thought leader.
Thinking carefully about the 3 main categories of thought leadership and which content you want to focus on. Main categories centre around industry insights, extensive product knowledge and viewpoints from your brand.
50% of decision markers cite thought leadership as an important way to vet organisations and 47% of C-suite executives have shared contact information after reading thought leadership. Speak to the Contentworks team today to help with thought leadership strategies that'll boost the reputation and authenticity of your brand.
#2 Developing Corporate Social Responsibility
Corporate social responsibility (CSR) is important and LinkedIn is a great place to showcase your CSR initiatives. Doing so is crucial should you wish to become a top recruiter and a company that people look up to. After all, 76% of millennials consider a company's social and environmental commitments when deciding where to work and 64% won't take a job if a potential employer doesn't have strong CSR practices.
Nike is a good example of a company embracing CSR on LinkedIn. In a video, CEO John Donahoe announced that he was joining the 'All-In Challenge', a digital fundraiser benefiting non-profit organisations focused on Covid-19 relief efforts. He offered a once-in-a-lifetime opportunity to the winner of the challenge, allowing them to attend a unique design session with Nike's top shoe designers to create a customised pair of trainers, a one-on-one mentorship session with Donahoe and $1,000 USD of Nike products. Wow!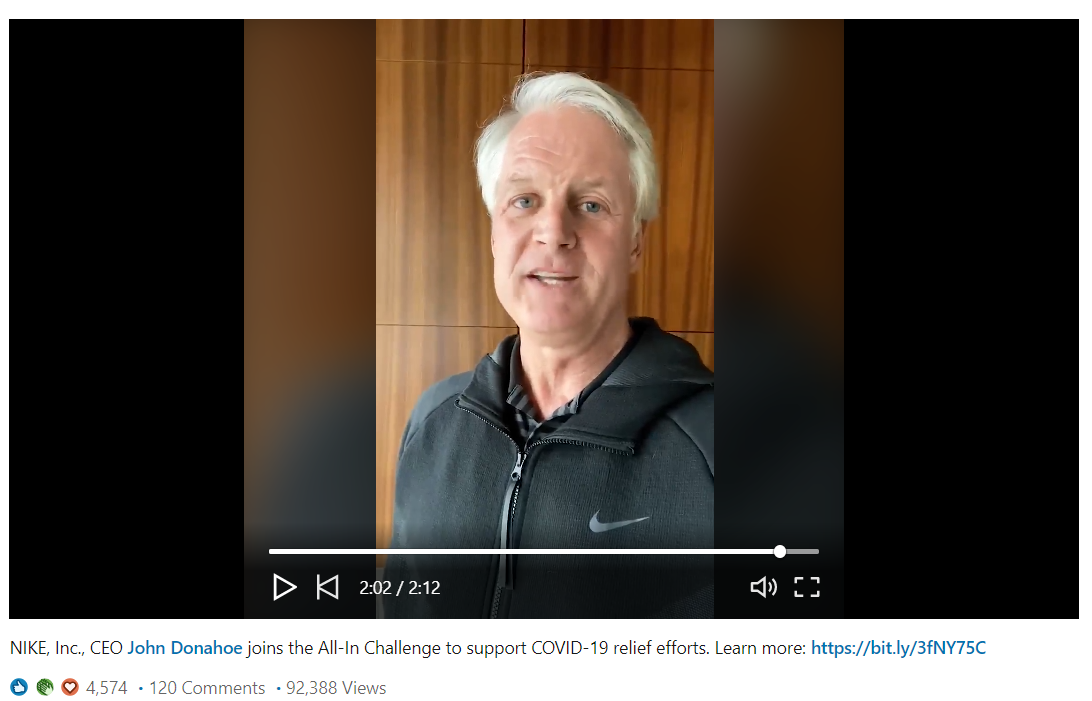 The video has received over 90,000 views to date and a whole load of positive feedback on LinkedIn.

Top takeaway for LinkedIn marketers: Use video to communicate your CSR messages. Think about how to engage your audience, with freebies and incentives always proving popular.
#3 Employee Wellbeing
LinkedIn is your chance to showcase the knowledge of your brand and appeal to the interests of your network. You can use hashtags and create shareable posts that can help your LinkedIn presence grow. LinkedIn marketing also allows you to demonstrate employee wellbeing in order to not only attract top employees, but also make your staff feel valued. By being grateful for the work they do, you can boost morale and create a positive company culture. Our director Charlotte recently discussed employee advocacy at Agorapulse, you can read the article here.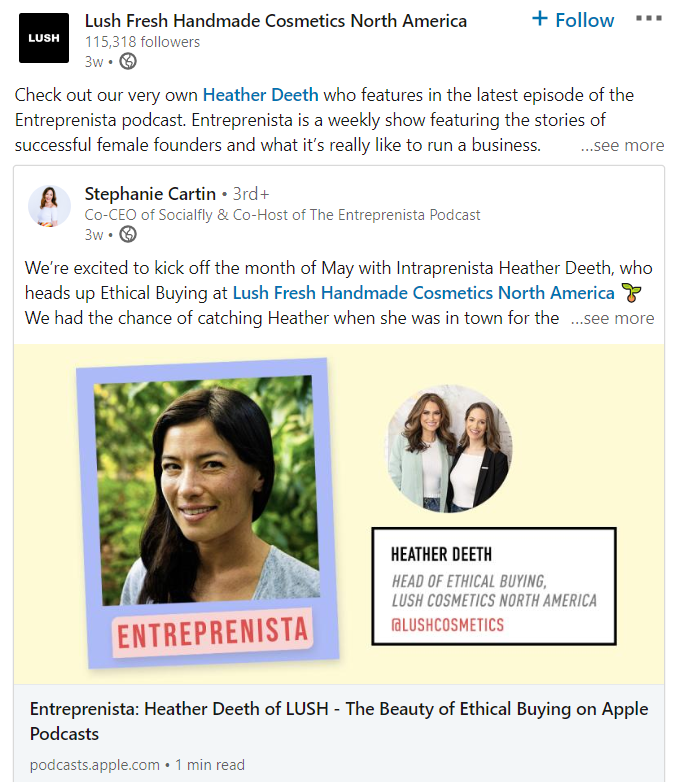 Top tip for LinkedIn marketers: Focus on inspiring initiatives that also shed a positive light on your organisation. Tag employees for increased outreach, encourage them to share content, include images, use positive language and link out to podcasts or campaigns where relevant.
#4 Recruitment
As a company, finding the crème de la crème of employees is important in order to drive your organisation forward. With a wealth of business professionals at your fingertips from all different sectors, LinkedIn is the place to find your dream team.
When it comes to posting jobs on LinkedIn, there are two main ways to do this. Either through paid job postings or free through your company page, personal profile or LinkedIn groups. One thing to bear in mind is that paid ads will reach LinkedIn members who have the skills your job requires. When you pay to advertise your job, the platform will do things such as emailing and displaying the job to potential candidates whose skills and location match the job posting.
And let's take a moment to talk about marketing those employee perks. In competitive industries, top candidates can receive far more than just medical cover and 20 days holiday. Perks can include gym membership, massages, games rooms, free snacks, pizza day or discounts on hotels or flights. If you offer it then shout about it. Your competitors are.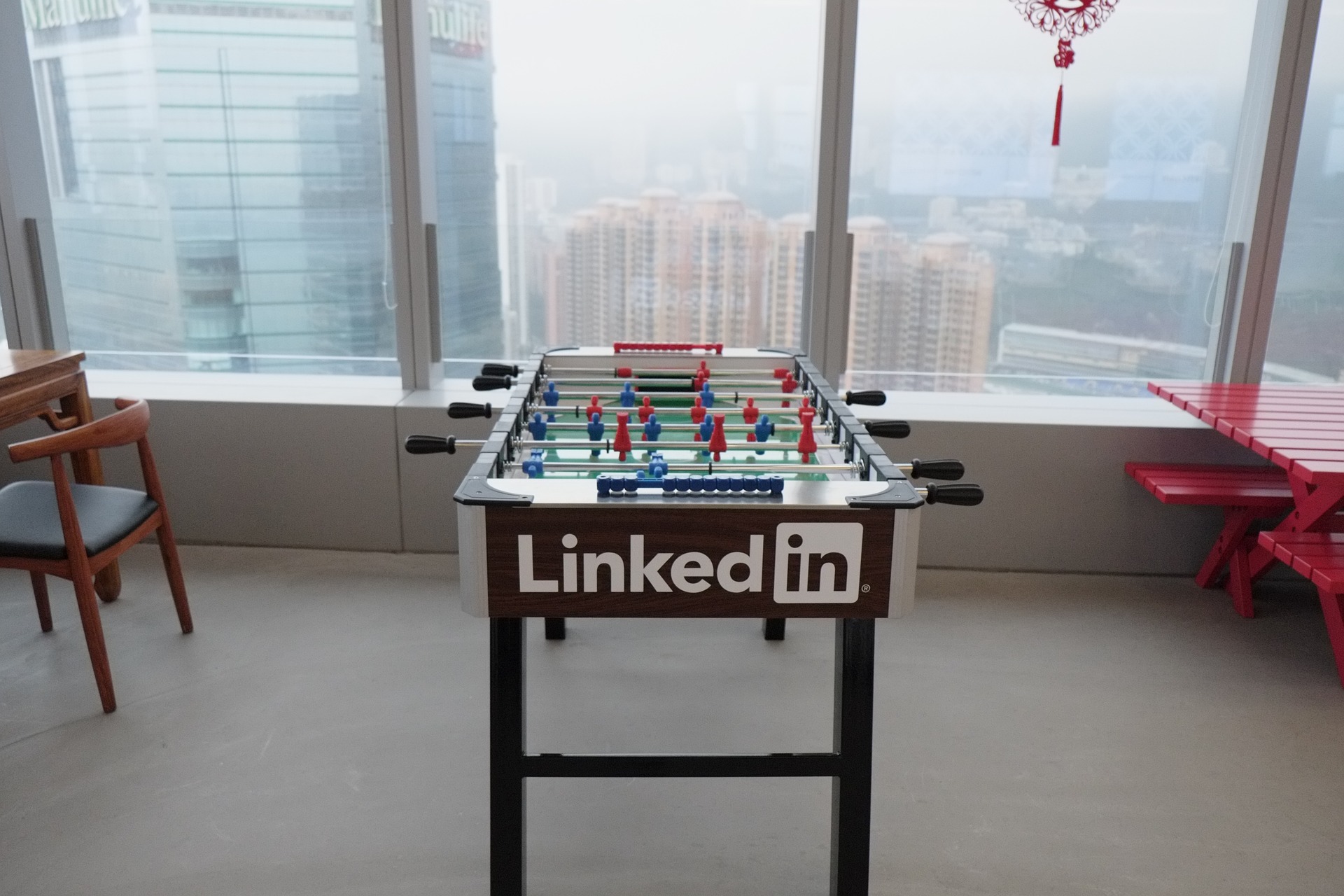 #5 Affiliate Acquisition 
Affiliated Pages or Acquired Pages may be used by a parent page to indicate a partnership or ownership between organisations.
Examples of when an affiliated page may be necessary include when:
An organisation wants their affiliations or initiatives to be more visible to their followers.
An organisation is acquired but remains a separate working entity.
An organisation is acquired, and its products continue to function under the acquired brand.
Use this feature wisely and only with tried and trusted affiliates. Linkedin marketing may also include networking in specific groups with potential partners.
So, LinkedIn is pretty awesome. But what LinkedIn marketing features do you need to be using in order to maximise the benefits of this platform?
Company Pages
First things first, make sure you have your own company page on LinkedIn and that you're shining as brightly as you can. Update your page with: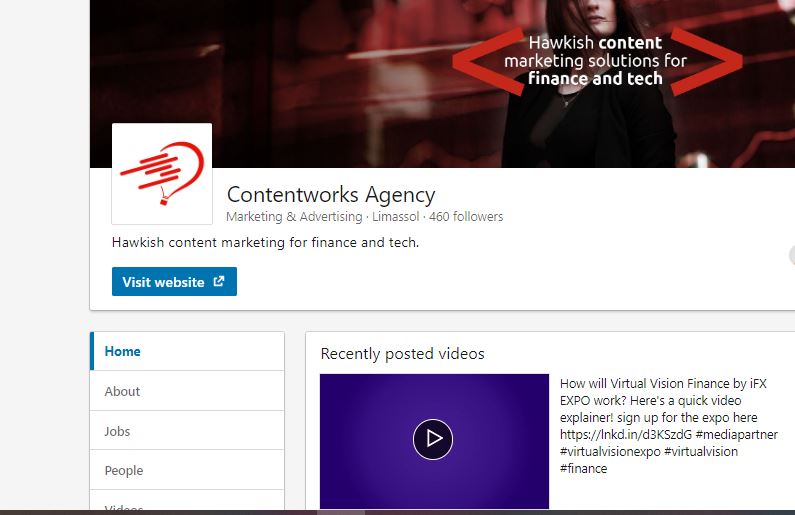 Cover image, logo and brand description
Thought leading articles and videos
Shareable content tailored to a specific niche audience
Behind the scenes content to create authenticity and trust
CEO interviews and staff insights
CSR initiatives
Job role advertisements

All personal profiles of influential staff members including CEOs need to also be up to scratch, especially if the aim is to gain traction from thought leadership. This is one of the first things we work on when embarking on Linkedin marketing or reputation management.
Showcase Pages
You can also try Showcase Pages. These function like subdomains of your Company Page, allowing you to draw attention to specific areas of your business like a particular brand or an ongoing initiative. They also allow you to share different information or languages for different regions. For example, if you have a Chinese language website, you should hyperlink to your Chinese social media channels and CN showcase page.
LinkedIn members can choose to follow one or more of your showcase pages if they're interested in a specific aspect of your company.
Articles
As discussed, articles are integral to any LinkedIn marketing strategy. Many people like to read long-form articles on this platform so don't be afraid to create longer, more detailed content pieces of around 2,000 words. Contentworks Director Niki is a LinkedIn thought leader who publishes topical articles surrounding the finance sector.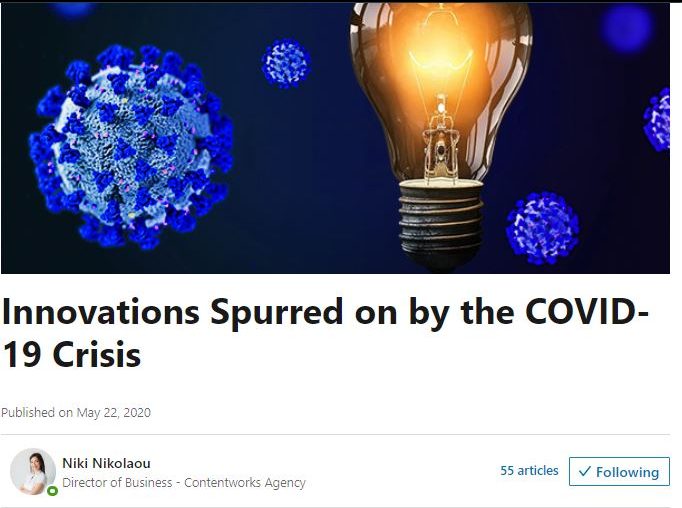 Speak to our team for engaging content tailored to your brand or directors.
Events
As an organiser, you can use the LinkedIn Events feature to create and manage your initiative. You can make your event public or opt to send out invites to people you want to build a stronger professional connection with – or maybe even recruit down the line. Learn more about creating and hosting your event here.
LinkedIn Live
Did you know you can go Live on LinkedIn? It's the perfect way for marketers to connect to their communities through live streaming and is like Facebook Live but with a more professional twist. Of course, knowing your audience and which written content performs well will help you choose a topic that will most engage your followers. As always, it's best to keep videos short, answer comments or questions and stay on topic. That's a firm no to a 30 minute speech from your shareholder.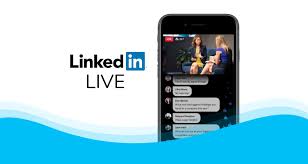 Top tip for LinkedIn marketers: Have two devices to hand – one for live streaming and another to monitor comments as you go.
Here at Contentworks Agency, we aim to improve the online presence of brands through quality content marketing. Contact us today for more information on our popular Contented and Socially Sorted solutions.