June is Pride Month. And we love it here at Contentworks as it's the perfect time to celebrate and recognise the equality and unity that we all deserve. Many brands have been showcasing their support for the LGBTQ+ community with innovative, thought provoking and brightly coloured campaigns. So, here are the LGBT marketing campaigns getting us excited about #Pride2019.
#1 IKEA's Rainbow Bag
To better support LGBTQ+ co-workers and communities across the globe, IKEA has released a limited-edition rainbow version of their reusable blue bag. The sale of these bags will help IKEA contribute to and participate in Pride events and other LGBTQ+ initiatives. Awesomeness!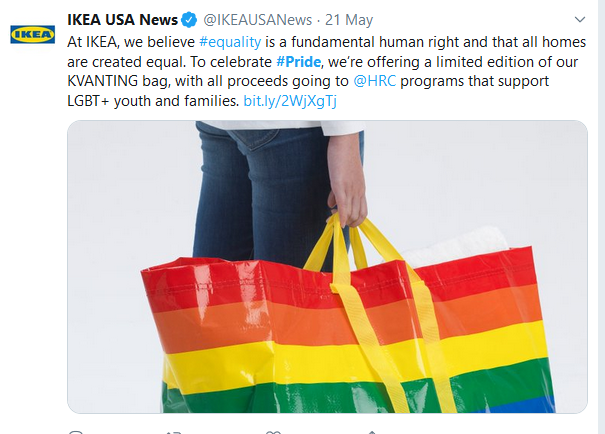 The bag is being promoted on their website as well as across social platforms like Twitter. The rainbow flag is also being flown across all UK stores offering visual support to LGBTQ+ IKEA employees.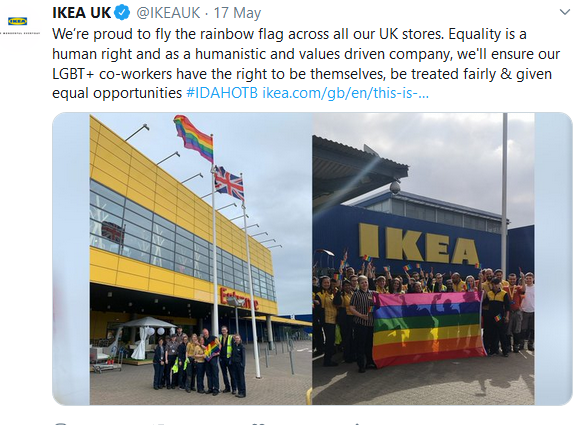 Top marketing takeaway: Stay true to your brand and incorporate campaigns that showcase your company ethics. Promote your efforts through multiple channels for maximum exposure. Linking to an instore purchase or giveaway is the cherry on the cake.
#2 Pride Apple Watch Faces
Apple's rainbow logo dates back to 1976 has long been associated with Pride. There have been Apple t-shirts celebrating LGBT diversity, but this year Apple has taken things up a notch with their rainbow Apple Watch faces. These reside along the original designs that were unveiled last year and include vertical rainbow strips that move around the display when you move your wrist.
For the first time, Apple has also included two Pride analogue watch faces. One is square and one is round. You can add and remove the Pride watch faces and add 'complications' on top to change up the design and make your watch unique to you. We love it!

Top marketing takeaway: Never stop innovating. The more original and creative you are, the more attention your product and services will generate. Stand out from the crowd and get noticed.

#3 Wicked the Musical Pride Tees
Theatre can be extremely influential with musicals enjoying a massive following. Wicked has become an international sensation and so standing behind #Pride makes a huge statement in support of equality. The Wizard of Oz, which helped to form the Wicked storyline, is widely associated with the LGBTQ+ community with Judy Garland (who played Dorothy in the 1939 movie) being adored by the community.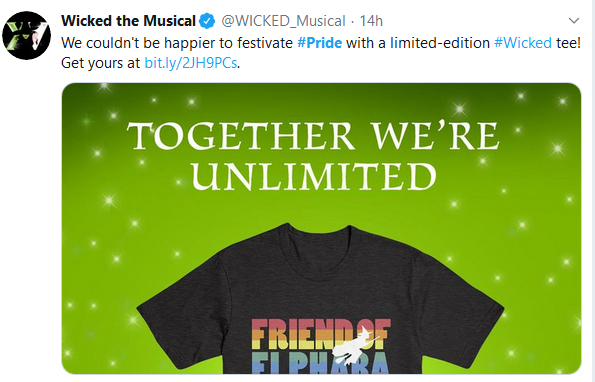 Top marketing takeaway: Use branded and trending hashtags where appropriate to boost your business during Pride 2019. Don't be insensitive or cringeworthy, however, by jumping on hashtags without a good cause. Riding on the back of trending hashtags can be bad for business unless there's a genuine purpose for your post that's in support of #Pride.
#4 Calvin Klein's Pride Capsule Collection
Calvin Klein has long supported the LGBTQ+ community in an effort that infiltrates their entire brand. Their Pride efforts can be seen from their website homepage navigation bar where the Pride collection is presented in the traditional rainbow colours.

This leads through to a special Pride capsule of clothing and accessories for men and women ranging from t-shirts and hats to swimwear. There are even five different Pride jockstraps available this year. The Pride initiatives of Calvin Klein tie in neatly with their long-running #MyCalvins campaign which has been helping to personalise and promote the brand. Note the expressive language and the direct call to action in the web snippet below.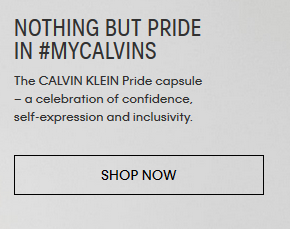 The Pride 2019 campaign also fits in with the new "I Speak My Truth in #MyCalvins' campaign which celebrates diversity, honesty and openness. The brand is expert at influencer marketing and has worked with big stars including Shawn Mendes and Kendell Jenner. This year, transgender model and actress Indya Moore is 'speaking the truth' as well as fronting the Pride campaign.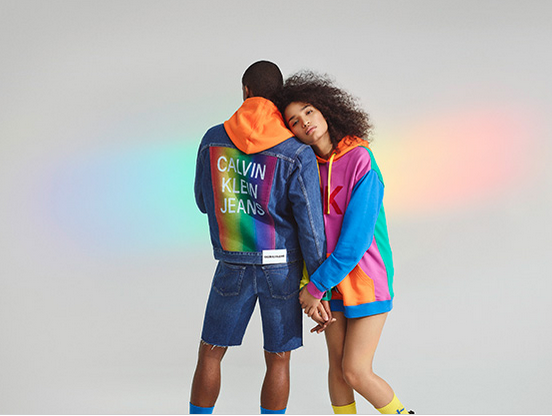 Top marketing takeaway: Embrace influencer marketing by connecting with people who are a good fit for your brand. Relevancy is key in helping to spread brand awareness and promote essential company ethics.
There's plenty of rainbow to go around and Pride Month is a great time for brands to shine and showcase their acceptance of diversity. You're sure to see plenty of campaigns over the month but these are certainly some of the best to-date. Don't be shy to tweet us with your Pride marketing faves at @_contentworks!
From the international team at Contentworks – Happy Pride 2019! Keep an eye out for our live tweets at #Pride #Cyprus on 1st June.