After months of drama, lawsuits and the near miss of a full-blown trial, Elon Musk officially took over Twitter in October 2022, acquiring the social media platform for a cool $44 billion. Yikes. The entrepreneur wasted no time in firing Twitter CEO, Parag Agrawal, and was not shy in revealing plans to revamp the whole verification process, setting Twitter on an uncertain course. Fast forward to 2023 and we know it's been rather rocky for the platform since the Musk takeover. But is Twitter still a viable marketing channel? Join us as we take a closer look.
The Twitter Landscape – Stats you Need to Know
Firstly, let's look at the most recent stats and how the public views Twitter as a platform.
According to reports, Twitter has stabilised its finances after being close to bankruptcy, but the company still faces many problems and at least seven lawsuits alleging it stopped paying bills after Musk bought the social network. Musk recently tweeted about the financial troubles but claims 'breaking even' is possible with public support.
Finances were greatly affected by a massive hit to Twitter advertising following Musk's acquisition of the company. The top 50 advertisers on Twitter spent a combined $83 million over a two month period from February to March 2023, down from $102 million in the same period last year. Coca-Cola, Audi, Pfizer, Volkswagen, General Motors and General Mills were just some of the brands to pull their advertising spend over 'safety concerns.' Many worried about Musk's disregard for censorship and a potential increase in extremism and hate speech on the platform. According to the #StopToxicTwitter coalition, the use of the 'N' word jumped by almost 500% since Musk's takeover. Many brands promised to monitor the situation, with some bouncing back in recent months.
Worldwide visits to Twitter.com dropped 7.3% year-over-year (YOY) in March 2023, the third straight month of declines. Twitter.com's unique visitors declined 3.3%YOY in March 2023 and the average visit time on Twitter's website was down slightly to 10.6 minutes in 2023, from 10.7 in March 2022.
A Pew Research Center survey conducted about five months after billionaire, Elon Musk, acquired the site also revealed how six in ten Americans have taken a break from Twitter over the past year. Worryingly, a quarter of current Twitter users also said they're not very or not at all likely to be on Twitter in a year from now. This compares to 40% who said they are extremely or very likely to be still using the site in a year and 35% who claimed they're somewhat likely to still be using it.
Current or recent Twitter users who have not taken a recent break from the site are more than twice as likely as those who have taken a break to predict they will be on Twitter a year from now (63% vs 26%). This suggests some sort of platform loyalty still exists.
The Lofty Goals of Elon Musk
Despite the shaky stats, Twitter is still a hugely popular platform with around 436 million monthly active users.  Musk also has some lofty goals, many of  which should be acknowledged by marketers globally. After all, it seems the business magnate is determined to make the platform profitable and is showing no signs of giving up. Could he turn things around and grow exponentially? Here's what Musk wants to achieve over the next few years.
Grow Twitter's monthly users to nearly 600 million in 2025 and 931 million users by 2028. That's more than quadrupling its monthly users in the next six years.
Have 104 million paid subscribers for a service only referred to as 'X'. There aren't any details of what sort of product this would be yet, but could an X rebrand be on the cards? It's one of several ideas outlined in the billionaire's grand plan to quintuple Twitter's revenue to $26.4 billion by 2028 and quadruple the size of its user base, despite previous claims that he doesn't care about the economics of buying Twitter 'at all.'
Significantly diversify how Twitter makes money. Right now, advertising makes up about 90 percent of Twitter's revenue. Musk wants to cut that to about 45 percent by 2028. His forecast would include $12 billion in advertising revenue and $10 billion in subscription revenue, with Musk forecasting 69 million Twitter Blue users by 2025 and 159 million by 2028. Wowza.
Twitter Blue – What is it and How Does it Impact Brand Visibility?
Talking of subscriptions, Twitter Blue has undoubtedly been one of the most controversial changes since Musk's takeover. In the days before Musk, the iconic Twitter Blue tick was only issued to accounts that met certain criteria, becoming a symbol of authenticity and credibility. It also prevented people from mocking or faking a celebrity or business's online presence. No money was exchanged for the blue badge of honour. It had to be earned. But that all changed when Musk announced that anyone can now buy verification. Simply pay $8+ a month for a Twitter Blue subscription and show that you meet Twitter's eligibility requirements. This, in turn, leads to Twitter Verification status, for which there are an abundance of rules.
Recently, some Twitter accounts with more than one million followers have had their blue tick badges re-instated by Twitter without paying to subscribe. Beyonce, Harry Kane, Richard Osman and Victoria Beckham are among those to have their blue tick back.
Let's just pause here to acknowledge some of the funnier blue tick reaction tweets.
From witty celebrity replies…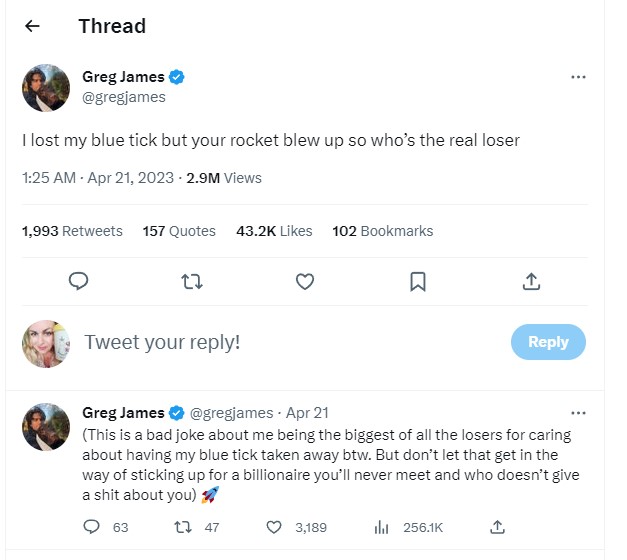 … to brands poking fun at the rule changes…
…Twitter Blue certainly ruffled some feathers and got people talking. But what do subscribers actually get and is Twitter Blue good for business? By paying for Twitter Blue, you can:
Compose Longer Tweets
Wasn't Twitter a microblogging site designed for breaking news and punchy updates? Well, it used to be. With Twitter Blue, you can now post tweets of up to 10,000 characters. While this is good for getting your voice heard directly on the platform, could it defer from directing people to your blog or website and further down the sales funnel? And do we really want to be reading long essays on a platform we're used to scrolling through quickly? It's not LinkedIn, Musk.
Standard functionality like posting media, creating polls and using hashtags still apply. Everyone will be able to read longer Tweets, but only Twitter Blue subscribers can create them. Oh and tweets can now be bolded and italicised for improved communication.
 Edit Tweets
Brands have been calling for this for years – and now it's a reality. Editing tweets is a Twitter Blue feature, helping you to maintain your online reputation by avoiding spelling mistakes and communication errors. You can also tweak campaign information if it doesn't go out correctly in the first instance, make updates and add tags –  so long as you do it within a 30-minute time period. While some of the Twitter Blue 'benefits' are questionable, this one is a win-win.
Achieve Better Engagement
In his Tweet on 25th April 2023, Musk confirmed a suspicion many held, that verified accounts are now prioritised. What this means exactly isn't hugely clear, but it's likely that your tweets will show more prominently in the timelines of your followers. More weight may be given to your retweeted and engaging content too and you may be suggested when users search for who to follow. In other words, Musk is literally saying, pay up or be shoved down the importance pile.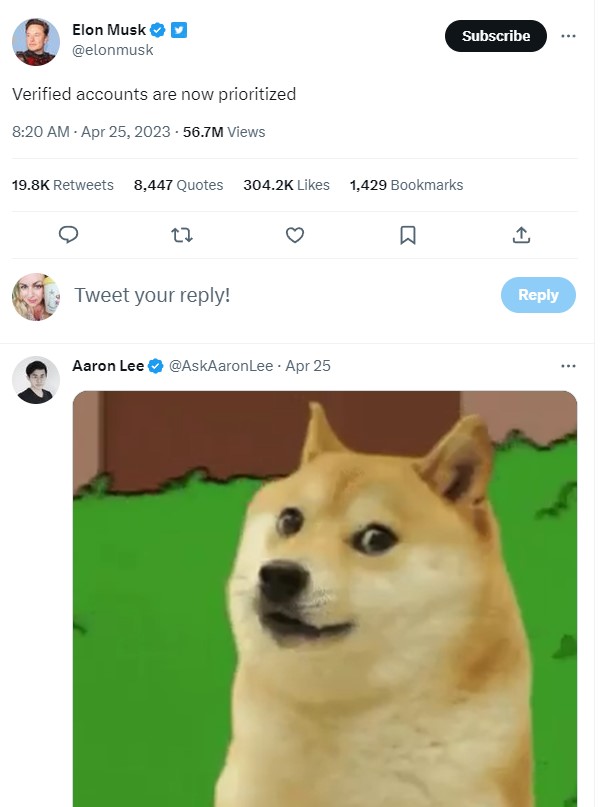 If there's one thing you need to know about the new Twitter owner it's that he doesn't mince his words. His tweets are usually short, to-the-point and come with a key takeaway. Look out for Musk updates as they come regularly and could impact your marketing strategy.
NFT Customisation
One potentially important Twitter Blue benefit for companies dealing in cryptos and NFTs is the ability to showcase your NFTs in a hex-shaped profile picture on Twitter. After a temporary connection to your cryptic wallet, you can set up an NFT profile picture that identifies you as the owner of that NFT. Such distinguishing features can set you apart from other brands on the platform.
Shunning the Blue Tick with Twitter Lists
Paying $8 a month to reach your target audience makes sense for many businesses. It's a bit like buying a cheat code that gives you rocket fuel instead of petrol. As businesses pay for premium listings on directories all the time, Twitter Blue isn't much different and could just be seen as yet another marketing cost. Plus Twitter Blue still promotes legitimacy and could help start-ups of less established brands to stand out online.
That said, it seems unfair for Musk to suddenly undermine brands that may have been doing extremely well on Twitter before the changes, but didn't have a blue tick. Now, they have to pay a subscription or be forced to battle with reduced visibility and the prioritisation of verified accounts. There is a way to keep visibility intact, however, without having to pay $8 a month. Simply create a Twitter List.
You can create up to 1,000 Twitter Lists. Add the accounts of your followers (up to 5,000 accounts per list) and encourage them to subscribe to it. That way, they will still see your tweet on their timeline feed. And if they tweet about you, you'll see it on your timeline. It's all about being a little bit savvy and finding ways to work around subscription fees if you don't have the budget for official verification – or are avoiding it out of principle.
Blue Tick for Business Scheme
Anyone handling Twitter marketing should also be aware of the Blue Tick for Business Scheme introduced last December. For $1,000 a month (minimum), you can get a gold tick instead of a blue tick, emphasising your Verified Organisation status. The gold badge of honour includes all the same privileges as the regular blue tick, but also allows companies to add affiliates to their profile (for an additional $50 per affiliate, per month), to grow their network. This is a potentially lucrative marketing move if you've plenty of cash to pump into Twitter each month. And admittedly, there is something quite reassuring about seeing a gold tick. The gold tick is a bit like buying designer clothes – expensive, but great for the old street cred.
Twitter API Access Removed
API stands for Application Programming Interface, a software which provides a middleman service between two applications that want to communicate with each other. The Twitter API made it possible to retrieve and analyse public Twitter data. This was great for composing tweets, spotting trends and creating programmable bots that connect to the Twitter platform such as Pikaso, Thread ReaderandRemind Me Of This.
Twitter has now replaced its free API with a paid tier in a quest to make even more money. The Twitter Development account said: "Twitter data is among the world's most powerful data sets. We're committed to enabling fast & comprehensive access so you can continue to build with us." So, it's not off the table, but you will have to pay. This has had an immediate impact on social media management tools that require the API to function. In turn this then impacts clients who must pay more for the tool or their management agency.
Note- at this time Contentworks Agency has kept its Twitter management prices the same despite cost increases.
RIP Tweetdeck
Sad news hit our screens on July 3, 2023. The news was that Tweetdeck, a trusted multi account management tool, would no longer work for non verified users. And to be clear, every user in the deck would need to be verified. The popular, and previously free tool allowed users to organise the accounts they follow into different columns, add lists, notifications, mentions and many more.
The new policy will take effect in 30 days, the company said in a tweet, and could bring a revenue boost to Twitter, which has struggled to retain advertisers under Elon Musk's ownership. Backlash was again fierce with users pointing out that the new verification requirements rendered the tool useless for multi account management. The decision comes amid a number of drastic changes ordered by Musk, including limiting the number of tweets that can be viewed each day to 600 for unverified accounts.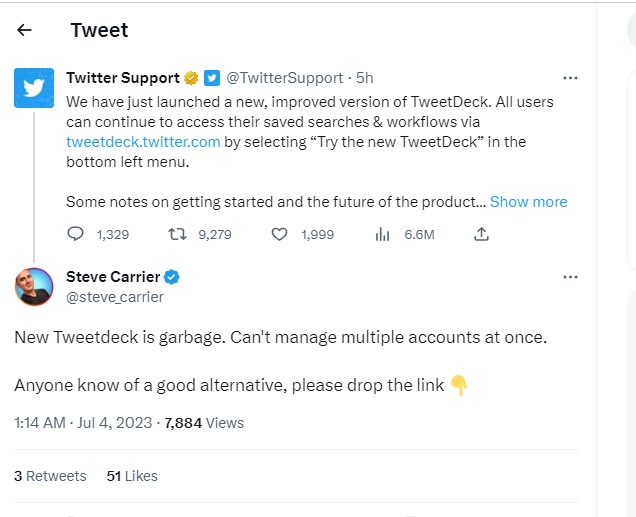 Musk said the limited tweet policy was a "temporary emergency measure" to discourage "extreme levels" of data scraping and "system manipulation."
When it comes to Twitter still being a viable marketing channel, there's loads to unpack. It seems the big brands with big budgets win again. Smaller brands may struggle to keep up. And what about those amazing content creators who have populated the platform for years? Should they have to pay to be there? Social media marketers too are grappling with the changes and asking whether the reach they are getting from Twitter is now worth the additional costs and effort.
What do you think about the recent changes and will Musk get marketers on side enough to achieve those big goals of his? Contact us for expert social media management for your brand.