From rising acquisition costs to regulatory frameworks such as MiFID II, the FX business can be tough. Transparency is now of paramount importance and for good reason. But with EMSA rules meaning firms have to disclose the percentage of clients losing money, it has become increasingly important to engage consumers in a creative and innovative way. All while staying on the good side of the finance sheriffs. Hard work is necessary for brokers to confirm their place in the market and stand out about the crowd. But what's the best way to achieve this? For leading financial marketing agencies such as Contentworks, content is good for everything from acquisition to retention and improving that all-important ROI. So how can content marketing help struggling brokers?
Organic, keyword-rich content
When on a budget, investing in Google Ads or paying for a high-end PPC strategy may be dampening your spirits. It might not even be financially viable. Forex keywords are notoriously expensive, especially for the desirable UK and European regions. But there's a solution. Organic SEO means producing keyword rich content that can be picked up on search. The better optimised your website, blogs, articles and press material, the more likely your content will be considered relevant to a search query and presented to the consumer.
Organic content works hard for your brand. But before you start briefing a content marketing agency like Contentworks or your in-house team, it's  important to do your research. Knowledge about the keywords you should be targeting will help develop your content strategy. The more you're familiar with key business topics, the more you can hone your overall plan. As a broker, you need to think about what people will be searching for. You can use tools like Google Analytics and HubSpot's sources tool to also find out what keywords your site is already getting found for – and use this information to your advantage.
Variety is the spice of life
Organic content marketing can be fuelled by many different content types. As a broker trying to stand up and get noticed, its essential to use content wisely in order to bring about the best results. Below are some useful ideas to help your brand to develop and grow:
#1 Hone your social media strategy
There are social media rules for brokers. For instance, ad bans from the likes of Twitter and Facebook make it difficult to use certain keywords such as 'cryptocurrencies.' But, even if you offer crypto as one of your trading options, there are other ways to attract consumers other than being a rule-breaking, these include.
Being useful to the consumer
Firstly, producing regular, engaging content is a must. You need to give your audience a reason to follow your brand. And to do this you should be as useful as possible. In the example below, all the risks warnings are there. But the post leads through to a helpful article that will appeal to active traders. This encourages traders to further engage. Check out Blackwell Global rocking the Twittersphere: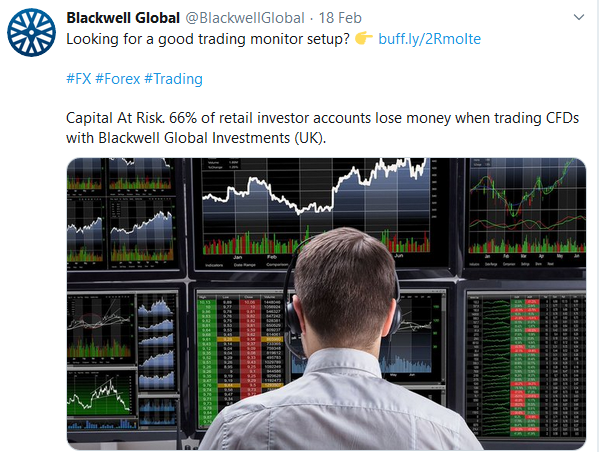 Avoid over promotional content
The majority of millennials have ad blockers both on their PC and portable devices. People no longer enjoy over-promotional content. And so, looking for alternative ways to entice is a must. Educational content that enhances a trader's experience is a good way to promote your brand without becoming a nuisance. Below is a top example of a month-long content strategy supported by a relevant and timely hashtag. Also note the use of video content which can again increase engagement.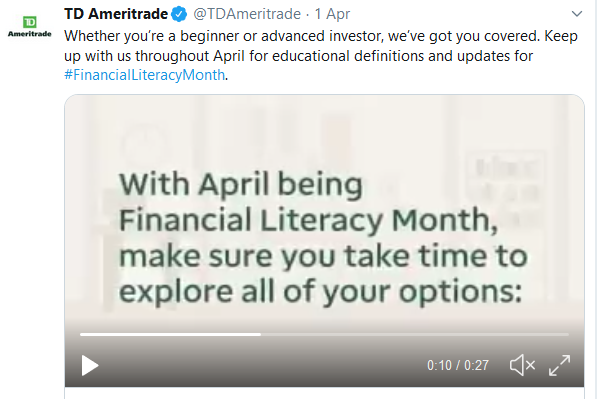 Be active and present
Building that all-important business-client relationship on social media takes time and energy. To gain trust you must be active and present online. Engage in conversations, answer posts, respond to threats, retweet content and show you care about consumer needs.
TIOmarkets runs plenty of interactive polls and Q&As on their channel to get to know traders. It doesn't always have to be a hard sell.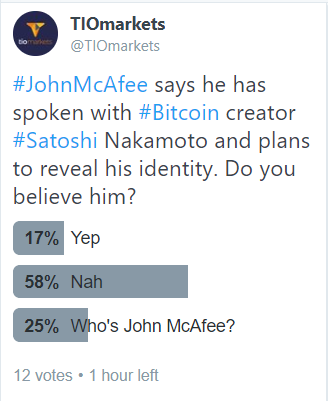 #2 Focus on your PR strategy
Well-placed PR material can extend your outreach and appeal to your target audience. Throw in the right keywords and a few well placed backlinks and your PR content will also appear on search engine results pages putting your company name directly in front of potential consumers.
All PRs must be well-written, easy-to-understand and compliant. They must not do anything that's forbidden in the finance world such as making false, suggestive comments that trading is always a winning game. This is a big no-no that could land you with a big fine. In fact, your PR is likely to require a disclaimer so it's a good idea to seek legal advice before putting things out into the online world.
#3 Create a content hub
Competition is fierce within the brokerage sector. So how can you become a go-to brand? Well, it's a good idea to create a content hub loaded with practical advice and information for traders and service users. This means that when traders come to your site, they won't bounce off in search of information. This can help with both acquisition of new traders and retention of the more experienced.
Creating a hub on your website for news updates, product information, how-to guides and trading tools is a great idea. But you can also use your blog to communicate your best thoughts and relevant topics. Top posts can be shared across social sites in order to make them work as hard as possible and boost engagement.
Top tip: Don't forget to monitor where traffic is coming from and which parts of your site are getting the most hits. Analysing successful blogs and questions from traders can also help to hone your strategy.
We just love Acuity Trading's content hub. The brand provides news, education and also updates on their charitable contributions. Kudos guys.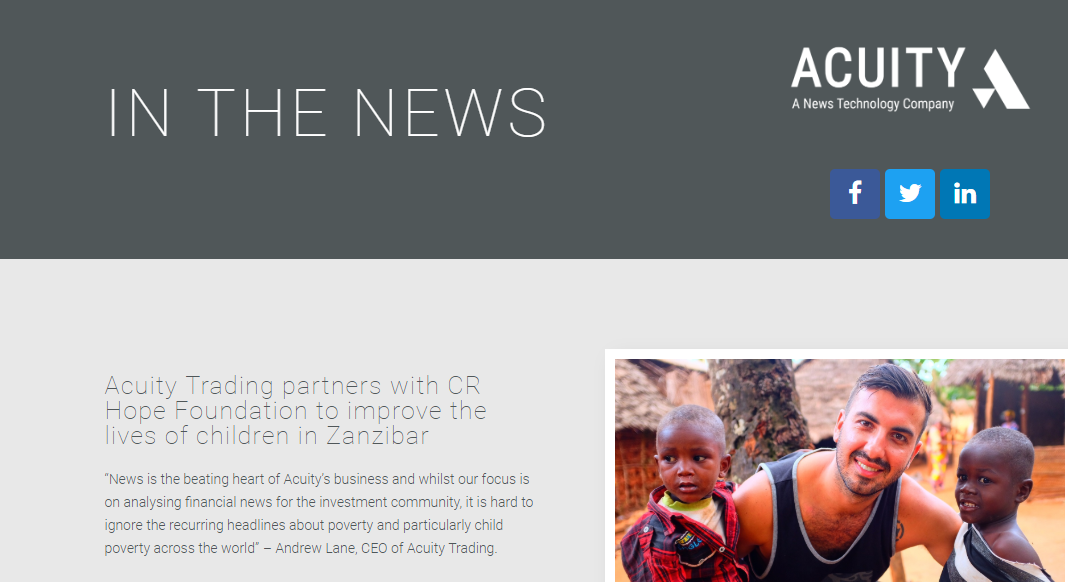 #4 Create landing pages with relevant content
If a consumer comes to your site expecting one thing and gets another, they're likely to bounce – quickly. So always link back to landing pages that are completely relevant to the content. This means you may need to produce multiple landing pages, each with a different keyword focus to ensure they're as optimised as possible. Give the user what they want and make it easy to find the right information.
When creating landing pages remember that:
Content should be easy to digest – think small paragraphs with bold headers
Content should be optimised for the web – do that all-important keyword research
Language should be simple and easy for both novices and experts alike to comprehend
A consistent brand voice is vital as it helps develop credibility and trust
#5 Produce e-books
eBooks are still a great way to get your brand out there and educate traders. But keep them short and sharp. We recently saw an eBook on CFDs that was 198 pages long. Yes 198! In fact, they should be short, sharp and full of useful information. Releasing e-books every quarter, for example, will help to prop up a content strategy that's already ticking over nicely. It can be promoted on-site and via your social channels. And if you're wise, you'll use the download process to gather essential consumer information and create a database for future communication.
Don't forget, under new rules, people need to be aware that you're saving personal information and give their permission!
There are a lot of worried faces in the finance sector right now and lead gen seems to be the main topic of the day for struggling brokers. If you begin a strategic content marketing strategy now, then 4- 6 months later you will be reaping the rewards. For tailored content marketing solutions to suit your brand, contact Contentworks today.