2020 welcomes not only a new year, but a brand-new decade too. It's the perfect time to set business goals, seize new opportunities and achieve maximum potential. But what trends are we seeing for the months ahead? As social media butterflies, super strategists and creative cake-lovers (yes it's a thing) don't miss our top 10 marketing predictions for 2020.
#1 Voice search will continue to grow
As far as marketing predictions for 2020 go, this one is huge. Projections show that at least 50% of all online searches will be voice searches by 2020. In fact, over 25% of adults in the US own a smart speaker like Amazon Echo, Google Home or Apple HomePod. And with 31% of smartphone users worldwide using voice-activated search once a week, this is a trend that will keep on growing. As it stands, some of the most common voice searches on smart speakers are asking for music (70%), weather (64%), fun questions (53%), online search (47%) and news (466%).
What's really awesome is that AI is also having a significant impact on smart devices and the way we search the internet. Google's RankBrain recognises words and phrases, using machine learning techniques to better predict outcomes.
Top tip for marketers: As voice technology grows, there will be a need to fine-tune your SEO strategy. Voice search is regularly used for local searches, for instance. So keeping your Google My Business listings and eCommerce stores updated is a must. Using natural language with answers to specific questions is essential as is producing rich snippets which are better understood by search engines.
#2 Shoppable posts to soar in popularity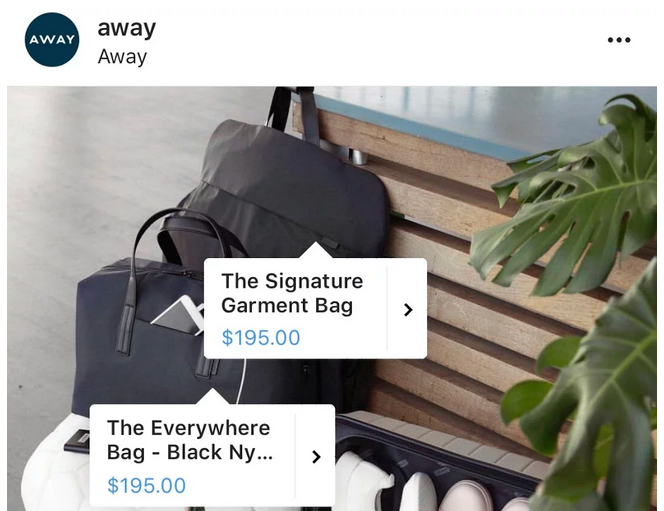 Shoppable posts are going to be huge in 2020. Many of the top social media platforms are already rolling out features making it easier than ever to buy online. So, what's going down in the social sphere? Well, Instagram has recently launched a brand new shoppable post feature which allows users to shop products directly through posts, rather than via a bio link. This is huge news for marketers, especially considering Insta has over half a billion monthly active users. Essentially, platform users can complete their buying journey, from discovery to checkout, without leaving the app.
Brands like Levis's are also making the most of Pinterest's new Catalog feature. This allows brands to upload their full product catalog to Pinterest, turning products into dynamic Product Pins – so cool!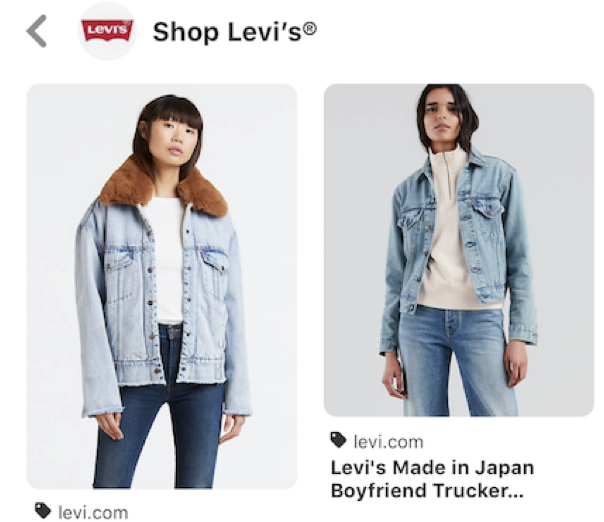 Top tip for marketers: Get involved. This means checking out if you're eligible to use shoppable post features. On Instagram, for example, you must have a business account and be located in one of these countries: United States, Canada, Brazil, the United Kingdom, Germany, France, Italy, Spain, or Australia. You must also have the latest version of the app and your business must sell physical goods that comply with Instagram's merchant agreement.
#3 Interactive content will take centre stage
Today's buyers crave interesting, engaging and new experiences when they go online. For many this means greater interactivity. A significant 91% are looking for more visual and interactive content that's shareable, enjoyable, fun and different and this demand is creating a new trend. Brands are thinking more carefully about the user experience creating a more personalised journey.
Clinique's Clinical Reality is a great example of interactive content allowing users to find their own Clinique iD and products to suit their skin type.

Top tip for marketers: Marketing predictions for 2020 revolve around you really knowing your audience. That way, you can hone into their needs and create content that answers questions and delivers a more tailored service.
#4 Influencer marketing will die a death
Well… not quite. Influencer marketing is projected to be a $10 billion industry by 2020. For every $1 spent on influencer marketing businesses make an average of $5.20 in earned media value with some earning as much as $18. But is there more going on under the surface? Yes, of course.
According to a study commissioned by UM as part of a Post-Influencer Culture report, 45% of social media users find sponsored post hashtags annoying, rising to 55% for 18-24-year olds. This is largely due to a lack of authenticity, with non-compliant posts or ads that seem in genuine denting the reputation of social posts. So, while the industry is thriving, new tactics are certainly needed with micro/nano influencers looking to be the next big thing for the year ahead.
Nano influencers have between 800-10,000 followers. Micro influencers have 10,000-50,000 followers. This is compared to macro influencers with 200,000- 900,000 followers and mega influencers with over one million. According to analytics firm InfluencerDB, the engagement rate for Instagram influencers with at least 10,000 followers is steady at about 3.6% worldwide. Influencers with 5,000 to 10,000 followers have an engagement rate of 6.3%. Those with a following of 1,000 to 5,000 have the highest rate at 8.8%, per InfluencerDB.
An example of smooth micro influencer marketing comes from Banana Republic. The brand regularly works with fashion and lifestyle influencers who are a natural fit for their premium clothing and accessory brand.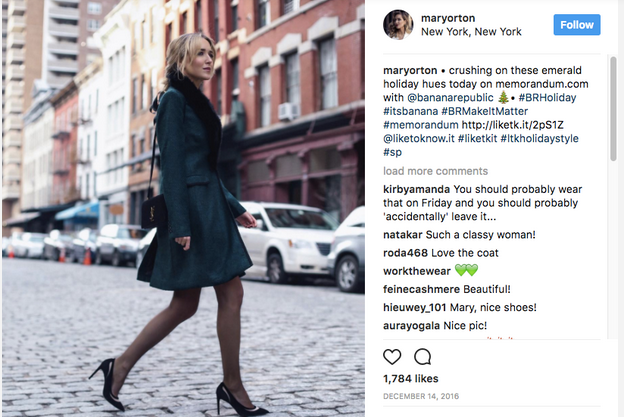 Top tip for marketers: Research those who are interested in your product or reach out to those who may be. Don't hold back from working with multiple influencers as this will help you to develop a varied content strategy to tap into different audiences.
#5 Immersive tech gets real
Immersive tech has been around for a while now, but our marketing predictions for 2020 show some exciting developments in the pipeline. Apple will launch AR smart glasses that will have holographic displays built into the lenses. Rumour has it that they'll be cool accessories for the biggest iPhone upgrade in three years. Facebook has also partnered with Luxottica to develop augmented-reality Ray-Ban glasses with integrated voice search. Watch this space as developments are sure to hit the headlines in 2020.
Brands to embrace an immersive consumer experience include Ikea. Their AR driven app known as IKEA Place enables homeowners to visualise how their potential choices might look in their home. Users can even point their camera at pieces of furniture and the app shows which IKEA products resemble it.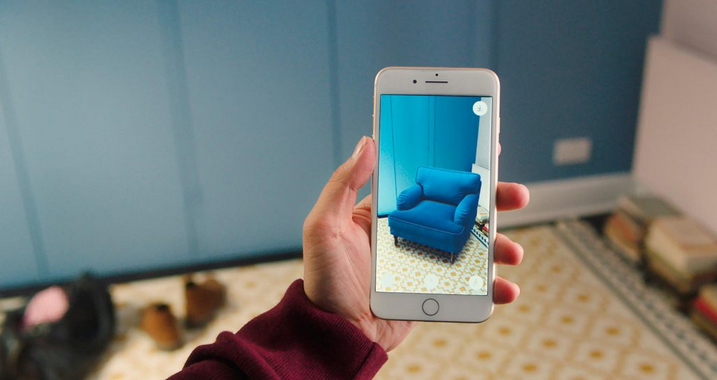 Top tip for marketers: If consumers can see a use or need for a certain product or service, they're more likely to bite. So, when it comes to marketing, try to show how your products can fit into their daily lives with clear visuals, how-to articles and top tip blogs.
#6 Nostalgic marketing will tug on heart strings
Nostalgic marketing works because it tugs on heart strings. It makes us reflect on positive memories and encourages consumers to take action. Tapping into the emotions of customers can help build customer trust more efficiently and brands will use this to their advantage in 2020.
Nostalgic influences are alive and kicking on the 2020 fashion runway. Oversized blazers, bike shorts, bum bags and Champion gear are among the throwback items to be revived. Quintessential '90s kid styling" in the form of double denim, skirts and dresses layered with jeans will also come into their own during the year ahead.
Other brands are also making the most of the increasingly favourable 'nostalgia' theme. Makeup brand, Lunar Beauty, recently launched a capsule collection paying homage to witches from the 90s including the sisters from Charmed and Hocus Pocus as well as Sabrina the Teenage Witch. And shall we talk about Netflix, Stranger Things and all the retro merchandise that accompanies it?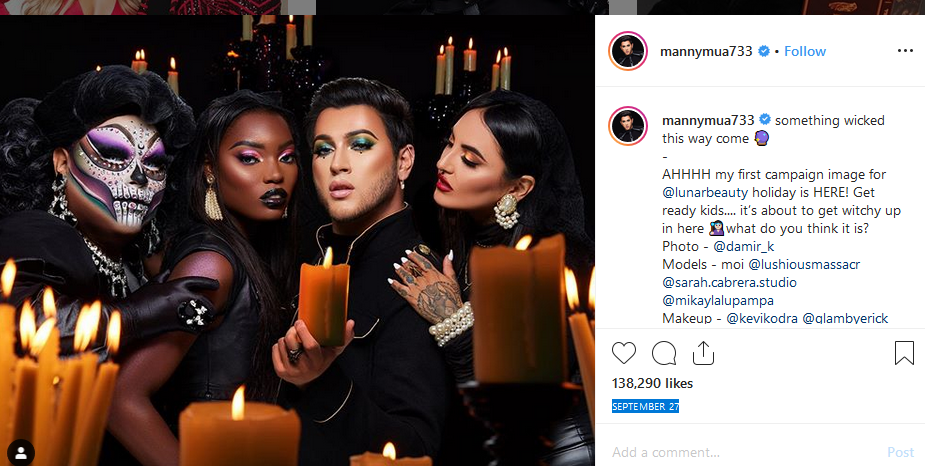 Top tip for marketers: Knowing your audience is essential when it comes to nostalgic marketing. After all, you need to create campaigns that are of great emotional value to your target market. Millennials are often described as the Nostalgia Generation and are particularly receptive to throwback products. So, if this is who you're aiming at, look back to the 80s and 90s for inspiration.
#7 Native advertising gets a facelift
Savvy internet users can tell ads from stories. They're far more aware of advertising techniques, including those designed to be subtle and not overly pushy. So the whole advertising industry will be forced to become a lot more transparent revealing when an ad has been paid for.
To date, the Federal Trade Commission has already warned countless brands and influencers, including social media maven Kim Kardashian for not revealing paid promotions. This will have to change as laws are enforced, with Instagram's "branded content ads" being one way of formalising the existing paid promotion process.
Top tips for marketers: Don't try and hide promotional ads as this comes across as fake and inauthentic. Instead, make use of disclaimers and work with suitable people that are a good fit with your brand so the whole campaign looks natural.
#8 Just-in-time marketing arrives
According to research by Digital Connections, 49% of people will disregard or silence a brand if it sends them too many ads or if they perceive the advertising to be irrelevant. That said; 36% of respondents are more likely to buy from a brand that sends them tailored messages. So what if we take this one step further by introducing just-in-time marketing? This will be huge for 2020 and is about providing content marketing that's needed at a specific time.
By monitoring user activities on site, you can essentially send out real-time information to improve the consumer journey. Minute to minute monitoring allows brands to respond at crucial stages of the buyer journey helping to increase conversions.
Top tip for marketers: Just-in-time marketing is about responding to consumers allowing them to make increasingly informed decisions. AI and machine learning can help deliver quick and relevant messages depending on consumer patterns. Using data, setting industry alerts and utilising social listening tools can also allow you to provide a more tailored consumer experience.
#9 Gen Z gets their first payslip
Marketing to millennials has been an important topic of conversation in recent years, being America's largest generation. But Gen Z, born around the mid-90s-2000, are growing into young adults and have spending power of more than $143 billion. That's a big deal. They also spend up to 75% of what they earn, so marketers will capitalise on this in 2020. There are many ways to do this, including:
Being social. 4/5 Gen Z internet users get all their information from social media. So, having an omnichannel presence is a must.
25% spend 5 hours or more on their smartphones per day. Therefore, it's important to have a mobile optimised website as well as apps.
Gen Z expects personalisation. They've grown up in a digital world and have no time for poor marketing. Embracing real-time, highly tailored campaigns is the way forward for 2020.
#10 The tokenisation of social media begins
Social media is evolving at a rapid rate with the death of 'likes' taking centre stage and social media VR becoming a reality. Additionally, the Beta version of Facebook's multi-user virtual world, Horizon, launches in 2020. But that's not all. In the coming months, the tokenisation of social media will start to take root with Facebook still dedicated to rolling out Libra. Watch this space.
Did you enjoy our Top 10 Marketing Predictions For 2020? If you did then hit the share button. 2020 is an exciting time for marketers, so why not start getting creative today?   Talk to the Contentworks team for a strategy that works for your brand and sector.