With just a few weeks until the iFXEXPO kicks off in Cyprus, the countdown is officially on. And as media partners, we couldn't be more excited. As previously announced by our team, the Ultimate Fintech-organised event will take place from 4-6 October 2021 at the prestigious Park Lane hotel in Limassol. It's set to connect top-level executives in online trading, financial services and fintech from around the world. So what can you expect?
Unparalleled Networking Opportunities
Meeting face-to-face has been put on the backburner of late due to the Covid-19 pandemic. But now real-life networking opportunities are back, with the iFXEXPO offering like-minded individuals the chance to grow their professional network in style. This event is attended and trusted by some of the most prominent firms out there today from retail and institutional brokers and technology and liquidity providers to payment service providers, banks affiliates, IBs, regulators, compliance teams and crypto/blockchain brands. So come along and spread those social butterfly wings to make the connections you need.
An Action-Packed Agenda
The iFXEXPO is the most eagerly anticipated event of the year within the finance and fintech sector – and it's easy to see why. Attendees can expect an action-packed agenda, with the Official iFX EXPO International Welcome Party 2021 kicking off the action on day one. This will allow guests to chat and mingle while soaking up the laid back Mediterranean vibe.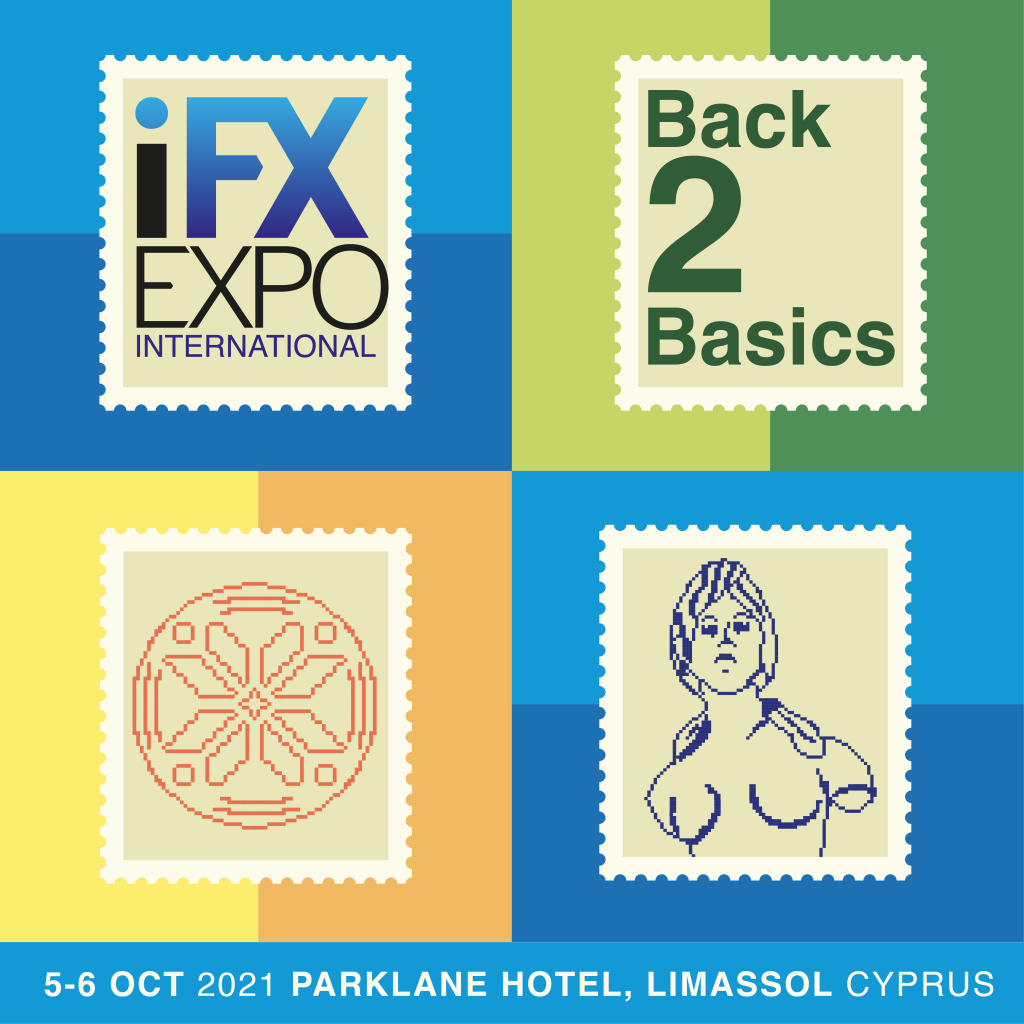 5 October Highlights
The expo then officially starts on 5 October with doors opening at 9am. There will be a host of talks and speaker panels throughout the day. Talk titles include:
Business as Usual? Industry Leaders Roundtable
New Trends in Forex and Crypto Industries
Stemming the Tide? Liquidity in the Era of Meme Stocks
Alt-Assets the First New Brokerage Trading Product in 10 Years
Payments in Focus: Reduce Hassle, Increase ROI
How Much is Enough? Attracting & Retaining Talent in Financial Services
Banking as a Service: Opportunities for FinTech
Data, Leverage, Licensing: Global Regulatory Outlook
This will all be wrapped up by the Official iFXEXPO International Night Party 2021 which will allow you to network and dance. This will take place at the beachfront Breeze Summer Club from 21:00 to late and is guaranteed to include a few unexpected treats and surprises.
6 October Highlights
The expo will then resume again at 10am the following morning, despite a few fuzzy heads from the night before. One of the highlights of the day for the Contentworks team will be our very own Creative Director, Charlotte Day, joining the expo's last speaker panel to discuss the 'Best Ways to Market Your Business in 2022.' Charlotte will join Google's Panos Lamprakos and TIOmarkets Helen Astaniou among others on a panel that will be moderated by John Lewis – co-founder of the iFX EXPO and other well-known brands.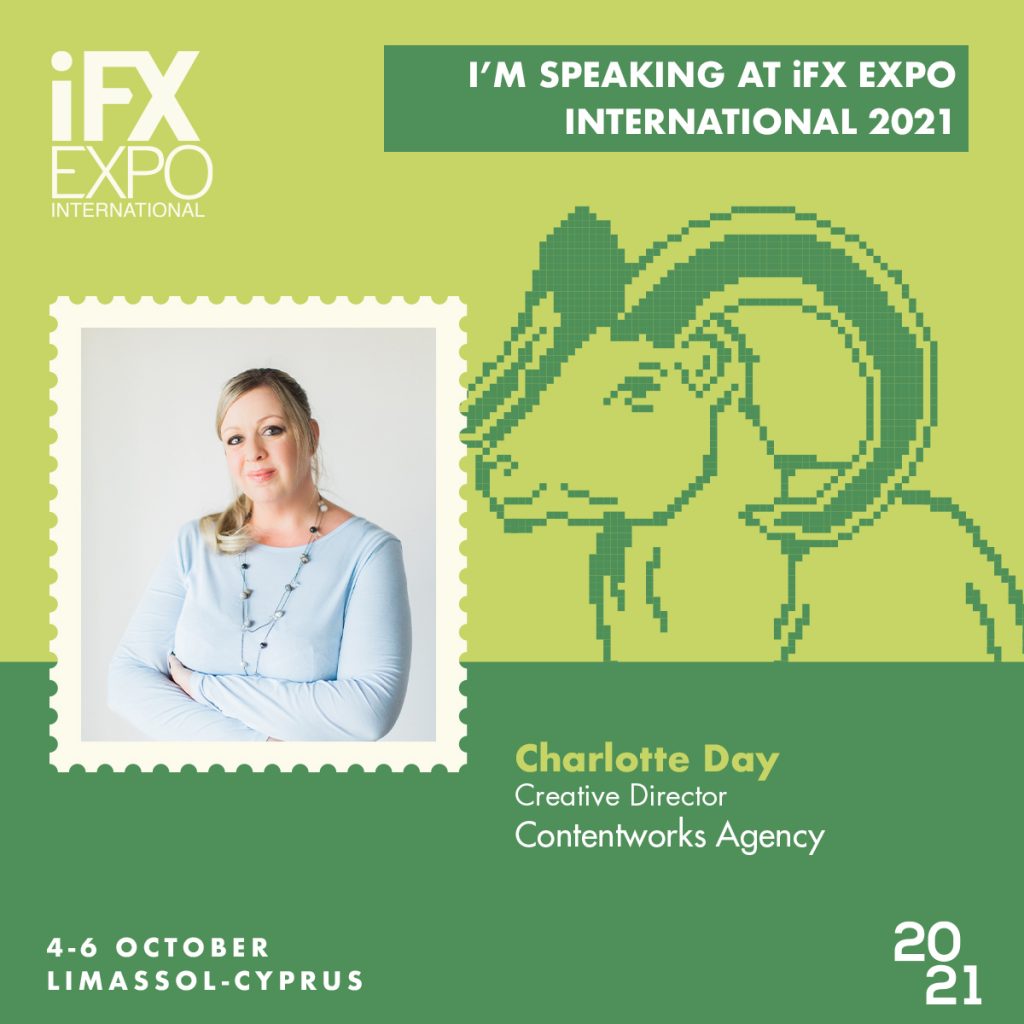 As the world continues to feel the ripple effects of the pandemic, this panel of leading marketing experts will discuss important topics such as:
Staying abreast of technology and regulatory changes
Best practices for online digital marketing & offline traditional marketing
Biggest marketing trends VS what should remain history
Introducing Brokers vs Affiliates in a post-pandemic world
Fintech for good, CSR and less traditional marketing on the rise
This panel is perfect for forward-thinking marketers looking for cutting-edge techniques to use in 2022. If you've any questions, have them ready to ask on the day and the panel will be waiting and willing to answer them as best they can.
A Great Selection of Exhibitors
The great thing about an expo of this size and calibre is the quality of the exhibitors you'll get to meet. From expert trading brands like FX Empire, finance Magnates and AvaTrade to e-money institutions such as Pay Set and Paysafe, you won't be short of choice. Take a look at the full list of exhibitors here as well as a detailed floorplan and a list of attendees. Covid-safe measures will be in place to ensure you can explore the venue safely.
A Beautiful Island to Explore
Of course, part of the fun is exploring the expo location, especially if you've travelled from abroad. And Cyprus won't disappoint. As a sunshine island well-known for it's beautiful beaches and mouth-watering cuisine, Cyprus is the perfect place to relax, unwind and enjoy a kebab or two. A trip to the Troodos mountains might also feature on your itinerary or what about a diving session? The Zenobia in Larnaca is one of the world's most famous shipwrecks attracting an abundance of wildlife such as sea turtles and seabass. You might also decide to stay around the expo hotel. This looks out across the Med and invites you to sit back and soak up the sun while surrounded by golden beaches.
Of course, be sure to double check the Covid rules and regulations about travelling before you fly. Note that Cyprus also has Covid regulations in place and you may need to show your negative Covid or vaccination status before entering certain venues.
Contentworks as Media Partners
As specialists in fintech and finance marketing, we've again taken our place as media sponsors for this eagerly anticipated event. As well as keeping you informed during the countdown, we'll also be actively covering the event as it unfolds in October. Head over to @_contentworks on Twitter for all the latest updates as they happen or follow us on Instagram @contentworksagency. Expect quotes from industry leaders, action shots, live videos, day summaries, interviews and maybe a few after party shots we'll regret later. Anyone who wants a shout out or mention, don't hesitate to get in touch. We'll be happy to arrange a meeting at the event too as networking really is one of our favourite things to do.
Following the success of May's iFXEXPO in Dubai, we know this face-to-face event will be a hit – so watch this space. And make sure you've registered your attendance. Registration closes 30 September, so don't miss out on the biggest B2B event of the year. Contact our team now to arrange a meetup!