Celebrities and cryptocurrency marketing. The hype is real. Cryptocurrencies are now so well-known that even celebs are jumping on the bandwagon – and why not? It's the perfect opportunity for them to pose with their latest bling in front of wads of cash – or at least that's how boxer Floyd Mayweather showcased his ICO involvement on Instagram.
A single crypto-related tweet, share or Snapchat pic from a well-known star can catapult digital tokens straight onto the red carpet and into the eyes of paparazzi (otherwise known as the mainstream financial media, but that doesn't sound as good) – so let's take a closer look at celebrities and cryptocurrency marketing.
50 Cent and his $8 million Bitcoin 'mistake'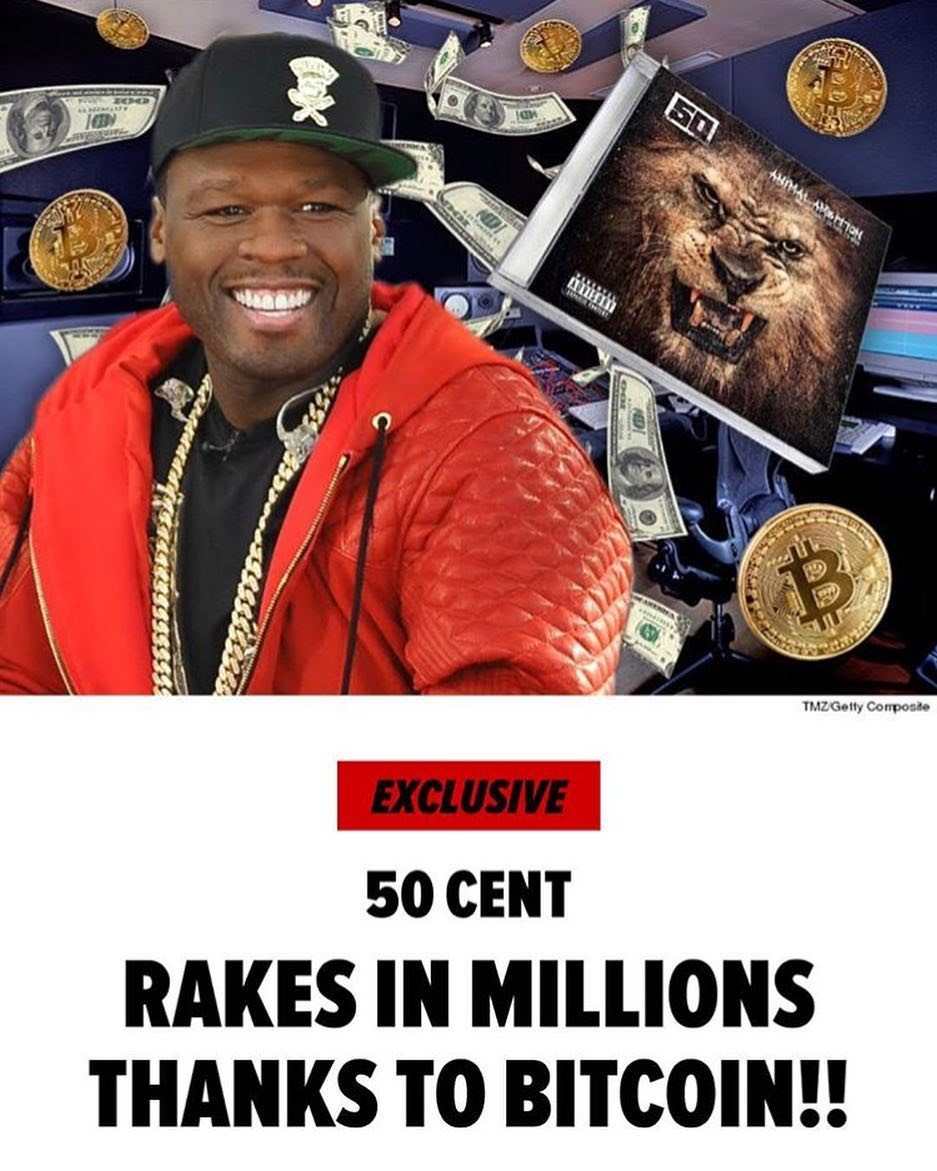 While some A-listers are all over cryptocurrencies and seem to know exactly what they're talking about with regards to promoting crypto wallets or token sales – others sort of get tied up in it all by accident. Or at least that's what happened to 50 Cent who somehow forgot that he took a chance on Bitcoin years before many people knew what it even was.
That's right. Back in 2014, 50 Cent accepted Bitcoin as payment for his album Animal Ambition. A single Bitcoin was worth around $662 at the time and fans could reportedly pick up the album for a fraction of that. The rapper pulled in about 700 Bitcoin in sales which worked out to roughly $400,000 and thought nothing more of it. In fact, the money sat dormant in an account for years until…boom. Bitcoin soared.
Price fluctuations at the start of 2018 saw Bitcoin valued between $10,000 and $12,000 per coin meaning 50 Cent became a crypto millionaire.
Confirming his windfall on Instagram and Twitter, 50 Cent wrote:
'Ima keep it real, I forgot I did that s**t lol' – not bad for what was probably a bit of a whim.
Cryptocurrency Marketing takeaways: There are two lessons to be learnt from this bizarre yet amusing story:
Don't be afraid to think outside of the box. Sometimes, jumping on the bandwagon isn't enough. Plan ahead, stay up-to-date with all the latest news and pave your own path to success. 50 Cent did and look where he is now – millions richer and didn't even notice.
Understand the power of news. By generating readable material that's easy to share you can increase brand awareness without looking overly promotional. The 50 Cent story was not only good for Bitcoin but for the rapper's street cred too.
Katy Perry and those crypto-crazy nails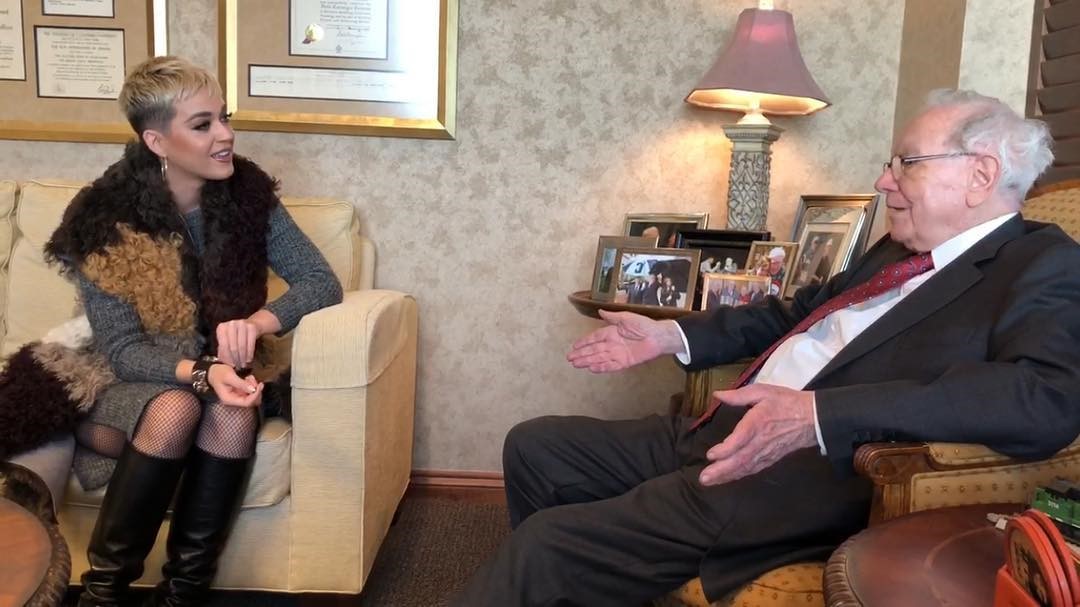 When singing sensation Katy Perry met Warren Buffett back in November 2017 to discuss cryptocurrencies, it sent social media into a bit of a storm. Perry shared news of the somewhat unlikely meeting with her 68 million Instagram and 110 million Twitter followers leaving fans intrigued as to the intricacies of the conversation.
Potentially igniting the interest of millions of potential investors, Perry later seemed to confirm her passion for digital currencies with a pic of her crypto-crazy nails which she again shared to Instagram. Her nails featured the logo of leading cryptocurrencies including Bitcoin, Ethereum, Litecoin and Monero.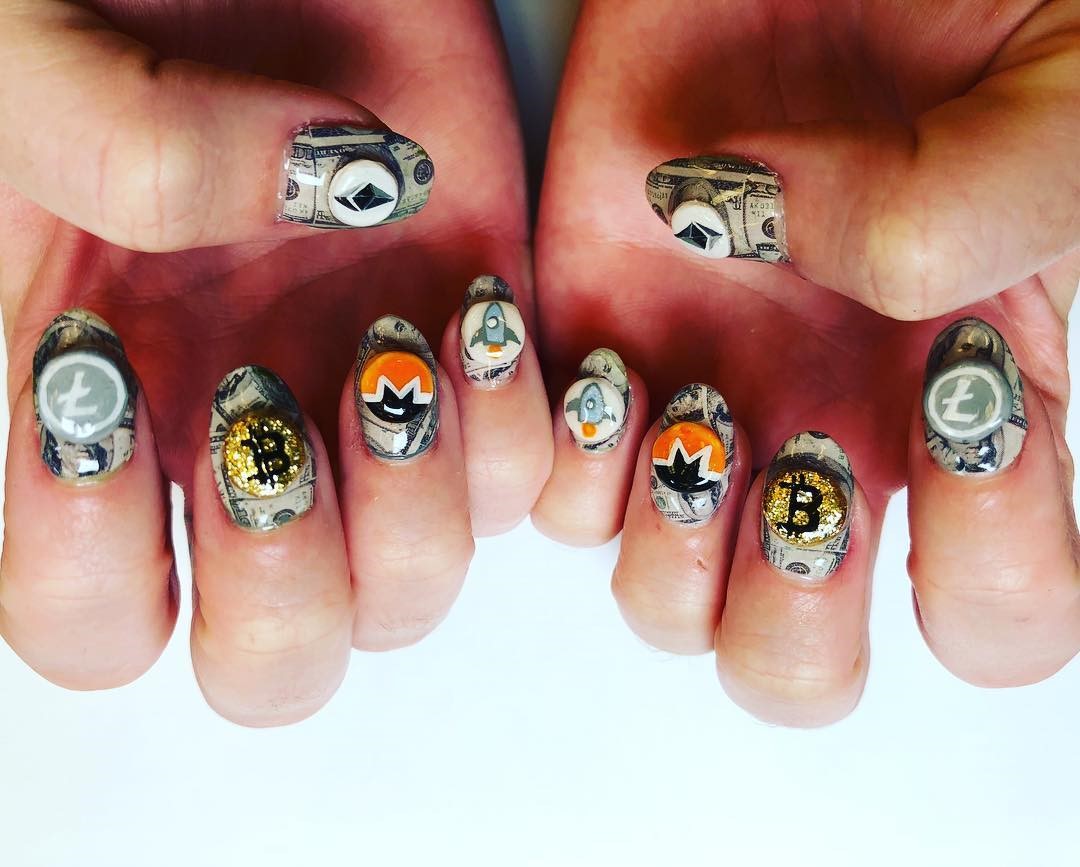 Cryptocurrency Marketing takeaways: Again, there are multiple lessons to learn from Katy Perry's shenanigans.
Ramp up your networking efforts by either mingling with thought leaders or attracting influencers to your business. The support of someone credible is great for brand awareness and could help you tap into a larger target audience.
Make the most of social media platforms. Posting online is quick, free (in many cases) and a great way to speak directly to your followers. Remember, content is more than the written word so make the most of videos and images where possible. Share across all relevant social media channels and use the correct hashtags to generate attention.
Generate original content. Don't copy and paste. That said; re-sharing unique celeb posts like the one above is a great way to use influencers in your marketing efforts –for free.
DJ Khaled and his titanium Centra debit card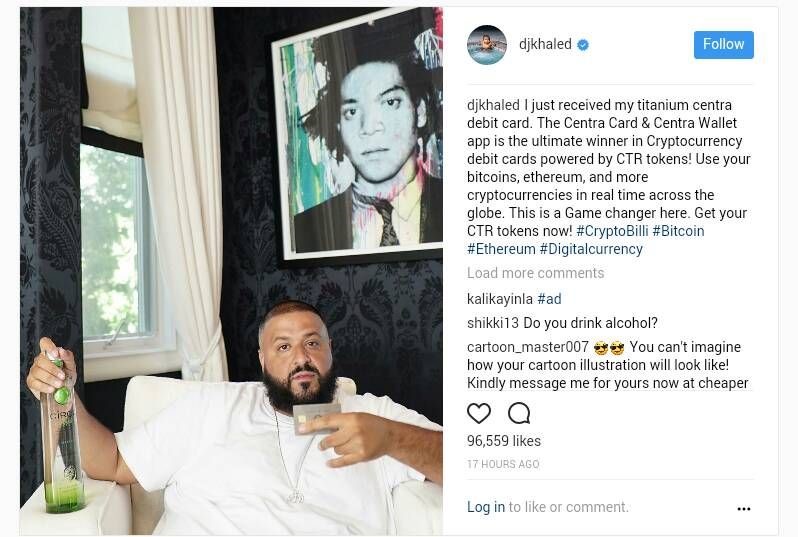 American record producer, radio personality, DJ, record label executive and author DJ Khaled is known as much for his bold personality as he is for his music – which is perhaps what also makes him such a hit on social media. Known as the King of Snapchat, DJ Khaled used his social media prowess to endorse the potential of cryptocurrency platform Centra.
He bragged about his brand new titanium Centra debit card to over 12 million followers on both Instagram and Twitter, working the crowd like a pro and generating streams of comments. He later posted a video to Instagram showing the features of the Centra Wallet app on his iPhone a few weeks after the app hit the Apple Store.
Cryptocurrency Marketing takeaways: Want to market a product successfully? Then here are some tips to bear in mind:
Let the experts do their job – DJ Khalid is social media royalty. He knows how to engage with his followers and work a digital crowd.
Make the most of keywords and hashtags – in the world of online content marketing, these are solid gold. They're great for SEO, generating buzz and attracting those looking for information on specific topics.
Bring your content alive with imagery. Visuals are powerful marketing tools and should be an integral part of any marketing campaign.
Cryptocurrency marketing and celebrity involvement – what's to come?
Celebrities and cryptocurrency marketing are big news at the minute – but of course there are limitations. With the recent Facebook bans on ICO marketing and mention of controversial topics such as digital tokens, even A-listers need to stay well clear of this social platform – but then the world of crypto has never been straightforward.
While the connection between some A-listers and cryptocurrencies can seem random, it's easy to see why brands seek out the rich and famous to promote their products – after all a few positive words from a household name can send the financial world into some kind of star-struck spin. And if you're Bitcoin, you just ride the waves of publicity created by the likes of 50 Cent. That said; other celebs seem to be taking a genuine interest into the future of decentralised technology with the likes of Ashton Kutcher rampantly discussing the potential of blockchain.
It's clear that crypto is ever evolving and by looking at the landscape of digital coins and the various marketing efforts made by leading companies, there's certainly a lot you can learn.
If you need help with your cryptocurrency marketing efforts, contact the Contentworks team today. We've  recently expanded or ICO offerings, so get in touch for more information.
At Contentworks we always credit our sources. Thanks to the following sites for providing awesome information:
https://www.digitaltrends.com/computing/celebrity-cryptocurrency-endorsements-bitcoin-ethereum/
http://time.com/money/5067488/11-celebrities-who-love-cryptocurrency/
https://www.theverge.com/2018/1/24/16930010/50-cent-rich-bitcoin-twitter-instagram-humblebrag
http://time.com/money/5067488/11-celebrities-who-love-cryptocurrency/