Some brands staggered their way through 2022 . Others delighted us with their innovative, sassy marketing campaigns, posts and social media banter. Join us as we look at the companies that really floated our boat in 2022. Grab yourself a hot chocolate and round off the year the right way. These are the brands we got obsessed with in 2022.
#1 Step Bank 
Bringing "banking for the next generation," it's perhaps no surprise that mobile banking provider Step chills with Millennials and Gen-Z on TikTok. With everything from Wendy's money-saving hacks to Dunkin' freebies, Step taps into the rumbling tums of their target market and gets them hooked with #moneytips related to #genzfinance. Their videos are fun, factual and often come with simple how-tos that people can quite literally action on-the-go from their device. With 79% of 13-30-year-olds stating they can't live without their smartphones, easily accessible and watchable content is certainly the way forward.
We're also loving their spoiler alert content. The video 'How Frozen Yoghurt Shops Make Money' received over 66,000 views and it's easy to see why. Step walks in the footsteps of Gen-Zs to bring them content they can actually relate to. After all, what's the use in giving scoop on fine dining restaurants or expensive jewellery stores when Gen-Z are rarely visiting those kinds of establishments?
Massive thumbs up for:
Always keeping content relevant. Step frequently uses relevant hashtags to ensure their posts are as easy to find as possible. By using keywords such as 'teen' and 'college' there's absolutely no doubt who this content is aimed at. Always research your audience and know where they are in life, so that you can tailor your marketing to their interests. It's a great idea to create consumer personas as part of your marketing plan to ensure everyone on your team knows the sort of person they're targeting on a daily basis. Think about age ranges, educational status, professions, disposable cash, online user habits, hobbies, relationship status, destination and more. Heavily research to fine-tune all brand personas.
Making price comparisons. Step often asks money-related questions such as 'is Chipotle's guac money well spent?' The topics are always relevant to the audience. When you're a teen or young adult, every penny counts, but it's also easy to spend excess money without thought. This kind of content is interesting, fresh and throws questions right back at the audience to keep them on their toes. Carry out some consumer research so that you can create questions and posts that resonate. For example, ask teens what their favourite fast food chain is. From there you could ask if they ever buy relishes or extras. This will help you to come up with some great money-saving ideas.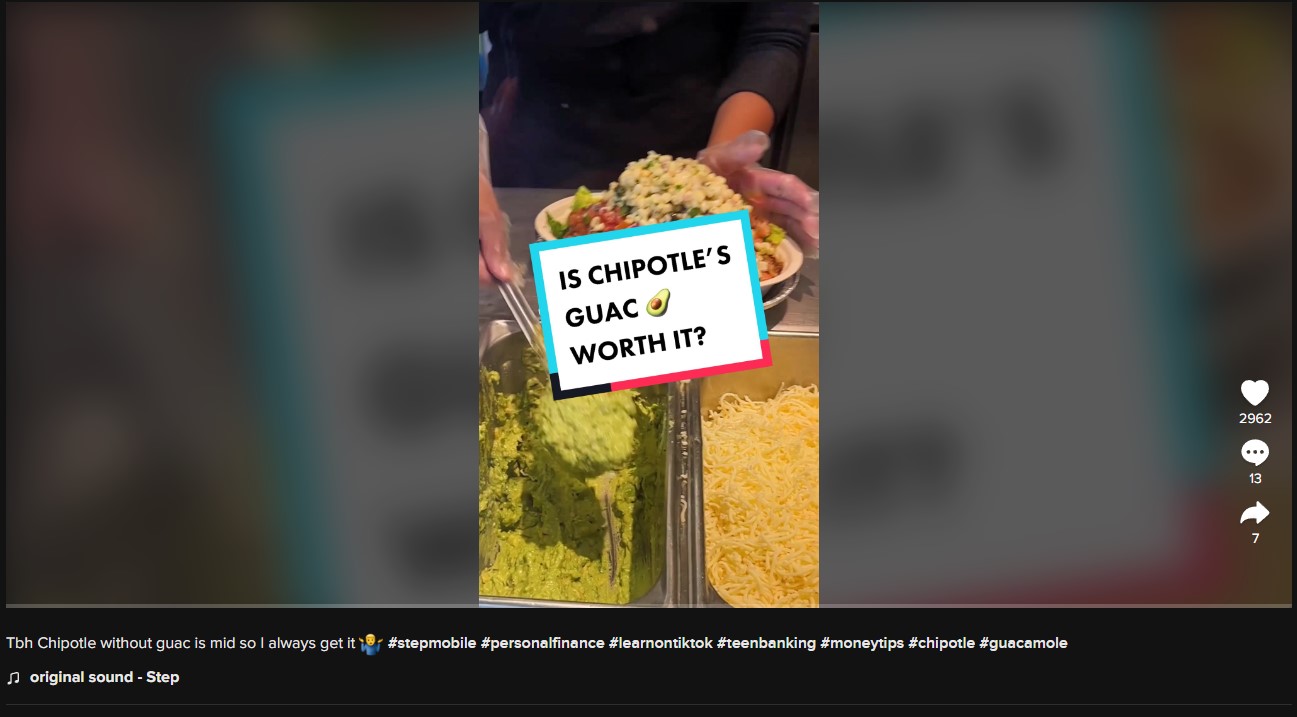 #2 Sun-Maid Raisins
Head over to Sun-Maid Raisins' Twitter account and check out their humorous, cheeky tweets that are sure to put a smile on your face? Talk about marketing evolution at its best. Social media wasn't even a thing when Sun-Maid was founded back in 1912 (obvs), but the brand had moved with the times tremendously well and has kept us entertained all year round. Their one-liners are particularly joyful.
Massive thumbs up for
Keeping things light and entertaining. We love a brand that can laugh at themselves, with this Halloween post definitely being one of our faves. Oh the sarcasm. Sun-Maid Raisins' posts are also a great change from all the dark and miserable stuff we see on our feeds. Let's look at some statistics to back this up. Reports state that 45% of people globally haven't felt true happiness in more than two years. That's sad. But with 91% of people globally preferring brands to be funny, isn't this somewhat of a hint? 95% of business leaders fear using humour in consumer interactions. But that doesn't mean being funny is wrong, so long as it matches your tone of voice and brand guidelines. The top rule is – always be consistent. If you're a funny brand like Sun-Maid, Charmin or Innocent, you've scope to be entertaining and humorous. If you're straight-laced and serious, don't confuse people by changing your tone randomly.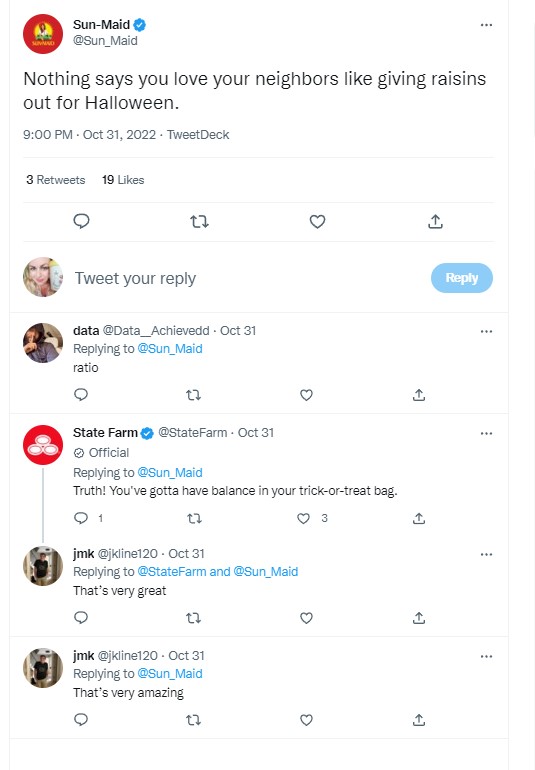 Knowing their USPs. Sun-Maid Raisins have been a lunchbox staple for years. So it's good to see they're still embracing good old back to school marketing. This simple yet effective Instagram post sends out a clear 'must have' message while incorporating the humorous touch we all know and love.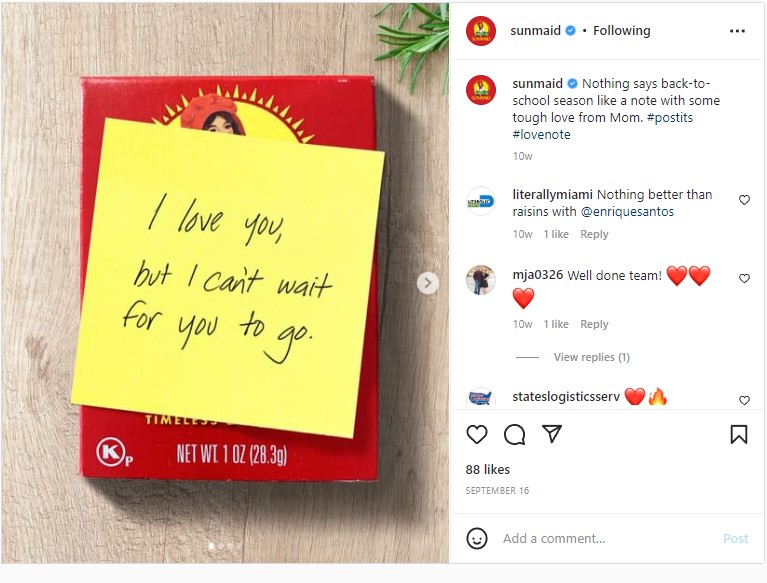 #3 Surreal Cereal
Surreal Cereal – a keto-friendly, plant-based breakfast brand – is winning on LinkedIn. Turns out they're pretty popular on the networking platform and it's hardly surprising what with their witty, unique and all-round distinctive posts. Check out their latest Black Friday offering which sums up the whole 'money off' messaging brilliantly.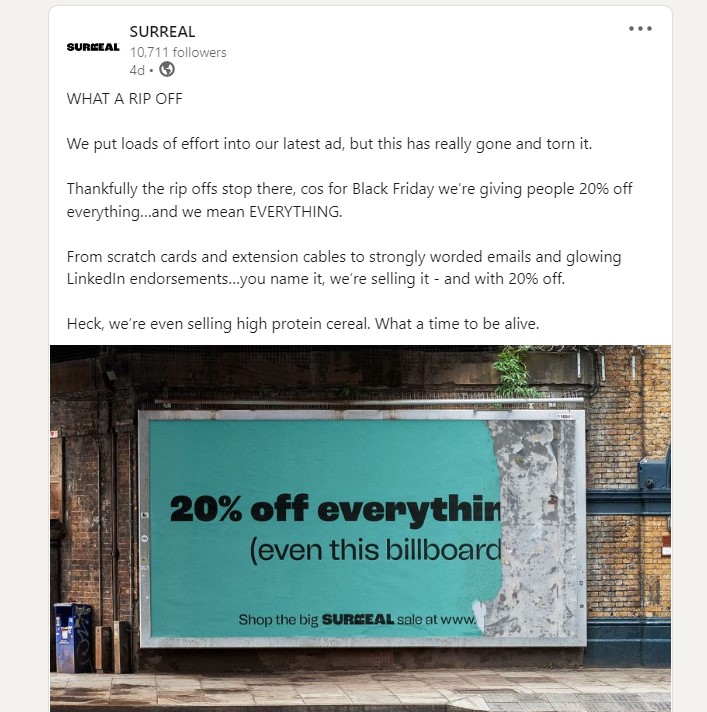 Massive thumbs up for
Visual awesomeness. What says 20% off more than a billboard with 20% of the picture missing? Surreal Cereal also took things one step further with a series of funny and creative 'deals' which linked to their Black Friday Campaign. The below example is funny, light-hearted and yet somehow masterful as it taps into the idea of a 'collective experience.' As the campaign says, 'most people have…' and therefore it encourages people to laugh together as a united audience. This kind of banter draws an audience closer and humanises what could have been a somewhat lifeless and generic brand.
Community engagement. Great social media doesn't stop when you hit post. It's meant to be social which means building a community, engaging with fans and enjoying the comments section. The comments alone show just how much people love this sort of stuff and Surreal is absolutely there for it with witty responses and human focused interaction.
#4 Monzo
It's not always easy to keep finance content upbeat, fresh and entertaining, but challenger bank Monzo has impressed us this year. Firstly, they don't always deliver content we'd expect. Their recent post about managing money when you have ADHD is a great example of something a bit different. It challenges the 'norm' of money management, taps into real-life issues and involves audience interaction and feedback which is a great way of forming a strong B2C connection.
Massive thumbs up for
Visual representation. Graphs, charts, polls, infographics and such like are a great way of showcasing vital information that you want to communicate. The short, to-the-point yet descriptive title also gives extra context.
Storytelling. We love a bit of storytelling here at Contentworks as we know how much people connect with it. The 'If Monzo Existed in the Stone Age Post' is a particular winner and gets full marks for originality. Whoever came up with The Tipsy Mammoth as a drinking hole name needs a pay rise.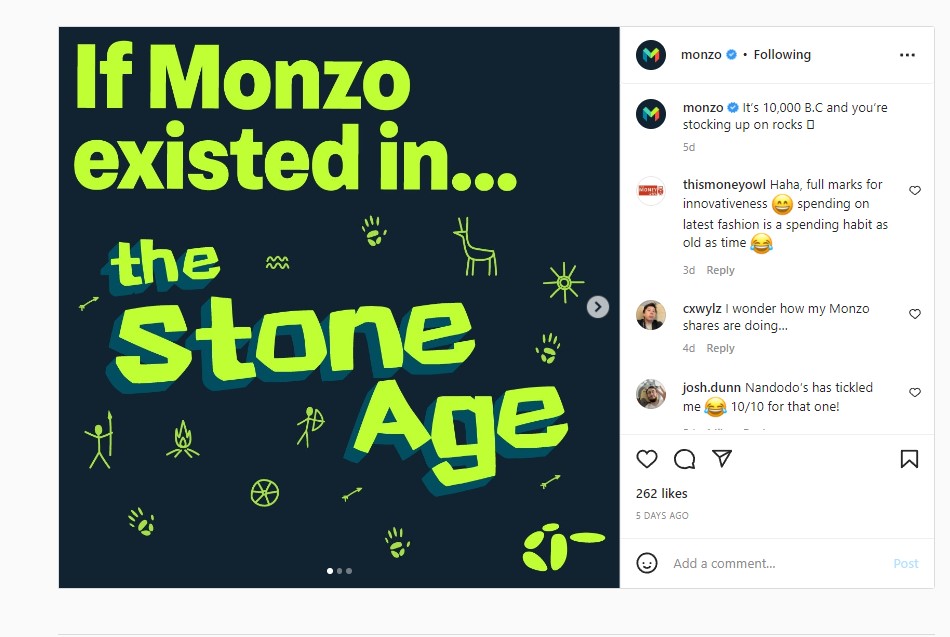 #5 Ryanair
If you fancy a good laugh, don't miss Ryanair on Twitter. Not only are they totally meme-ing the life out of current affairs – Sorry Liz Truss – but they take joy in laughing at themselves.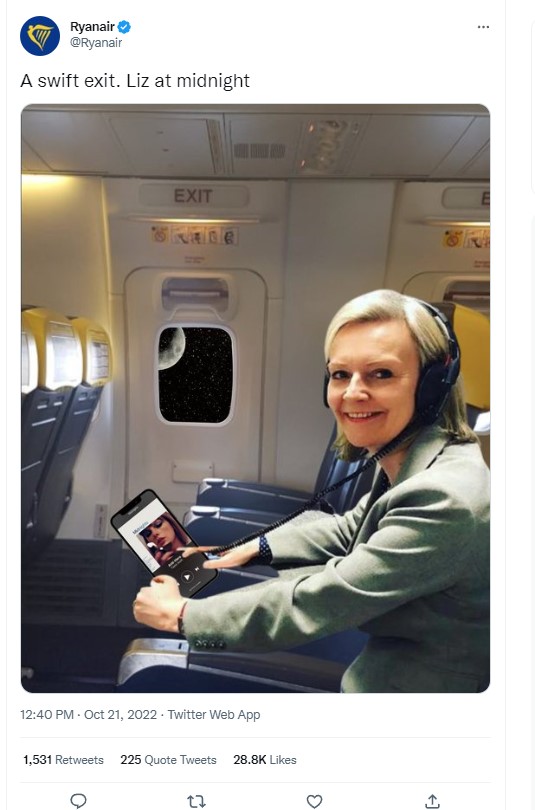 Their customer service banter is pretty top class even though they do have a serious customer service element to their business. Ryanair's also pretty savvy- and not just at offering cheap seats while raking in cash elsewhere – do you really need that extra bag??? Their social listening skills led to some pretty nifty responses when WhatsApp went down. Take a look at this thread which saw a peek in engagement. Think this level of social media management is easy? It isn't and it requires a great team and strong social media strategy.
Massive thumbs up for
Some first class banter. Keep your eye on the ball across social media channels and you can really create some awesome, timely and relevant content. Remember, you don't always have to create content from scratch. In fact, if 60% of the content your produce is curated and 40% is created, you're onto a winner. So, don't forget to share posts, retweet content, comment on threads, get involved with discussions, encourage user-generated content, repost and tag content from individuals and more. Create custom keyword monitoring streams so that you can easily tap into anything vital.
We loved these brands in 2022 and can't wait to see what treats they have in store for us next year. Whilst this article is  in no way sponsored, we do like raisins, cereal and free flights. Just saying. But which brands did you like best? Tweet us @_contentworks and share your picks. And remember to talk to our team for your 2023 social media strategy, management and all round happy times.