According to the UNESCO Institute of Statistics, over 750 million people are illiterate and two thirds are women and girls. Our chosen charity, Room to Read, is helping to improve global literacy and gender equality in education. Their work is relentless, inspiring and truly makes a difference which is why we support their continued efforts. Literacy runs through everything we do here at Contentworks, so we are delighted to provide some Autumn updates from Room to Read.
Page Turning Statistics
Over 16.8 million children have benefited from the work of Room to Read which currently has 37,000 partner schools across Africa and Asia in countries such as Tanzania, Zambia, India and Sri Lanka. 100,000 teachers are trained every year and over 1,500 children's books have been published in 35 local languages. 26 million books have also been distributed across the globe and with 20 years of hard work under their belt, Room to Read has established a highly credibly reputation.
IMC to match your donation 2 to 1
As the year comes to an end, long-time Room to Read supporters IMC – pathfinders in cutting-edge technology, committed to match each and every charitable donation 2 to 1. This means if you make an online gift before the New Year rings in, it will be tripled automatically. How that's for some holiday cheer?
The generous offering by IMC is important considering it costs:
$300 to keep a girl in school for the year
$1000 to train a teacher
$50 to teach a child to read
$25 to fill a bookshelf.
You can donate here to support this cause.
The Room to Read Book Club in full swing
The Room to Read Book Club is for people who believe books have the power to change the world. Members receive monthly reading recommendations from inspirational titles that CEOs swear by, to beautiful storybooks. The booklist changes every month with October's titles featuring '6 book for getting girls into tech.'
Sign up for the Book Club here.
Inspiration success stories
Room to Read regularly shares the progress of students their organisation has helped including Sony from Siem Reap. Growing up in northwest Cambodia, Sony joined Room to Read's Girl's Education Program when she was in grade 7. And, despite a challenging home life, has since become the first woman in her family to graduate from secondary school and attend university.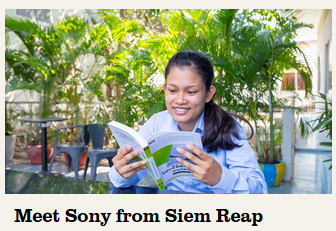 You can read her full story here.
Active for education
One of the great things about Room to Read is their pro activeness and desire to take action for such an incredible cause. Improving literacy takes time and money, but team members are constantly showcasing their devotion by taking on life changing challenges.
Damien Brosnan, Room to Read's APAC Regional Board Member and Portfolio Manager of Maven Investment Partners Limited, recently competed in the Subaru IRONMAN 70.3 Canada triathlon, where he raised more than $15,000 for Room to Read's Literacy and Girls' Education Programs. Garnering support from his company, Maven matched Damien's efforts.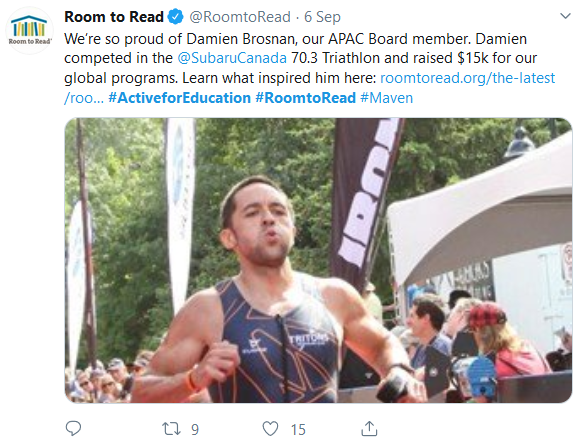 If you want to raise money for Room to Read in a similar way, why not use the #ActiveforEducation hashtag and track your progress Room to Read keeps growing and progressing, so watch out for future updates. Learn more about our commitment to #literacyforall here.