October has got off to a great start for the Contentworks crew. We spent last week networking at the Financial Innovation Forum, a successful, innovative and thought-provoking conference held at the five-star Parklane Resort and Spa in Limassol, Cyprus. As an agency providing tailored content marketing to the finance sector, this is our space. And as you'd expect, we didn't hold back on the live tweets. Hopefully, you managed to catch our #FIF2019 updates on Twitter. But if not, here are some highlights from the Financial Innovation Forum 2019.
Incredible Presentations from Industry Leaders
The Financial Innovation Forum united thought leaders from across the globe to discuss industry fintech developments. The core theme was A New Era of Customer-Focused Innovation which lent itself to many eye-opening and educational discussions from leading figures.
We thoroughly enjoyed the talk by James Carroll who currently serves as the Senior Vice-President and Global Head of Mastercard Labs as a Service. This is a specialist advisory services business focused on Innovation and Digital Transformation for Mastercard customers globally, placing James at the very forefront of financial innovation.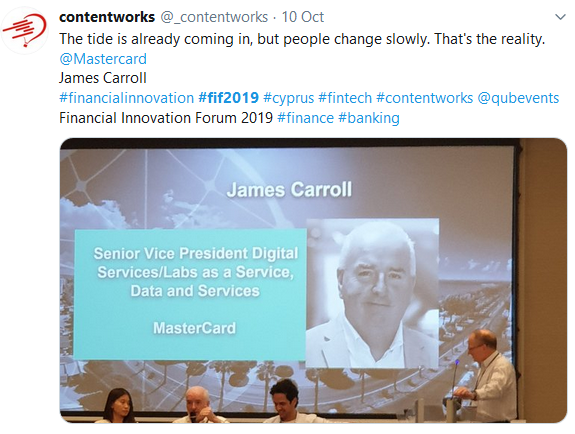 James was an enchanting speaker to listen to and really emphasised the need to be open and willing to adapt to change. He also advised that financial services innovation was happening in the East more than the West and gave a number of incredible examples of fintech in China. He also reminded us to query processes. Can something be simpler? Can we try something new? Do we need to do it that way?

Valentin Sholz, Head of Growth  at Revolut also wowed us with his insightful presentation. Valentin shared some valuable insights and data from Revolut's incredible growth through to its future plans.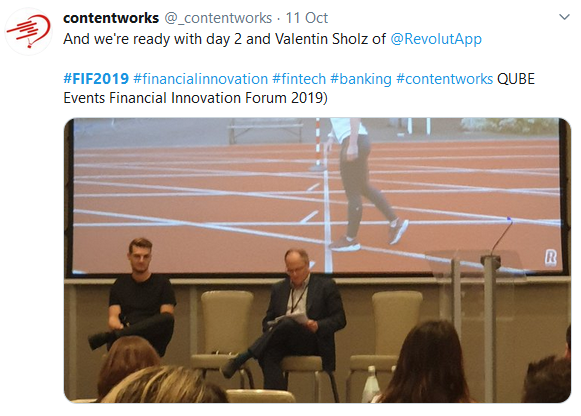 After all, it's not everyday you get such great quotes – straight from the horse's mouth.

and wait Revolut … WHAT?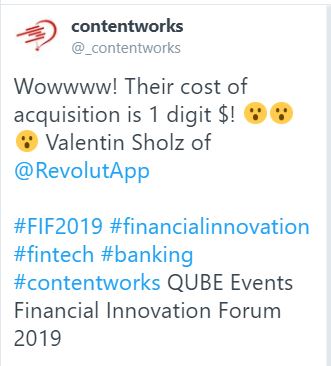 As Europe's fastest growing Fintech with over 35,000 new users per day, we were also honoured for Valentin Sholz to answer our burning questions…

And the takeaways just kept coming. No, not pizza or Chinese noodles. But invaluable snippets of information that are of great significant in today's financial marketing world:




Giulia provided us with some great insights into ING's 2020 vision for digital marketing. The phrases "content personalisation" and "real time content" were raised repeatedly and completely align with our vision for the coming year. Giulia correctly advised that consumers have handed over their data. Now they expect us to be personal with them. In fact, Up to 36% of consumers say retailers need to offer a personalised experience with 71% of consumers feeling frustrated when their online experience is impersonal.
Host and speaker Rich Wagner reminded attendees of the needs of millennial and gen Z banking. Essentially, nobody cares about your algorithm, processes or innovations. They care about how it impacts their life. This is a message we, at Contentworks Agency, agree with strongly. Content marketing must address consumer needs and questions or it is redundant.

A sentiment echoed by the other speakers including Microsoft's Martin Moeller: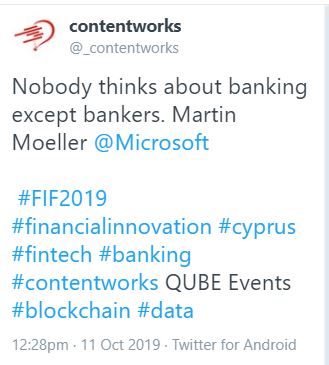 Burnmark's Devie Mohan reminded attendees of the cost of advertising to the financial services sector. She also reiterated the need for great organic content, social media that responds to customer needs and smarter processes.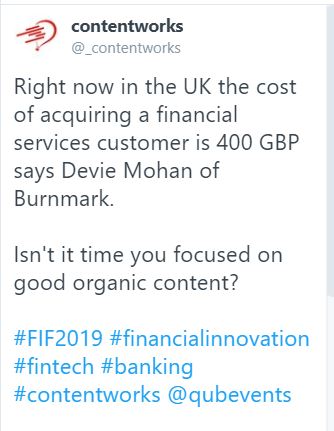 The great thing about Twitter is that everyone can join in the conversation. The entertaining Fabrizio Ballarini, Head of Organic Growth at TransferWise had something to say on the cost of acquisition: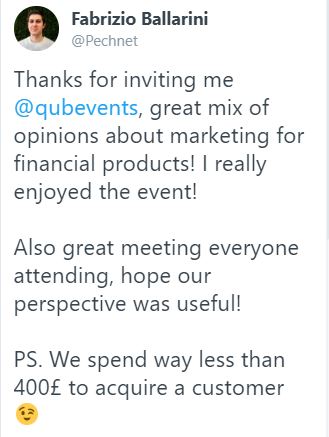 Excellent Networking Opportunities
As well as listening to thought-provoking talks, we also managed to meet up with key speakers and big players from the finance sector. This was incredibly exciting allowing us to grow our knowledge and industry passion further. Networking and iced drinks. Two things we love.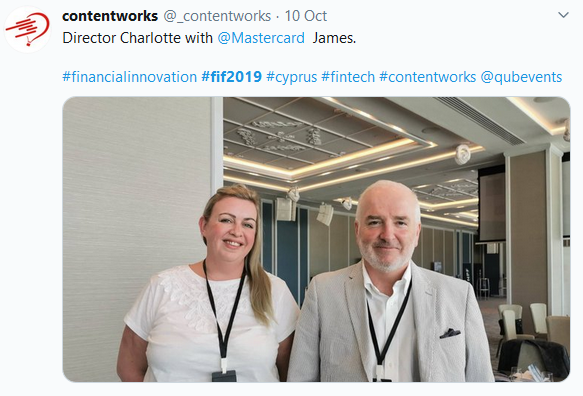 And of course a cheeky after events drink with Bank of England's Head of Data Innovation Peter Thomas. Nicknamed by the Contentworks Agency crew as the "Zuckerberg of the Banking World", Peter shared some interesting insights into the role of the Central Bank in today's' digital finance world. Peter was also kind enough to provide some insights into the monitoring and compliance operations of the BoE. Something we are eager to learn.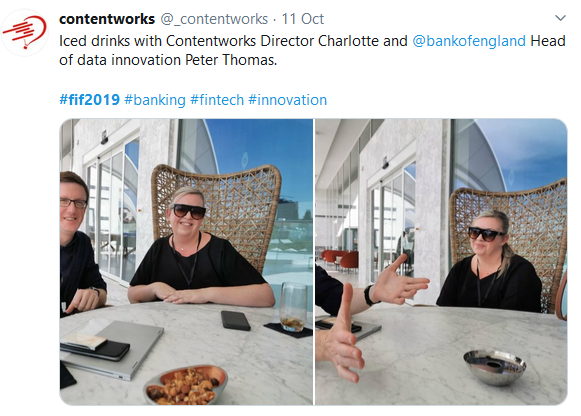 An Incredible Location
Of course, we'd heard the hype about the all-new five-star Parklane Resort and Spa. And it certainly didn't disappoint. Beautiful setting and mouth-watering canapes aside, the event space was perfect as was the organisation. A massive shout out to QUBE Events here for arranging the Forum and to the hotel for making us feel so welcome.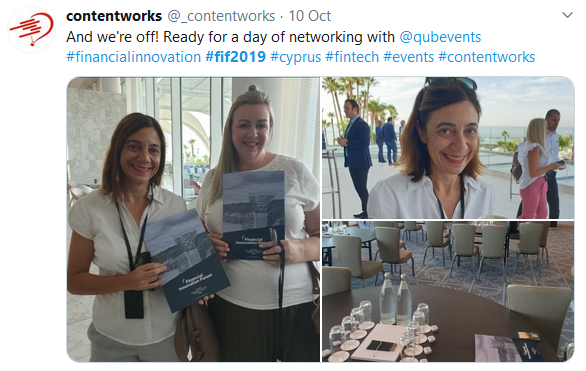 Below with Qube Director Lilly Pavlou and Contentworks Agency Charlotte and Niki.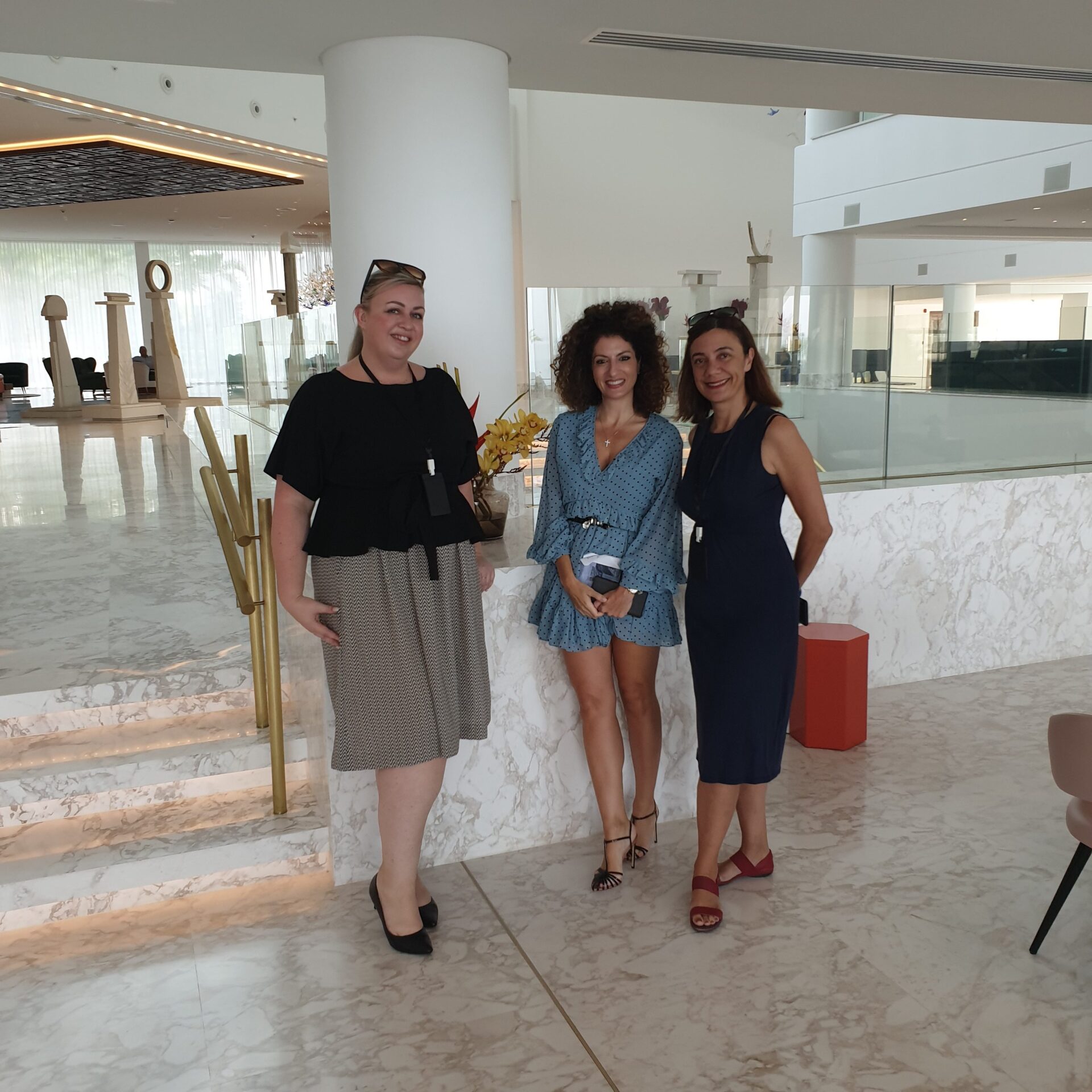 We certainly didn't pass up any opportunity for snack. We also loved that we could nibble them whilst listening to presentations. The bar has been set high!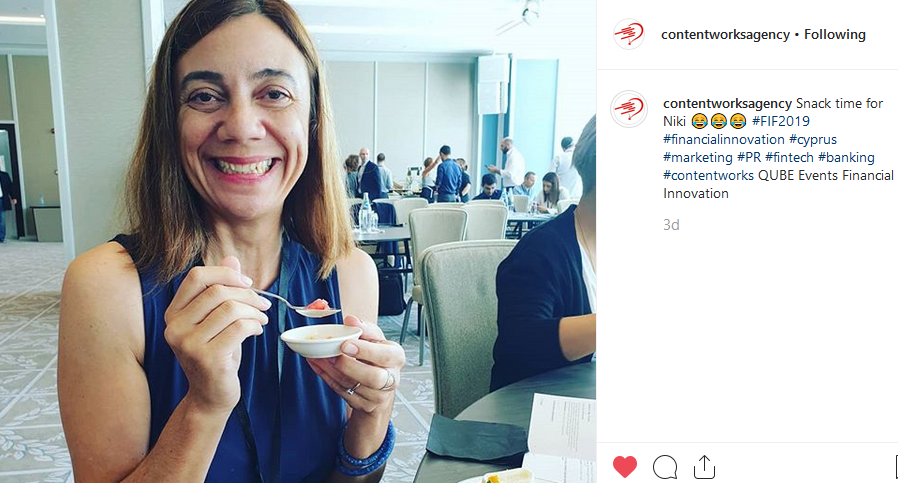 We would like to congratulate QUBE on a successful event and to take a moment to thank the speakers for sharing their insights. It's events like these which keep us innovating, looking forward and remaining in tune with our finance and fintech clients. Contact the team today to talk content marketing for the finance sector in detail. We'll be at Decentralized 2019 in Athens at the end of the month and will be happy to arrange a meeting in advance.