June is pride month AKA the most colourful month of the year! It was in June of 1969 that a violent riot broke out at the Stonewall Inn in New York after police began harassing patrons as they had done countless times before. It was the event that kickstarted an LGBTQ+ rights movement (Stonewall) that the country and the world had never seen before. Fast forward to 2021 and we still observe June as Pride Month. In this article we're sharing 2021 Pride campaigns we're loving this year and delving into this year's themes.
Over the past 50 years, pride events, marches and demonstrations have evolved considerably. In western nations where LGBTQ+ people are protected and acceptance is high, many pride events have grown in scale, welcoming millions of visitors to ther celebrations. So how are brands supporting Pride and showcasing its meaning? Branded Pride campaigns give companies the opportunity to show solidarity with the LGBTQ+ community through Pride-themed products and advertising. Launching a successful Pride campaign is not without its challenges. In the past decade or so, June Pride has become so much more commercialised and brands run the risk of being viewed as inauthentic. This year, heaps of brands have put together colourful campaigns that celebrate diversity and inclusion.
#1 Absolut Rainbow Vodka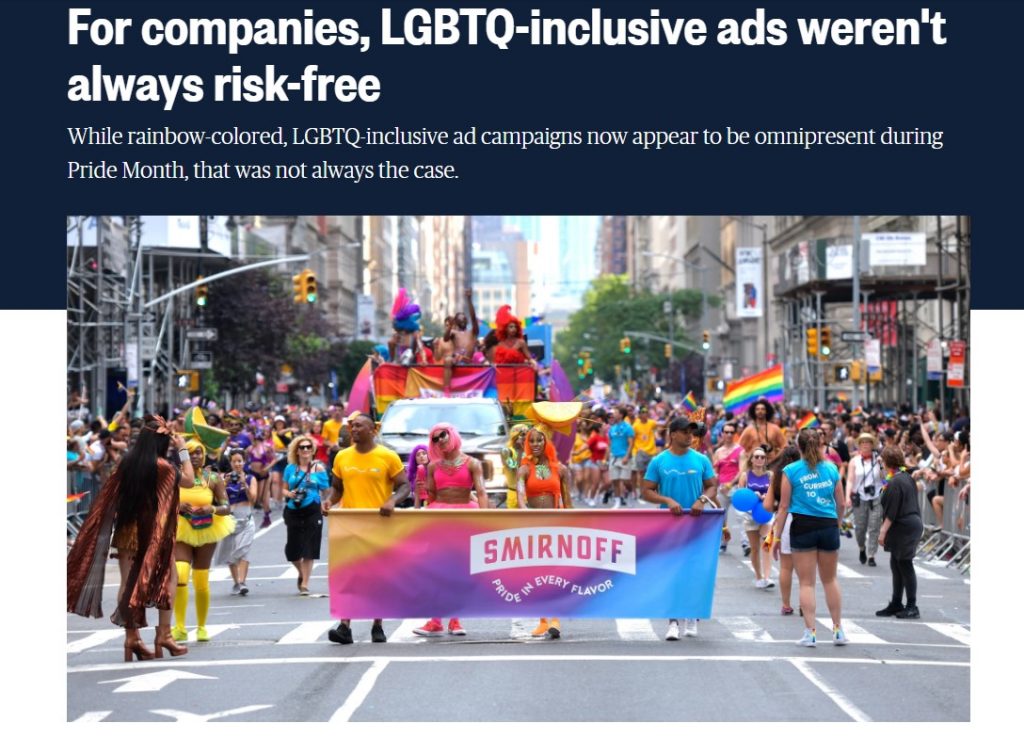 Absolut was one of the first brands to embrace their LGBTQ+ customers and has been making nods to the community in their advertising since the 1980s – a time when public opinion towards the community was not always favourable. Absolut risked mass hysteria and boycotts of their products by putting out those inclusive ads decades ago; this demonstrates to consumers that their intentions are genuine and not merely an attempt to profit off the struggles of the LGBTQ+ community.
Absolut also partners with LGBTQ+ organisations and donates a proportion of their profits to relevant causes. Their iconic rainbow bottle has been a permanent fixture of their product range since 2018 and was designed in collaboration with artist and activist Gilbert Baker – the designer of the original rainbow flag back in 1978. Absolut's campaign this year is nothing flashy, yet it (absolutely) captures the sentiment of June Pride and effectively reaffirms the brand as an ally to the LGBTQ+ community.
What They Get Right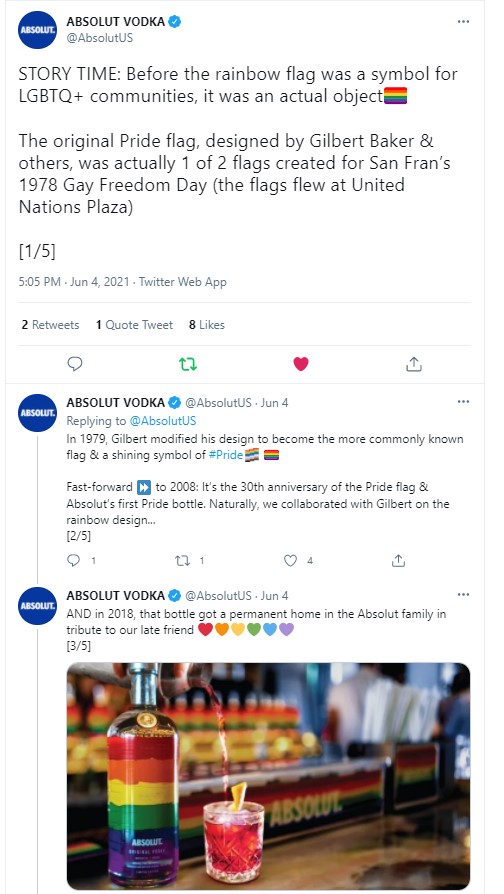 #2 Apple Watch Pride Edition
Apple is a brand that is newer on the LGBTQ+ scene. Apple has been officially taking part in Pride events since 2014, when the brand's employees joined the San Francisco Pride Parade with official endorsement. In 2016, Apple gave all employees who took part in Pride events a rainbow Apple Watch band. Due to unprecedented demand for the colourful bands from both employees and customers, Apple released the Apple Watch Pride Edition available for all the following year. This year, Apple has come out with the The Pride Edition Braided Solo Loop and the Pride Edition Nike Sport Loop, both with matching watch faces.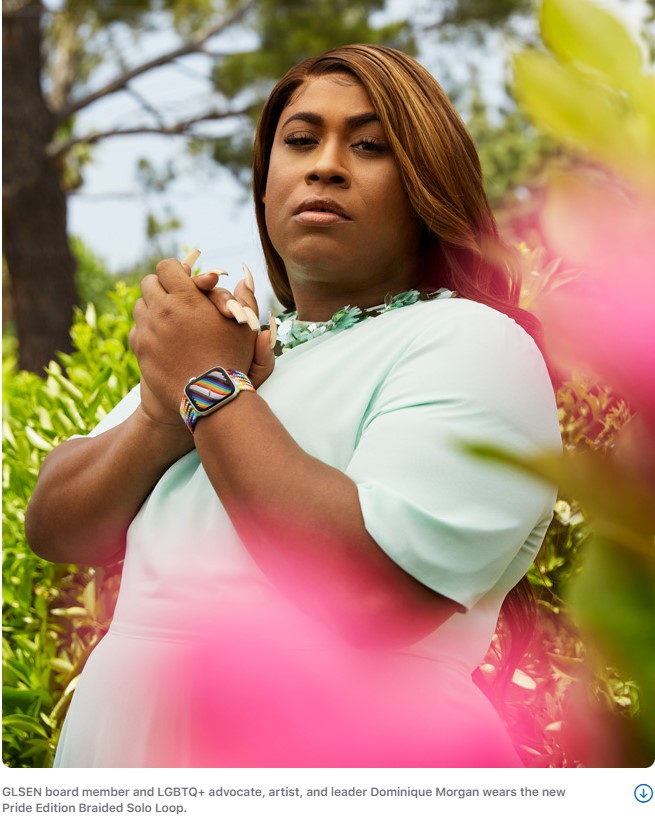 All proceeds from the sales of these bands will go towards relevant charities and organisations that the brand partners with. We like this campaign because it puts its money where its mouth is. Donating profits to a relevant and meaningful cause is the right course of action here.
What They Get Right
With this latest introduction, Apple continue its long-running financial support for LGBTQ+ advocacy organizations working to bring about positive change, including Encircle, Equality North Carolina, Equality Texas, Gender Spectrum, GLSEN, Human Rights Campaign, National Center for Transgender Equality, PFLAG National, SMYAL, and The Trevor Project in the US, as well as ILGA World internationally.
We love the design which weaves together the original rainbow colours with those drawn from various Pride flags to represent the breadth of diversity among LGBTQ+ experiences and the history of a movement that has spanned generations. Black and brown symbolize Black and Latinx communities, in addition to those who have passed away from or are living with HIV/AIDS, while light blue, pink, and white represent transgender and nonbinary individual
#3 Reebok's All Types of Love

This year, Reebok relaunched its 'All Types of Love' collection, which was first introduced in 2020, including accessories, apparel, and footwear. Reebok has announced they'll be donating $75,000 to the Sylvia Rivera Law Project this year; an organisation that assists low-income or people of colour who are transgender, intersex and/or gender non-conforming. Brands showing their support of the LGBTQ+ community through products and campaigns is important, but again, it's also critical for brands to match this commercial enthusiasm with their wallets. Something that Reebok has done for a number of years.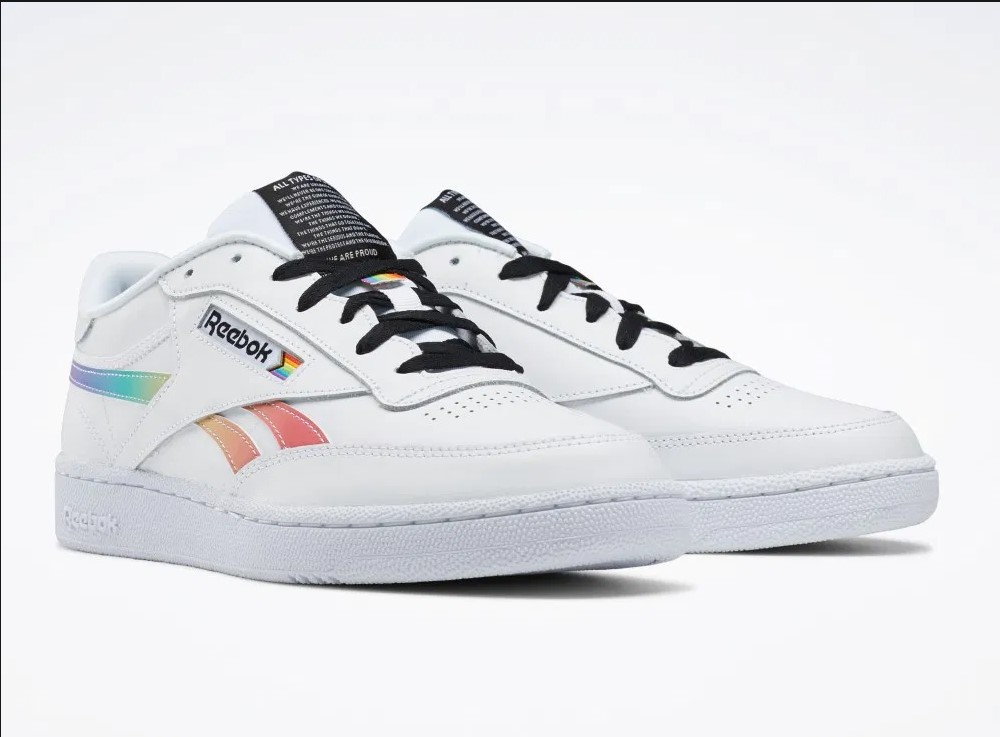 What They Get Right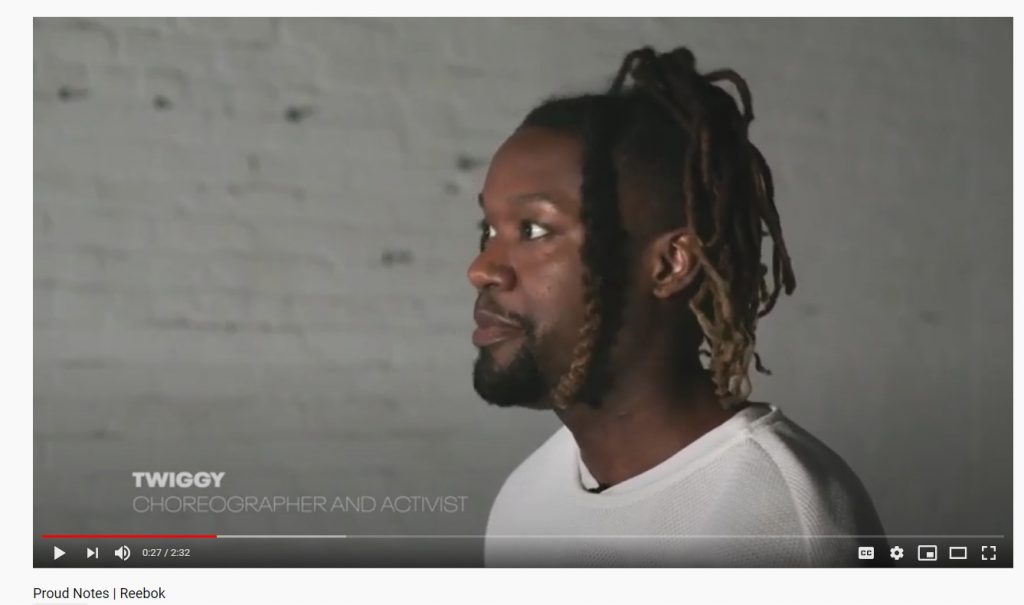 #4 Disney's Rainbow Collection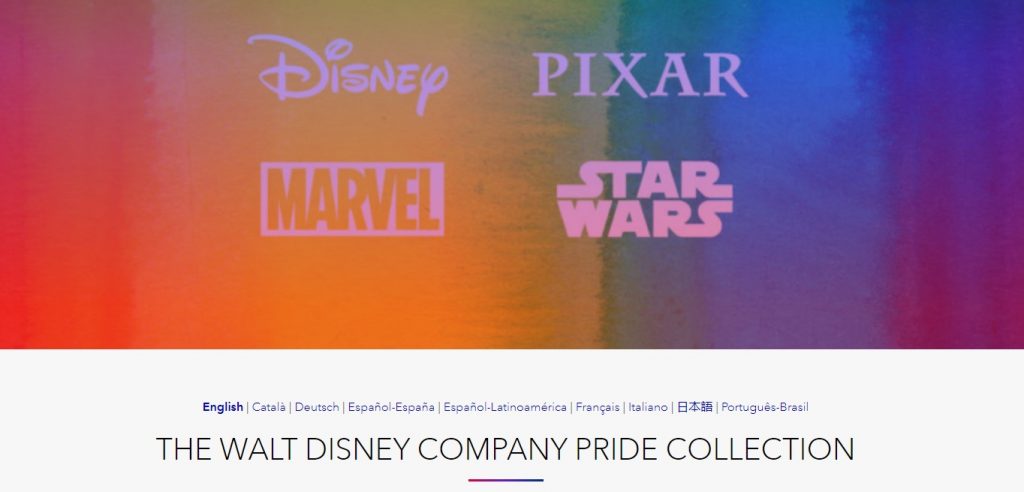 Disney first released a complete collection of Pride-themed merchandise in 2018 and has done so every June since. This year, Disney is releasing its Rainbow Disney Collection across all of its stores. It includes pin sets, accessories, soft toys, and clothing with Disney characters and emblems, including items that incorporate top Disney characters from Star Wars, Marvel, and Pixar.
Historically, Disney hasn't been viewed as the most LGBTQ+ friendly company, with critics pointing out poor representation of the community in its films. It seems now that Disney is keen to change that image and its Rainbow collection is a start. What's more, in recent years the company has documented its plan to support the LGBTQ+ community through collaborations with a range of organisations, improved protection and support for its employees, and donations to causes raised from (an undeclared proportion) of the sales of the Rainbow collection.
What They Get Right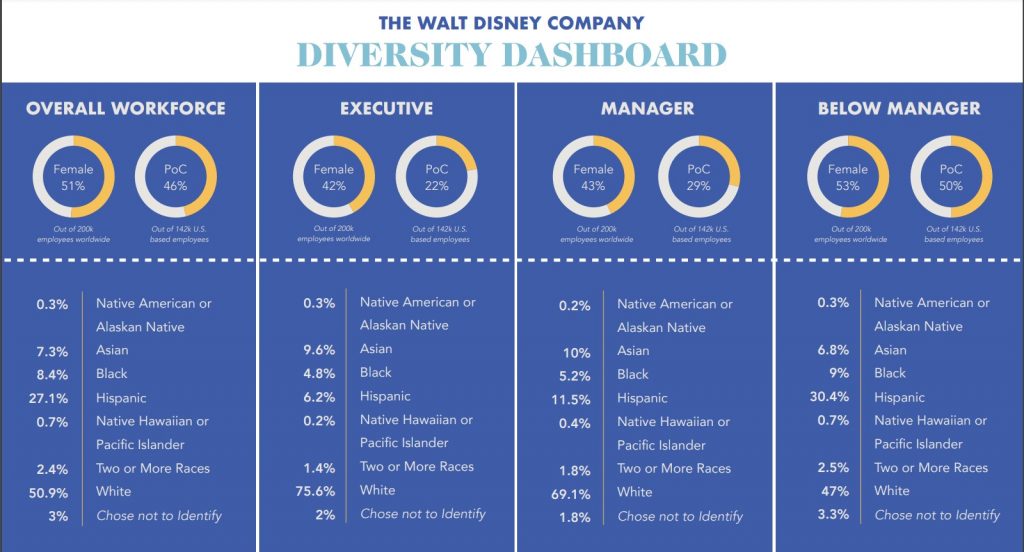 #5 A Tribe Called Queer

A self-proclaimed multidisciplinary brand, A Tribe Called Queer, encompasses a gender neutral and size inclusive clothing line, podcast, zine, virtual events, and a blog. The brand is not for profit and is dedicated to bettering the lives of minority and marginalised groups. A Tribe Called Queer tends to stay away from the June Pride campaigns we're used to seeing, and instead opts to support causes year-round with its sales and donations it receives as a registered charity. Saying that, they have released a small collection of LGBTQ+ themed products to supplement their existing collection.
What They Get Right
#6 Joann

Joann has really gone all out this year. They've come up with a huge range of Pride-themed stuff from custom fabrics to tutus, bags, stickers, flags, and tons more! Joann is donating $25,000 to GLSEN. This is an education organisation whose mission is to end discrimination, harassment, and bullying based on sexual orientation, gender identity, and gender expression. They're also donating supplies and $5,000 to the LGBTQ Center of Greater Cleveland. We just can't get over their amazing product range that's helping people get into the June Pride spirit!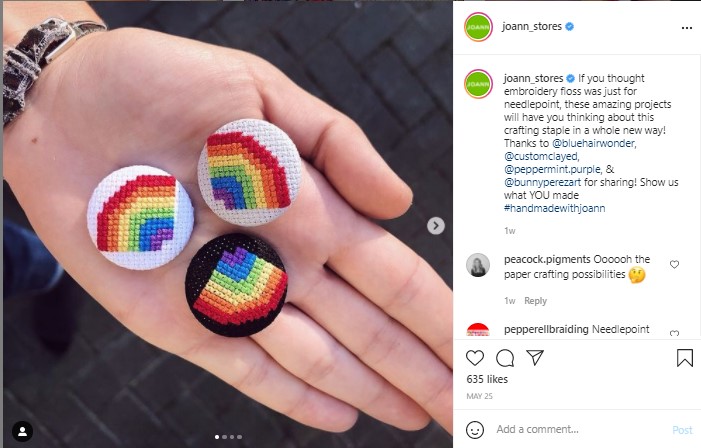 What They Get Right
Let's Get Social
Want to join the Pride chatter on social media? Hashtags are the best way to find conversations, join them and even make new connections. Here are some of the popular hashtags happening this year.
#PrideMonth #PrideDay #PrideFlag #PrideParade #LGBTQ #PrideParty #PrideDance #BehindTheRainbow #Pride2021 #Diversity
Summary
Pride Month has turned into a celebration that no one could have expected just a decade ago or so, with big brands putting intense efforts into showing solidarity with the LGBTQ+ community through products, collaborations, and campaigns. However, such a rapid commercialisation of a historic and momentous event (the Stonewall riots) has led to criticism of some brands and there's even a term for it. Pinkwashing. Brands who grab the opportunity to profit off rainbow-themed merch in June but do little else to remedy the struggles faced by the LGBTQ+ community. If you're a brand who's considering launching a Pride campaign this year or selling rainbow products in June, this is exactly what you want to avoid.
A great Pride campaign means matching the commercial aspect with real initiatives that enact change, policies and global inequality and unfairness. From the Contentworks Agency team, we wish you a very happy Pride month. Which Pride campaign was your favourite? Tweet us at @_contentworks