Challenger banks are gaining traction and popularity. This is reflected in their search growth. In three years, search volume for challenger banks has increased by 32% and traditional banks have seen a 22% decline in the same time. This growth can, to a large extent, be attributed to the marketing strategies challenger banks are using to appeal to consumers. Especially millennials and Gen Z who want financial services that adhere to their fast-paced, convenience-driven lifestyle. We've rounded up the best campaigns, so let's look at 10 challenger banks and their marketing styles.
#1 N26: Appeal
N26 is the minimalist challenger bank. This is reflected well in its marketing style that's all about keeping things simple and uncluttered. The clean aesthetics convey a feeling of prestige and the minimalist yet vibrant designs help to shine the light on the products. there is also a feel that owning an N26 card is a fashion statement. The hottest must have item of the season,


The minimalism extends to the bank's app which has a very simple design that removes visual clutter and puts a strong focus on icons over text.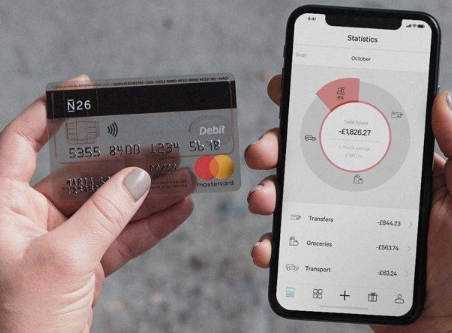 Result: N26 has achieved rapid growth, reaching 3.5 million users. With a 1399% increase in search volume growth, the bank is still adding around 10,000 users daily.
Key Takeaway: Humans are 90% visual beings. Use simple yet visually appealing designs to highlight the simplicity of your brand and draw attention to your products effortlessly.
#2 Revolut: Uniqueness
Revolut has always been about doing things differently.  Where other challenger banks like Monzo, Starling, and N26 decided to obtain a full bank charter, which takes up to two years, Revolut challenged the conventional approach and took a fast-lane by getting an e-money license. Not a good thing or a bad thing necessarily. Just different.
Revolut focused on fintech based customer onboarding and social media virality to grow fast. Consequently, it was able to grow its customer base much faster than the banks pursuing a full charter. This uniqueness is also reflected in Revolut's marketing style. It focuses on the unique niche of frequent travelers, showing how it simplifies banking for people who frequently exchange money across countries.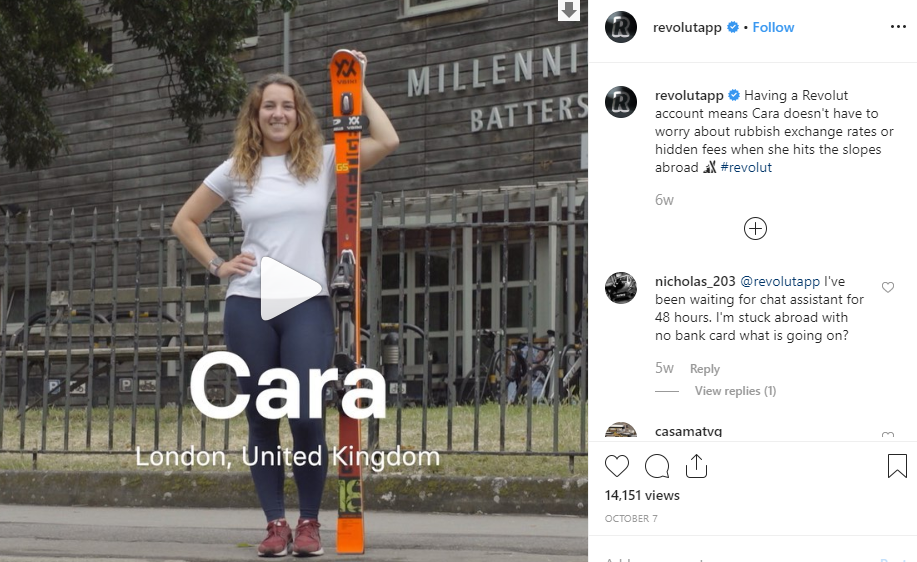 Result: Revolut is one of the largest challenger banks with over 7 million customers, increasing by up to 800,000 new users per month. The bank recently reported a 350% increase in revenue and it's processing over $3 billion in transactions a month.
#3 Chime: Social Proof
Chime's marketing style leverages social proof and #ChimeSavedMe to show how the bank is delivering on its key offerings: no hidden fees, automatic savings and getting paid up to two days early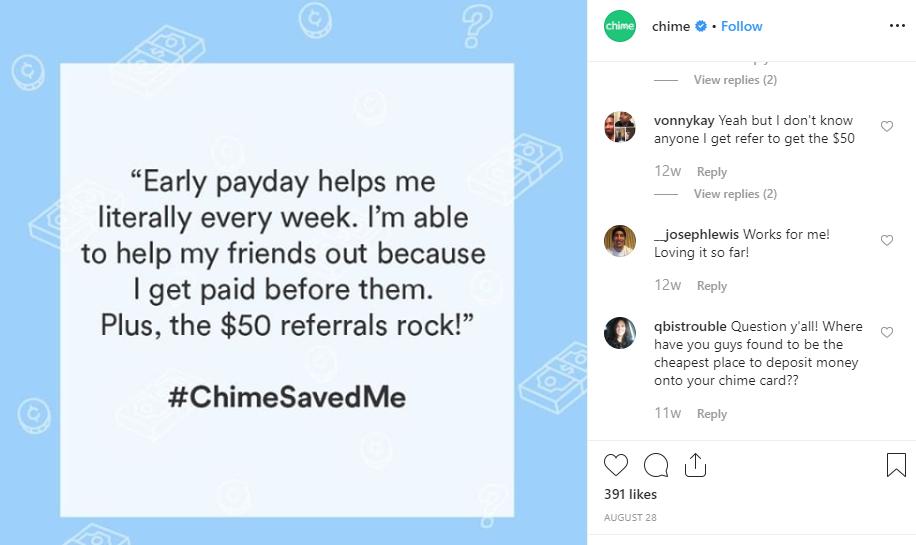 The social proof and hashtag combination strategy is consistent and Chime used it recently when it launched Chime SpotMe.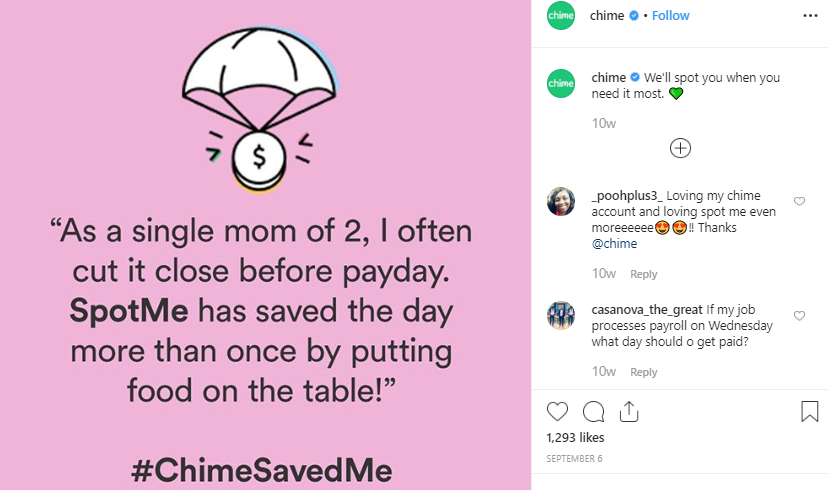 All this social proof taps into the basic human instinct to follow the actions of others, building Chime's credibility.
Result: Chime has over 5 million customers, an increase of over 2 million in just seven months. These customers trust the bank to help them save and to rescue them in emergencies.
Key Takeaway: 92% of online consumers look at a product review prior to making a purchase. Use social proof to add credibility to your brand.
#4 Monese: Community
Monese is another popular challenger bank. It also has a unique offering. The bank is able to help immigrants get banking services they otherwise wouldn't be able to. Immigrants who've recently arrived in a country typically don't have the things needed to open an account. Monese lets them open accounts instantly with just a selfie and a passport photo and it offers cheap global payments.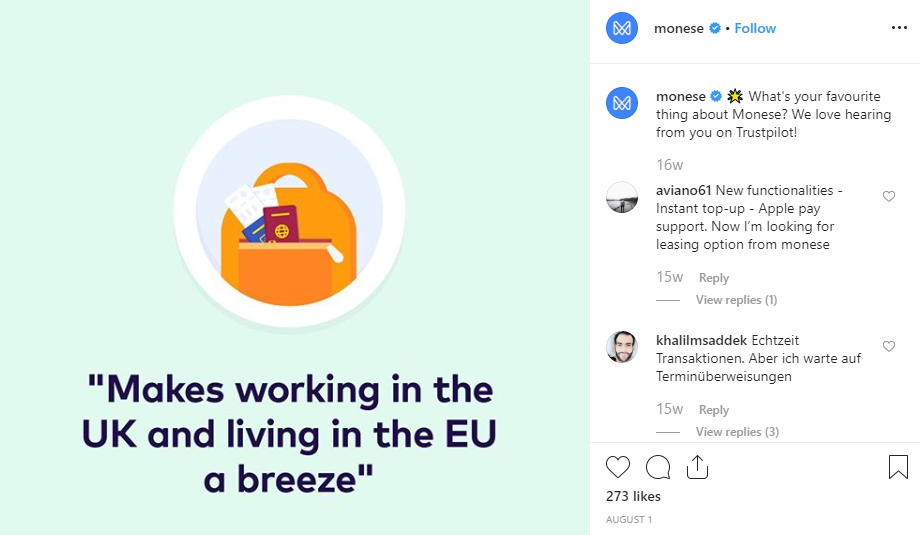 By giving people the financial freedom to thrive anywhere, Monese has built a community of loyal customers who engage in valuable conversation with the brand.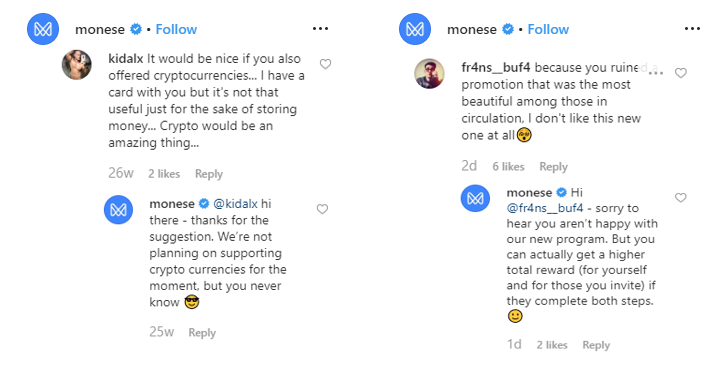 Result: Monese has obtained 1.4 million customers and it's adding around 3,000 new users daily. Monese gets lots of feedback from its community and this helps the brand develop and improve products according to customers' specific needs.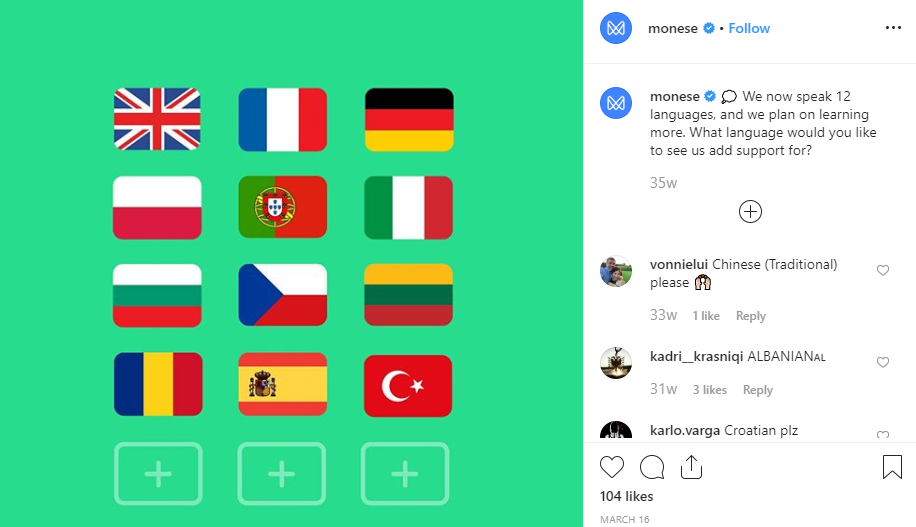 Key Takeaway: Having a highly-targeted audience helps you foster better relationships with customers. This improves brand awareness and customer loyalty, and it's also likely to increase brand advocacy.
#5 Tandem: Virality
Tandem understands the power of virality to boost engagement and drive brand growth. The bank uses waiting lists, perks, giveaways, and referrals to build interest around its offerings and increase brand awareness.
Result: This strategy resonates well with the bank's customers, especially millennials and Gen Zers who love benefits and whose spending is often fueled by FOMO.
Tandem's recent referral campaign on Twitter garnered 8.6x more engagement than usual.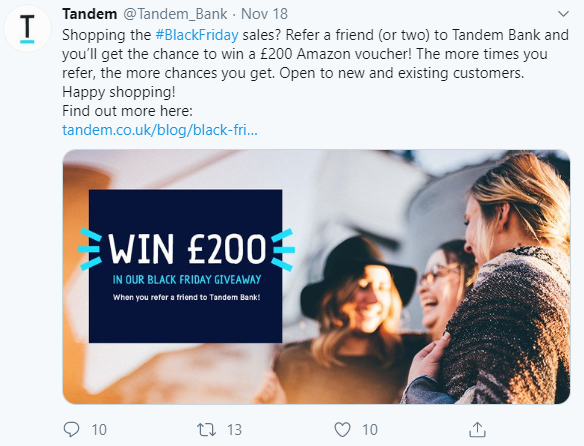 On Instagram, Tandem's Halloween giveaway got an average 178x more engagement compared to its ongoing #GetTheTandemApp campaign. The giveaway got about 379x more engagement than usual on Twitter.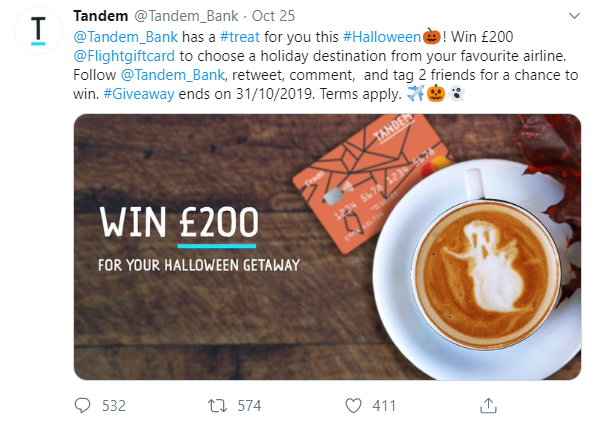 The bank launched a cashback card which got tens of thousands of app downloads and landed 100,000 users in just five months.
Key Takeaway: Creating a buzz around your products using exclusivity, scarcity, and perks is likely to create FOMO and help you increase engagement and brand awareness.
#6 Starling: Partnerships
Starling's marketing strategy is based on building partnerships to expand its business marketplace. The bank launched an API marketplace which it aims to integrate with about 25 fintech startups. This is so that customers find "all the best financial products in one place."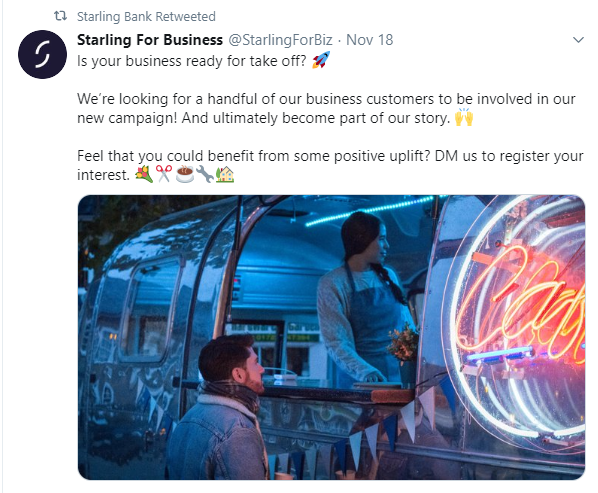 Result: By partnering with other brands, Starling has leveraged their audiences to increase reach and build brand authority. The bank's search volume has increased by over 1360% in three years and it is on track to pass 1 million users.
Tip: Partnerships can help you cut costs and achieve cheaper customer acquisition but they are easy to replicate. Your partners can partner with the competition. One way to stay on top is to have a unique, value-added offering.
Key Takeaway: You don't have to do everything on your own. Collaborating with other brands can help you scale your brand and increase your reach.
#7 Monzo: Radical Transparency
Monzo adopts a radical transparency approach to business, with every email sent between colleagues being made available to anyone in the business. This approach also encompasses products. For example, customers can set up notifications to track their spending and transactions can be seen immediately on the app.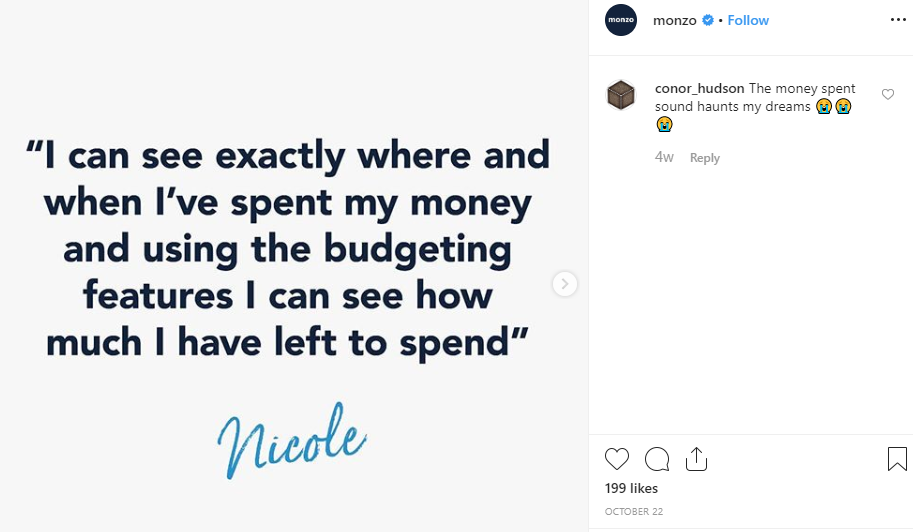 The transparency approach also extends to the bank's marketing. For instance, Monzo shows the faces behind its brand.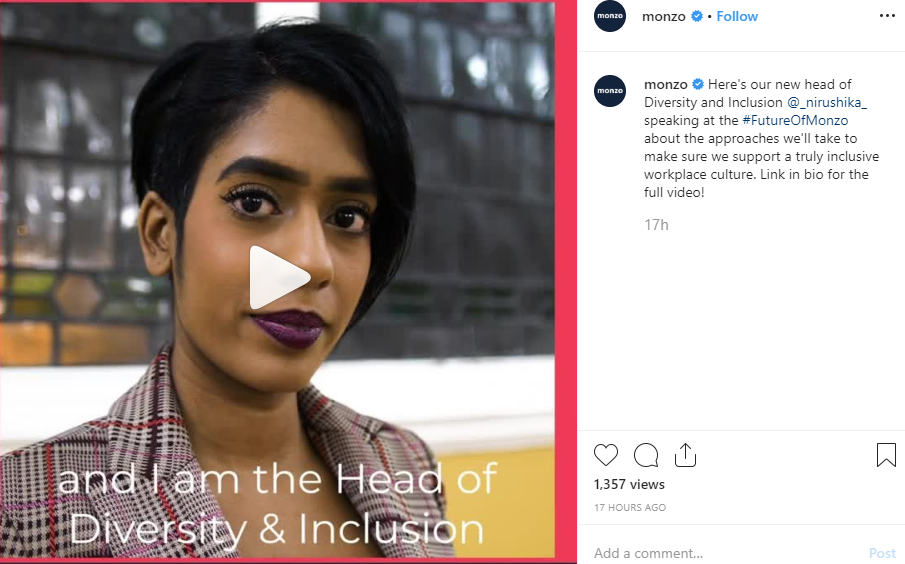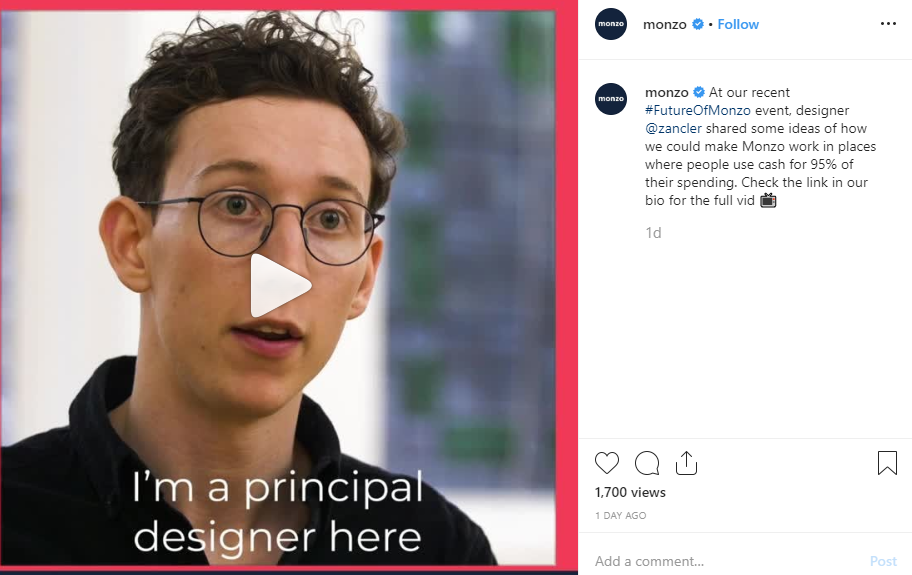 Result: Monzo has surpassed the 2 million user milestone and it's adding up to 200,000 accounts every month. This is especially impressive when you consider that close to 80% of the bank's marketing is organic. Transparency has built a loyal community of customers.
Insight: Almost 90% of consumers want transparency from businesses. This is being fueled by younger generations who have a strong desire for transparency and accountability. For example, nearly 67% of millennial and Gen Zers want transparency when it comes to their CEOs' salaries.
Key Takeaway: Be open about your business, highlight what you stand for, and show customers what happens behind the scenes.
#8 Nubank: Social Responsibility
Nubank, a challenger bank in Brazil, has disrupted the financial scene in a country with some of the most expensive borrowing rates in the world. A country where people have to go through rigorous processes to get banking services.
The bank's marketing is centered on social responsibility. How the bank is creating solutions for populations that traditionally couldn't gain access to the five major banks in the country.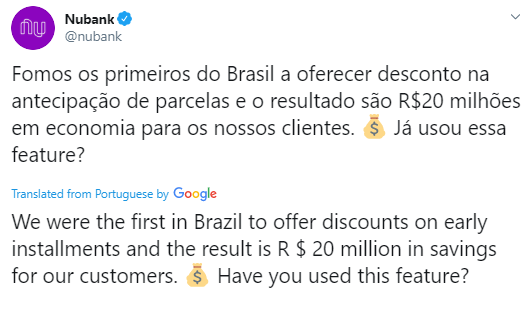 Result: Nubank has over 9 million accounts and its valuation is upwards of $4 billion. The bank has the most downloaded digital banking application in the world and is now one of Brazil's leading credit card issuers.
Key Takeaway: A purpose-driven brand is a successful brand. Define your purpose and show your audience what you stand for, to fuel business growth.
#9 Yolt: Simplifying Life
Finance is hard. 66% of Gen Zers demonstrate confusion about the advantages and disadvantages of credit and money causes anxiety for 80% of them. However, many are launching into careers with college debt and are looking for a simple way to pay bills – they need simple finance.
Yolt's mission is simple:  "to give everyone the power to be smart with their money." Its smart thinking app combines accounts and provides the user with a comprehensive view of their finances. This gives Yolt an edge in the market as its app helps users simplify their interactions with other businesses, including challenger banks.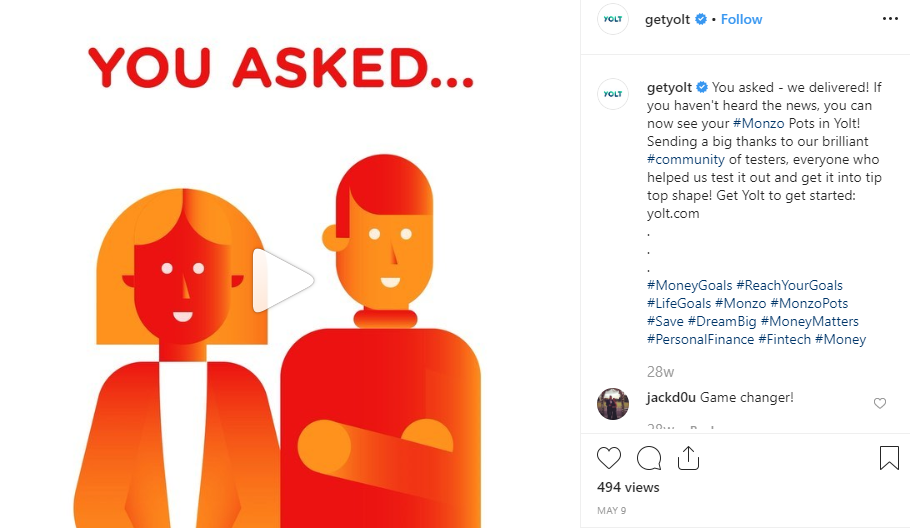 The bank's focus is on demystifying banking processes and streamlining finances, especially for younger generations who lack financial literacy and find the old banking infrastructure complex.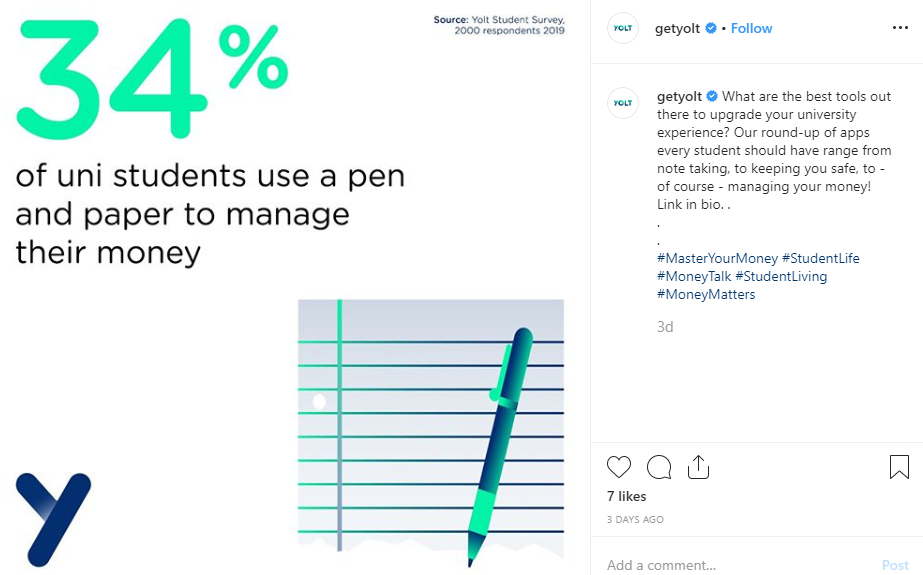 Result: In just two years, Yolt has gained 900,000 customers and its search volume has increased by an impressive 4716%.
Key Takeaway: Ease of use is the name of the game. Build simple and seamless services that automatically improve customer experiences. Know your audience and use language they'll understand throughout your marketing campaigns.
#10 Atom: Education
True to its vision, Atom empowers people to own their financial future by providing them with valuable information. Part of the brand's vision is to provide "insights, nudges and tips that help people make the best decisions to achieve their goals." Educating customers is the basis of Atom's marketing.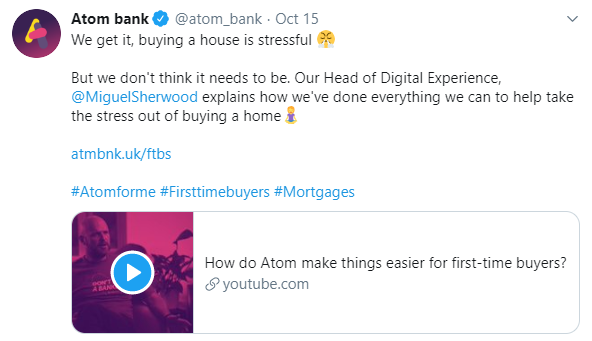 The brand uses social media to explain its products and increase consumer knowledge
And to share advice and tips that address consumer pain points.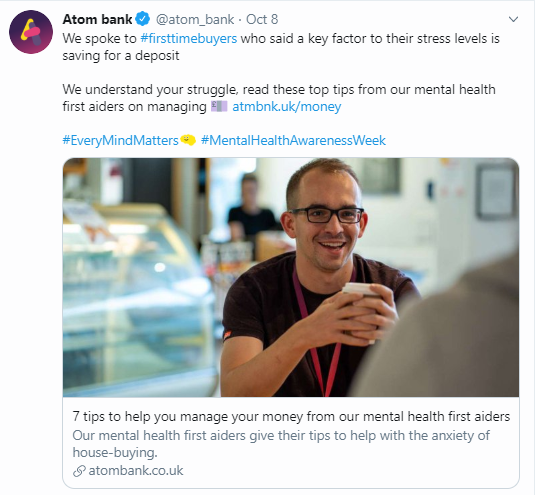 These resources educate consumers and also provide a form of transparency. By highlighting how products are built and the processes behind them, Atom establishes itself as a transparent and customer-centric company.
The bank also repurposes its content for other channels including its blog. This ensures that the content has maximum reach.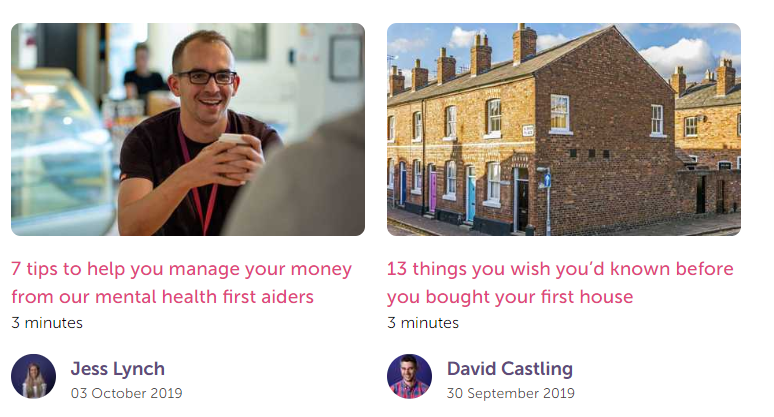 Result: These educational resources that give customers value, frequently beyond product function, have created loyalty and trust among Atom customers. Atom has been voted the most trusted bank in the UK on Trustpilot and 97% of its customers would recommend it to others.
Tip: Video and interactive content are driving engagement. Educate your audience with video tutorials and quizzes.
Key Takeaway: A customer-centric marketing approach that seeks to add value is a great tool to boost business growth and brand awareness.
Future growth for challenger banks 
The size of the global challenger bank market is expected to reach $356 million by 2025. This is impressive growth for a modest market that had a $17 million market value in 2017. Marketing will become increasingly important as the market grows and brands compete to reach new audiences and retain existing customers. It will be exciting to see how the marketing styles of challenger banks evolve to cater to this.
For expert content marketing for the finance sector, contact Contentworks today. We produce everything from articles to video content, whitepapers and PRs, tailored to your business requirements. We even offer daily crypto and FX analysis. Enjoyed reading 10 Challenger Banks and their Marketing Styles? If you did then hit share.