There's something wonderfully exciting about a blank slate and when it comes to PR there's plenty of potential to make the next 365 days the most productive yet – and we're not even being overly optimistic. One of the best ways to beat the January blues is to throw yourself into some fun, engaging and innovative projects – so what is your PR Plan for the year ahead? If you're finding it hard to shake off the sugar coma and wake up from a long Christmas slumber, here are some tips to help you out.
Let's start with a little Infographic from Cision for inspiration: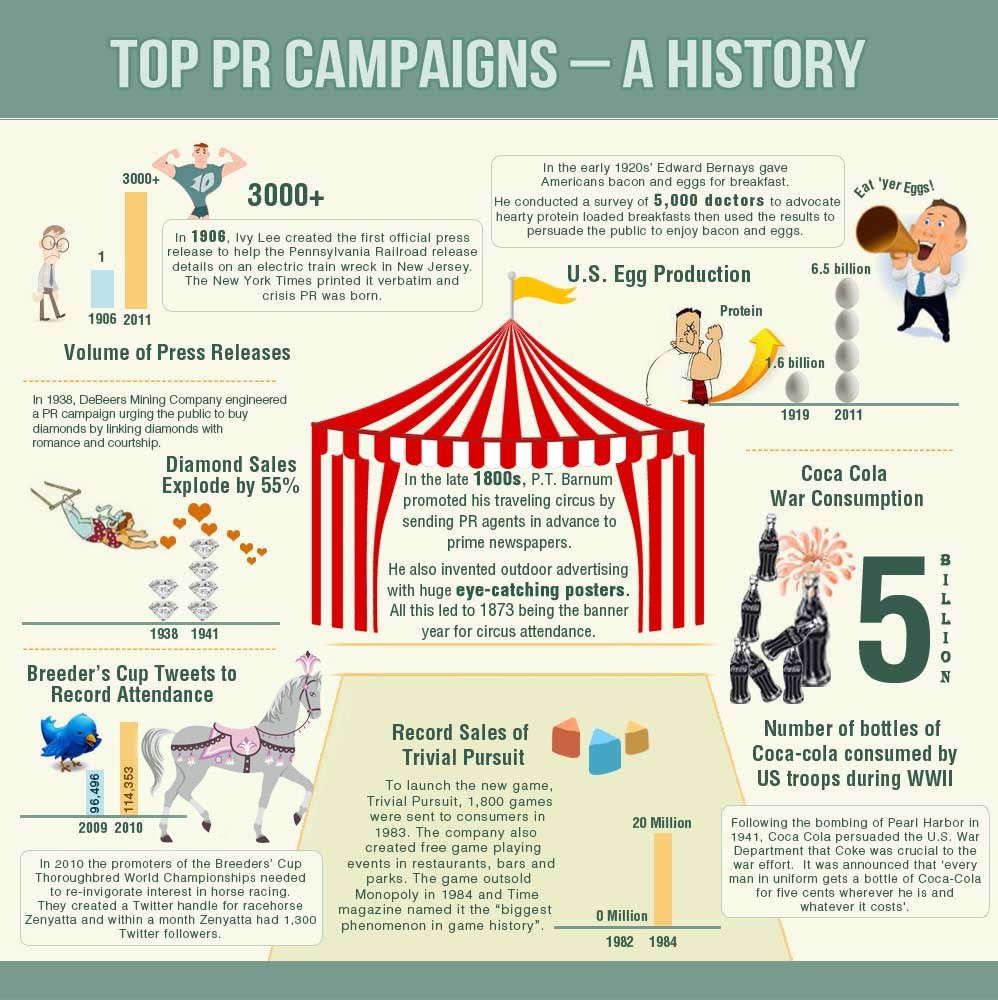 Nailing Your PR Plan: What to Consider
Knocking up an email and hitting the send-to-all button simply won't do in this day and age. In order to be a successful PR strategist, you must think outside the box and take the company's ethos into consideration – so here's what to consider in order to kick-start 2018:
Marketing challenges
PR and marketing go hand-in-hand; they're best buddies in fact, working together for the good of the company. So, what do you do if a friend needs a helping hand? Offer them support, of course. Whether you hope to launch new products or are simply struggling to retain consumers – the right PR strategy can help the marketing team take the business to new heights.
Goals
What's the point of a PR strategy if you don't have specific goals to work towards? Setting and monitoring key performance indicators (KPIs) will help keep you focused and make it easy to track your progress. If something's not working, a careful PR plan and marketing strategy is needed in order to bring a project back into line with little disruption.
Strategies
When coming up with a PR strategy there are many things to consider including:
The demographics of your target audience
Location-based PR
Your PR budget
How you'll divide up your PR spend
Online and offline PR considerations
Delegation of tasks
Monitoring of tasks
PR tactics with a hook and angle for each tactic
Which publications to target
Tone of voice
Client interaction
Important marketing and PR dates
The list goes on and without a properly structured PR plan you're likely to be completely lost. For this reason, it's really important to invest time and money into your annual strategy which will guide you through the upcoming months.
Writing, Placing and Socialising PR
PR should be an integral part of business. Not an afterthought or something you do to kill a few hours before a new project begins. Building and maintaining a strong bond with clientele doesn't happen overnight, so when forming a plan for 2018 be sure to:
Allocate enough time and resources
From press releases and email sends to making public appearances and answering client queries and complains – PR takes time and energy. The PR team is responsible for not only presenting the company in a positive light but also keeping clients happy, so make sure you have enough resources.
Produce high-quality content
In order to keep your consumers engaged, you must produce high-quality content that's original, innovative and interesting to read. Whatever you do, don't rehash last year's news or send out-of-date information as this could result in a PR backlash.
Publicise and socialise PR content
The placement of PR content is crucial. Firstly, it needs to reach your target audience, so you need to do some background research to see which channels will work the best for your brand. Secondly, socialising content is of paramount important. With 25% of the world on Facebook and 69% of all consumer internet traffic in 2017 being video, this paves the way for some exciting social-media based PR opportunities. Don't miss out!
What an Average Marketing Campaign Looks Like
Whether you're trying to sell shoes online or explain the intricacies of an up-and-coming ICO, marketing can take your business to new heights – but what does an average campaign look like? Success is a result of many different elements, including:
Landing pages
Landing pages are pages that are designed specifically to accomplish conversion goals. Unlike the homepage, landing pages can be directly linked to your marketing campaign so, when a visitor lands on the page, they're guided through exactly what you want them to do there.
Email marketing
If you want your email marketing campaign to stand out from the crowd, personalisation is the key. Generic emails are not exciting or interesting; they don't make someone feel special, so how about segmenting recipients by their location or by their previous shopping habits? Collecting data and analysing how your consumers interact with your business will greatly improve marketing efforts.
Social Media
Social media is an efficient and effective way to communicate with your consumer base with platforms such as Twitter, Facebook, YouTube, LinkedIn and Instagram making it easy to extend your outreach and tap into an audience who might not yet know you exist.
PR
PR forms an integral part of any marketing campaign and is a great way to spread the word about a particular brand change or special offer. Regular communication with clients will also keep them interested and helps generate buzz year round.
Media Spend
Media spend represents the amount of money a marketing department spends on activities such as content marketing, paid advertising, SEO, social media, trade shows, and more. It requires careful consideration and must take into account the existing budget.
Offline PR
As more companies go online it can be easy to forget about online PR, but advertising in newspapers and magazines or having a physical presence at a seminar, expo or conference can do wonders for brand awareness. It can also build upon the success of a digital marketing campaign.
With so much to consider, why not talk to the Contentworks team today about managing your content and PR plan for 2018.